MBAs of the Future?
Will the growing popularity of online-only offerings supplant traditional in-person programs?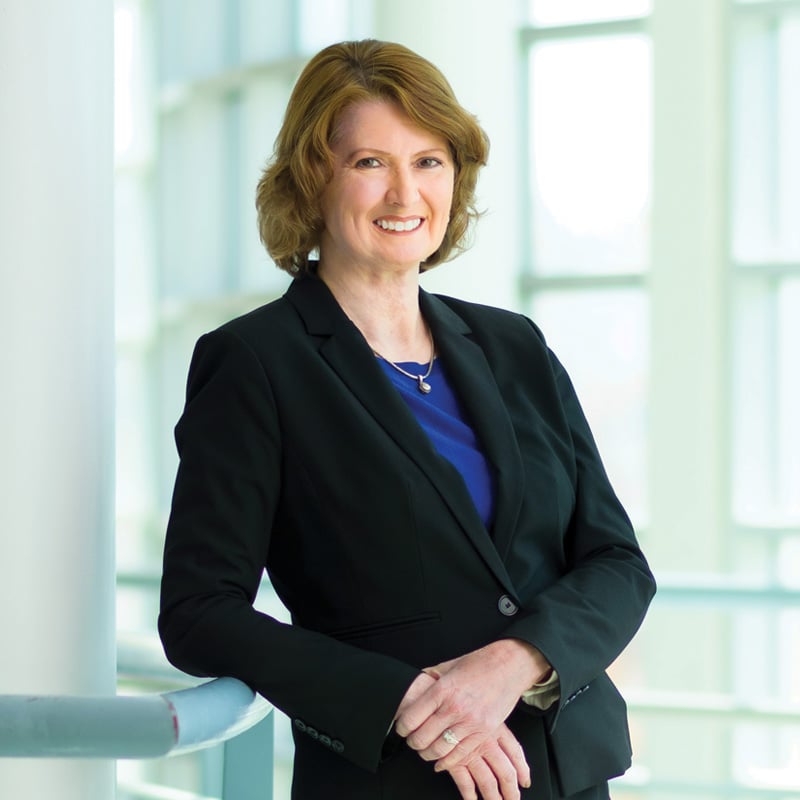 Many universities are trying to be all things to all students when it comes to MBAs. They offer a mix of delivery platforms – full-time traditional, part-time evenings and weekends, as well as online programs or mashups that involve online coursework. But at least one is in the process of cutting the cord and taking its entire program online-only.
"We were a traditional part-time MBA program, but what we are finding is students – especially after the pandemic but really before then – are dealing with all kinds of issues like business travel, work, childcare," says Mary Gowan, dean of the Mike Cottrell College of Business at University of North Georgia (UNG). "Our program was actually part-time in two locations, both two nights a week, and students had to be physically present. In order to grow the program, we saw the future of the program was to move it online."
The current part-time evening programs meet in Cumming and Gainesville, satellite campuses of UNG's larger Dahlonega campus.
"We haven't fully marketed it yet, but we have been softly telling folks we are going online," Gowan says.
In preparation for the move, the college is working with an instructional designer from the university to help faculty members adapt their courses for online delivery and paying those faculty members a stipend for the adaptation work. Gowan can explain exactly why MBA programs like this one are adapting so eagerly to student needs.
"What we know is the traditional-age student populations are shrinking, so universities are looking at alternative ways to grow. When funding is tied to enrollment or credit hours and either of those figures drops, you lose funding," Gowan says. "[UNG's online-only move] is a recognition that people are looking for more flexible platforms for learning and are less interested in traveling to a specific place for classes. It's the flexibility that make the programs attractive.
"We have so many competitors in our market space and if a lot of these other schools are moving online, we need to, too," she says.
Graduate programs are increasingly important to colleges and universities. According to the National Student Clearinghouse Research Center, total undergraduate enrollment in the U.S. dropped 3.1% from the fall of 2020 to the fall of 2021. Closer to home, the University System of Georgia (USG) – parent agency for the 26 public colleges and universities in the state – cites the clearinghouse when it reports a 2.1% decrease in its undergraduate enrollment, which is better than the nation as a whole but still a decline. Lest you think those figures are driven solely by pandemic disruption, consider this: The National Center for Education Statistics (NCES), a federal agency, reports that in the 10 years ending in fall of 2019, undergraduate enrollment decreased by 5%.
If you are looking for a bright spot, you have to look to graduate schools. The NCES reported grad school enrollment increased by 8% between fall 2009 and fall 2019. USG reports graduate student growth was up 7.9% last fall. When MBAs are broken out separately, Georgia's public universities showed a 19% percent increase in enrollment between fall semesters of 2019 and 2020.
In other words, it's no wonder universities are innovating to accommodate potential grad students.
But are human resource managers as eager to hire folks with online MBAs as universities are willing to enroll them?
Gowan doesn't see that as a problem. Her professional background is in HR and she holds the leading certifications in that field. The major business school accrediting body, the Association to Advance Collegiate Schools of Business (AACSB), examines the online components as well and requires schools to demonstrate that they have the same levels of faculty qualification and other measures of quality, she says. (All of the business schools featured here hold AACSB accreditation.) Furthermore, many employers have now had a crash course in the practical reality of the work-from-home environment, thanks to the pandemic. The jobs they are hiring for may more closely resemble the online classroom than the traditional one, Gowan points out. And besides, nothing about the degree specifies the mode in which instruction was delivered.
Market-based The MBA degree began its march to online platforms in the latter 1990s – earlier, if you count the for-profit entities – and it looks like nothing can derail the trend. The market is still shaking out whether online programs will supplant those tied to a physical classroom.
Georgia's WebMBA program is one of those innovative programs that sounds cutting-edge – and it is – but it also has 21 years of experience under its belt. This consortium of seven business schools at public universities – up from the original five when it was founded in fall of 2000 – has awarded 2,300 MBAs to date. It adds to that number twice a year as cohorts of 100 to 150 students graduate. Students progress through five consecutive semesters in 20 months and earn their degree from the participating university at which they chose to enroll, although they may never set foot on that campus. The 10 courses are delivered by a selection of faculty from all participating colleges, so the professors may be as far apart as, say, the 255 miles between Valdosta State University and Kennesaw State University.
• Schools that participate in the program are:
• James M. Hull College of Business at Augusta University
• Turner College of Business and Computer Science at Columbus State University
• J. Whitney Bunting College of Business at Georgia College and State University
• Parker College of Business at Georgia Southern University
• Coles College of Business at Kennesaw State University
• Richards College of Business at the University of West Georgia
• Langdale College of Business Administration at Valdosta State University
Allen C. Amason, dean of Georgia Southern's Parker College of Business, serves as lead dean for the WebMBA program, and he describes the group of seven participating business school deans as essentially the program's board of directors. "MBA programs were almost a necessity for any business school. They were a growth degree and considered the coin of the realm in the business world," Amason says, recalling the consortium's founding. "Every school was throwing up MBA programs, but about 20 years ago, a number of schools – schools that were not [University of] Georgia, Georgia Tech or Georgia State – banded together to offer an online degree, because offering a new program can be very resource-intensive."
The online program presented by the consortium didn't supplant the face-to-face courses available at member institutions but added an online option they otherwise couldn't have offered as quickly – and with a depth of faculty that was second to none.
"I'm very proud of this program, even though I didn't create it," Amason says. "It does a good job for a very demanding audience. So much of education has operated out of a place of tradition, 'the way we have always done it,' but this is a program that is really market-based."
Professors for the program are selected based on each institution's enrollment, Amason says. The two largest universities, Kennesaw State and Georgia Southern, each account for between 35% and 40% of the WebMBA enrollment at any given time, so those two institutions provide proportionate numbers of instructors.
"As far as I can tell, faculty participating are delighted to be part of it. Those in the program meet a couple of times a year to talk about it," says Christopher Johnson, dean of University of West Georgia's Richards College of Business. "We teach some of the information systems classes, accounting, strategic management courses, every area of business that is part of the program."
While such a shared-faculty consortium is not unique, Johnson notes, it is also not widespread. Participating institutions continue to offer their own campus-based programs. For example, at West Georgia, classes are offered to part-time students at its main campus in Carrollton, along with satellite campuses in Newnan and Douglasville.
---
Cooperation and Competition
If online-only programs have a weakness, it's in a loss of networking opportunities, although Amason says he doesn't consider that to be a disadvantage for WebMBA.
"We do a couple of things to address that. None of them are perfect, but then, the networking opportunities for face-to-face students aren't perfect either," Amason says.
First, the WebMBA program requires participants to attend a three-day orientation in Atlanta. The mandatory program may be the only time participants share physical space with fellow students and their professors.
"They meet the faculty; they meet the student groups they will be working with; they meet the administrators of the program. They spend time learning about the technology and they eat lunches and dinners together. That begins to build some camaraderie. We also bring in some alumni from the program to talk about the experience," Amason says.
Students bond through their assigned groups. "They spend virtually the entire program working in groups on their assignments and that develops camaraderie," he says. "It's a small, tightly woven group of people and from that, they develop pretty good relationships with one another." Inevitably, internal competition develops between different modes of instruction. J. Lowell Mooney is both MBA director and director of graduate studies at Georgia Southern. The online program through WebMBA tends to be more popular than traditional classes, he notes, so the Parker Professional Enhancement Plan was developed. In Parker PEP, three weeks out of a 15-week semester for face-to-face students are set aside for special activities in the categories of professional development, community service and self-care. "The idea is to give a reason to students to choose the face-to-face program, say, if you want to polish your soft skills or if you like to see someone eyeball to eyeball," Mooney says.
And there's competition on a larger level, too.
"We participate, we cooperate, but we're also competing for the same pool of students," Mooney notes of the seven schools in the consortium.
Individual schools within the consortium set their own admission criteria, but they tend to be similar, given accreditation requirements and the pressure of competition. The program as a whole does have a requirement of two years of business experience after receiving an undergraduate degree, but other requirements are in flux. Standardized testing was waived when pandemic safety measures made test administration difficult; now, Mooney says, it may be on its way out altogether.
The stickiest wicket of all in admissions are the prerequisites, according to Mooney. Most people with undergraduate business degrees have completed the basic economics, finance, accounting and statistics courses that make up the prerequisites, but degree-holders from other disciplines often encounter what they consider "hidden costs" when it comes to those make-up courses. One solution, Mooney notes: online foundation modules, accepted by the program, that are essentially cram courses in the required subjects, taking less time and money (about $200 per module) than enrolling in the full-length courses.
Not counting incidental fees like the orientation event cost and any prerequisites a student must complete, the WebMBA program is available via all seven universities at a program-long tuition of $22,170 (subject to revision before the beginning of the next academic cycle).
---
Internet Life
Private universities are just as deeply invested in online-only programs. Consider the case of Mercer University's Stetson-Hatcher School of Business, which offers an MBA in five formats (including online, evening and fulltime), plus an additional five programs that combine the MBA with professional degrees offered by the university, such as law, accounting, pharmacy, divinity and physical therapy.
Despite all that choice, online-only rules.
"About 40% to 50% of our [MBA] students are doing online-only now. I think education is living in an online world," says Jeremy Bennett, associate dean and associate professor of management at Mercer's Atlanta campus.
"We have people, especially in the military, living in different countries who are taking the MBA programs. It's an amazingly diverse degree and we try very hard to make it accessible for the military," says Bennett.
He agrees that if online programs have a weakness, it's in the networking aspects.
"That's what's missing the most in the online program, the ability to network as much. You get the knowledge but not the connection, and we're trying to address that," he says. The Mercer program schedules major networking events twice a year, when possible. In February, he canceled the spring event with 250 registered students and alumni due to COVID concerns. Smaller events, like a third Tuesday event with guest speakers, are also held throughout the year.
Bennett outlined some of the technological resources available for online teaching, including plagiarism-resistant software, browser lockdowns for online quizzes that prevent students from looking up the answers, even the availability of proctored online testing where an observer monitors test-taking. As competing institutions chase the available supply of MBA students, time will tell whether online-only programs become dominant and if the traditional physical setting for courses remains a viable option.