From the Publisher: Overcoming Challenges
Workforce shortages and supply chain disruptions are two big issues that continue to constrain small business growth and development.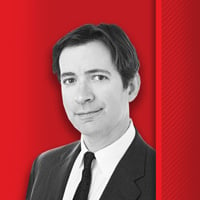 This month we feature our Small Business Guide. There are so many small businesses throughout the state that it's hard to keep up with them month to month. The guide is a great way to catch up with the leaders, given that small businesses account for so much of Georgia's economy. In fact, 99% of Georgia companies employ fewer than 500 workers, and 95% employ fewer than 100.
Small businesses have had the most challenges from recent events but as you can see from this year's selections, there have been innovations and pivoting aplenty to accommodate uncertainty. Furthermore, the events of the last two years appear to have galvanized entrepreneurialism across the board, with new business applications nationwide averaging about 450,000 a month through 2021, according to the U.S. Census Bureau.
Two big issues that continue to strain small business development are workforce shortages and supply chain disruptions. And while relief may still appear far off, businesses can assume the factors dragging the numbers down are temporary and somewhat anomalous.
Concerning workforce, we are training more workers than ever and the numbers show no signs of leveling off or decreasing. Georgia has a labor force of 5.2 million, or roughly half the state's population. And Georgia consistently ranks in the top 10 states for net migration – with Atlanta in the top five large markets for millennials.
Each year colleges and universities within 250 miles of Atlanta produce a million new graduates earning bachelor's degrees or higher. Georgia's 85 accredited four-year public and private universities award more than 132,000 degrees or certificates each year and these are complemented by 22 colleges in the Technical College System of Georgia (TCSG). Georgia Quick Start, which links companies to free training for workers through TCSG, consistently ranks tops in the nation.
While the national "silver tsunami" is upon us, involving the retirement of some 10,000 baby boomers a day from 2011 to 2030, the consensus is that the spike in retirements over the last two years was accelerated by COVID conditions. Consider that life expectancy increased by more than six years between 2000 and 2019 from 66.8 to 73.4, according to the World Health Organization, and the future will likely see more retirees coming out of retirement to work or volunteer in some capacity as COVID conditions continue to wane.
Same thing with supply chain issues. While credit rating company Moody's warns things will get worse before they get better, manufacturing will eventually return to pre-pandemic levels, bringing down both the cost of goods and the amount of backlogs jamming up the system.
Unless automation completely takes over, the other problem with supply chain infrastructure – workforce – could continue to be an issue. Some 4.3 million Americans quit their jobs in August, the most since the U.S. Bureau of Labor Statistics began tracking that data in 2000, while the U.S. warehouse industry had a record 490,000 job openings last July. But here, too, companies are pivoting: building more attractive benefits, higher wages and even free college tuition into their recruiting.
When it comes to trucking – an industry critical to supply chains – there is a gap between trained drivers and demand, to the tune of some 60,000 drivers nationwide. But this shortage is also linked to COVID conditions – particularly the jump in online orders as well as the increase in retirements. The demand for goods is healthier than ever and will continue to "drive" the logistics industry.
The war in Ukraine further clouds both the crystal ball regarding energy costs and the horizon for improved small business conditions. However, this too could be temporary. Since Russia invaded Crimea in 2014, companies have stepped up efforts to find more oil in the U.S. as well as pursue alternate fossil-free resources.
In addition to Quick Start, Georgia has many programs and incentives to help small business owners, making it an attractive landing spot for entrepreneurs. Georgia ranks near the top for growing entrepreneurial activity over the last decade, with Atlanta leading the Metro category. If your business is independently owned and has fewer than 300 employees, or you bring in under $30 million in annual gross receipts, the Georgia Department of Economic Development presents a lifeline. See our Small Business Guide for help accessing the resources essential to successful small business.
Successful small business owners know they must take the long view. Planning may be difficult in such precarious times, but you have to plan for success.