Toccoa | Stephens County: The Right Toolbox
Diversification, downtown turnaround and filmmaking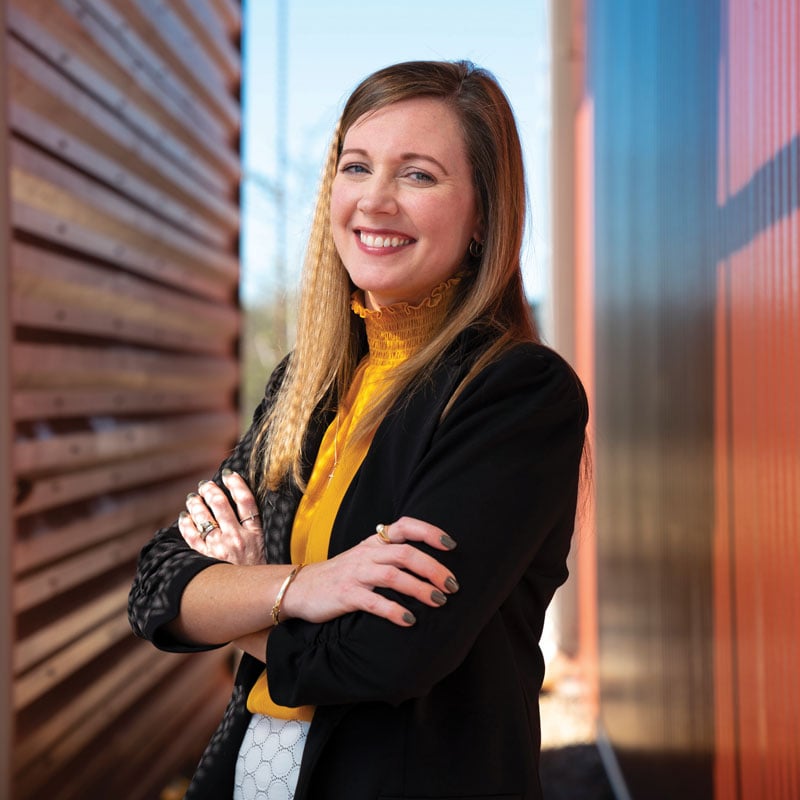 Marilyn Hall and her husband wanted to settle in a small town near Atlanta when they retired. Toccoa, in the foothills of northeast Georgia's Blue Ridge Mountains, seemed ideal as Hall recalled childhood visits to family there. The couple soon bought a downtown warehouse for their home and an event business.
"It was just a very sleepy little town," says Hall, the Downtown Development Authority chair. That description no longer applies. Since Hall's arrival, Toccoa's quaint downtown has experienced a renaissance with a variety of stores, restaurants, the Historic Ritz Theatre's restoration and a renovated train depot platform. The revival has helped to fuel growth throughout the rest of Stephens County, which offers a variety of industries, natural resources, tourist sites and recreational activities.
"People think that it's just a small, little quiet place in the road, but there is so much going on here – socially, economically," says Hall, adding that the town of 9,100 even has a symphony orchestra. "It's just a great place to live."
The turnaround began three decades ago when city leaders kicked off the Main Street Toccoa program. At the time, the downtown had dwindled after becoming like a covered shopping mall with concrete canopies and the closing of its main artery, Doyle Street, to traffic. The canopies created "this really stark, uninviting, vacant feel," says Connie Tabor, the city's community development director. The city took down the canopies in 2007 and Doyle Street reopened. "We opened back up that area so that we have on-street parking," Toccoa Mayor Jeanette Jamieson says, "and that probably was as important a thing as we've done for downtown Toccoa."
Affiliated with the Georgia Main Street program, Main Street Toccoa uses a four-point approach to promoting downtown development, including a focus on historic preservation. In 2017, the town became one of the first cities recognized by Georgia's Exceptional Main Street program. Main Street Toccoa holds more than 50 yearly events such as Toast of Toccoa, the Ida Cox Music Series, Harvest Festival and ChristmasFest. About 860,000 people visit downtown annually, according to Christian Hamilton, Main Street Toccoa's manager.
"I think it's important to remember that we're economic developers, and our goal is to provide the right toolbox to bring businesses and jobs into a downtown district," Hamilton says, noting the area has 160 businesses and employs 2,000 people.
Tools to recruit businesses include the façade grant program for owners facing a street or alley, which has spurred renovation of more than 80 storefronts. The state also designated downtown Toccoa as part of its Rural Zone program from 2018 through 2022, enabling businesses to obtain special tax credits for buying and rehabilitating properties and creating jobs.
More than $38 million in private investment and $16 million in public investment have poured into downtown since Main Street Toccoa's start in 1990, according to Tabor, who says "that's a sizable amount of money for a community our size.
"We had an opportunity to make our town beautiful, and that's exactly what's happened because we had historic preservation that drove the downtown development, and because of our downtown, it helped our whole community with economic development," Tabor says. "If you've got a vibrant downtown, it just helps the whole city and county and region."
---
Diversified Industries
Stephens County maintains a strong manufacturing base, with industry that is more varied than when textile plants dominated.
"We had two Coats & Clark plants here and two Milliken plants here, and they employed literally thousands of people. So every family probably had somebody working at those places. Well, those are gone now," longtime Toccoa City Manager Billy Morse says. "We don't have all our eggs in one basket anymore."
In the last few years, Nifco KTW America Corp., which makes injection-molded parts for autos; copper wire manufacturer Sark Wire; and MagnaFlow, a catalytic converter and exhaust technology parts distribution center, have set up hubs.
With continued expansion, ASI Southeast, a manufacturer of plastics and metals that specializes in commercial bathroom partitions and fixtures, is a mainstay. It's the largest private employer in the county with 500 workers and three plants. Patterson Pump, Sage Automotive Interiors and American Woodwork have been major employers as well.
Manufacturing remains the largest employment sector, with about 1,800 workers, or 18% of the county's labor pool, says Brittany Ivey, the Stephens County Development Authority (SCDA) president and CEO.
But Ivey says manufacturing is a close second to agriculture in terms of economic impact. Agriculture contributes more than $167 million, according to a University of Georgia Extension 2020 annual county review. That includes the Fieldale Farms poultry plant, which has a large presence. With its rich natural resources, the city of Toccoa also is a regional utility provider, supplying natural gas to parts of seven counties in northeast Georgia and North Carolina. And it's a wholesale water provider to Habersham, Banks and Franklin counties.
In addition, Toccoa has witnessed growth along Big A Road, a main corridor out of downtown, attracting new stores such as Popshelf, a discount seller of home goods and beauty products, and Starbucks, which is a big deal for a town of Toccoa's size, according to Julie Paysen, president of the Toccoa-Stephens County Chamber of Commerce.
Expanding the workforce is a priority, Ivey says, and the development authority started a campaign targeting the 7,000-plus residents who work outside Stephens to ditch their commute for local jobs.
"I think we're making progress. We're bringing people back," says Evan Hellenga, city commissioner and former mayor. "There are jobs in Toccoa now that there weren't several years ago." Leaders also are working to develop more rental residences. The lack of housing causes some industries to struggle to retain young managers, says James Addison, Stephens County Board of Commissioners chair. "They're having a hard time keeping those people because there's nowhere for them to stay," Addison says.
---
Business-ready
Three industrial parks make it easier for Stephens to recruit businesses, including the newest, Hayestone Brady Business Park. The Currahee Campus of North Georgia Technical College is located there, which is "great when we're selling the workforce aspect," Ivey says.
"They provide customized training for several of our industries," she says. "I know when Sark and Nifco came here, they worked closely with them."
Ivey says she would like to strengthen the partnership between the Currahee Campus and Stephens County High School. She touts a work-based learning program at the high school, where she says more than 300 students clocked 92,000 hours in retail and manufacturing and earned $800,000 in the 2020-2021 school year.
Just as the technical college bolsters industry, Toccoa Falls College, a private Christian school, benefited nearby Stephens County Hospital by adding a nursing school in 2017.
The hospital, a 96-bed acute care facility, is one of the top public employers, contributing $100 million annually to the local economy. Like many rural hospitals, it has struggled financially but local leaders insist the hospital has turned the corner with new CEO Van Loskoski and services such as a new geriatric psychiatric unit. According to Loskoski, federal COVID-19 relief funds, Disproportionate Share Hospital payments from the state, an increase in patients and help from Georgia's rural hospital tax-credit program have helped improve the facility's financial picture. In addition, the hospital has enacted strategic initiatives to stabilize finances.
Besides healthcare and education, transportation plays a major role in attracting business, with Stephens County offering proximity to I-85, an expanded airport, and freight and Amtrak rail service.
The expansion of State Route 17 into a four-lane highway to I-85 in 2016 has helped accelerate growth. "I think it's why so many of our industries have expanded here," Ivey says. "The logistics [are] much easier now that they can hop on [SR]17 and be to I-85, headed either south or north in six miles." Ivey credits the area's location – between Atlanta and Greenville, South Carolina – with potential for future development. It's not far from the planned Northeast Georgia Inland Port in Gainesville and the SK Battery plant in Jackson County.
Ivey expects the inland port to boost traffic at Toccoa-Stephens County Airport. Also known as R.G. LeTourneau Field, it draws nearly 10,000 travelers, with an economic impact of more than $3.7 million annually, according to a 2020 Georgia Department of Transportation report. The airport has a modern 6,000-square-foot terminal and two runways, including one just over 5,000 feet.
"We have expanded our runway there, so that any industrial prospects can fly practically any size plane into our airport," says Jamieson. Railroads were key to Toccoa's beginnings, and today the city is one of three stops in Georgia on Amtrak's Crescent line from New York to New Orleans. Amtrak spent $2 million last year upgrading a platform at Toccoa's train depot and providing safety features and decorative lighting. "They chose to invest in our train station here in Toccoa, which has really added a lot of value and beauty to our downtown," Paysen says.
---
Going Hollywood
Paysen, the Georgia film liaison for Stephens County, admits she knew nothing about the movie industry when location scouts first contacted her about Toccoa. "I took that as an opportunity to deliver," she says.
As a result, filmmakers have shot seven movies there in six years.
"It's really a bigger deal than I think most people even realize. Not only is it a cool claim-to-fame kind of story to tell," Paysen says, "but the reality is that when those production companies are in town for six to eight weeks or 10 or 12 weeks, depending on the size of the project, they spend a lot of money with our local business community."
Individual productions have spent anywhere from $100,000 to $500,000, contributing more than $1.5 million to the local economy, Paysen estimates. The most recent film, The Mulligan, was a blessing for businesses struggling during the pandemic.
Word of mouth about Toccoa's hospitality keeps moviemakers returning, Paysen says. "That company that filmed the first movie here ended up coming to film four more," she says. "And then connection from each of those film casts and crew would spill over to another project because, even though the film industry sounds like it's a huge industry – and it is – it's still kind of a small world that they operate in."
---
A Beautiful Name
Filmmakers likely come to Stephens County for its picturesque settings, but assets such as the Chattahoochee National Forest, Tugaloo River, Lake Toccoa and Lake Hartwell spur tourism, too. Chief among the area's attractions is Toccoa Falls, which at 186 feet is one of the tallest waterfalls east of the Mississippi River.
A rich military history brings visitors to Toccoa as well. The Currahee Military Museum pays tribute to the 18,000-plus paratroopers who trained at Camp Toccoa during World War II, some of whom were memorialized in the HBO miniseries Band of Brothers.
Troops stayed at Camp Toccoa at Currahee near Currahee Mountain. A nonprofit group is restoring the camp, building a pavilion and barracks and obtaining a C-47 plane.
Currahee Military Weekend is a popular fall event.
Tourism goes hand in hand with recreation. Highlights include the Links at Lake Toccoa, a nine-course public golf course; the Traveler's Rest State Historic Site, a stagecoach inn from the 1800s; the Tugaloo Bend Heritage Park; Currahee Vineyards; and the Tugaloo River Water Trail, a 10-mile trail that's part of the Georgia River Network.
Sites such as the water trail attracted outdoor enthusiasts escaping urban areas when the pandemic hit, says Michelle Ivester, Stephens County commissioner and real estate broker. As people began working remotely, newcomers flocked to the area, she says.
"People in the city – the big cities – realized they really didn't have to be in an office anymore," she says. "They could work from home, and when that happened, you saw more and more people migrate up this way because we have such beautiful land and beautiful scenery."
While Toccoa's name comes from the Cherokee word for "beautiful," the quality of life and ease of forming close ties are what really draw folks to the area.
Locals are quick to embrace outsiders, Hall says. "This is where we want to be, and so it's quite intentional that we moved here," she says.
---
LOCAL FLAVOR
Puttin' on the Ritz
The Historic Ritz Theatre dazzled Depression audiences with Hollywood magic when it opened in in rural northeast Georgia in 1939.
Over time, the Toccoa movie theater fell into disrepair after becoming a performing arts center for a while. But a grant from Atlanta's Fox Theatre Institute helped save it from destruction in 2012 and paved the way for the city of Toccoa to acquire it two years later and restore the old movie house to its former glory.
Today, the Historic Ritz Theatre may be the crown jewel in Toccoa's efforts to revitalize downtown. The 448-seat facility holds about 100 yearly events, including a Night at the Ritz series featuring musicians, comedians, magicians and theatrical groups. In addition, Open Mic Monday, family movies and rentals help draw around 15,000 visitors annually.
"One of the things that is so important about historic theaters in towns and cities in general is if they're done right – I've seen it with my own eyes – they can be really big economic generators for the downtown area," says Keith Kozicki, treasurer of the nonprofit group Friends of the Ritz.
An ex-Atlantan, Kozicki got involved with the Ritz after volunteering with Main Street Toccoa. He became the theatre's first general manager and later helped start the Friends of the Ritz to supplement the theater's programming, capital enhancements and marketing.
More than $600,000 in grant and city funding has helped revive the Ritz. Renovations restored the art deco moderne façade and added a neon-lit replica marquee. Other improvements include a new sound system and restoration in the balcony. The Georgia Trust for Historic Preservation has recognized the Ritz for its efforts.
The theater is devoted to serving the community, says Tami Mayhugh, the Ritz's general manager, providing affordable entertainment to residents. Admission to movies during the summer and winter is $1 and $1 for concessions. (The Ritz lacks digital projection equipment to show first-run movies.)
"People can come bring their kids, watch a movie, have popcorn and drinks for nothing – less than 20 bucks – and bring your whole family and do it all," Mayhugh says.
Mayhugh enjoys hearing patrons reminisce about the past: "At every show they'll tell me another story about, 'Oh, I had my first date here.' You know, 'I came as a kid and I saw my first movie here.'" And once again, the Ritz is drawing people to restaurants and shops downtown.
"I think there is a lot of reason for optimism going into the next few years for the Ritz and for the city of Toccoa," Kozicki says, "and you're starting to see businesses set their roots in the downtown area. That just is very encouraging."