Savannah | Chatham County: Strong Rebound
Tourism, housing and private investment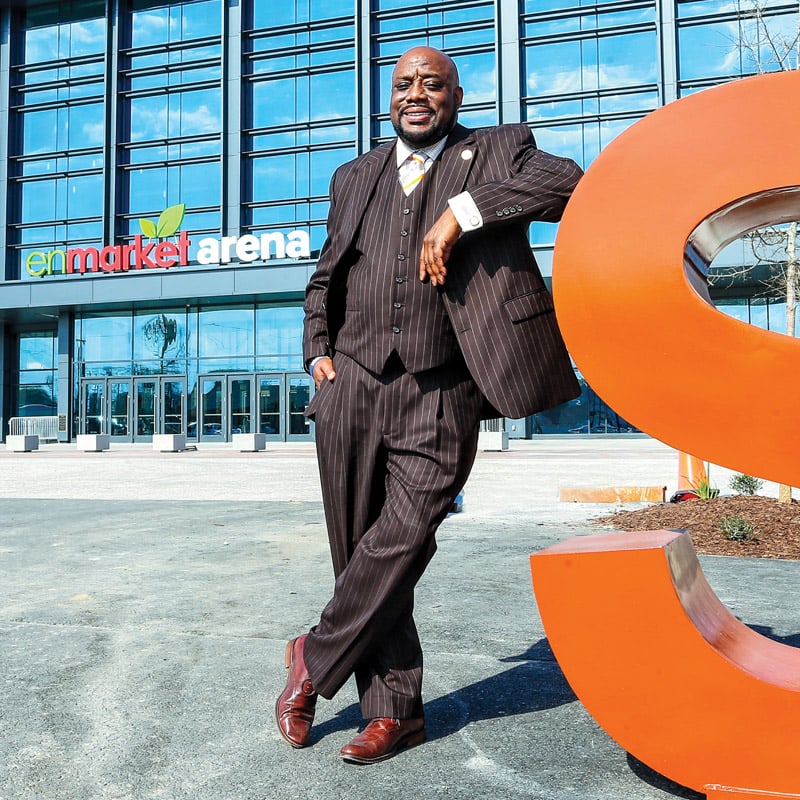 Savannah is prepared for a post-pandemic tourism surge with a freshened inventory of attractions, built or finished during the two-year interruption caused by COVID-19.
The city has set its sights on returning to the tourism glory days of 2019, Savannah's all-time record year with an estimated 14.8 million overnight and day-trip visitors. The 2021 report on the city's tourism sector won't be released until May, but industry officials are optimistic that it will show a strong rebound from the pandemic-driven decline.
And when those crowds return, they'll find new tourist assets, which is no mean feat in a city that markets history as its stock in trade. The new 9,500-seat Enmarket Arena – built at a cost of $165 million, with the naming rights bought by a local convenience store chain – opened in February and is already pulling in big-name acts to a city where both locals and visitors are hungry for a return to live entertainment. The Eagles launched their international "Hotel California" 2022 tour there on Feb. 19, with the Savannah Philharmonic joining them on stage. April's lineup includes the Harlem Globetrotters, Bon Jovi and Jimmy Buffett. The arena will also serve as home ice for the city's new minor league hockey team, the Savannah Ghost Pirates.
Aside from the plush new arena, the new luxury hotels that bookend River Street are now fully open: the JW Marriott Plant Riverside District hotel, dining and entertainment complex saw its final phase complete in 2021, and Thompson Savannah opened last summer after significant delays caused by a construction fire.
Conferences are picking up as well. "The expansion of the Savannah Convention Center is now well under way, with completion expected by late 2023," says Joe Marinelli, president of Visit Savannah. "We are doubling the size of the exhibit hall, adding a new ballroom, more meeting space and a 900-space parking garage. Many Georgia associations are already locking in their future dates, as the larger space will allow their conventions to grow, and we've already signed a number of larger national conventions for 2024 and beyond."
"We're about 96% of where it was in tourism employment," says William Hubbard, president and CEO of the Savannah Area Chamber of Commerce. "I think we've come out of it well."
As big and sprawling as the tourism industry is in Savannah, Hubbard notes, direct spending by the military (at Hunter Army Airfield, the 165th Airlift Wing and various Coast Guard facilities in Chatham County) is 50% greater than direct spending from tourism – an illustration of just how diverse the Savannah and Chatham County economy is.
---
Record-breaking Projects
The Savannah Economic Development Authority (SEDA) reports 2021 as its best year yet, when it comes to investment and new projects.
"For 2021, we had the best year of private investment on record – $783 million in private investment in the industrial/manufacturing sector," says Trip Tollison, SEDA president and CEO. "We did 14 projects in 2021. We had five brand new manufacturers who committed [to locating here]."
The new manufacturers are Metallica, NANT Renewables, two facilites by Celadon which will also open its North American headquarters in Savannah, and NTM North America.
While the Bryan County mega-site, at 2,284 acres the largest such purchase in state history, may not be in Chatham County, it has Chatham fingerprints all over it. The economic development site is a joint project of the state and the Savannah Harbor-Interstate 16 Corridor Joint Development Authority, where Chatham County is a major player. The impact of the site, which
is intended to attract large automobile manufacturers or other OEMs of similar size, will be felt throughout the region.
It may seem a stretch to go from industrial prospects to filmmaking but the Savannah
Regional Film Commission falls under SEDA's umbrella as well. And over the past year, the area's filmmaking business made a good comeback from the washout that was 2020, with about $114 million in direct spending.
"It's not our best year but certainly not our worst. All of the movie spaces, the sound stages, the things that production companies use, are either maxed out or about to be maxed out," says Tollison. That spending came from 88 different professional productions in 2021, plus 39 student projects. And 2022 shows no signs of slowing down. Filming has become so commonplace in Savannah that it doesn't generate the excited buzz it once did – although horror buffs snapped to attention when Jamie Lee Curtis came to town for the Halloween Ends filming in January.
---
Housing for All
Housing is on Savannah Mayor Van Johnson II's mind.
"For me, it's about housing that's affordable to Savannahians. It's a challenge going on across the country," says Johnson, who commissioned a Housing Savannah Task Force to draft the city's first affordable housing plan. "We recognize that housing costs have outpaced income at a rate of two to one over the past 30 years. A person at minimum wage has to work two-and-a-half fulltime jobs to afford a one-bedroom apartment."
The task force plan calls for boosting federal housing funds with significant investment from the city, Chatham County and business and philanthropic sectors. It also calls for investment in housing improvements, purchases and retention, increasing the capacity and number of housing partners, and supporting what it terms "housing-friendly" policy and legislation.
Additionally, Johnson championed a hike in the city's minimum wage that took effect in January, bringing city government's pay scale to a base of $15 an hour.
"You can't get people out of poverty by paying poverty wages," he says. "New York City has a $15 minimum wage, and so does Savannah, so we are punching way above our weight."
Meanwhile, an adaptive reuse proposal for part of Savannah's Oglethorpe Mall has received initial approval. That mall is by far the healthiest of the city's two enclosed malls, but an end anchor space that housed Sears until 2018 stands vacant, along with its related outparcels. Madison Capital Group proposes replacing that portion of the mall with 240 market-rate apartments divided among five four-story buildings, complete with amenities like a pool and green space.
The Chatham County-Savannah Metropolitan Planning Commission (MPC) approved the project, with the caveat that more detailed versions of the plan should come back for additional review, and the Savannah City Council has signed off as well.
"It has the potential to be a fabulous project," says Melanie Wilson, MPC executive director. While Savannah may be ripe for redevelopment of some of its retail real estate, the Chatham County municipality of Pooler is awash in a wave of residential and commercial development. The latest big-box entry: Costco, which opened just before Christmas 2021 as the company's first store in the region.
"I believe the [city's] population was a little over 6,000 in 2000 and in 2010, it was 19,000-plus, and now we think we're pushing 30,000," says Pooler Mayor Rebecca C. Benton, adding that the population may double during the workday.
Development in Chatham County went westward because it had nowhere else to go, and it has transformed the county's smaller municipalities – none more so than Pooler, which now hosts surface-street snarls and rush-hour commutes into Savannah that would look familiar to Atlantans. With that development has come the struggle of managing it, Benton says.
"All of the multifamily housing that has been approved has not been built, and right now Council will not approve more multifamily because we don't want to add to the traffic," she says.
---
Port Pop-ups
You've heard of pop-up shops and restaurants. But what about pop-up yards? Pop-up freight yards are the Georgia Ports Authority's (GPA) innovative answer to solving part of the Port of Savannah's share of the national supply chain crisis.
Just in case you slept through the news cycle for the past six months, here's a refresher course: Increased demand and a shortage of truck drivers – both driven largely by pandemic factors – caused massive backups at ports on both coasts, setting off ripples that ultimately ended up in some bare shelves. As containers were slower to move out of the ports, there was less space – and finally none – for incoming cargo to be placed. Ships hovered at sea outside the ports, waiting for a chance to unload. "We had approximately 30 to 31 ships backed up at the peak [late October and early November] and we got it down to zero, and then came the holidays," says Griff Lynch, GPA executive director, adding that by the time you read this, no ships should be waiting outside the port.
How did GPA tackle the backlog?
"The problem is that on-dwelling containers are staying on the property too long. One of our values is creativity, and this is a perfect example of the Georgia Ports Authority living its values. Our customers have a problem, so what can we do to help?" he says.
At least part of the solution involved reaching short-term lease agreements with landowners around the state to set up pop-up yards, creating small holding spots for specific customers' cargo while getting the surplus containers off port property. Four pop-ups were scattered around the state: Norfolk Southern's Dillard Yard in Savannah; an old airstrip in Statesboro; an old CSX facility known as Halsey Yard in Atlanta; and near the Appalachian Regional Port in Murray County.
Port officials also mustered up additional paved area on the port property itself, enough to store an initial 5,000 additional containers and up 10,000 containers by June.
Meanwhile, two major capital projects are nearing completion and a third is well on its way. In January, the Savannah Harbor Expansion Project, or SHEP, was down to the final 3% of the $973 million project to deepen the river channel to accommodate larger ships. The Mason Mega Rail Terminal saw the second half of its new rail lines become operational in November and is on track to finish in 2023 with the relocation of major rail lines that now bifurcate neighboring Garden City. Finally, the new Berth One, built on the site of a demolished smaller berth, is 35% complete. That $250 million project will add another 1.5 million TEUs (20-foot equivalents) to the port's capacity, including additional ship-to-shore cranes now being built overseas.
The port's stellar performance coupled with the uptick in tourism and investment are solid indicators that Savannah and Chatham County are rapidly returning to the glory days.
---
LOCAL FLAVOR
Caring for Tybee's Turtles
Ike's siblings left him behind in 2020 and headed out to sea. But he'll eventually catch up, since the Tybee Island Marine Science Center rescued the tiny loggerhead sea turtle from the remnants of the family's sandy nest. For now, he swims in a tank at the center's modern new headquarters, growing toward the day sometime next year when he'll be released into the ocean.
Nest stragglers are not rare, explains Maria Procopio, the center's executive director, and the center regularly fosters one as its "marine debris ambassador."
Ike has a beautiful foster home, meanwhile. The center's new quarters are a modern, sustainable structure overlooking dunes and the beach, right next to Tybee's North Beach parking lot and near the iconic Tybee Lighthouse. Craig Clements, architect with Sottile & Sottile in Savannah, designed the 10,800-square-foot building, with its pervious pavers, 1,785-gallon cistern and special "sea turtle safety glass" to block the internal light that distracts nesting turtles and their hatchlings, among other features.
The pandemic slowed completion of the facility, which had its soft opening last spring. Some exhibits are still works in progress, including the 4,600-gallon tank that will be the standing home for Ike and his/her successors.
Inside, guests ($10 per person over age 4) can visit Ike as well as other tanks housing an ethereal stingray, terrapins and turtles, and various fish; there's also a touch tank. Static displays include marine fossils and artifacts, a wall devoted to Gray's Reef National Marine Sanctuary offshore and an elevated gallery overlooking the point where the Savannah River flows into the Atlantic Ocean – and where you might spot a passing container ship.
"The local IKEA Distribution Center has long been a supporter of the science center and their latest gift was $75,000 worth of equipment and furnishings, from cabinetry, tables, desks and chairs to refrigerators to store food for our resident animals, a dishwasher to clean our prep dishes and the shelving for our retail Discovery Shop," says Procopio. IKEA also sponsors the resident sea turtle, which helps explain this name.
Out front, the entrance is marked by a fiberglass sculpture of a whale fluke, cast from the mold of a carcass by Creative Wildlife of Lecanto, Fla. The endangered north Atlantic right whale, Georgia's state marine mammal, has calving grounds off the Georgia coast.
As nice as its new quarters are, the building is just the tip of the proverbial iceberg. The real work of the center extends beyond, with classes and camps for tourists and locals to teach them about the wonders of the beach beyond sunscreen and boogie boarding. Their mission? To recruit friends and advocates for Ike and his fellow ocean residents.