Georgia Trend Daily – March 24, 2022
March 24, 2022 The Center Square
T.A. DeFeo reports that Georgia Gov. Brian Kemp signed a measure Wednesday to give a one-time tax refund to eligible Georgia taxpayers. Taxpayers who are single or married and filing separately will receive a $250 refund under House Bill 1302. Heads of households will receive a $375 refund, while married taxpayers who file jointly will receive a $500 refund.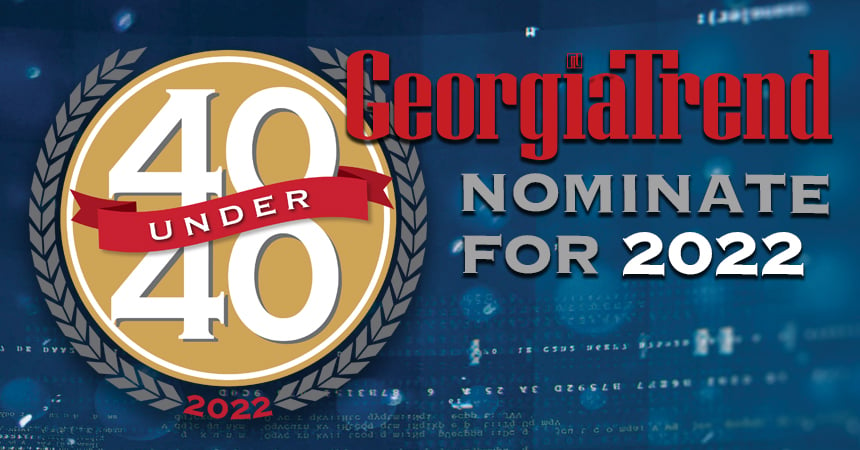 March 24, 2022 Georgia Trend – Exclusive!
Mary Ann DeMuth reports that nominations for Georgia Trend's annual 40 Under 40 honors are now being accepted. Friends, work associates, family members and eligible honorees can submit nominations through Friday, April 22 at 5 pm.
v
March 24, 2022 Atlanta Journal-Constitution
Kelly Yamanouchi reports, after nearly two years of strictly enforcing mask mandates on planes and punishing travelers who don't comply, airlines are now pushing for an end to the federal mask requirement for air travel. They are also asking that the U.S. drop its requirements that international travelers get tested for COVID-19 before entering the country.

March 24, 2022 GlobalAtlanta.com
Trevor Williams reports that a family-owned Austrian company highlighted the opening of a metro Atlanta warehouse as a key 2021 development when reporting strong growth on global revenues of 2.54 billion euros. Based in Lauterach, Austria, Gebrüder Weiss saw its sales jump 41 percent during the year compared to 2020, when the logistics industry faced a pandemic-induced sales slump.

March 24, 2022 Atlanta Business Chronicle
Chris Fuhrmeister reports that Chance Adamson recalls a recent Clayton County home he sold that was listed for $265,000. More than 60 showings and 30 offers later, the house went off the market for $325,000, a premium of 23% above asking.

March 24, 2022 GPB
Stanley Dunlap reports that a bipartisan group of Georgia lawmakers is working to get a bill across the Legislature's finish line that would remove barriers that prevent families of police officers who died by suicide from collecting the same benefits as survivors of officers who die in the line of duty. A House public safety panel is expected to vote in the coming days on Senate Bill 464, a measure that already unanimously passed the Senate.

March 24, 2022 Georgia Health News
Andy Miller reports that a bill that would strengthen protections for children against lead poisoning passed a Senate health committee Wednesday. Hundreds more children in Georgia would have their homes investigated for lead under proposed rules in House Bill 1355, sponsored by Rep. Katie Dempsey (R-Rome).

March 24, 2022 Covington News
Tom Spigolon reports that legislation allowing electric vehicle manufacturers like Rivian to sell directly to consumers rather than through dealerships did not make it past last week's Crossover Day but may still have a chance this year. Senate Bill 398, sponsored by District 1 State Sen. Ben Watson, R-Savannah, faces strong opposition from the trade association representing Georgia vehicle dealers who tend to be major political forces locally.

March 24, 2022 Georgia Recorder
Ross Williams reports that a once-controversial bill seeking to protect parents from being removed from local school board meetings sailed through a House committee Wednesday after undergoing major changes, while another so-called parental bill of rights squeaked past a Senate committee with a tie-breaking vote. Senate Pro Tem Butch Miller's Senate Bill 588 passed the Senate 32-20 last week along party lines, but the House Education Committee gave it unanimous approval Wednesday afternoon.

March 24, 2022 Dalton Daily Citizen-News, CNHI
Asia Ashley reports, suspending state gas taxes at the pumps is the only issue where Stacey Abrams says she and Gov. Brian Kemp agree. The Democrat gubernatorial candidate's priorities and plans for Georgia differ drastically from the Republican governor, whom she may face for the second time in November.

March 24, 2022 Capitol Beat News
Dave Williams reports that legislation prohibiting giant social media platforms from censoring content based on the author's viewpoint drew criticism on several fronts Wednesday in a Georgia House committee. Some opponents argued the bill, which the state Senate passed two weeks ago, is an unconstitutional violation of the free-speech rights of companies including Facebook and Twitter.

March 24, 2022 Atlanta Journal-Constitution
James Salzer reports that Georgia Senate budget writers on Wednesday approved a spending plan for the coming year that would include a $2,000 pay raise for teachers and continue attempts to slow state government turnover. The measure now heads to the full Senate chamber, and then on to negotiations with the House on a final budget.