The Georgia File: Relationship Builder
Remembering the late Sen. Johnny Isakson for the selfless life he led.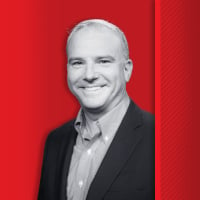 Former top staffers for the late Johnny Isakson say their old boss didn't have many hobbies besides work.
"A lot of people play golf, a lot people like to go fishing. Johnny Isakson wanted to get up and go to work," says Heath Garrett, Isakson's longtime political adviser. "That's what he loved to do. With a sincere love of human beings, he got an incredible amount of satisfaction out of helping somebody with the smallest thing."
If a senior citizen wasn't getting her Social Security check on time, "he would pick up the phone and call the Social Security office himself."
A week after the three-term U.S. senator died in December, I hosted Heath and two other former Isakson chiefs of staff, now-Attorney General Chris Carr and his wife Joan Carr, on WABE's Political Breakfast podcast to give Georgians a behind-the-scenes look at the human side of a man respected throughout our state.
What emerged was a portrait of a public servant who never tired, who invested time in relationships and who accomplished great things with a commitment to civility, even in our current toxic political atmosphere.
In the podcast, Chris noted that Johnny treated everyone the same. "He didn't care who you were, Republican or Democrat, Senate cafeteria worker or Senate majority leader."
Chris remembered a time in 1996 when he was interning on Isakson's first Senate campaign, which Isakson ultimately lost in the primary. He and friends visited Manuel's Tavern, a famous Democratic hangout in Atlanta. Chris said he was warned not to tell the owner, longtime DeKalb leader and staunch Democrat Manuel Maloof, that he was a Republican. When a friend introduced Chris to Maloof as a member of the Isakson campaign, Chris said, "Manuel looked up and said, 'Johnny Isakson is one of the most decent people I've ever known.'"
Isakson's successful career in real estate provided the perfect training ground for a legislator.
"Johnny taught us that every deal requires a willing buyer and a willing seller," Heath says. That requires give-and-take and negotiation, he notes.
In a meeting during the Obama administration, a visitor asked Isakson why he wasn't on Fox News throwing bombs like other members of Congress.
'"I never sold a house to someone who I called names,"' Carr remembered his boss responding.
Isakson built one of the biggest real estate companies in the state, Northside Realty, with more than 1,000 people working for him. Joan pointed out half-jokingly that "90% of those workers were women, and Johnny thought women were smarter and worked harder."
Joan also told a hilarious story of when she first started working for Johnny. With a tear welling in her eye, she told Isakson she was going through a divorce. "In 30 years of real estate I've gone through more divorces and menopauses than any man alive. Whatever you need!" Johnny responded.
He showed the same kindness to constituents.
In the 2000s, some Cobb County ladies made a quilt for President Bush and asked Isakson to deliver it to him. Isakson stood on a tarmac awaiting the president's arrival in Georgia holding that quilt so he could hand it to him personally.
"Our staff begged Johnny to let our office get it to White House staff, but Johnny wouldn't hear of it," Joan said.
Just as Isakson got the little things done, he tackled big issues too.
When Isakson read in the news that a Georgia woman was murdered in the African nation of Benin while volunteering as a teacher in the Peace Corps, he went to the funeral alone, unbeknownst to staff. Kate Puzey, who grew up in Cumming, was killed in retaliation for reporting to authorities alleged sexual abuse by a man at the school where she taught English.
Isakson built a relationship with Puzey's parents, spent years working on legislation to protect whistle blowers in the Peace Corps and kept a picture of Puzey with her African students on his desk for the rest of his career.
"He was a legislator the likes of which we'll never see in our lifetimes," Joan said. "He wanted to get a positive result out of every bill that he introduced, out of every interaction, out of every meeting. He would never give up."
In commencement addresses, Isakson would tell graduates his six silent secrets: Never stop learning, always be respectful, always be ethical, have faith, have love and never stop dreaming.
We won't remember Johnny Isakson for inspiring words he said but for the selfless life he lived.