Macon-Bibb County: Stability and Vibrancy
Tourism, business expansions and redevelopment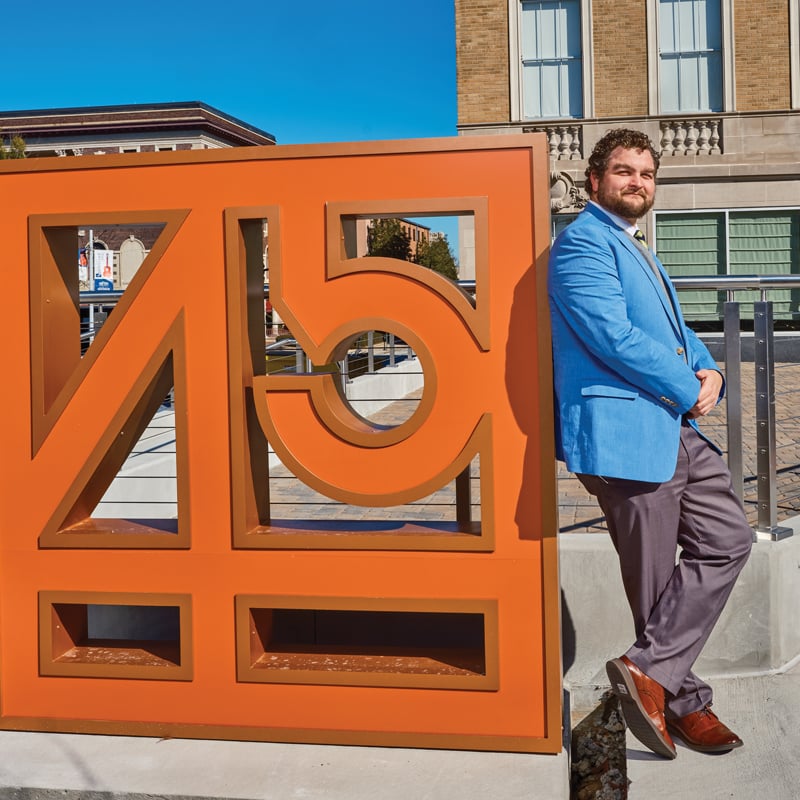 Southern hospitality and economic vitality go well together. In the heart of Macon, in the heart of Georgia, that pairing shows fresh promise with the opening of the first new downtown hotel in more than half a century. The $39 million Hotel Forty Five comprises 11 stories, 94 rooms and four restaurants and bars and will produce more than 100 new jobs.
"Macon-Bibb County is particularly proud of the growing tourism sector, with the new hotel helping to grow the restaurant, retail and entertainment sectors in the downtown and sparking more interest in tourism and hospitality investment there and beyond," says Alex Morrison, assistant manager at Macon-Bibb County Economic and Community Development and executive director of the Urban Development Authority. "Hotel Forty Five, a new amphitheater at the Macon Mall and the expansion of Ocmulgee Mounds National Historical Park have all been supported by direct investment by Macon-Bibb County, reducing costs for developers and raising adjacent property values."
This year Congress may consider transforming the Ocmulgee Mounds park, a 2,000-acre forested area in Macon, into the Ocmulgee National Park and Preserve. (Ocmulgee Mounds is currently designated a national historic park; designation as a national park, the top tier in the National Park Service, literally requires an act of Congress.) The joint effort of Macon area nonprofits and Muscogee (Creek) Nation would consolidate the Ocmulgee National Monument with other public lands along the Ocmulgee River between Macon and Hawkinsville, less than 50 miles to the south. It would be the first national park in Georgia.
"A lot of folks locally and nationally are very excited about this possibility," says Seth Clark, the executive director of the Ocmulgee National Park and Preserve Initiative as well as a member of the Macon-Bibb County Board of Commissioners and its mayor pro tem. "I am optimistic that they will succeed in seeking the designation change considering the huge impact it would have here."
Calling the proposed national park Macon-Bibb County's biggest economic priority for 2022, Clark cites an independent study commissioned by the National Parks Conservation Association and funded by the Knight Foundation that found connecting existing public lands from downtown Macon to Hawkinsville with the creation of a national park and preserve would increase the total economic impact of the current national historical park by $206.7 million. The national park would bring an additional 1.1 million visitors to the region and generate almost $30 million in additional tax revenue, he says.
And such land use surrounding Robins Air Force Base would better complement the mission and operations at the largest single-site industrial complex in Georgia.
Those millions of additional visitors may find it a much smoother ride into Macon with the advent of another economic development boost: the completion of the $500 million I-16/I-75 Interchange Improvement project in 2024. Approaching its sixth year of construction, the project will enhance safety and mobility for both consumers and commerce, specifically supporting Georgia's growing freight and logistics industry. The Port of Savannah, the largest single-terminal container facility (and the fastest growing) in the U.S., is only 2.5 hours away from Macon on I-16.
---
Staying Power
Impressively, Macon's downtown saw net business growth during the COVID shutdown with no businesses closing due to the pandemic, according to the Macon-Bibb County Economic and Community Development Department.
Morrison calls it "perhaps the biggest statement of Macon's stability and vibrancy. We were able to adapt to new models and support small businesses by collaborating closely with nonprofit, authorities and philanthropic partners."
Clark attributes that resiliency in part to community support. "It was really incredible the levels that the community went to, doing all we could to make sure they stayed afloat during the trying times of the initial COVID surge before the vaccines. We didn't see them as restaurant owners or waiters; they were our neighbors." That effort, along with business owners rallying to take care of their employees and their fellow entrepreneurs, was inspiring, he says. "It really drove home the concept that our neighbors really do understand that we're all in this together."
Staying power in Macon-Bibb County often turns into growth opportunity, even during a pandemic. The Macon-Bibb County Industrial Authority (MBCIA), which became one of only 67 Accredited Economic Development Organizations last year and is celebrating its 60th anniversary in 2022, could point to two major existing industry expansions in 2021. In South Macon, Kumho Tire invested $21.8 million in a 20,500-square-foot factory expansion to facilitate a new automated production unit that helps boost product quality and manufacturing efficiency.
"The Macon-Bibb County campus is Kumho's first in North America," says MBCIA Chair Robby Fountain. "Being a part of Kumho Tire's strategic plans to expand their international production capabilities shows their confidence in our city and county while meeting our goal to bring business that will be a good fit for both our community and the industry."
One of the largest manufacturers of recycled metal products in North America, Schnitzer Steel invested $11 million for a 32,000-square-foot expansion of its Macon campus that will feature a state-of-the-art advanced aluminum separation system, the first of its kind in Georgia, according to Fountain. The manufacturer's major move comes thanks to Macon's "strong transportation infrastructure, the central location to service domestic aluminum consumers such as the automotive industry and the facility's close proximity to Georgia ports with access to export markets, as well as strong community leadership and a growing labor force," says Pedro Orbezo, Schnitzer's vice president of metals technology.
"The Macon-Bibb County Industrial Authority is always looking towards the future while focusing on our existing resources," Fountain says. "The industries already here understand the extent [to which] we are willing to help them succeed, so we are selective in the industries we bring in so that they will mesh well with our existing ones."
A new venture that broke ground in 2020 and began operations in 2021, Dean Baldwin Painting now occupies a $20 million, four-hangar facility for its aircraft painting business. The location of the new 127,000-square-foot facility gives the more than 50-year-old company an advantageous position from which to serve both military and commercial customers in Georgia's Aerospace Corridor. The MBCIA also announced a new industry launch in the form of a $30 million state-of-the-art production facility on more than 10 acres in east Macon. FFD GA Holdings, Inc., a medical cannabis cultivation and production business, is expanding after being one of only six companies selected by the Georgia Access to Medical Cannabis Commission to provide medical-grade low THC oil.
---
More Firsts
While pursuing economic growth during a pandemic, Macon-Bibb County leaders, businesses and citizens are keeping an eye on safety. Clark reports that Macon-Bibb County's Emergency Management Agency and Recreation Department has given out more than 902,000 units of free personal protective equipment (PPE) within the community. That includes hand sanitizer, face masks, gloves, travel kits and gowns.
Hotel Forty Five, a boutique hotel that's part of Marriott's Tribute Portfolio, includes another first for Macon: its first Commercial Property Assessed Clean Energy or CPACE loan. This innovative financing program incentivizes energy efficiency and renewable energy improvements on private property. One key benefit is that a CPACE loan can be paid back in a much longer span of time at a lower rate of interest than other loans through an assessment on the property tax bill. CPACE legislation has been enacted in 36 states.
Sometimes progress comes by tearing down rather than building up. On that note, Macon-Bibb County demolished 100 blighted properties in 2021. Thanks to no small amount of collaboration by a range of city and county departments, the #BlightFight team was able to build on Mayor Lester Miller's April 2021 announced plan to remove 30 blighted houses in 30 days. Each structure in the process was selected by the Code Enforcement Department as a property that was burned or classified as vacant, abandoned or dilapidated.
"As many communities our size do, Macon-Bibb County suffers from a high concentration of blighted structures," says Clark. "When the mayor was sworn in this past year, he doubled down on our beautification and safety efforts. We were able to make huge progress in ridding neighborhoods of blighted properties that were dangerous, major drags on folks' property values, and really ate at the soul of our incredible neighborhoods."
Not to be outdone, the MBCIA's Macon Bright Program targets industrial and commercial blight for elimination with local incentives for the private sector to renovate and rehabilitate deteriorated or challenged properties. This is accomplished with an effective tax freeze on renovated property for a period up to five years.
"It's a unique program that we have to encourage beautification of our community and utilization of existing resources," Fountain says. "It is important for us as an organization to improve quality of life by bringing new resources to our community and it is equally important that we utilize the existing ones we have."
---
Homes and Hope
Economic and community development are inextricably linked. The pandemic period required extra effort to safeguard the most vulnerable people in the Macon community. That included the vigorous deployment of federal ESG (Emergency Solutions Grant) funds to prevent homelessness due to pandemic job losses, the creation of new affordable housing funds from federal and philanthropic sources and the construction of new transitional housing.
A shuttered elementary school was turned into the Brookdale Warming Center thanks to grants, private donations and in-kind support from more than 30 agencies, organizations and departments. Now operated by the United Way of Central Georgia as the Brookdale Resource Center, the facility provides homeless individuals and families with three meals a day, shower facilities, sleeping quarters and more. In July 2021, the Macon-Bibb County Commission voted to fund the center using$4 million in grant money from the American Rescue Plan.
"It has become a beacon of hope in our community for so many and saved countless lives," Clark says of the warming center. "We truly see economic and community development as investing in all levels of our community, and the success of Brookdale really has driven that point home for me, personally."
"Macon showed its heart by investing in the citizens hit hardest by the pandemic and economic hardship," said Morrison. "2021 was a year where citizens and leaders stepped up to make sure no one is left behind in the coming growth in Macon-Bibb. We are a city that loves back."
---
Local Flavor
Taste of Renewal
There's everyday flavor and then there's the kind that goes beyond the taste buds to the soul.
In the case of H&H Soul Food, it brings people together, connects individual
memories with a city's history and continuously adds to sense of place, all with a smile. At the 63-year-old Macon culinary institution, one can sit where The Allman Brothers Band members sat and eat the same fried chicken recipe that kept them coming back.
But it's not all gravy. Restaurants demand a lot of work, and businesses, especially ones dating back to the Eisenhower administration, often require preservation.
After the iconic Macon landmark closed in 2013, Moonhanger Group, owners of downtown's Rookery and Dovetail restaurants, came to the rescue, purchasing and reopening H&H the next year. "The story of the restaurant and its role during Macon's musical explosion with Southern rock and Capricorn Records in the '70s is legendary, perhaps sacrosanct, but 'the H' is more than that," says Wes Griffith, Moonhanger Group's owner. "There's just such a strong history of peace and love inside these walls — you can still feel it."
Moonhanger Group commissioned a new mural that features H&H founders Mama Inez Hill and Mama Louise Hudson — "pioneering African American businesswomen" — along with The Allman Brothers and other classic images from the restaurant's past. On February 11, the unveiling and dedication of Steven Teller's artwork adorning H&H Soul Food took place, paying special tribute to local legend and Harriet Tubman Act of Courage recipient Hudson and her longtime business partner, Hill. The mural dedication fittingly occurred on the same day as the Allman Revival concert.
Teller, who initially caught the attention of Moonhanger Group because of his past Allman Brothers artwork, specializes in street art and large-scale
public murals that feature human figures, animals and nature in colorful geometric spaces.
"Mama Louise helped to harbor the creativity of some of the most influential musicians that came out of Macon," says Teller. "I hope that this mural, a dedication to her truly amazing legacy, continues to tell the story of Mama Louise's unending generosity and that it inspires people to be a little more like Mama."
Meanwhile, Moonhanger's renovation and restoration work continues, including the recent reopening of Grant's Lounge, dubbed the "Original Home of Southern Rock."
"We love to preserve and celebrate Macon history, especially its music heritage," says Griffith.