Douglas County: Huge Wins
Data centers, new investment and mixed-use development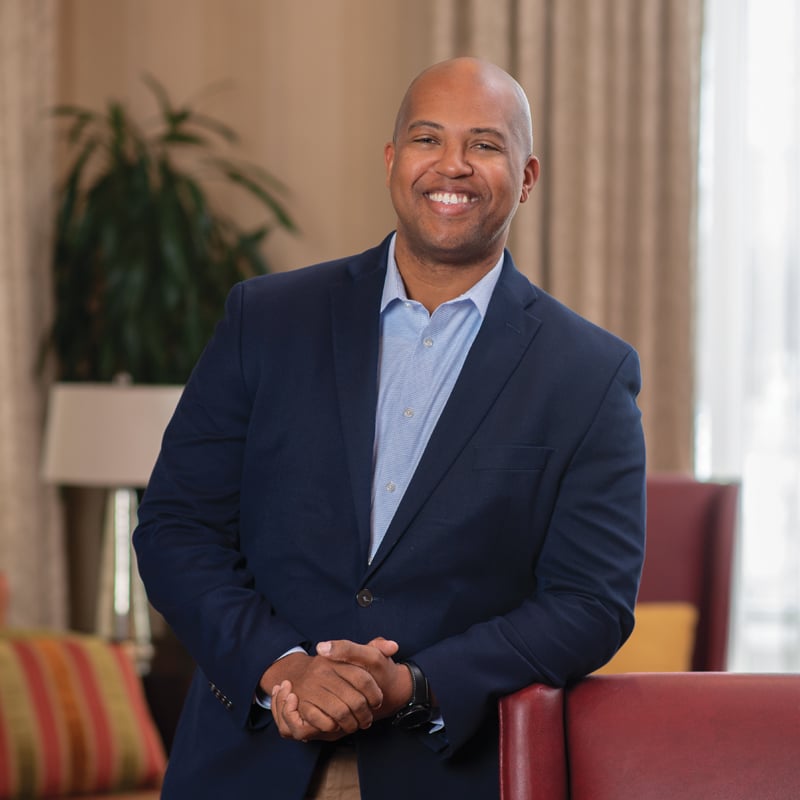 Once the epitome of a 19th century "New South" town, with its railroad, cotton mill, hotel, bank and a commercial district, Douglasville and Douglas County are today attracting 21st century bragging rights and billions of dollars in investment from the likes of Google, Amazon, Switch, Microsoft and more. "We've had a lot of industrial and data center development, and housing, too," says City Manager Marcia Hampton. "Google has been in Douglas County for more than 10 years, but now Microsoft is coming into the city limits with a data center as well, on Riverside Parkway on the eastern side of the county."
Though it's not out of the ground yet, this latest addition is a huge win for the county's economic development portfolio and further cements the city and county's growing reputation as a hub for data centers.
"We've now become nationally recognized as a place for data centers, and so that's really something that's helping change the outlook on the community," says Chris Pumphrey, president of Elevate Douglas Economic Partnership. "Data centers individually don't have a large number of employees on site, but they typically have higher- earning employees there. As we start to build that cluster of data centers, we're increasing the wage profile in the community."
To keep that momentum going, local economic development professionals are changing the way they do business. Last January, a partnership between two development authorities (city and county) and the Douglas County Chamber was formalized under Elevate Douglas, a public-private partnership that creates "one voice" for economic development in the county. "We've been working on creating this for the last three-and-a-half years," says Sara Ray, Douglas County Chamber of Commerce president and CEO. "We share staff to elevate the profile of our communities. It streamlines a lot of processes and allows us to hire even more qualified staff because we share the cost of salaries. We're working smarter, not harder."
In February, the chamber rolled out a new strategic plan, including a new logo, website and email platform. The initiative is aimed at creating "a more authentic and personalized approach," Ray says.
"During the pandemic, we opened our doors to all businesses, not just members," she says. "And one of the things we realized was, we have a good footprint but there are a lot of businesses that need our support. In the new year we will be focusing on supporting our businesses and meeting them where they're at."
The first phase of the Microsoft development is the construction of a 250,000-square-foot facility on 160 acres of land, according to Pumphrey. The $400 million investment will initially create 20 jobs with an average salary of $100,000. "With these type of earnings, housing demand and preferences start to change," Pumphrey says. "It changes the narrative about the community, which is why we're focused on mixed-use development like the Town Green."
The Douglasville City Council recently approved construction of the $12.1 million Town Green project that will include a 2,500-seat amphitheater as well as 10,000 square feet of retail space, 350 apartments and parking. Located at the corner of Church Street and Club Drive, the project is expected to be completed by the spring of 2023.
"We broke ground on the Town Green in October, and we expect it will take 18 months to complete the project," says Douglasville Mayor Rochelle Robinson. "The Town Green is about creating community. We have [transplants] from all over the country now, and we need [to have] city centers to get know each other."
Other components of the Town Green include a dog park, bicycle and pedestrian paths and a splash pad for the youngest residents.
"We still have a small-town feel, although we have about 35,000 residents in the city of Douglasville and about 145,000 residents in the county," the two-term mayor says. "I love being the mayor. I love serving the people and seeing their faces and talking to them in Kroger and being the ambassador for the city."
---
Successful Suburb
Affordable real estate, lower taxes and proximity to Atlanta and Hartsfield-Jackson Atlanta International Airport (less than 30 minutes away) have all contributed to the burgeoning suburb's success, according to the mayor.
"We're growing with big businesses and small businesses," Robinson says. One major addition: Bang Energy, the third-highest-selling energy drink in the U.S. The company is retrofitting a 644,000- square-foot facility in Lithia Springs, in the eastern part of the county, into a fulfillment center. The $145 million investment will create 600 new jobs.
Years ago when Interstate 20 was constructed through Douglasville, it was built several miles to the south of downtown and drew much of the retail shopping activity to exits Highway 92 and Highway 5. Arbor Place, a 4-million-square-foot regional mall, is located at the intersection of I-20 and Chapel Hill Road. To take pressure off I-20, the county is embarking on one of the largest road improvement projects in its history. This multifaceted effort will widen Lee Road from the I-20 bridge south to Highway 92, from there to Bomar Road and from Bomar Road to Chapel Hill Road, according to David Good, director of SPLOST communications for the county.
"Revenue from the SPLOST [Special Purpose Local Option Sales Tax] that was passed in November 2016 is helping to fund this project," Good says. "More than $19 million was just approved in the last Board of Commissioners meeting for construction."
Other projects funded by SPLOST include a new 18,000-square-foot senior center in Lithia Springs – the city's first – and a new 30,000-square-foot multipurpose recreation center, which features indoor basketball courts and walking tracks, another first for the county.
Good says the county is using 68% local vendors for all SPLOST-funded projects. SPLOST collections will continue until March of 2023.
"We've had so much good news in Douglas County this year," says Douglas County Board of Commissioners Chair Romona Jackson Jones. "We have a new emergency room for pediatric patients in the county, which is an additional wing to Wellstar Hospital Douglas County; it opened at the end of September. Before that [pediatric patients and their families] had to travel to Children's Healthcare of Atlanta and other facilities outside Douglas County. We also now have a NICU [neonatal intensive care unit] and a facility for high-risk pregnant mothers.
"These facilities were built from the ground up and those additions over the last two years give wraparound services to our residents, so they can get all of their healthcare needs met within county lines." Jones says just a few short years ago, the county's economic pipeline was valued at about $500 million. Now it stands at about $4.9 billion. After achieving 100% participation in the last census, Douglas County is considered one of the most diverse counties in Georgia, according to Jones, who became the first African American commission chair in 2016.
Diversity "means to me that everyone in Douglas County has a seat at the table," she says. "I believe in an even playing field, and my administration from Day 1 has focused on equal access."
---
Tale of Two Cities
Though the majority of the city of Villa Rica resides within the boundaries of Carroll County, the remaining 40% is in Douglas County. Villa Rica Mayor Gil McDougal has long wanted a road to connect the Douglas County side of the city to the downtown area on the Carroll County side.
"You can use Highway 78, but it's not a clear path to the downtown area," he says. "There is no road that crosses Mirror Lake Boulevard to take you into downtown. There are ways to get there, but they're not convenient."
Over the years, this lack of a connector road has created "a tale of two cities" –one an affluent conclave on the Douglas County side, and the other a less affluent area on the Carroll County side, McDougal says.
"The Mirror Lake Connector Road [will bring] you directly into downtown," he says. "I've always wanted to do this road."
Enter Fuqua Development, the company behind the ultra-successful Battery Atlanta at Truist Park. The company is planning a $140 million mixed-use development in Villa Rica that includes a 60,000-square-foot grocery store, 25,000 square feet of retail space, 208 apartments and 255 townhomes. The city is in the process of negotiating intergovernmental agreements with the Carroll County School Board and the Douglas County Board of Commissioners as part of its first ever Tax Allocation District (TAD).
TADs are designed to accelerate development in defined geographical areas that have historically proven difficult to develop. In 2018, Villa Rica voters authorized the city to create such districts. Property taxes generated by new construction in TAD districts are deferred from taxing authorities until the bonds, which pay for the construction of new infrastructure like water, sewer and the Mirror Lake Connector, are retired.
McDougal says that construction of the road and infrastructure will cost between $9 million and $15 million. And even though the schools and the county will give up some tax dollars until the bond is paid off, which he estimates will take about 10 years, he thinks both will benefit immediately from sales tax generated by the new retail. "From this mayor's perspective, the math works; the math really tells the story," he says.
McDougal says he's hopeful dirt will begin moving on the 60-acre project late in the second quarter this year, with an anticipated build-out of 16 to 18 months. The entire TAD is about 240 acres. "I think that this is a game changer for the city," he says. "I was born and raised here, and I have a lot of pride about this. It's not just that I want to do all of this big stuff, but it's also the responsible thing to do for the community."
No longer a sleepy bedroom community, Douglasville and Douglas County are changing the narrative. They're fast becoming destinations for those who want to live, work and play without venturing far from their own backyards.
---
LOCAL FLAVOR
Taking Action
By day, William H. "Beau" McClain serves as chief judge of the Douglas County Superior Court where his reputation as a tough-as-nails jurist precedes him. But on Saturday mornings and Sunday afternoons, he can be found riding around town in his red pickup truck making deliveries on behalf of Faith in Action, a nonprofit organization he co-founded.
"I feel like if you are going to follow Jesus, you have to do stuff, you have to take action, it can't just be talk," McClain says.
Since 2005, Faith in Action has been picking up donated furniture and appliances and delivering them to those in need, including some folks McClain previously sent to prison.
"Many times, I've showed up at somebody's house and a guy answers the door and says, 'What are you doing here? You sent me to prison,' and I say, 'I know, and today I'm bringing you a refrigerator,'" he says. "It's very common to go to the homes of people I've sent to prison and serve them and their families."
McClain says he believes "God provides you with what you need to do what He wants you do," so when he received a call seven years ago inquiring whether Faith in Action would be interested in accepting donated toys, Operation Christmas was born.
The person on the other end of that call worked for a company that packages toys for retail store floor displays. Sometimes, the packaging is bent or damaged and the company would destroy the toys. The caller said he might be able to get permission to give the otherwise new, name-brand toys to Faith in Action. "
Six months later he calls and says, 'Are you ready for the toys?'" McClain recalls.
When he then inquired whether that was a lot, McClain remembers being told, "Well, you're going to need a tractor trailer."
Working with the local school system and health department, Head Start and a residential treatment facility for troubled youth, Operation Christmas identifies and provides toys to underprivileged children in Douglas County. Each child is issued "a golden ticket" and gifts can be picked up at a designated location, including the police department, sheriff's office or one of several local churches. "
It was important for me to do this as a community project," McClain says. "In the seven years we have been doing Operation Christmas, we have served 64,255 children. That's what can happen when a community comes together as one and says no child in Douglas County is going to go without Christmas."