Healing Georgia's Hearts
Community-based initiatives seek to bridge the gaps in life expectancy and cardiac health.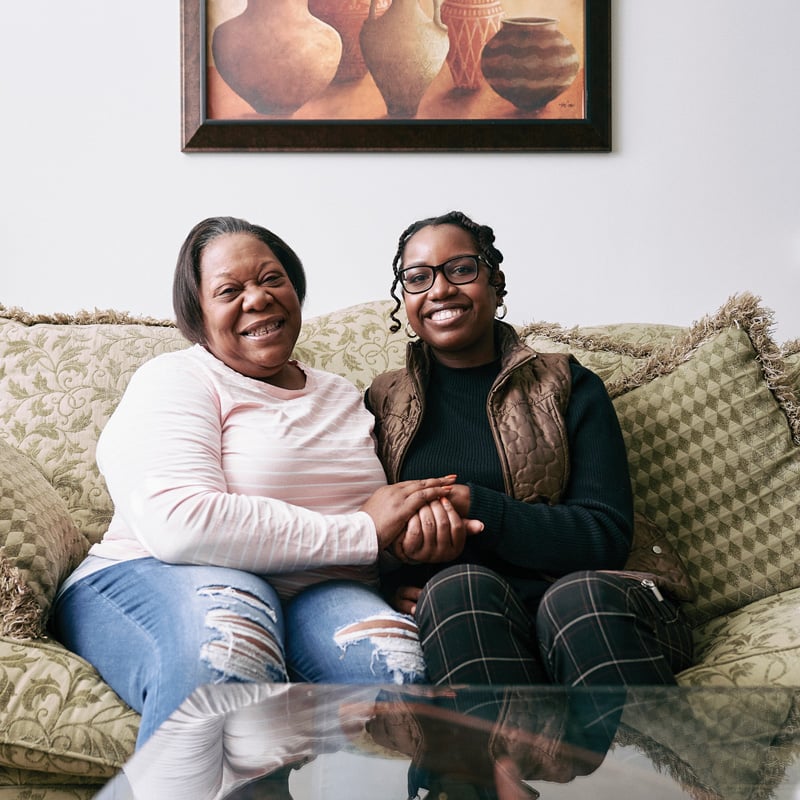 Virginia Neal had a terrible headache, the kind that made her feel like she might pass out. She'd had this before, and she figured it was brought on by the stress of just trying to get by. She knew it could also be a warning sign that her blood pressure was getting dangerously high. Semi-homeless, she was sleeping "here and there," which meant the sofa or floor at the home of family or friends or even huddled on steps outside the house that once belonged to her deceased mother.
To get her blood pressure under control, she needed to get her life back into order. It isn't easy to navigate the labyrinth of social services, but at Mercy Care's Decatur Street clinic in downtown Atlanta, community health worker Courtney Wilbon took on her case. She helped Neal obtain stable housing, SNAP (Supplemental Nutrition Assistance Program) benefits and a MARTA discount.
Neal, 59, was able to move into a new seniors-only apartment building on Atlanta's Westside. While she's still financially stressed, she has been able to keep up with her medical needs, including taking blood pressure medicine and an insulin shot for her diabetes every day. "High blood pressure is a serious thing. It's like a silent killer," says Neal. "You could be stressing and need that type of medicine and really not know. If I wasn't taking lisinopril, I'd probably be in the hospital somewhere."
Making that connection between health and social support lies at the core of efforts to reduce death and impairment from cardiovascular diseases in Georgia. Heart disease is the state's leading cause of death, but the risk is higher for some groups of people than others.
About 42% of Black Georgians had high blood pressure in 2019, compared with 35% of Georgians overall. Health-related factors such as obesity and smoking raise the risk of heart disease, and so do life stresses and deprivation. Georgia counties with more poverty, unemployment and housing instability had higher rates of hospitalization related to hypertension, according to a 2017 analysis of Georgia Department of Public Health data by researchers at Emory University.
The consequences can be severe. Georgia ranked 11th nationally in the rate of hypertension-related deaths in 2019. Life expectancy differs dramatically even between nearby neighborhoods – just 66 years in Mechanicsville, for example, but 80 years in the Grant Park neighborhood two miles away, according to a 2015 City Health Dashboard created by NYU Langone Health in New York
Solutions to disparities must likewise target specific neighborhoods and communities, says Carla Smith, vice president of community impact and health strategies for the Metro Atlanta chapter of the American Heart Association. The association analyzes data by zip code as it provides resources and screening. "No matter where you live in the state, we want to make sure we're removing barriers to healthcare access and quality," she says.
Rural and urban areas face different challenges, but they have a commonality: community gathering spots that are increasingly becoming hubs for health promotion. The avenues to access healthcare are broadening. "There is a pharmacy basically on every corner in America," says pharmacist Andi McKeever, associate professor of pharmacy practice at South University in Savannah. During the pandemic, when some people were unable or too fearful to go to a clinic or hospital, they still felt comfortable going to their neighborhood drug store, she says.
---
Pharmacists Add a Layer of Care
Community-based health screening is especially important because so many people don't realize that they have high blood pressure, which puts them at risk of heart disease, stroke and kidney disease. An estimated 40 million Americans have uncontrolled hypertension.
When pharmacist Gina Ryan worked at Grady Diabetes Center in Atlanta, she was surprised by the sky-high blood pressure readings she often saw in her patients. Many of them weren't regularly checking their blood pressure and weren't being treated for hypertension.
Access to healthcare doesn't mean much if people fail to show up for medical exams or follow-up appointments. Making it easier to manage chronic disease is now a focus for Ryan, who is chair of pharmacy practice and a clinical professor at Mercer University College of Pharmacy in Atlanta. She has begun working with the Georgia Department of Public Health on a "collaborative practice" model that would enable pharmacists to work with doctors to improve the control of hypertension.
It's already legal in Georgia for pharmacists to work under a collaborative agreement with physicians. They can monitor blood pressure and, within a pre-established protocol, adjust medication levels as needed. But pharmacists need to truly be part of care teams, communicating regularly with physicians, Ryan says.
The collaboration could be game- changing in rural parts of the state, where people drive far to reach a doctor's office or clinic, Ryan says. Yet, reimbursement is a challenge. "There are a lot of administrative barriers to implementing something like this," she says.
Still, the pandemic revealed the important role community pharmacists can play, as they became key providers of COVID vaccinations. (They are able to bill insurance, Medicaid or Medicare for an administrative fee to deliver vaccines.)
A statewide framework for pharmacies to help patients manage chronic diseases, known as pEACHealth, is already evolving. It is a project of South University School of Pharmacy, in collaboration with the Georgia Department of Public Health, the Georgia Pharmacy Association, the University of Georgia College of Pharmacy and Georgia pharmacies that belong to the Community Pharmacy Enhanced Services Network (CPESN).
About 40 pharmacies around the state are receiving support to train their staff to provide extra services. A pharmacy technician or even a cashier can be trained to take a person's blood pressure, says Erin Dalton, assistant professor of pharmacy practice at South University and co-lead of Georgia Flip the Pharmacy, an initiative to boost the role of pharmacies in patient care.
In some ways, this is just a shift back to the days when pharmacists worked closely with doctors to decide on the best medicines for patients, says Dalton. "Pharmacy at its core has always been this partner in healthcare with the patient," she says.
---
A Cut and a Cuff
It takes other innovations to reach people who aren't even aware that they have high blood pressure. Years before Pat Russell became owner of The Barber Shop Atlanta, she worked as a medical and dental assistant, so she has always tried to offer some health brochures or videos along with the usual fare of celebrity magazines and gossip. (Her personal email address even includes her mantra, "health is wealth.") Before the pandemic, customers would come without appointments and just hang out, turning the space into a social gathering spot as they waited for their turn in a chair.
She has a diverse clientele, including many police officers and firefighters. They come often for their cuts, so the barbershop provides a prime opportunity to deliver a dose of health information. Every couple of weeks, members of Health Students Taking Action Together (HSTAT) – an organization of health professionals in training – would visit with blood pressure cuffs and educational information in a program to "Cut Hyper-tension."
That abruptly stopped with the pandemic shutdown in March 2020. The Barber Shop Atlanta was already a lonely storefront in North DeKalb Mall, which is closed amid a planned redevelopment. After shutting for five months, Russell reopened with COVID precautions. The barbershop became a pop-up spot for COVID vaccination, and this fall blood pressure screening resumed. "People have told me they appreciate what we're doing, they look forward to it," says Russell.
The American Heart Association also has connected with Georgia barbers to expand the "Cut Hypertension" program as part of its national goal to promote health equity. In 2020, the association issued a "call to action" regarding structural racism, which it cited as "a major cause of poor health and premature death from heart disease and stroke." Working with barbers and hair stylists helps build trust within the community, says Carla Smith. "We teach them what the [blood pressure] numbers mean and how to have conversations with their clients about those numbers," she says.
---
What Makes Some People Resilient?
There's growing evidence that neighborhoods are an important nexus of health. In addition to personal attributes that lead to better health, some communities are more resilient than others, according to the Morehouse-Emory Cardiovascular (MECA) Center for Health Equity study.
About three out of four Black men and women develop hypertension by age 55. But Dr. Arshed Quyyumi, a cardiologist and director of Emory's Clinical Cardiovascular Research Institute, wonders about the other 25% – and more generally about Black men and women who live long lives without the burden of hypertension and heart disease.
"Don't we have something to learn from this population?" says Quyyumi, who is co-director of the MECA study. "What is special about them – what builds resilience?"
Poverty has long been linked to poor health. In the MECA study, Quyyumi and colleagues matched Metro Atlanta census tracts that have similar median incomes and identified those with cardiovascular outcomes, such as emergency department visits for heart disease and mortality from heart disease, that were lower or higher than expected.
Individual factors also have an impact. "People are resilient despite their environment and their exposures," he says. Unmarried people had a 40% higher risk of cardiovascular events, such as being hospitalized, than married people – a sign that social support is important, says Quyyumi. Having a sense of purpose in life and optimism also were linked to better health.
"Despite all the challenges arrayed against them, many African Americans lead long happy lives and actually thrive in the face of [inequities]," says Dr. Herman Taylor, Morehouse School of Medicine professor and MECA co-director. "There are scientific questions to be asked about how people deal with the challenges and overcome them."
"At-risk" neighborhoods had greater concentrations of poverty, disability and older age, even though their overall median age or income matched the resilient neighborhoods. Being worried about meeting basic needs, as Virginia Neal often was, affects health.
But through surveys of 1,500 residents of the census tracts, researchers found neighborhood attributes that contributed to resilience. "The two aspects that kept coming up were social cohesion and connection – activity with neighbors," Taylor says. "People from neighborhoods where they judged those [attributes of connectedness] to be high consistently had a higher likelihood of having ideal cardiovascular health."
Chronic stress triggers physical changes that can be measured, such as markers of inflammation. The MECA study, funded by the American Heart Association, is looking for biomarkers of resilience – biological evidence of protective effects. "We're trying to understand why some people in the same circumstances get sick while others stay well," says Taylor. "It may give us some insight into approaching how to keep everybody well."
---
Never-ending Need
The life circumstances that make many people less likely to stay healthy are called social determinants of health. They include factors such as the lack of affordable housing or job opportunities, racial discrimination or living in a crime-ridden area. Social determinants influence the wide gaps in life expectancy even in nearby neighborhoods.
In 2011, health and community organizations came together to form the Atlanta Regional Collaborative for Health Improvement (ARCHI), which aims to improve health by addressing social determinants. Led by the Atlanta Regional Commission, United Way of Greater Atlanta and Georgia Health Policy Center, ARCHI drafted a 28-year strategic plan called the Atlanta Transformation. Healthcare alone isn't enough to improve the region's health, says Kathryn Lawler, executive director of ARCHI, which now has more than 100 member organizations. "Social determinants of health play a huge role in our ability to be healthy," she says. "We have to invest in what really makes people healthy, in addition to healthcare."
The work is challenging. In 2017, Metro Atlanta health systems that are typically competitors came together in an ambitious project aiming to create a "value-based" payment initiative for people with congestive heart failure. It aimed to structure financial incentives for hospitals and clinicians that manage the care of patients in a way that keeps them out of the hospital.
The payment transformation hasn't yet materialized, but the collaboration strengthened ARCHI's work on social determinants of health. ARCHI supported the tri-cities of East Point, College Park and Hapeville as they brought in a local farmers' market and boosted physical activity through the schools and parks and recreation departments. In 2019, six health systems that collaborate through ARCHI committed to financially supporting affordable housing.
ARCHI also funds the Community Resource Hub, the program that helped Virginia Neal and others at Mercy Care Decatur Street. And Grady is a partner in the program, which employs community health workers to link people with social services, including housing, nutritional support, employment and transportation.
The community health workers particularly focus on people with uncontrolled hypertension or diabetes. Instead of just handing them a list of community organizations they can contact, the community health workers search for available resources and make the calls. "We invert the burden and put people at the center of the system," says Lawler.
Virginia Neal was one of Courtney Wilbon's first clients; they began working together before the pandemic. "We started with the 'housing first' model, which is based off the premise that if you don't have a steady place to go to at night, how can you manage anything else?" says Wilbon. "We want to make sure the client is in a stable place so they can focus on their health."
Wilbon tries to make sure her clients have a MARTA pass or other transportation to their doctors' appointments, and she lets them know about sites that distribute healthy food. Ultimately, the goal is to help people manage their chronic diseases so they don't need to go to the emergency room. It's hard work. Sometimes clients seem settled, only to lose their housing or income support. And there's always someone else who needs help with the basics of life. "It's a never-ending need," Wilbon says.