From the Publisher: LINKing Up
How the Atlanta Regional Commission's fall LINK trip connected metro leaders and may inspire solutions.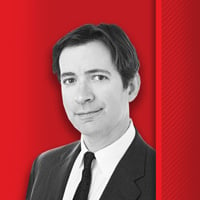 The Atlanta Regional Commission (ARC) organized its annual LINK trip to Chicago last fall, and it's taken me this long to wrap my head around it. Apart from the vigorous schedule of tours, panels and speakers, the fact that this was my first trip out of the state in several years added to the whirlwind, leaving me dizzy, exhilarated and inspired.
First, it was wonderful to see ARC officials and attendees – some 100+ metro leaders including familiar faces from past trips as well as new ones on the scene – in person, often for the first time in several years. Even more touching was the fact that this was the last LINK trip for ARC Executive Director Doug Hooker, whom Georgia Trend honored in last month's issue. He is a hell of a guy.
It is difficult to overstate the importance of this organization and these annual trips in connecting our diverse squad of metro leaders. Relationships have been built among representatives of the city's north and south regions on these trips that sustain the "secret sauce" of Metro Atlanta's "put aside our differences and let's get things done" reputation. Corporate honchos, developers, nonprofit directors and community improvement district heads mingled with elected officials and civil servants to catch up on the opportunities propelling us forward as well as the challenges holding us back.
Chicago is bigger than Atlanta but there are a lot of similarities. Its MSA population is around 9.5 million, with a city population of 2.17 million spread out over a larger county. Atlanta's respective numbers are around 6 million and 500,000. A lot of Black people moved to Chicago from Georgia in the early part of the 20th century, and the reverse has happened more recently – a sort of intergenerational migration loop.
Both cities have the same "redlining" effect you see in other big cities where poverty and crime are concentrated in pockets (mostly southside), and both suffer from the common misperception that the entire city is on fire or resembles a third-world country. Chicago is growing more slowly; its population increased by 2% from 2010 to 2020. That followed a decline of 7% from 2000 to 2010, a time of tremendous growth for Atlanta.
Chicago has beautiful architecture, public parks and a rich fine arts community that seems interwoven into every nook and cranny of the city, reflecting the influence of the Chicago Art Institute, which houses the second largest art museum in the U.S. Its transit system is massive, extending to 235 suburban communities. The music scene is spectacular with a great infrastructure for musicians at many levels and the street scene feels inclusive, welcoming, and, yes, safe.
There was much common ground on panels concerning equity. Atlanta leaders discussed replicating Chicago's Folded Map Project, which links residents with "mirror addresses" (one on the Southside, which is disadvantaged, and one on the north, which is more affluent) and has helped accelerate the equity discussion in the city. There was also talk of reinvigorating the Metro Atlanta Mayors Association, a project born out of the first LINK trip in 2002 by then-Mayor Shirley Franklin that was based on Cook County's Metropolitan Mayors Caucus.
Comparisons between MARTA and Chicago Transit Authority revealed challenges. Nationally, MARTA is the 8th largest transit system by population served and about 20% of its FY2022 budget is coming from federal aid. In the past, MARTA has received no state funds, while Chicago has robust state support. Building out to the level of Chicago, and matching its competitiveness, won't happen without the match needed to compete with federal funding. Georgia's inability to compete with a system like Chicago's was clear, as was the role public transit plays in both equity and affordability.
Both Chicago and Atlanta are going bold on affordable housing, but in a surprise reversal of what we would expect back home, it is a suburban city, Evanston, that is going so far as to reframe affordable housing incentives in the form of reparations. It's one of several policies in place since 2019 to mitigate the displacement of its African American population. As one local leader put it, the question evolved from why Evanston to why not Evanston? Why not indeed – though it helps to have the might of nearby powerhouse Northwestern University behind the project.
LINK provided some real clarity about the road ahead for Metro Atlanta. It was good to get outside the Georgia zone for a minute.