Cumming | Forsyth County: Bragging Rights
Healthcare, corporate investment and population growth.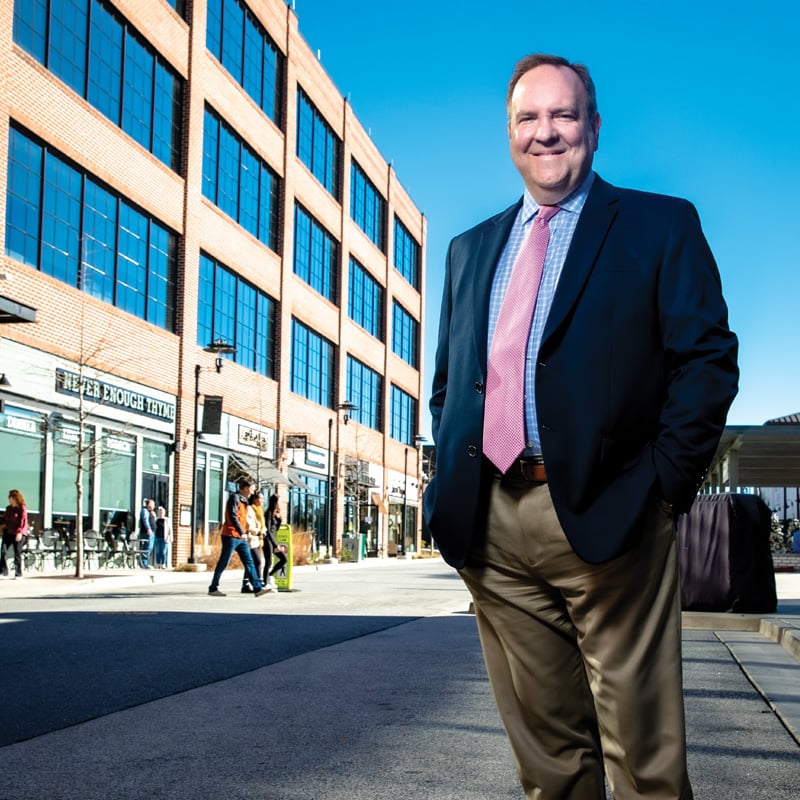 As Muhammad Ali once said, "It's not bragging if you can back it up." When Kevin Tanner declares Forsyth County "the best place in Georgia to live and work," the county manager quickly goes about listing all the reasons why: low taxes, safe communities, home to 75 international companies and a world-class parks and trail system. Forsyth's almost 260,000 residents have access to around 50 miles of trails, 2,819 acres of park space and almost 6,000 programs through its nationally accredited parks and recreation department, including therapeutic recreation.
"The first key point for people to realize about Forsyth is that it is the best place to raise a family," he says. "We have one of the top school systems in the state, but at the same time we have the lowest millage rates of every metro county. We are also the healthiest county in the state of Georgia. We have an extremely good and high-quality healthcare system; Northside Hospital has a tremendous presence here."
Northside Hospital Forsyth is a 320-bed facility with more than 750 physicians and 3,000 employees. While Northside continues to expand in the county, county leaders are also excited about a combined public health and mental health facility that's in the works.
"The idea there is whole body health, mental health and public health," Tanner says. "I don't know of any other place in Georgia with this kind of facility. We have a behavioral health crisis in Georgia. Georgia ranks 51st in access to behavioral health services, which means we're dead last in access."
Tanner, who chairs the state's behavioral health commission, says the county will spend between $30 million and $34 million for the combined health facility, along with another $45 million for a new administration building on the same 42-acre campus. Construction bids for the 130,000-square-foot administration building and the 30,000-square-foot whole health facility are expected to go out next summer and be under construction by the fall.
The combined mental health and public health facility will consist of 30 in-patient beds and a crisis stabilization unit to handle mental health emergencies.
"The behavioral health facility, along with the health department, are the safety nets of the healthcare system," Tanner says. "These patients have no insurance or other payment methods, so the same people who utilize one, can utilize the other within the same facility. Having a place locally where someone in crisis can go to receive services can be a game changer."
---
Expanding to Meet Needs
Meeting the healthcare needs of the community is also the driving force at Northside Hospital Forsyth. In 2002, Northside Hospital bought the local 41-bed hospital. In January, it opened the 9th and 10th floors on the tower side of the building, bringing the total number of beds to 363, hospital CEO and system Vice President of Administration Skip Putnam says. That has resulted in more than 648,000 patient visits a year.
"We're a fast-growing community," Putnam says. "They're projecting the population will double in the next 20 years and we need to keep up with the needs of the community."
The hospital is focused on growing its cardiology, oncology, orthopedics and neurosciences (neurosurgery and neurology) services, in addition to expanding the local medical community through affiliations with other healthcare providers like Encompass Health Rehabilitation Hospital of Cumming.
"Encompass is an acute rehab facility, so say a patient has been in the hospital on a vent for 30 to 45 days, when they're discharged, they're sent to an acute rehab facility before they can go home," Putnam says. "Previously, our patients had to go to Gwinnett or Fulton County for those services, so it's nice to have everything here."
The hospital is also focused on quality-of-life care. As the population ages, healthcare becomes not just about keeping people alive but also keeping them healthy, Putnam says.
"We offer a total joint program, which is hip and knee replacements," he says. "We've worked for the last 10 years to make the program what it is today. We do well over 4,000 hip and knee replacements a year."
---
Growing Fast
Between the 2010 and 2020 Census, Forsyth County gained 75,722 new residents, according to Tanner. He notes that Forsyth is the fastest-growing county in Metro Atlanta, the 8th largest county in Georgia and the 13th fastest-growing county in the nation with a population of 100,000 or more.
"Our Asian population tripled in the last decade," he says. "We have 124 countries and 52 different languages represented in our school system."
With 53,000 students enrolled across 41 schools, Forsyth County Schools is the 6th largest district in Georgia. The district has grown 43% over the past decade, according to Superintendent Jeff Bearden, and boasts the highest graduation rate, SAT scores and ACT scores among Metro Atlanta schools.
On Dec. 3 the district officially opened the Forsyth County Arts and Learning Center (FoCAL), a two-story, 81,006-square-foot facility located on the campus of Forsyth County Schools' Board of Education and Professional Development Center. Built with funds provided by a 2018 voter-approved bond referendum, the facilities include outdoor gathering/performance space and a main theater with a stage, orchestra pit and seating for 1,813 guests.
"The facility is designed to support the fine arts programming of the district's schools, with secondary service to the local community through access to quality arts and cultural entertainment, and space for rehearsals/performances, trainings, meetings and other gatherings," Bearden says.
---
New Space for Jobs
For the last several years, the Forsyth County Chamber of Commerce has focused on developing new commercial and office space to change the county's perception as a "bedroom community," according to Slade Gulledge, the chamber's vice president of economic development.
"We have a very talent-rich community, yet we know a majority are leaving Forsyth to work somewhere else," Gulledge says. "Bringing more capital investment and jobs to Forsyth creates greater opportunity for our citizens to live and work here. It also has a tremendous impact on the tax base.
As the third quarter of 2021 ended, the chamber had announced nearly $250 million in capital investment and 1,758 new jobs – a higher level of capital investment and the highest number of new jobs created than any full year prior. "Our team has been focused on working with the development community to build new product, office and industrial/flex space, to meet the demands of our project activity," Gulledge says. "We are proud there is 1.2 million square feet of office and over 3 million square feet of industrial/flex space currently in planning and development stages."
McDonald Development announced this year construction of more than 880,000 square feet of flex and light industrial space across six buildings, which are now under construction on Highway 9, off exit 13, says chamber President and CEO James McCoy. One exit south, development continues at Halcyon, the $370 million, 135-acre mixed-use community in Alpharetta.
"It was announced this past year Almeria Sciences will move its corporate headquarters to Halcyon," McCoy says. "That was a big announcement, but the bigger announcement was Morgan Stanley has taken 60,000 square feet of office space at Halcyon and will create 600 new jobs."
---
Major Road Projects
In order to keep up with all the growth, the county is making big investments in transportation. Since 2015, Tanner says the county has completed 10 major road projects, including the widening of Georgia 400.
Currently under construction is an extension of Ronald Reagan Boulevard. The 3.5-mile, $48.3 million extension goes from the intersection of Majors Road to MacFarland Parkway. Once this section is complete, Ronald Reagan Boulevard will provide a four-lane road parallel to Ga. 400 that extends from McGinnis Ferry in the south portion of the county to Bald Ridge Marina Road in the heart of the county, according to John Jefferson, director of capital projects for the county.
"This will improve traffic flow significantly by providing an additional way for residents in the south portion of the county to travel north without having to get onto Ga. 400," he says. "And it will also provide an additional route when Ga. 400 gets jammed up during peak hours or in the event of an accident in the northbound lanes."
A new exit and interchange at Highway 369 and Ga. 400 is also under construction. The $46 million project widens SR 369 from Coal Mountain Elementary School to just east of SR 306. The interchange at Ga. 400 will be a grade-separated bridge going over 400 which, when completed, will allow northbound and southbound traffic on Ga. 400 to flow continuously.
"Exit and entrance ramps at the interchange will significantly improve traffic flow at this very busy intersection," Jefferson says. "The most recent traffic counts available from mid-2019 indicate approximately 80,000 cars per day pass through the Ga. 400/SR 369 intersection. The completion of this joint GDOT/Forsyth County project will save thousands of drivers several minutes a day in reduced commute times."
---
Destination: Cumming
Cumming is the county's only incorporated city and serves as the county seat. Even though it represents a small part of the county at just over seven square miles, the city has big news. Construction of 117,000 square feet of restaurants, shops, a brewery and distillery, and a 5,000-seat amphitheater in a new city center is almost complete.
"All the new buildings replicate main-street America [from the past]," says Mayor Troy Brumbalow. "Cumming was never a destination and never had railroad, so we didn't have buildings that have been repurposed like in Woodstock, so we're having to build it by scratch."
More than two acres of the 95-acre development make up an 18-hole miniature golf course which replicates famous golf holes from around the world, including the No. 3 at Oakmont Country Club in Pennsylvania and a hole from St. Andrews in Scotland. The course will also feature a signature hole from each course in the county.
"The clubhouse is a 1966 Airstream trailer that's being converted, so you can walk up to the window and get your golf balls and putters and a cold beverage and go out and enjoy a round of golf," Brumbalow says. "I'm a pretty avid golfer, and the course will be a challenge for a good golfer, but not so hard that a child can't have fun."
Located one-half mile from downtown on Highway 20 West, the new $60 million city center is owned by the Downtown Development Authority, which will lease space to businesses. Brumbalow says the city expects a 10% return on investment annually.
"I've lived here my whole life. I'm married to my high-school sweetheart, and from the time we were dating and married we had to go to Roswell or Alpharetta for a nice dinner because Cumming didn't have that," he says. "We're making Cumming a destination instead of someplace you pass through. It's so exciting to see it come to life and the entire community's excited for it."
---
Local Flavor
Attracting Agri-visitors
Former Vermont veterinarian Jim Kinsey travelled the world working extensively with cattle in places like New Zealand and Australia, but a serendipitous invitation led him to Forsyth County in 1980. A Swedish businessman that Kinsey knew was looking at a development opportunity in Forsyth County when he invited Kinsey to tag along. Kinsey traveled to Forsyth three or four times before he bought a chicken farm on Jot-em Down Road in the northern part of the county.
The Kinsey Family Farm began as a place where families could go to participate in the Christmas tradition of searching for and cutting down the perfect tree. Today, while the Christmas tree operation continues to thrive, the farm also grows trees and shrubs to sell to landscapers and the public. And you can shop for local honey, jams, jellies and salsas. Come fall, the farm bustles with activity and features a variety of pumpkins and fall harvest crops.
"We have hundreds of people coming to the farm right now," Kinsey says. "We sold almost 900 Christmas trees on Black Friday."
All of the various activities on the farm are considered agritourism, which is aimed at bringing visitors to farms or ranches. A recent change to a Forsyth County ordinance has made it easier for farmers to add activities under the designation of agritourism, without having to go through a cumbersome approval process.
"With the change in the ordinance, we can anticipate more people will say, 'I've got 10 or 12 acres and we can do something with this," Kinsey says. "The new ordinance makes it easy. If they want to do a field-to-table restaurant on their property, they don't have to ask, that's an acceptable use. You don't have to go through a lot of administrative bureaucracy to get to do things on your land."
The easier it is for farmers to increase their revenue streams through agritourism, the easier it is to negate the pressures of skyrocketing land prices and higher property taxes, Kinsey says.
"If we can be successful doing what we're doing, we're not going to sell the farm," he says. "The best music of all to my ears is children laughing, and they have so much fun on the farm. I predict in 25 years, 50 years from now, [as a result of the new ordinance] we will have preserved a good bit of agricultural land in Forsyth County and the laughter of future generations will still be resounding off the hills."