Cobb County | Marietta: Something for Everyone
Business developments, tourism and the Atlanta Braves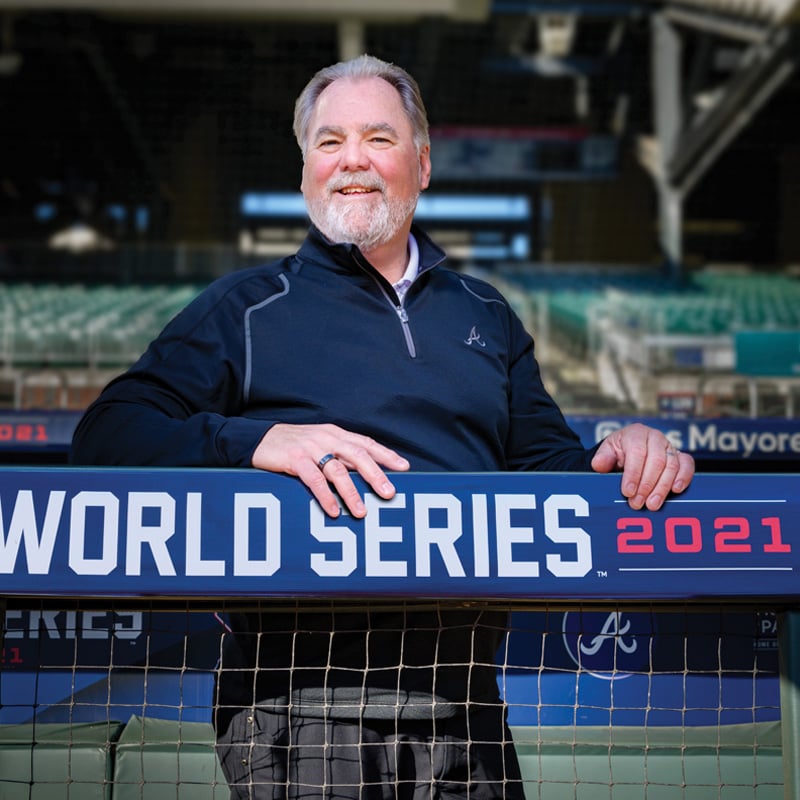 Once the epitome of suburbia, Cobb County is no longer a quiet 'burb – just ask any baseball fan who packed the Battery this past fall. Today the county hosts the headquarters of several global companies; is home to the 2021 World Series champions, the Atlanta Braves; and offers an abundant array of natural amenities. From its humble beginnings, Cobb County has evolved to become one of the premier places to live, work and play in Georgia.
"Things are booming in Cobb County," says Sharon Mason, president and CEO of the Cobb Chamber. "We are seeing more companies coming here and more companies expanding here than we ever have before. We've had a record year for economic development. And there are over 65 active projects that are considering Cobb County."
There are many reasons why companies continue to choose Cobb, Mason says, but the No. 1 reason is the county's workforce.
"Workforce development is an area we want to stay on top of to make sure our companies have the right pipeline for their workforce," she says. "We are going to keep focusing on that very intentional strategy of workforce development. Seeing more companies expanding in Cobb, I think that shows how companies are thriving here."
It's been a record year for membership growth. According to Mason, the chamber added more than 650 new members in in the last year. The chamber boasts 2,600 companies on its member roster, making it one of the largest chambers in the Southeast.
"Eighty-five percent of our members are small businesses," she says. "We support them from start up through each stage of growth."
Since the chamber created Select Cobb, a partnership with the Development Authority of Cobb County, nine years ago, Mason says that 183 different companies have created more than 37,000 high-quality jobs, either through expansions or new companies the county has landed.
"I'm especially proud we've continued to diversify and expand both the types of industries and the number of global and corporate headquarters here that provide the job opportunities across all different areas," she says. "It's important for us to keep diversifying our industries because we know that recessions do happen and communities with the most industry diversity weather them best." Braves Country While the old adage, "location, location, location" undoubtedly played a part in all of the recent business moves and expansion decisions, Cobb County Board of Commissioners Chair Lisa Cupid shares the secret ingredient to the region's success.
"I went to visit the new TKE building, and one thing that struck me in speaking to the president of the company was the reason why they chose Cobb and the Cumberland area," Cupid says. "Tourism is one of our top industries, but I never thought it would be a magnet for other businesses. It was the energy of that area that drew them to Cobb."
Truist Park is the home of the Atlanta Braves and is connected to The Battery Atlanta, a 2-million-square-foot mixed-use development that offers shopping, entertainment, restaurants, the Omni and Aloft Hotels, The Coca-Cola Roxy and 531 residences.
"When we had this vision to build a unique and one-of-a-kind new professional ballpark that is active year-round and do it all at once, it had never been done before and it was driven toward bringing a World Series and a world championship here," says Mike Plant, president and CEO of the Braves Development Co. "I'm reminded many times you're in the development and real estate business now, and yes, that's true, but we never lose sight of the fact our core objective, our No. 1 mission, is to win the World Series and that has not changed for the Braves."
Of course, what has changed for the Braves is winning its first World Series in 26 years, beating the Houston Astros 7-0 in Game 6 on Nov. 2. But before making it to the Fall Classic, the Braves had to defeat the Los Angeles Dodgers to capture the National League pennant. During home games in that series, up to 20,000 Braves fans per game who didn't have a ticket into the stadium watched from throughout the Battery.
"That was the vision," Plant says. "Baseball stadiums are usually surrounded by asphalt parking lots, but this mixed-use environment is an incredible opportunity for fans pre- and post-game whether they have the luxury or the ability to have a ticket and that's why it's working. We've had record numbers of visitors this summer."
Plant says the main 57 acres of the Battery campus is close to build-out. This year the development company finished the 600,000-square-foot Three Ballpark Center, including a 300,000-square-foot office complex that will house the headquarters for TKE and Papa John's. Eventually, there will be an incredible LED mesh billboard facing east on the TKE elevator test tower that TKE and the Braves will use during home games.
Between baseball games, concerts at The Roxy, Tuesday night cornhole contests and yoga on the plaza, the Battery will host almost 500 events this year, according to Plant. "
In 2019, a fiscal impact study showed direct contributions to Cobb's general fund and the school board were $19 million, and that number now just continues to grow," he says. "More than 140 teams from all over the world come and sit down with us and ask, 'How did you do this? How's it working?' because we created this model, and we created this structure. In the beginning there was some negative narrative around the idea because it had never been done before. Traffic was going to ruinpeople's lives, but fans come early and stay late because of all of the things to do here."
Truist Park and the Battery may have an Atlanta address, but they are situated in unincorporated Cobb near Smyrna. Smyrna Mayor Derek Norton admits he was dubious about the initial claims that multiple points of entry into the stadium and gameday visitors arriving early and staying late to enjoy the Battery would keep traffic from becoming a nightmare in the area. Today, he is a true believer.
"We just had the World Series here, and they could not have been more correct," he says. "The Braves have been tremendous partners with the city of Smyrna."
Norton says the Battery is a complement to the improvements being made in the city and is helping the city shed the label of "Smynings," a throwback term used to describe developments in Smyrna that associated themselves with the once wealthier community of Vinings. Development includes a new mixed-use community that will be home to a Hilton Hotel, 300 apartments, a seven-story parking garage with 546 spaces and more than 37,000 feet of retail space for shops and restaurants in east Smyrna. Located just across U.S. 41, the new development is estimated to cost between $125 million and $137 million.
"People are already seeing Smyrna as a destination, but now that the Battery is here, it's even better," Norton says. "All of that success has bled over into Smyrna, and I couldn't be happier they're our neighbors."
---
Visitors Welcome
Truist Park and the Battery play a large part in helping to make tourism Cobb County's No. 1 industry. By just being in the World Series, the Braves provided an exciting opportunity to welcome visitors to the community, says Holly Quinlan, president and CEO of Cobb Travel and Tourism.
"The impact from the World Series is tremendous for tourism and Cobb," Quinlan says. "Showcasing not only the Braves team, but Truist Park and The Battery Atlanta on a world stage presents a unique opportunity to highlight our dynamic community. You don't have to be in the ballpark to enjoy the electric environment of The Battery Atlanta. The Battery Atlanta gives so many additional fans the chance to be a part of the excitement before, during and after games."
Despite the World Series, as the COVID-19 pandemic continues the hospitality and tourism industries still face challenges, Quinlan says, but two marketing efforts by Cobb Travel and Tourism, Hello Again, which launched in August of 2020, and this spring's Cobb is Ready, are welcoming visitors back with open arms.
"It has definitely been a difficult 18 months to this point," she says. "During the shutdowns, hospitality and tourism were the hardest hit industries, but coming out of that, we have always told Cobb's story and always shared what is happening here and how people can get involved to the extent they're comfortable."
In addition to helping tourists build personalized travel itineraries, Cobb Travel and Tourism partnered with Expedia to target the summer leisure travel market highlighting things like the Smith-Gilbert Gardens, various parks and trail systems, Six Flags Over Georgia and, of course, the Battery. "One of the great things about Cobb is we have something for everybody," Quinlan says. "The leisure market and the sports markets were our biggest drivers over the summer. From a hotel-motel tax perspective, 2021 started out low, but collections are actually back to being very comparable with 2019 numbers, and in fact, some of our summer months were even higher than 2019."
Next up, Quinlan says is a renewed focus on bringing back business travel and conventions to pre-pandemic levels.
"Our sales team is back out going to trade shows and traveling and working really hard to book that business for the future," she says.
The reopening of the Cobb Energy Performing Arts Centre to the public after an 18-month closure was a welcome moment.
"We have very successfully resumed live shows," says Vickie Hubbard, managing director for the arts center. "During the time we were closed we did have some other things going on," she says. "There were a series of film shoots during shutdown, including a National Geographic docudrama, Genius, about Aretha Franklin and, in late March, there was a TV shoot for a new ABC series, Queens, and a couple of other film shoots. Queens has been on the property three times [this year]."
With a full slate of shows scheduled into the new year, including performances by the Atlanta Opera, the Atlanta Ballet and The Temptations and The Four Tops, just to name a few, the 2,750-seat center is once again alive with the sound of music.
"We knew we would come out even stronger based on the rescheduling of our shows," Hubbard says. "Promoters did not stop booking for the future during the shutdown. People were hungry to get back to live performances, and this is one of the best venues in which to do that."
---
Appealing Quality of Life
Pent-up demand is also fueling a hot restaurant scene on the Marietta Square. This summer, several new restaurants and concepts opened for business, including Mac's Chophouse, Pie Bar and Mojitos, a Cuban restaurant inside the Red Hare Brewing & Distilling.
"The hotels have been positive things for Marietta," says Daniel Cummings, the city's economic development manager. "Starting in late spring, hotel-motel tax collections started going up and are very strong even as compared to 2019. It's not necessarily business travel, but the Battery is in close proximity and Six Flags and Whitewater have done very well, as have day entertainment places like Andretti [Indoor Karting & Games], Kennesaw Mountain and the square."
Cummings credits a boom in new housing around the square with creating demand for increased restaurant and retail options. Meeting Park, a townhome and cluster home community, is within walking distance, as are square-adjacent communities on Powder Springs Street, Hedges Park and Promenade. "
The quality of life here is appealing to people," Cummings says. "There is a three-mile trail that connects with the Noonday Creek Trail, and we are seeing the highest number of users in the history of that trail. We have four miles of trails in the planning process now in the city." Also in the works: a new Veterans transform its downtown while retaining its small-town charm. The city aims to attract developers to build on vacant or underused properties through public-private partnerships. The result would be retail space, residences and offices along with more public parking and a walkable atmosphere. The plan could cost roughly $2.8 million and it's piggybacking on a 55-townhome development in progress downtown. In June, one of the plan's first takers, Atlanta development firm Novare Group, reached an agreement with the city's downtown development authority on a $3.5 million redevelopment of the land where the Powder Springs City Hall and community development facilities sit. The project's 220-plus apartments would create a greater residential presence downtown and would be accompanied by retail and restaurant spaces.
Austell, the smallest of Cobb's six cities, is also focused on development and what it lacks in size is offset by its location.
"We believe that we are geographically better positioned out of the other five cities in Cobb," Mayor Ollie Clemons says. "We're 16 miles from Atlanta, 14 miles from Buckhead and 19 miles from the airport."
As development continues, land is at a premium in Cobb County and that has helped Austell get "a larger buzz" in economic development circles, including landing one of the largest economic development successes in the city's history.
The city sold 46 acres to Taylor & Mathis to develop a 502,482-square-foot distribution facility in Austell, adjacent to Norfolk Southern's John C. Whitaker Intermodal Terminal. Construction of the $33 million project is complete, and Pratt Industries' subsidiary Target Container has leased all the space for a corrugating facility that will create 150 jobs.
Pratt Industries coming to Austell is a prime example of why Cupid, who represented the Austell district for eight years, says she ran for chair of the board of commissioners – seeing Cobb's success reach all areas of the county.
"This year we have over $317 million in business investment and 3,400 jobs created and retained," she says. "In the midst of a pandemic, in the midst of change, people continue to invest here and to me that's a sign of even better things to come."
---
Top Projects:
• Multinational firm TKE is relocating its North American headquarters from Alpharetta to The Battery Atlanta, bringing 900 jobs. Included in the three-building complex is the company's 420-foot elevator test tower – the tallest of its kind in North America – which should fully open next month.
• Papa John's moved its headquarters from Louisville, Ky., to the Battery, bringing 200 jobs.
• The North American headquarters of Vanderlande, a Dutch company, is expanding, bringing 500 jobs.
• The North American headquarters of Knopp, in the Town Center area, is adding 200 jobs.
• Relay Payment, a fintech company, is relocating its headquarters to the Galleria Office Park, adding more than 200 jobs.
• Belgian-based pharmaceutical firm UCB is investing $47.5 million to expand its U.S. headquarters in Smyrna.
---
Local Flavor
The Cobb Ale Trail
Bubbles & Brews is an annual celebration in March that showcases craft beverage makers across Cobb County. There are 17 such makers in Cobb, including breweries, meaderies, distilleries and wineries. (For those reading who are not trendy millennials, hipsters or a Harry Potter character, mead is alcohol brewed from honey.)
As part of the festivities, Cobb Travel and Tourism gives out brew passes, which can be stamped at any of the participating establishments and redeemed for prizes. The brew passes are so popular they gave rise to the Cobb Ale Trail.
"This year, all 17 craft beverage makers participated," says Lindsey Burruss, Cobb Travel and Tourism's vice president of marketing and media. "You pick up your brew pass, and it's a beer crawl for an entire month."
At the end of the month, participants can go online and vote for things like Most Pet Friendly, Most Family Friendly and Best Brew. When people travel, they like to live like the locals, and there's nothing more local than a brewery, Burruss says.
"Yes, we want people from everywhere to come visit Cobb, but we also want residents to be tourists in their own backyard," she says. "March is a great month because things are starting to bloom, and people want to get outside after a winter spent indoors. There's a lot of excitement around it."
In 2021, Cobb Travel and Tourism gave away 3,000 brew passes and 193 prizes were redeemed. Coming in 2022: mobile brew passports and maybe a few new breweries, too.
"It's just a great way to show residents and visitors the thriving craft beverage scene we have in Cobb," Burruss says, "and it continues to grow."
---
Meet the Makers
ASW Distillery (Cumberland)
Broken Anchor Winery (Acworth)
Burnt Hickory Brewery (Kennesaw)
Dry County Brewing Co. (Kennesaw)
Glover Park Brewery (Marietta)
Horned Owl Brewing (Kennesaw)
Ironmonger Brewing Co. (Marietta)
Lazy Guy Distillery (Kennesaw)
Red Hare Brewing Co. (Marietta)
Red Hare – Still On the Square (Marietta)
Red Top Brewhouse (Acworth)
Reformation Brewery (Smyrna)
Schoolhouse Brewing (Marietta)
Shezmu Cellars (Marietta)
Terrapin Taproom (Atlanta)
Treehorn Cider (Marietta)
Viking Alchemist Meadery (Smyrna)