2022 Hall of Fame: Doug Hooker – Community Champion
Doug Hooker, executive director at the Atlanta Regional Commission, is the 2022 inductee.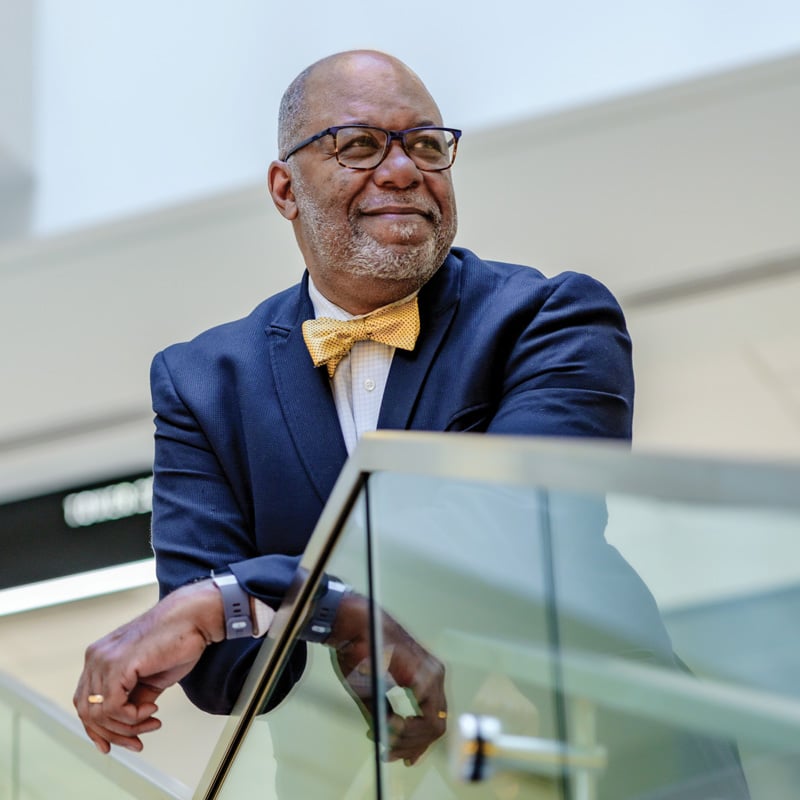 When Doug Hooker was being interviewed some years ago by the president of an engineering firm for a job leading the Atlanta office, the man told him he had heard from others that Hooker was the one to hire, but that he couldn't quite figure out Hooker's diverse career.
Two things he should know, Hooker told him: "I'm going to do a really great job, and you're going to want to promote me. But I'm not going to move to corporate. I'm going to stay in Atlanta. Atlanta is where my life is. Atlanta is my career."
He got the job and did indeed stay in Atlanta, where he has served in various capacities in the public and private sectors, capping off his career with a 10-year tenure as executive director of the Atlanta Regional Commission (ARC), the official planning agency for the 11-county metro area. He retires in March with a formidable track record of service, leadership and community involvement. Hooker is Atlanta-educated, with degrees in mechanical engineering and public policy from Georgia Tech and an MBA from Emory University. He started his career with Georgia Power, where he learned the importance of community work by volunteering with Junior Achievement. He served as commissioner of public works for the city of Atlanta, helping with the Olympics. He even had a stint in state government – a committed Democrat working for the Republican former Gov. Sonny Perdue – as executive director of the State Road and Tollway Authority.
Throughout, Hooker intensified his community activity, with Research Atlanta, the Georgia Conservancy, the Fox Theatre, the North Georgia Water Planning District and others. His love of music led him to serve on the boards of the Atlanta Music Project, the Atlanta Opera and the Atlanta Symphony Orchestra.
In 2011, he became head of ARC, where he and the agency worked through some difficult times that included a recession and the COVID pandemic. "I'm grateful for the honor to have served in this role," he says, adding that he shares his successes with "a wonderful, talented, committed team." He believes his most important internal achievement was getting his colleagues to change the way they relate to the community.
"We tended to think of ourselves as planning professionals or social work professionals," he says. "Our language was about the professions. The community doesn't know about that, and they don't care. The community wants to know how can I get safely from home to work in a reasonable period of time. How can I enjoy breathing clean air and knowing we're going to have water for my children and my grandchildren?
"We needed to change how we think of ourselves in relation to the community and then ask, what is our value to the community?" The shift was more than just semantics, rather a change in orientation and a move toward collaboration, notably partnerships with United Way, the Community Foundation for Greater Atlanta, and the Metro Atlanta Chamber, on issues like public education. "Instead of sticking to our lanes, we now look at where we can cooperate. It's a small but very important change for institutions that have regional reach and longevity."
Hooker is especially proud of the water work ARC has done. "We had a quiet but extremely important role in preserving the water supply for this region, because of our steadfastness. It started long before I got here. We were able to continue that and strengthen it [with] a number of major litigation successes and regulatory successes. We were fundamental to starting a national alliance of water interests called the U.S. Water Alliance."
Of such achievements, he says, "Those are the quiet things I love most about ARC. The work is so impactful, but we don't have to broadcast who we are. We quietly go about doing what we do, and we get it done and we quietly go home and say, 'Yeah, we did a good thing today.'" He recieved the National Association of Regional Councils' 2021 President's Award in recognition of his work at ARC.
Looking ahead, Hooker sees three big issues facing the Metro Atlanta region, including education and workforce development. But No. 1 is racial justice, "trying to alter systems of inequity that are baked into the history of our community, often without us even recognizing that. It's not racial animus, but things because of past racial animus deliberately built into systems that now disadvantage Black and brown people. We have to be a lot more conscious about examining what are these systems, how do they work, who are they benefiting, who do they hurt disproportionately, why, and how do we alter them."
Hooker's affinity for music goes beyond philanthropic service. He has composed works for orchestral, choral and instrumental performance. His symphonic suite, Without Regard to Race, Sex or Color: Part 1 – A Heavy Lift, premiered in 2019 at the National Civil Rights Museum in Memphis. In retirement, Hooker will undertake a formal study of composition, even as he continues his community involvement. He and his wife, attorney Patrise Perkins-Hooker, expect to do some traveling as well.
---
Past Inductees

2021
Ann Cramer
Senior Consultant, Coxe Curry & Associates
James Cox Kennedy
Chair, Cox Enterprises
---
2020
Johnny Isakson
(1944-2021)
Former U.S. Senator
---
2019
Michael Cassidy
Director, Emory Biomedical Catalyst
Maria Saporta
Founder & Editor, SaportaReport
Former writer & columnist, Atlanta Business Chronicle
---
2018
T. Rogers Wade
Chair, Governor's Defense Initiative
Chair, Georgia Public Policy Foundation
Philip Wilheit
Sr. President, Wilheit Packaging
---
2017
Hank Huckaby
(1941-2021)
Former Chancellor, University System of Georgia
Alicia Philipp
Former President, Community Foundation for Greater Atlanta
---
2016
Arthur Blank
Co-founder, The Home Depot
Owner, Atlanta Falcons and Atlanta United Alana Shepherd
Co-founder, Shepherd Center
---
2015
Bill Bolling
Founder & Former Executive Director, Atlanta Community Food Bank
Saxby Chambliss
Former U.S. Senator
---
2014
John Lewis
(1940-2020)
U.S. Congressman
Civil Rights Leader
Robert Shaw
Chair & CEO, Engineered Floors
Former Owner, Shaw Industries
---
2013
R. Charles "Charlie" Loudermilk
Founder & Chair Emeritus, Aaron's Inc. Monica Pearson
Former News Anchor, WSB-TV
---
2012
Otis Brumby
(1941-2012)
Publisher, The Marietta Daily Journal & Neighbor Newspapers
Bobby Cox
Former Manager, Atlanta Braves
2014 Baseball Hall of Fame Inductee
---
2011
Ray Anderson
(1935-2011)
Chair, Interface Inc.
David Ratcliffe
Former CEO, Chair & President, Southern Co.
Franklin Skinner
(1931-2018)
Former CEO & Chair, BellSouth Telecommunications
---
2010
Joseph Lowery
(1921-2020)
Minister
Civil Rights Leader
Bill Shipp
Journalist
Political Columnist
---
2009
Spurgeon Richardson
(1941-2019)
Former President & CEO, Atlanta Convention & Visitors Bureau
---
2008
Hank Aaron
(1934-2021)
Baseball Legend Founder & Owner, 755 Restaurant Corp.
Mack Mattingly
Former U.S. Senator
Former Assistant Secretary General (NATO)
Former U.S. Ambassador (Seychelles)
Carl Patton
Former President, Georgia State University
Herman J. Russell
(1930-2014)
Founder & Chair, H.J. Russell & Co.
---
2007
A.D. "Pete" Correll
(1941-2021)
Former Chair & CEO, Georgia-Pacific Corp.
Bernie Marcus
Co-founder, The Home Depot
Philanthropist
William S. Morris III
Founder, Chair & CEO, Morris Communications Co.
---
2006
James Blanchard
Former Chair & CEO, Synovus Financial Corp.
Zell Miller
(1932-2018)
Senior Strategic Advisor, McKenna Long & Aldridge LLP
Governor, U.S. Senator
Betty Siegel
(1931-2020)
President, Kennesaw State University
---
2005
Tom Cousins
Founder, Former Chair & CEO, Cousins Properties Inc.
Philanthropist
Vince Dooley
Athletic Director Emeritus, University of Georgia
---
2004
Tommy Irvin
(1929-2017)
Georgia Commissioner of Agriculture
Manuel Maloof
(1924-2004)
Longtime DeKalb County CEO & Commissioner
Sam Massell
Former President, Buckhead Coalition
Former Mayor, City of Atlanta
J. Mack Robinson
(1923-2014)
Businessman & Philanthropist
Ted Turner
Founder, CNN, TNT, TBS
Environmentalist & Philanthropist
---
2003
Griffin Bell
(1918-2009)
U.S. Attorney General U.S. Circuit Court Judge
S. Truett Cathy
(1921-2014)
Founder, Chick-fil-A Philanthropist
Jimmy Carter
Nobel Peace Prize Winner
Former U.S. President
Rosalynn Carter
Former First Lady
Mental Health Advocate
Thomas B. Murphy
(1924-2007)
Longtime Speaker, Georgia House of Representatives
Sam Nunn
Former U.S. Senator
National Defense Authority
John C. Portman Jr.
(1924-2017)
Architect, Developer, Entrepreneur
Carl Sanders
(1925-2014)
Governor, Attorney
Dr. Louis Sullivan
Founding Dean, Morehouse School of Medicine
Former U.S. Secretary of Health and Human Services
Andrew Young
Former Mayor, City of Atlanta
Former U.S. Ambassador to the United Nations