Summer Magic
The Governor's Honors Program gives Georgia students a life-changing experience.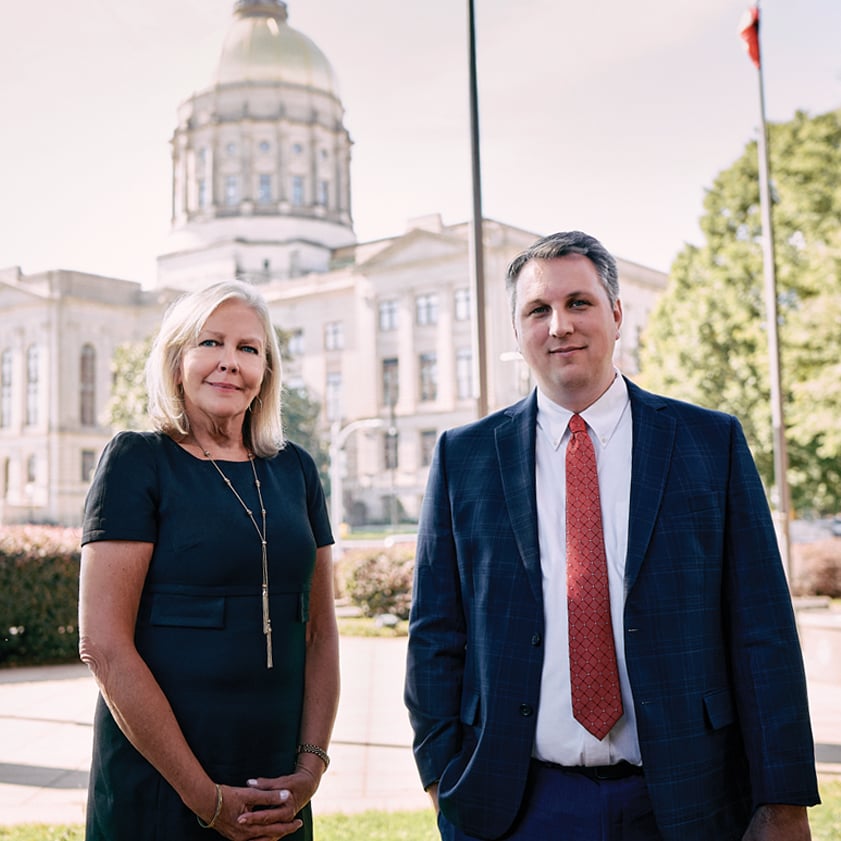 What do Emmy-winning actor Donald Glover, former U.S. Deputy Attorney General Sally Yates and celebrated jazz trombonist Wycliffe Gordon have in common?
They're all Georgians, for starters, but they're also all alumni of the Governor's Honors Program (GHP), a summer academic enrichment program that's been hosting the state's best and brightest high school students for more than 50 years.
Lest you think best and brightest means strictly straight-A students, GHP adjudicators look for what a student does outside of the classroom as well. For them, demonstrated passion – for acting or playing the trombone, for example – and curiosity are just as important as solid grades.
"The exact type of student that we're looking for is someone who doesn't necessarily have all A's or AP courses, but they just love the subject so much that they spend their free time doing it," says Donovan Head, deputy director at the Governor's Office of Student Achievement (GOSA), which oversees the program. "There's an outside-the-classroom interest, where the four walls of the classroom can't possibly give them everything that they desire to learn about the subject."
GHP is designed to "provide students additional academic, cultural and social enrichment beyond what a high school would provide to really push thinking outside of the classroom," says Joy Hawkins, executive director of GOSA. It's the longest continuously running program of its kind in the country, and there's no cost to students to attend.
Alumni have called the experience life-changing for the exposure it gave them to different cultures, backgrounds and academic expectations. So when GOSA faced a 90% budget cut in the 2020 legislative session – which would have effectively eliminated the Honors Program – many of them rallied to save the program. "It's a program that we need to protect and preserve. It does a lot of great things for students in this state. And you start talking about having the budget cut, a lot of people pay attention," says Cade Joiner, a '96 GHP alum and now vice chair of the University System of Georgia's Board of Regents. "The potential budget cut that happened a couple of years back was a catalyst to get everybody together and get organized."
---
Building Support
The 2020 legislative session was not the first time GHP faced funding cuts, though it was the most drastic. A previous funding shortfall led to the program being shortened from six weeks to four weeks, a change that went into effect in 2011.
While GOSA ultimately did secure funding – the final fiscal year 2021 budget included an overall $8.8 million increase, which the office will use to support other educational programs throughout Georgia as well as GHP – the threat led to the formation of the GHP Steering Committee, a group of alumni that came together organically to protect and support the program into the future. The committee's 29 members include Joiner, as well as state senators Brian Strickland, Jen Jordan and Tyler Harper, among others.
One of the committee's first tasks was finding private funding to send an additional 180 rising seniors to the 2021 session. These students were originally selected for the 2020 program, which was canceled due to COVID-19. Committee members reached out to financial institutions, educational agencies and local leaders to raise these funds, ultimately raising $42,000 from just 13 donors in six months.
"That was without really much heavy lifting at all," Hawkins says. In the end, 75 of the 180 students from 2020 were able to join the 2021 session's 650 students at Berry College. For students who were unable to attend the four-week session, committee members held a virtual "Day at the Capitol."
---
Life-long Benefits
It's a long road to GHP. Students are nominated by their teachers each year, with statewide nominations topping out at about 3,200. Each school district or private school has its own selection process for these applications, and home-schooled students can also be nominated through the school system they live in.
About half of those students are then invited to interviews and auditions, where GHP adjudicators – a group of high school teachers and college professors, many of whom also teach at GHP each summer – are tasked with the difficult job of narrowing down this pool to 650 to 680 finalists. GHP leaders say there aren't minimum requirements for GPAs or test scores in the selection process. Instead, they're looking for students who have shown "exceptional skill, creativity and knowledge" in their intended major study area.
Students pick a major study area from 11 options spanning world languages, science, math, communicative arts, visual or performing arts, and more. They also pick a minor area that's unrelated to their major. For the four weeks they spend at GHP, students spend six days a week in the classroom, with four to six hours of instruction in their major area, plus a couple of hours each day five days a week in their minor area. At the end of the program, students may have a final project or performance to cap off their experience.
It might sound like an intense experience, but as alumni have found over the decades, there's an element to the summer program that's almost inexplicable. "It's hard to really describe the experience. It was certainly something that I can't imagine not having done," says Marsha Rooks, a '71 GHP alum in English. "It was probably one of the best summers of my life. … I was very happy and met friends that I stayed in touch with the rest of my life."
One of those friends was R. Philip Bouchard, a math and science enthusiast. Rooks and Bouchard were part of a tight group of nine students from around the state who bonded over meals. The group still keeps in touch 50 years later, some more closely than others – Rooks and Bouchard married last October after reconnecting over their shared love of wildflower hunting.
The pair had dated at the University of Georgia but lost touch after graduation. Bouchard went on to marry, but his heart circled back to Rooks after his first wife passed away after 29 years of marriage. "Marsha and I, well, we remained in each other's minds, and we eventually reconnected," he says. "… Now, every day, I feel so lucky."
For Bouchard, GHP's biggest impacts were not so much academic, but social. Aside from meeting his future wife, the experience led him to gain a new understanding of who he was.
"For me, it was quite revelatory. I had been very much a loner in high school. It seemed like I had different interests. I had some friends, but not a lot of close friends," he says. "Then I went to Governor's Honors and found a lot of people who I thought were so much more like me, and I didn't realize that they were out there, other people that were more like me. Immediately I just really relished being with these people and talking with them. … It made me completely reevaluate who I am." Bouchard went on to create a career melding natural science and computers, eventually serving as lead designer for the classic computer game The Oregon Trail. Now, he writes about natural sciences, language, education and geography on his blog (philipbouchard.com). His latest book, The Stickler's Guide to Science in the Age of Misinformation, was released in early November.
He credits his time at GHP with leading him into a career with computers. He and his roommate would spend hours at Wesleyan College's computer lab in the evenings after class, which featured a teletype machine that connected to time-share systems at three of the state's universities. Though the technology was still in its infancy, the experience ignited an interest in computing and coding.
"You might say in some ways that it helped to launch my career," he says.
---
An Evolving Program
As GHP enters its 58th year, GOSA is working on a few program refreshes, including plans for a new location for the program that has been held at various college campuses around the state. The agency has a five-year renewable contract with Berry College, its current host site, that will expire in 2022. The search is on for new sites; currently, nine public universities have expressed interest in hosting future GHP sessions.
GOSA also continues to evaluate its program focus areas. It's working on adding a new program in computer science and cybersecurity, the first addition to GHP's program areas since Mandarin Chinese in 2017.
GHP leaders see the new program as a way to give students more options for study, as well as to build a cybersecurity pipeline to boost a needed workforce in the state.
"We've got here in the state of Georgia over 17,000 jobs that are open in cybersecurity, over 500,000 across the nation. You combine the threat with an inadequate workforce, and that just compounds the problem," says Eric Toler, executive director of the Georgia Cyber Center, in Augusta. "It's something that we need to address."
The Georgia Cyber Center is a public-private collaboration of government, academic and industry partners that works to drive cybersecurity training, provide unbiased cybersecurity policy guidance and develop a strong, qualified workforce to tackle the ever-evolving – and increasingly dangerous – threats in global cybersecurity.
Toler sees the addition of cybersecurity as a significant statement from state leaders that cybersecurity and its undersized workforce are important. "As we've tried to peel apart this problem of the workforce and looking at our education programs, there is no silver bullet. It's a pretty complex onion that you have to start peeling back," he says. "The more programs and opportunities that you present to students, the better you're going to be."
The addition is one outcome of GOSA's 2021 strategic planning session, which identified aligning program study areas with state workforce needs as a priority area. Here, GOSA leaders are careful to preserve the integrity of the program while adapting it to modern needs.
"We don't want to change that magic. We don't want to change the secret sauce," Hawkins says. "However, if the best and brightest in Georgia can be introduced to some of the high-needs industries in Georgia earlier than college and we keep them in Georgia, going to college in Georgia and working here, it's a win-win for everyone."
Another focus area for GHP in the coming years is having more equal student representation from counties across the state. In 2019, GHP students came from 70 Georgia counties, fewer than half of the state's 159. Only 36% came from public schools outside of Metro Atlanta. Some of this problem has to do with the perception of GHP qualifications, Hawkins says: "In some of the especially small, rural areas, I've heard teachers and administrators say, 'Well, we just don't really have a GHP-caliber kid,' which is not true. There are GHP-caliber students all over Georgia."
GOSA is working with coordinators throughout the state to boost awareness of the "GHP-caliber student." The goal of all of the agency's efforts is to identify these students and give them an educational opportunity that will hopefully keep them in the state, through college and beyond. "And that's a great thing for the state. It's a great thing for the workforce and the business environment of the state to keep talented people in Georgia," Joiner says. "We need them."