Southwest Georgia: Open for Business
Distribution, manufacturing and agriculture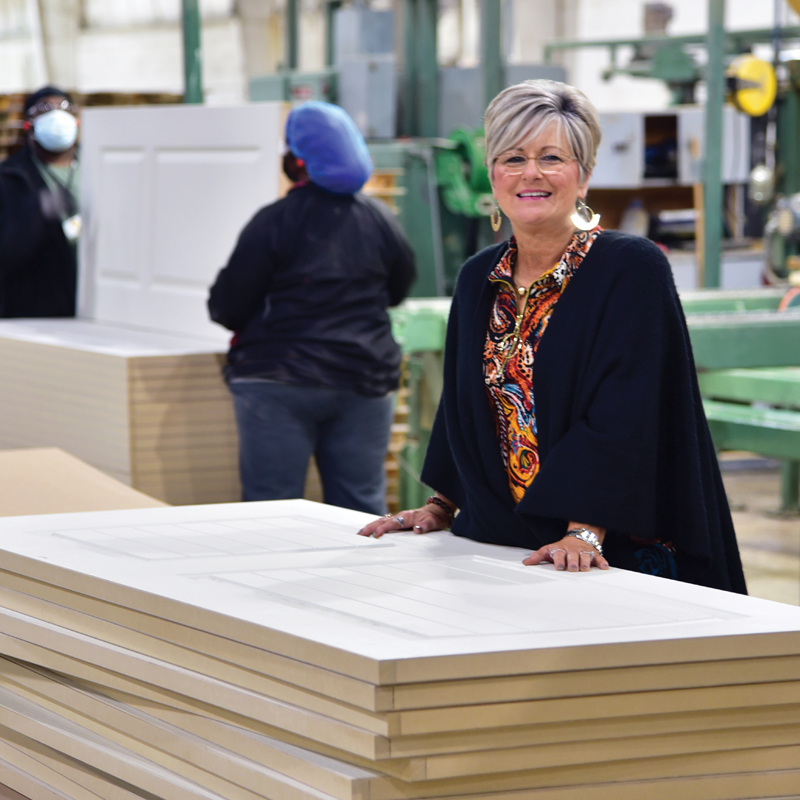 Economic development leaders across Southwest Georgia are all singing the same tune this year as they welcome continued growth in various forms, from population increases to new and expanding industries. With total investments in the hundreds of millions and new jobs in the thousands, 2021 has proven to be a solid year for the region.
It's no secret that the I-75 location is ideal for logistics. In fact, it's part of why site-selection media company Business Facilities recently named metro Valdosta among the top 10 in its 17th Annual Rankings Report for positive job growth between February and November of 2020.
"That is based on data from the U.S. Bureau of Labor Statistics, and we were ranked No. 9 compared to more than 400 U.S. metro areas," says Andrea Schruijer, executive director of Valdosta-Lowndes County Development Authority.
"I think it's a great testimony to doing business here," she says. "A lot of it has to do with us being a logistics distribution hub because of our strong logistical, infrastructure and supply chain network. We're able to move products very quickly and efficiently."
Lowndes County is home to a number of warehouse-distribution facilities for companies including The Home Depot, Dillard's, Lowe's and Smith Drug.
By fall, Lowndes had reported six new industry projects for 2021 representing $92 million in capital investment and approximately 300 jobs, according to Schruijer. Among those was Correct Craft, which chose to expand in Georgia after outgrowing its California facility. Its Supreme Boats wakeboarding and wake surfing boat manufacturing project includes a $1.7 million capital investment with 90 new jobs.
"So here again, due to COVID, everybody needed something to do outside so we saw the boating industry and other recreational vehicles really grow and Supreme Boats was one of those," Schruijer says.
Also announced this year was an expansion by multinational baking company Grupo Bimbo, headquartered in Mexico. With a $25 million investment and 74 new jobs, the facility will produce buns for fast-food restaurants, says Schruijer, adding that Bimbo chose to locate in a 100,000-square-foot spec building before construction was even complete.
---
From Ag to Bitcoin
Just up the road, agriculture has taken a turn in Cook County, where Trulieve Cannabis Corp. announced a $20 million capital investment that will create 100 jobs with phase one of its Adel-based project, says Lisa Collins, executive director, Cook County Economic Development Commission. Trulieve will construct a new facility in the Cook County Industrial Park, operating under one of two Class 1 production licenses issued to date by the Georgia Access to Medical Cannabis Commission.
The company will establish an indoor marijuana cultivation and manufacturing facility in Adel that will make low-THC oil products. The operation and ancillary medical marijuana businesses should generate hundreds of jobs for Cook County and the surrounding area within a matter of years, says Collins.
In addition, Trulieve will further medical cannabis research and education through a previously announced partnership with Morehouse School of Medicine in Atlanta.
Several existing industries are expanding in Cook County, including BASF Agricultural Solutions, which completed a $70 million expansion in the second quarter, adding 30 new full-time positions. The Sparks facility produces BASF's seed treatment portfolio that helps farmers manage pests and disease and produce higher yields. The site expansion includes a new formulation unit, lab expansion and a climate-controlled warehouse, bringing the total site assets to $200 million, says Collins.
Manufacturer of custom tempered (CT) glass Cardinal Glass Industries will complete an $8 million expansion by year's end, adding 10 full-time jobs. Cardinal's CT glass is used for windows and doors in situations where safety glazing is required by building codes or toughened glass is needed to eliminate breaking into large, dangerous shards.
A global leader in Bitcoin and blockchain technology, Blockstream is expanding its footprint in Adel, where it currently uses 26 megawatts of energy for mining Bitcoin data. The company will expand its power usage to 42 megawatts by the end of the year, increasing the revenue stream for Adel, the power provider for Blockstream. The company plans to use more than 200 MW in the next 18 to 24 months.
Quality of life has improved across the county this year as well, with the Georgia Department of Community Affairs awarding Downtown Adel the Main Street designation for its commitment to comprehensive revitalization through planning, implementing and evaluating results. In addition, new hangars have been completed at the airport along with the construction of a new Cook County Recreational Complex. The $7.5 million project includes eight ball fields, a multiuse trail and 500 parking spaces.
Farther north, Tift County Development Authority welcomed Dale Atkins as interim executive director in January. Atkins worked 26 years in economic development for Appling County and had retired before being asked to take on the task.
"The prospect activity in Tift remains strong in manufacturing, warehousing, and distribution," says Atkins. "I foresee that continuing to happen."
American Textile Co. expanded its Tifton location earlier this year. The manufacturer of bedding products invested $10 million to construct a 155,000-square-foot building and create 50 new jobs, says Atkins, for a total of 800,000 square feet and 400 employees.
Coca-Cola Bottling Co. United opened its state-of-the-art facility in Tift this summer and has already exceeded its original announcement of 200 jobs, says Atkins, adding that the 300,000-square-foot building features a high-tech conveyor system and serves as the distribution and sales center for the southeastern United States.
---
Rocking Along
While being located on a major interstate is definitely an advantage, big things are happening throughout the region in other areas as well.
"You would think during a pandemic that things would slow down but it seems like they have sped up," says Shelley Zorn, executive director, Thomasville Payroll Development Authority, adding that Thomas County saw a total investment of $44.2 million this year and the creation of 535 jobs.
Ashley Home Store owner, Russell Turner, is a Thomasville native and has operated Ashley's corporate office there for many years, says Zorn. The company is building a 150,000-square-foot distribution center in Red Hills Business Park, a $15 million commitment that will double the number of employees in Thomasville to 150.
Turner will break ground in early 2022 for that project, but he began his recent expansion with a new $5 million facility on the Hwy. 319 S. corridor from Tallahassee that houses a call center, customer service and marketing. The project added about 40 jobs for a total of 75.
"He's really visionary because he did it in a part of town that still needs a lot of development, on the south side, and I think since then we've seen other investments happen," she says.
Zorn says Red Hills Business Park has many prospects, most of them in the gun industry. "Having Check-Mate in town has brought some of their suppliers to Thomasville," she says, improving Check-Mate's supply chain logistics.
Elsewhere in town, GPS Trailers purchased a building and is promising 50 new jobs with its $2.4 million investment to build utility trailers, says Zorn. Tampa Bay Fisheries, processor and distributor of frozen fish, chicken, vegetables and other food items, has spent $9.5 million to purchase and renovate an existing building and install new equipment. The business has created 200 new jobs.
Existing business Ag-Pro, which owns the most John Deere dealerships in the U.S. according to Zorn, operates its corporate offices in Boston, Ga. This year the company expanded its footprint in Thomas County with the purchase of a 120,000-square-foot building vacated last year when Cives Steel closed following a global consolidation.
With a total investment of about $3 million and creation of about 30 jobs, Ag-Pro will soon begin manufacturing some of the items sold at its John Deere dealer- ships, starting with utility trailers.
Elsewhere, new to the job this year but not new to the area, Lee County native Jana Dykes became president and CEO of the Albany-Dougherty Economic Development Commission, just in time for Outdoor Network's announcement of a $21.8 million capital investment that will bring more than 90 new jobs to the community. The company is locating a call center in the old MacGregor golf building, where it will consolidate and expand its existing call center and distribution headquarters.
Outdoor Network will also expand its advanced manufacturing facility in south Albany, producing 125- through 200-horsepower engines for OXE Diesel Outboard Motors, says Dyke, noting that they've already exceeded both the capital investment and jobs commitments.
Another company that chose to grow in Albany, corrugated box manufacturer Pratt Industries, announced an expansion of over 100,000 square feet. It's a commitment totaling $18.5 million in real and personal property, says Dyke, as well as an additional 30 new jobs over the next three years.
American Bio Energy Converting Corp. is a startup by Albany resident John Tharpe Jr., a retired Procter & Gamble engineer and founder of R&L Engineering, who has invested about $3 million to date on a building and equipment. Focused on research and development, the company will produce equipment used to convert biomass, or wood pulp, to gas. The company has been granted nine utility patents for it's proprietary processes.
Following the retirement of Winston Oxford at the beginning of the year, Lisa Davis was named president of the Lee County chamber and executive director of the development authority. Since then, the county has become one of only two communities in the region to receive the Broadband Ready Community designation from the Georgia Department of Community Affairs. It means the local government has included the promotion of high-speed internet services in its comprehensive plan.
"That's kind of a huge goal for the community right now, especially for the county government. The majority of our population really doesn't have good broadband," she says, noting the increased demand created by virtual learning and telecommuting. Speaking of population, Lee County's grew some 17% according to the 2020 census, Davis adds.
Among growth in the county is a $10 million, 156,000- square-foot expansion by 65-year-old, family-owned Woodgrain Millwork, adding 150 new jobs within three years. A manufacturer and distributor of quality wood moldings, doors, and windows, Woodgrain will soon be making a line of doors for The Home Depot, Davis says.
Some 3,000 acres in Northeast Lee County were chosen as the location for a 250-megawatt solar farm by Nashville, Tenn.-based Silicon Ranch, which is making an investment of more than $220 million. And continued growth along Georgia Highway 82 in Lee County includes two pharmacies, a new restaurant and construction on phase three of Greystone Apartments, bringing some much-needed housing to the county.
Like Lee County, Decatur County saw a jump in population, by 5.5%, according to the 2020 census. New and existing industries continue to prosper there. Among those are Danimer Scientific, manufacturer of non-petroleum based plastic and biodegradable plastic. Construction has begun on a $700 million facility that will employ 400 people in Bainbridge. Danimer hopes to have the facility completed in two years, says Rick McCaskill, executive director of the Development Authority of Bainbridge and Decatur County.
Also in Decatur, A1 Industries, a manufacturer of wood roof trusses and walls, is building a 180,000-square-foot, state-of-the-art facility that will employ 130 people and be in production by the end of the year, says McCaskill.
---
Filling the Needs
The Cordele-Crisp County Industrial Development Council's Grant Buckley has seen steady growth in the area, as evidenced by the number of potential investments he's hoping to announce. In the meantime, Big Tex Trailers has done well since reopening, he reports, having shut down their Cordele plant, along with every other U.S. location, for about five weeks last year as a COVID-19 precaution.
"While we were all sitting at home during COVID, apparently a bunch of us decided we wanted to buy a utility trailer," says Buckley, noting the inventory was depleted and the company is working hard and fast to refill the stock and keep up with demand.
Crisp County is also home to Norbord, the world's biggest oriented strand board (OSB) manufacturer. With lumber and associated products such as OSB in high demand, they've had to boost production, says Buckley.
"Last year was a record year for them," he says. "And I don't think they've really slowed down."
Announced a couple years ago but delayed by the pandemic, the new Crisp County trucking terminal for Indian River Transport Co., which transports fruit juices and other beverages, is under construction off Exit 102 on I-75, says Buckley. The company committed to 125 jobs within two years, most of which will be truck-driving jobs.
Colquitt County remains equally strong in healthcare and agriculture, says Barbara Grogan, president of the Moultrie- Colquitt County Development Authority. For example, National Beef was awarded a contract with Kroger grocery stores and added 70 positions to meet increased demand. National Beef is just one of many food processors in the county, and the development authority is working to bring more opportunities with a proposed agricultural processing and cold storage facility in its industrial park. She estimates $90 to $100 million for the project, including construction and equipment.
"We see the benefit of it for our community and our region, and to see more and more use of agricultural products," she says.
The authority hopes to secure its first line of funding for the processing facility in early 2022 through Georgia's State Fiscal Recovery Funds allocated through the American Rescue Plan. Grogan says the authority has also applied for federal funding from the Economic Development Administration. To show its support, the county has approved a $1.5 million cash grant for the project.
In another show of faith, Colquitt County, the city of Moultrie, the Moultrie Colquitt County Development Authority and the Colquitt County Hospital Authority amassed $4.85 million locally for the growth and expansion of the Philadelphia College of Osteopathic Medicine (PCOM) South Georgia. The college, which opened in 2019, plans to add a new facility with the capacity for another 100 to 130 students as well as two or three new degree programs, says Grogan.
"[PCOM] is steadily growing. … Last year, our SPLOST [Special Purpose Local Option Sales Tax] revenue was up over $1 million," Grogan says. "When you look at it, we can attribute much of it to PCOM. It's pretty early on to see such a return on investment out of any economic development project.
"We want them to grow all they can because they underline the base of our economic activities in a lot of ways, and we're proud," she says. "The world is always going to need to eat good, healthy, nutritious food and the world is always going to need good healthcare, and we want to continue to have such things."
In Randolph County, population about 6,700, big things are happening thanks in part to the small (300 students) private Andrew College. The school is playing an important role in community revitalization, including the renovation of six vacant buildings on or near the square in downtown Cuthbert. The buildings have been used to host art exhibits, jazz receptions and other programs such as the traveling Smithsonian exhibit, Crossroads: Change in Rural America, on display just before the pandemic, says college President Linda Buchanan.
"If we move parts of the arts downtown and have space for functions downtown, that's a win-win for us and the community, including our students," says Buchanan. "We've really tried to focus on that since the county got the Tourism Product Development program down here in 2016."
That program, part of the Georgia Department of Economic Development's tourism division, gave the cities of Cuthbert and Shellman, along with Andrew College, the blueprint for promoting tourism and improving the downtowns, the cost of which was covered by monetary donations as well as the donation of four of the six buildings, says Buchanan.
"I just think Southwest Georgia is such a special place, and it is a place that needs good partnerships, it needs collaboration, it needs innovation," she says. "There are a lot of really great people down here that are willing to take part in that, and I'm proud that we're just one of those partners."