From the Publisher: Why the Rush?
Serious questions surround the Buckhead cityhood process.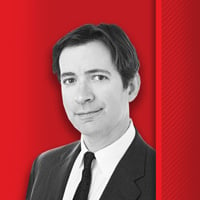 Our feature about Buckhead in this month's issue casts some light on the problems and solutions underway in the midst of the increase in crime that has energized some residents in one of Georgia's most important neighborhoods to attempt to secede from Atlanta.
This month's publisher's letter isn't intended to take sides in the issue, but to draw attention to some context, and to what I believe is a fact: the way Buckhead is going about seceding is wrong.
Since I am writing for readers around the state, including many economic development, county and city government leaders, it may come as a shock to realize that in its current form, the proposed legislation authorizing a vote on Buckhead leaving Atlanta to form its own city excludes people from outside the district from participating. Restricting voting in this way is standard practice but this is the first time a Georgia neighborhood has attempted to secede from an existing city.
This could create a precedent in Georgia for any neighborhood in any city to secede regardless of the impact on surrounding neighborhoods. If repeated from city to city, it could throw the management of our state's complicated and valuable infrastructure into total chaos, undoing years of planning efforts that have made this network the envy of other states.
It would also have a devastating impact on our reputation for the best state in the country to do business. Putting our reputation as an Atlanta united aside, no business leader will take Georgia seriously if this is rushed through in its current form, because there is simply too much at stake and too little information available at this point to effectively arrive at a decision of this magnitude.
While I have tremendous respect for Valdosta State University (VSU), I have to question the origins of a Buckhead city feasibility study done by the VSU Center for South Georgia Regional Impact, which found that taxes and fees could sustain a police force while other services like schools, water and sanitation could be contracted with Atlanta. Their other studies, concerning Moultrie and Lee County, are more specific to the region, as the name of the department implies.
And while there have been vague promises of a deal to allow Buckhead kids to stay in the Atlanta Public Schools (APS) system by cityhood backers, no details of such a deal have been forthcoming.
A vote to put the issue on the ballot next November appears to be moving swiftly. That gives APS, cityhood backers and Atlanta leaders just 11 months to figure out what to do about the kids.
Why so fast? Residents feel besieged but cityhood backers have acknowledged that the escalation in crime in the past two years has been fueled as much by the pandemic as by the recent disruptions in the Atlanta Police Department. Cityhood backers have also been outright dismissive of the notion that the new mayor of Atlanta to be elected Nov. 30 will be able to change the situation.
In other words, it appears they would rather risk all the uncertainties of secession in order to move this onto the ballot as quickly as possible, rather than giving post-pandemic Atlanta and the new mayor a chance to address these issues. But is that really the only reason for the rush to put this to vote in November?
I smell politics at work here. There is no doubt that a cityhood vote on the same ticket as the governor's race will generate more turnout for the city-hood issue. The notion of the state of Georgia swooping in to manage Atlanta affairs is nothing new and is popular with many voters outside of the city.
Ironically these are the same voters who claim to support home rule. None of the legislators backing the cityhood bill live in or even represent the area.
Meanwhile, not allowing other Atlanta residents to vote on this measure means parents systemwide could be stuck with losing hundreds of millions of dollars for their students' public education (while parents in Buckhead could lose public education altogether) without a plan to handle the fallout.
Regardless of one's opinion about Buckhead City, I hope these questions concerning process will resonate with those of you who care about your own cities and neighborhoods, and that you will consider the implications about what this means for Georgia in general.
We can do better than this.