Atlanta is home to new rail headquarters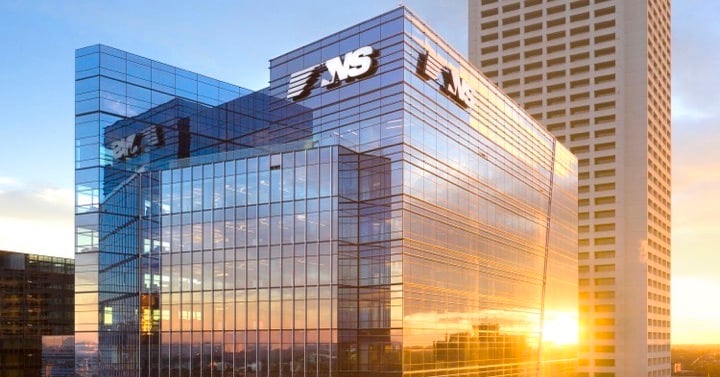 Last week, Norfolk Southern Corp. formally opened its new state-of-the-art headquarters in Midtown Atlanta with a ceremony that included employees, Gov. Brian Kemp, Sen. Raphael Warnock, Mayor Keisha Lance Bottoms and local business leaders. The 750,000-square-foot building sits on a 3.5-acre campus in Tech Square, making it part of a neighborhood housing the highest density of startups, corporate innovators and academic researchers in the Southeast.
One of the nation's premier transportation companies, Norfolk Southern was previously headquartered in Norfolk, Va., but moved south to boost its ability to collaborate and innovate in the railroad industry. About 3,000 of the company's 19,000 employees will call the new headquarters home.
In designing its headquarters, the company's priorities were sustainability and employee health and wellness. Built to Leadership in Energy and Environmental Design (LEED) specifications, the railroad's new home aims to be one of the first LEED Gold-certified office buildings in Georgia.
Norfolk Southern serves 22 states and the District of Columbia, providing freight transportation for industrial, agricultural, energy and consumer products. While the headquarters is new, the company has had a presence in the state since the mid-1840s.
It's also one of two railroads with on-terminal facilities at the Port of Savannah and has been an integral partner in the Georgia Ports Authority's efforts to increase the efficiency and sustainability of transporting containerized cargo. Learn about the role Norfolk Southern is playing in the port's new Mason Mega Rail project and more in this month's feature, "Perpetually Pushing Ahead."
Photo provided by Norfolk Southern Corp.
Do you follow us? Find us on Linkedin, Facebook, Twitter and Instagram.