State of Mind: Let's Do Better – Please
Harassment of frontline public health workers who are trying to protect people has to stop.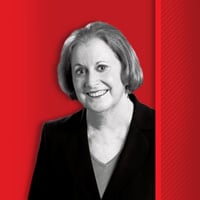 It's a good thing for the morally bankrupt and intellectually compromised individuals who disrupted a mobile COVID-19 vaccination clinic in north Georgia last summer and forced its closure that they did not have to explain themselves to a good Georgia mother like mine. Same for those anti-science hooligans elsewhere in the state who threatened to "track down" or otherwise harm public health workers attempting to do their jobs.
My mom loathed venality and rank stupidity, but boy did she hate "no-classism," behavior she would have defined as rude, boorish, selfish and often harmful. She recognized that such conduct could easily turn ugly and dangerous. An example? How about, say, taunting and harassing healthcare professionals trying to administer vaccines and citizens seeking protection for themselves and their communities against the virus that has killed approximately 25,000 Georgians, sickened thousands more, and stressed emergency rooms and intensive care units throughout the state almost to the breaking point?
The sight of Georgia's public health commissioner, Dr. Kathleen Toomey, at a news conference, pleading – pleading, for crying out loud – with Georgians not to attack frontline healthcare workers, individuals already exhausted from months of fighting COVID and its effects, was sad and sobering. Yet there she was, sending a message to people who will likely choose not to heed her words – perhaps viewing their inexcusable actions as an extension of their right to express an opinion, without consideration of the harm they might do. If people are so beyond the pale that they have to be reminded that violence is not a reasonable path forward, can they be reached by a public official or anyone else? (And a digression here: I am really tired of hearing people prattle on about their own rights without giving any thought to or respect for the rights of others.)
Dr. Toomey acknowledged that she herself has received threats as a result of her statements urging vaccinations and other precautions to help guarantee Georgians' health and safety. She said she regards the threats as something that goes with her job. But it was easy to see that she was distraught and disturbed that other members of her team were being threatened.
It's hard to imagine what goes through people's minds when they are threatening or committing violence against those who are ultimately trying to help them. Rage, stupidity, closed-mindedness, a desire to make themselves feel important? Something darker?
I still do not understand people who are opposed to public health and safety measures, especially those who reject the vaccines that can save their lives. But even if I could wrap my head around their reasons, I am sure I could not fathom why someone's opposition to their own vaccination would lead them to actively oppose someone else's – and not just oppose it, but to terrorize the nurses and technicians who are trying to make vaccines available and accessible.
I think it is not unreasonable to assume that anyone who waited several months after free vaccines were widely available before making the effort to get a shot might be frightened off by angry, ranting anti-vaxxers greeting them at a mobile clinic. And maybe be reluctant to come back.
I wish our Georgia leadership hadn't been so unwilling to make mask-wearing mandatory – and particularly hadn't tried to stop individual localities from enforcing mask requirements. I admire the efforts that went into making COVID testing and vaccinations available, including the day off for state workers. But I wish shots were required, rather than requested, for those on Georgia's payroll, especially once the FDA fully approved the Pfizer vaccine. Asking nicely, in this case, is far less effective than ordering.
But my distant frustration is no match for Dr. Toomey's quiet indignation as she spoke of the threats and hostile emails frontline workers have received and reminded Georgians of the heroic work they have been doing: "Public health has worked behind the scenes, throughout this pandemic, to vaccinate, earlier to test, now … testing and vaccinating throughout the state."
She sounded fiercely maternal talking of her colleagues, weary from the long months they have spent fighting the pandemic yet facing hostility and disruption. "This is wrong. It shouldn't be happening to those nurses who are working in the field to try to keep this state safe. These people are giving their lives to help others. Georgia, we can do better."