Q&A with Sen. Raphael Warnock
Serving a New Congregation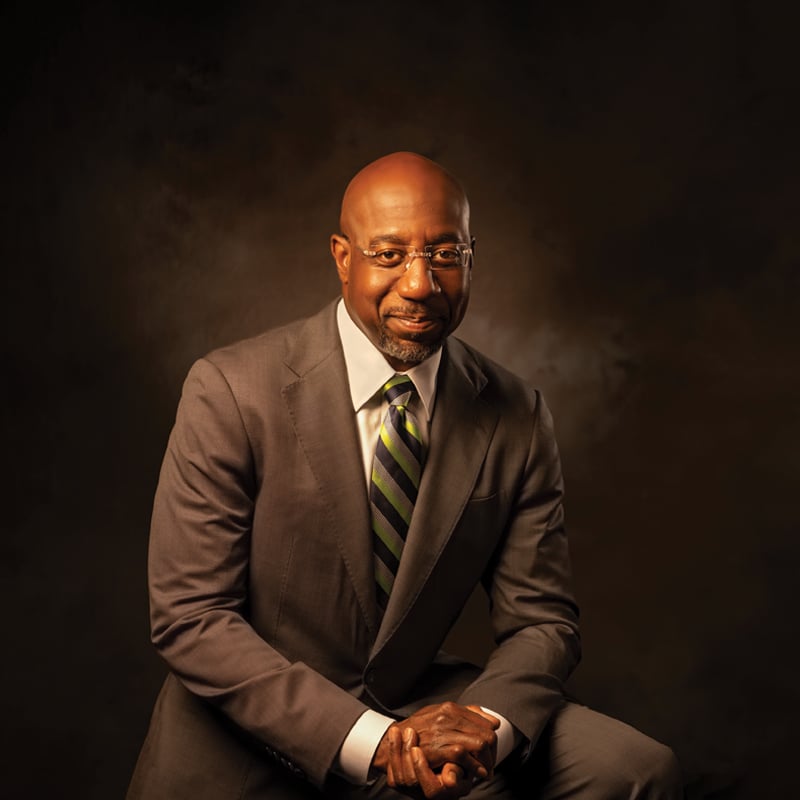 Georgia's junior senator, Democrat Rev. Raphael Warnock, won his Senate seat in a down-to-the-wire runoff election in January, defeating incumbent Republican Kelly Loeffler who was appointed to the position after Johnny Isakson retired. In the same runoff, Sen. Jon Ossoff defeated another Republican incumbent, David Perdue. The elections, which drew intense national attention, put Democrats in control of the Senate and gave Georgia's new senators a great deal of clout.
Warnock, who is the first Black senator from Georgia, is senior pastor of the historic Ebenezer Baptist Church in Atlanta, where he preaches every Sunday. He grew up in Savannah in public housing, the 11th of 12 children and the first in his family to graduate from college. He has made voting rights a signature issue of his campaign and his Senate tenure. Because he was elected to complete Isakson's term, he will stand for reelection next year.
Georgia Trend's Susan Percy talked with Warnock in Atlanta. These are edited highlights from the interview.
---
GT: How do you describe your first months in office?
Warnock: Serving in the United States Senate, representing my home state, the state where I was born, raised and nurtured, is the high honor of my life.
---
GT: You started your term with an unusually high national profile for a freshman senator.
Warnock: I have come at a critical moment in our nation's history. Shortly after I announced, we found ourselves in the throes of the pandemic. Shortly thereafter, with the murder of George Floyd in broad daylight, we saw come to the surface longstanding issues in our country. What I hope to do as one of the newest members of the Senate is to stand firmly in the moral work that I've done for years as a spiritual leader and to take the spirit of that work into the Senate.
---
GT: What do you consider your successes so far?
Warnock: Because Sen. Ossoff and I were elected by Georgia, we were able to consider a recovery package, the American Rescue Plan, which provided much-needed resources to facilitate the process of getting people vaccinated, getting PPE for our schools so they could reopen, and money in the bank accounts of people who are struggling with basic food insecurity. In addition to that, in the same bill, we passed an expanded earned income tax credit and child tax credit, which the experts tell us will cut child poverty in half. That bill alone is one of the most significant pieces of domestic legislation that we have seen in a generation. In addition, we passed the U.S. Innovation and Competition Act on a bipartisan basis, which positions our country to be a leader in R and D [research and development] into the future. Now we turn our attention to infrastructure. America needs a home improvement package.
---
GT: What are your disappointments so far?
Warnock: I'm truly disappointed that the Republicans blocked, in June, our ability to even have a debate on voting rights. They missed an opportunity for us to do right by the American people, to have an open and honest and transparent debate about our electoral system and therefore to instill confidence in the electoral process. But I'm not about to give up on voting rights, which is why I use the considerable influence that I have as the senator, along with Jon Ossoff, that gave us the majority to push for voting rights. I've had many conversations with my colleagues. I pushed Leader [Chuck] Schumer back in July on the question of voting rights in my efforts to make sure it remained a major priority. To his credit, he responded to that.
---
GT: As you have talked about the need for federal voting rights legislation, you've also talked about what you see as the harmful effects of Georgia's elections bill, SB 202. Is the effort by Republicans to take over the Fulton County elections office something that concerns you?
Warnock: Absolutely. I think there was a lot of attention on the reality and the sheer crude antics and optics [in SB 202 provisions] of denying people water who are standing in long lines – that's important, because particularly in communities where there are those long lines, we ought to be asking why are these lines so long? But I don't want us to focus on that so much that we ignore other very dangerous provisions like the ones that allow partisan actors to take over boards of electors.
---
GT: Can you elaborate?
Warnock: It over-politicizes the electoral process. We ought to have a political process where the politicians make their case about the direction they think the country ought to take and why you ought to elect them. But then we ought to have an electoral process where the people get to pick their politicians rather than the politicians picking their people. What we're seeing unfold, unfortunately all across the country, is an assault on the voices of the American people. It is manifestly undemocratic, what we are seeing in these provisions.
---
GT: In terms of voting rights, what's the responsibility of Congress, as opposed to state and local entities?
Warnock: Congress, through Article One, has a right and responsibility to ensure Americans have access to their democracy, to protect voting rights. That is absolutely within the purview of the Congress. If we fail to protect voting rights, no matter what else we achieve, this Congress in my estimation will have failed to do our job. GT: What do you make of the opposition to federal voting rights legislation? Warnock: I think there are politicians out there who are far more committed to their own power than they are to our democracy.
---
GT: Are you optimistic about passing voting rights legislation?
Warnock: I'm determined to do everything I can to make sure we pass voting rights; and we have to do it, no matter what.
---
GT: Let's talk about agriculture, the major industry in the state. I know you have worked on legislation specifically to help Black farmers – that is currently being held up in the courts – and also to assist small farmers. Tell us about that.
Warnock: Black farmers and other socially disadvantaged farmers have struggled through decades as a result of systemic injustice and issues around heirs' property, which exacerbated the struggles that all small farmers already have. But theirs is a layering of issues.
---
GT: When you talk about heirs' property, that relates to titles and ownership of land?
Warnock: I'm talking about farmers who are victims of the legacy of Jim Crow that at one time didn't allow them to have title to the land. Then land gets passed from one generation to the next and it becomes more and more complicated because of the inability to get records, which is rooted in Jim Crow segregation. That's a peculiar thing that not all farmers face, so they are socially disadvantaged. Then there are the struggles that all small farmers have – those are issues that are distinct – and related, which is why I pushed hard for the Debt-Relief for Socially Disadvantaged Act. Also, [there's] the decades of discrimination that many of these farmers experienced at the hands of their own USDA and the farm bureau. It's well documented. As recently as last year, Black farmers received less than 1% – one-tenth of 1% – of the USDA COVID-19 relief because of formulas that favor large farmers, to be sure. But their location in all of that is inextricably related to years of systemic racism. So, we put forth that bill [to provide relief to Black farmers] that is being challenged in court.
---
GT: And what about help for other farmers?
Warnock: Along with Sen. [Kirsten] Gillibrand of New York, I have put forward a debt relief bill [Relief for America's Small Farmers Act] for small farms. We've got to help all of our farmers.
---
GT: The 2022 elections are approaching, for you and for other federal and state officials. What do you think Georgians will be most focused on?
Warnock: I think at the end of the day voters want to know who's looking out for them. Too often, politicians are so focused on the next election that they're not thinking about the next generation. When you look at the kind of legislation that I have put forward, [that] I've sponsored or co-sponsored, it comes out of my deep-seated commitment to service. I'm focused on serving the people of Georgia, through my Medicaid Saves Lives Act, which will literally rescue Georgians who are in the coverage gap [earning too much to qualify for Medicaid but unable to afford private insurance]. I think I can boil most, if not all, my policy debates to one central question: What does it do for ordinary people and their families?
---
GT: Are you optimistic about being re-elected?
Warnock: Honestly, I feel like part of the problem in politics is that right after an election we start talking almost immediately about the next election. Meanwhile, our bridges and our roads are crumbling. So I am focused on fixing the house that we live in. For me that means infrastructure, but also the infrastructure of our democracy, which is why I'm focused on voting rights. I'm not worried about me. People like me are going to be fine. I'm worried about kids like the kid I was growing up. I'm thinking about kids who grow up not only in an urban environment as I did down in Savannah, but kids up in Dalton, and kids in Crandall, Georgia, who are in rural places that have been forgotten for decades. Who's looking out for them? My dad always told me if somebody hires you to do a job, do the job. Doing the job speaks for itself. That's what I'm focused on now, doing the best job I can for the people of Georgia.
---
GT: Crime is a major concern, in Metro Atlanta of course, but elsewhere in the state and country. What can or should the Senate's role be in helping fight crime?
Warnock: I have advocated for tens of millions of dollars to be given to the COPS Program [the Office of Community Policing Services, part of the U.S. Department of Justice]. We'll keep pushing for law enforcement to have the kind of resources we can provide at the federal level to strengthen local efforts. I see that as an important part of my work. But in addition to making sure we have enough police and they are deployed in places where they are needed, we've got to make sure the police have the training as necessary that improves the relationship between them and the communities they serve. Police alone don't solve crimes. You have to have the participation and involvement of the communities who trust law enforcement. So, we've got to work on police training and address some of these issues that have been so prominent.
---
GT: Is there a collective will to do that?
Warnock: I think there is commitment out there both by activists and some of us who are serving.
---
GT: You've also talked about long-term solutions.
Warnock: In the long term, I think we have to do everything we can to help young people, regardless of their zip code, to know that they have a future. You don't do that by building prisons, you do that by investing in pre-school [for ages] zero to four [when] the brain is actually growing and developing. That's where we need to invest, so we have a long-term response to this problem. I honestly don't think you can have enough police or enough prisons for a whole generation of young people who feel they have nothing to lose. It's our job, those of us who are in positions of leadership, to help young people to feel there is somebody who actually cares about them. So we need to invest in pre-school, we need to invest in the kinds of programs that allowed me to find a path from poverty to the U.S. Senate – Head Start, Outward Bound. That's the work that I'm trying to do at the federal level.
---
GT: And programs like those are essential, you believe?
Warnock: Somebody told me, as a kid growing up in the housing projects, that my parents' income did not determine my outcome. I believed them. But it wasn't the words alone. The words inspired me, but there was also a path that had been laid out for me. It wasn't easy, but there was a path. The reason why I ran for the Senate in the first place is I looked around. As a pastor who helps families, who works with families all the time, I looked around and found myself living in an American moment where it's harder now for a kid like the one I was growing up in the '80s to make it to where I am than it was for me. We've got to build a path, we've got to create a moral, educational, economic infrastructure that allows kids to dream and to have reason to believe their dreams can actually come true. And to help the parents keep the promises that all of us make to our children.