Decatur | Dekalb County: At Its Best
Film industry, infrastructure and expansions.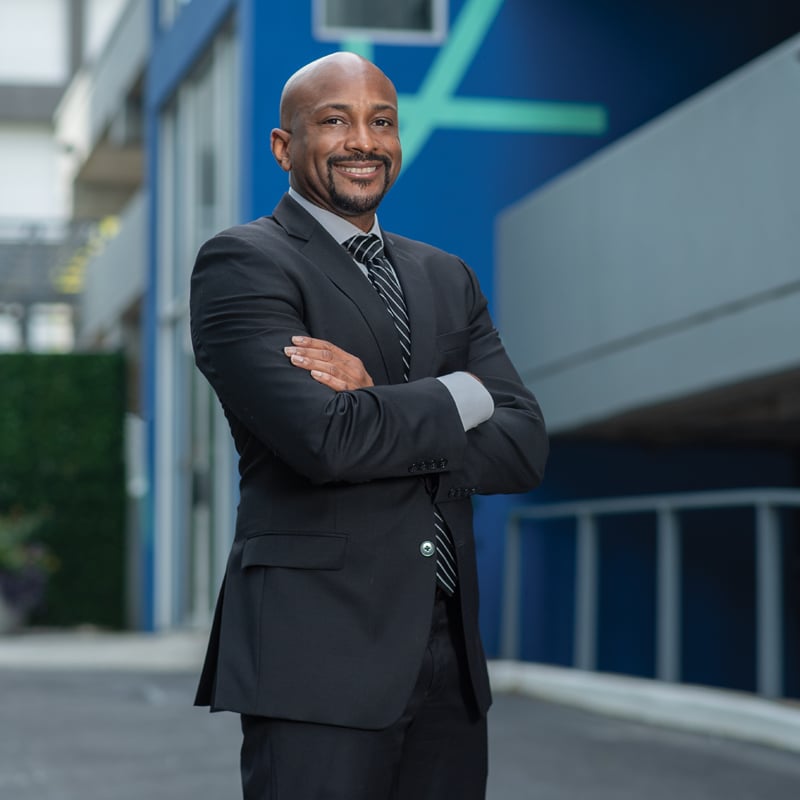 In the midst of a global pandemic, DeKalb County is having one of its best years yet.
Some of it is thanks to proactive planning. DeKalb County CEO Michael Thurmond says he built the county's 2019 annual budget on the Aesop fable The Ant and the Grasshopper, deciding to reduce the county's spending to prepare for any challenges ahead.
"We were concerned … that there might be an economic retraction in 2020. I didn't envision a recession driven by a worldwide pandemic, but because we reduced our spending, we were better positioned to go into the recession," he says. "And then with the federal funding we received, financially we were in the best shape we've ever been in as a county."
But a larger part of the county's recent success, says Thurmond and Decide DeKalb Development Authority President Dorian DeBarr, is due to a renewed focus on fiscal stability, open communication and intentional collaboration among the county's many agencies and municipalities.
"We're all collaborating now and talking more than we ever have before. It's really proving to be really, really beneficial for the county," says DeBarr. "Because of that, we're able to showcase DeKalb County at its best."
---
Rewriting the Story
DeKalb was a very different county just a few years ago. When Thurmond came on as the county's CEO in 2017, DeKalb was "suffering from a real or imagined reputation of dysfunction," he says. "There was a tremendous amount of conflict and controversy and division. We were divided in many ways, north versus south.
"But … I knew that things could change. I was convinced that the people wanted change and, more importantly, that we had the assets and the talents and the ability and the vision to do it. I'm just so proud of the progress that we've made in a relatively short period of time," Thurmond says.
In addition to turning a $25 million deficit into a $116 million tax fund balance, the county passed its first-ever Special Purpose Local OptionSales Tax (SPLOST) referendum in 2017, leading to more than $600 million in funds to repair some of its worst-rated streets and roads.
Sewer and water infrastructure were also among DeKalb's biggest challenges. Neglected for decades, a significant investment was needed to fulfill a consent decree the county entered into with the U.S. Environmental Protection Agency in 2010.
In October 2020, the county applied for an extension of that consent decree, which was granted for seven years – until December 2027. It commits a $1 billion investment over that time to repair and upgrade the county's water and sewer systems. Thurmond calls the renegotiated consent decree a "huge, huge win for DeKalb County, and maybe one of the most significant," for its future impacts on development in the county.
Now, DeKalb leaders are focused on rewriting the narrative about DeKalb County. That requires "honest conversations with stakeholders and honest conversations with external individuals about what we're doing as a county and how we're moving forward," says DeBarr.
One way the county is moving forward is with some of the largest capital projects in the state. After nearly seven years, construction is winding to a close at the State Farm campus in Dunwoody; the three towers of the insurance company's regional hub contain more than 1.7 million square feet of office space, anchored by the Dunwoody MARTA station. Construction has begun at the Children's Healthcare of Atlanta North Druid Hills campus hospital, part of a 70-acre campus in Brookhaven with two patient towers, expanded space for clinical training and 20 acres of greenspace. Blackhall Studios, a film and television production studio, filed construction permits in March for a $250 million expansion of its facility in South DeKalb, which should wrap in 2024.
Other wins for the county include Sugar Bowl Bakery opting in March to locate its first East Coast location in Tucker, bringing 400 jobs to the area. And in August 2020, The Home Depot announced Stonecrest as one of its three new distribution centers in the state, which opened late this summer.
A new, state-of-the-art transportation training facility is coming to Lithonia, building on the county's strengths in transportation and logistics and bolstered by its proximity to multiple interstates. Georgia Piedmont Technical College's Regional Transportation Training Center is a $5.77 million investment that, when finished by 2024, will be the state's largest transportation training facility.
---
Entertainment Hub
One of the county's largest industries – entertainment – is having a blockbuster year. "More films are being filmed here in the state of Georgia than anywhere else in the world, and of all the films filmed here in the state of Georgia, 60% are filmed in DeKalb County," says DeBarr. "And that doesn't happen by accident."
The DeKalb Entertainment Commission, a division of Decide DeKalb, is charged with leading the county's efforts to attract, retain and build the entertainment industry, which includes television and motion picture filming as well as music production and digital media.
The commission is currently working on updating its strategic plan, hoping to finish the roadmap in mid-2022. The next strategic plan will continue to emphasize building relationships, says the commission's director, Shelbia Jackson, but will focus more efforts on building relationships directly with network studios like Netflix and Warner Bros.
"Because they film here so regularly, we deal mostly with the production companies that are implementing the projects, but we want to build a bigger and stronger relationship with those network studios," she says. A direct relationship will help the county better promote its own resources, like film crews, post-production companies and original content creators, and help keep more of that work in DeKalb, Jackson says.
One major addition to the county's entertainment portfolio is Gray Television's redevelopment of the former General Motors plant in Doraville. The 120-plus-acre parcel will become a mixed-use "studio city" for the media company, including 10 movie and television studios, office space, an e-gaming arena, greenspace, retail and housing options. The first studio is scheduled to open in 2022.
"Gray's purchase confirms just how well the location is positioned in Metro Atlanta," says Malaika Rivers, a partner with Lexicon Strategies and executive director of the Chamblee Doraville Community Improvement District. "The development will accelerate an already fast-growing area that is accessible and full of expansion opportunities."
"I'm excited that that site is going to be a job center again, which it had been for so long," says Doraville Mayor Joseph Geierman. "Now that it's been empty for 12 years, finally it's going to start producing jobs again."
The DeKalb Entertainment Commission is also partnering with the DeKalb County Board of Education to better prepare DeKalb students for careers in the entertainment industry. Externships will place board staff tasked with writing the program's curriculum at local film studios, music studios or "any other [place] that they need in order to make sure that curriculum fits the needs of the creative industry," Jackson says.
---
Maintaining Identity
As the county continues to evolve, local leaders are reimagining their communities as well.
Avondale Estates recently began construction on a 2-acre town green at the center of its downtown. It's a transformative project for the city, says City Manager Patrick Bryant, that will give it a sense of place while jumpstarting commercial development around it.
The city is also overhauling its "main street" by converting Highway 278 – currently a five-lane, suburban-style highway – to a three-lane, multimodal roadway. These two projects represent the largest capital projects in Avondale Estates history, says Bryant.
In Doraville, which will celebrate its 150th anniversary this December, it's a similar story. The city is in the planning stages of transforming the 12 acres it owns across from the Doraville MARTA station into a transit-oriented downtown district.
"I'm probably most excited about that project," Geierman says. "The [downtown] that we had, unfortunately, a lot of it was lost with different developments … so this is a chance for us to redefine the center of our city. I think it's got some potential to be one of the biggest impact projects that our city council embarks on."
But these transformative projects raise other challenges: How do you accommodate growth without fundamentally altering what makes your community special?
It's top of mind for Geierman, whose community includes the incredible diversity of Buford Highway. "I don't have a magic wand to be able to wave it and automatically say, 'OK, we can accommodate everything,'" he says, "but I can tell you that that is probably what I'm most concerned with … because I think that it's going to become a bigger challenge the further we move into the decade."
In Decatur, the county seat, accommodating growth means grappling with its impacts on transportation and the city school system, as well as housing. The city's 2020 strategic planning process, delayed by the pandemic, revealed affordable housing, equity and racial justice, and civic trust as three key action items (among others).
Decatur passed an inclusionary zoning ordinance in 2020, which requires developments with five or more units to meet a 10% inclusionary housing goal. "We definitely recognize that's something that is a citywide goal," Decatur Mayor Patti Garrett says. "We need new affordable housing, but we also need to preserve existing affordable housing."
To address equity and racial justice, the city is reevaluating its RFP processes to improve equal access to opportunities, using community action teams and internal teams to find opportunities to boost inclusion, and listening to community members about things they want to see and change.
What Garrett has found for civic trust – and what leaders across the county can echo – is that it overlaps all of the other key areas. By building affordable housing, Decatur will build civic trust, she says, and it will continue to build trust as it addresses other key action items, too.
"We build civic trust by meeting our goals and objectives," she says. "We build civic trust by civic engagement and getting people to come out."
In DeKalb County, Thurmond would add, leaders build civic trust by being honest about past mistakes, transparent about current actions and clear about future plans.
"We learn from our mistakes, but we don't dwell on them. … We're honest about it. We had some challenges, but we've risen beyond that," he says.
"I'm convinced that in DeKalb, the best days are in front of us."
---
Local Flavor
Living Small
Just a block away from downtown Clarkston, there's a tiny neighborhood that's sparking big conversations.
Cottages on Vaughan is a pocket neighborhood of eight micro-cottages nestled on a 0.57-acre parcel of land. Each home is less than 500 square feet, with one topping out at just 250 square feet with a loft. It's the pilot project of the MicroLife Institute, a nonprofit founded in 2017 by Will Johnston and Kim Morrison to inspire people to think smaller about the way they live.
Micro-living, the nonprofit says, is about doing more with less. "I would say micro-living is giving yourself the advantage of having a defined space to allow you to have a maximum life, but a minimum footprint," says Johnston, the institute's executive director. "It's really going back to our mantra: less space, more life."
The Cottages on Vaughan is the culmination of the nonprofit's work with the city of Clarkston to redefine its cottage court ordinance, a set of codes for tiny homes built around a common community space. After finishing the ordinance, the city asked if the institute wanted to launch a pilot project in Clarkston. "We went to work," says Johnston.
Interest in the neighborhood grew quickly, with an online newsletter garnering more than 1,500 signups for the eight homes. What Johnston's team soon learned was that the size of the homes was less important to potential buyers than the neighborhood itself. "
The biggest draw and selling point was the fact that this is a community and it was built to be a community," he says. "We have so many people that are wanting to live in this type of community because it is community focused."
Intentional design choices, like pushing parking spaces off to the side and orienting all the homes to face a central gathering spot, aim to foster that sense of community. Even the landscaping wants to spark conversations: Each home has a different herb planted in front of it, so homeowners can borrow from their neighbors and connect in the process.
The homes were also built to be sustainable, featuring solar panels and net-zero energy loads. Landscaping is similarly sustainable, with fruits, vegetables and pollinator habitats throughout.
The MicroLife Institute hopes to show through the Cottages on Vaughan the value in expanding housing options. Johnston sees micro-homes as viable solutions for a number of housing concerns, including workforce, transitional and senior housing. "
What we hope this will do is inspire cities … to reevaluate how they can improve their walkability and community- driven developments," Johnston says, "and really inspire others to look at how they can diversify their housing options."