Dalton | Whitfield County: Manufacturers Welcome
Automotive, flooring and entrepreneurs.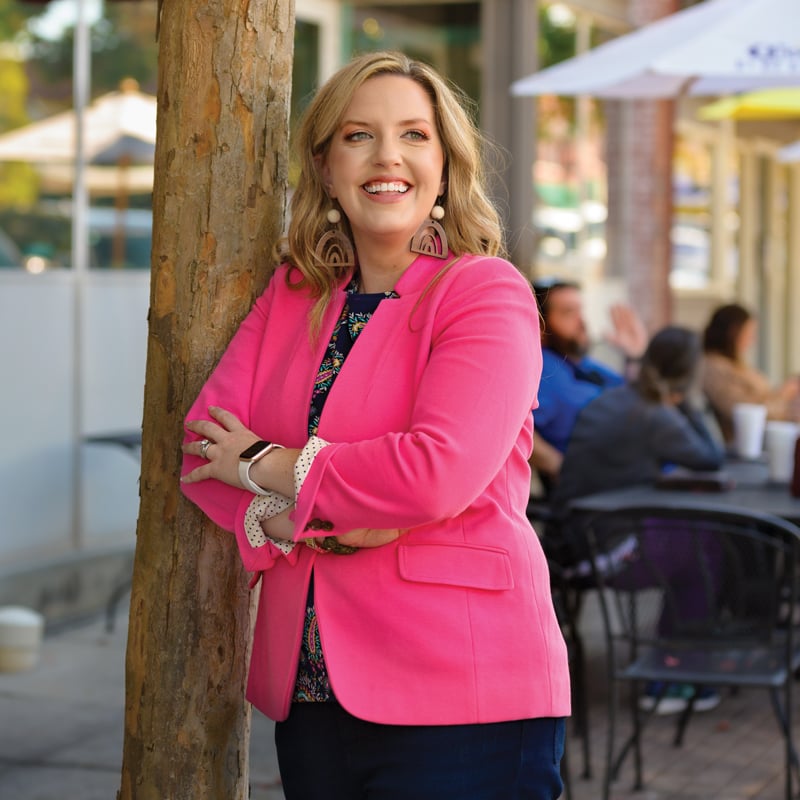 Willkommen!
For those whose high school German is a little rusty, that's German for "welcome." And with open arms Dalton and Whitfield County are welcoming German auto parts manufacturer GEDIA to town.
"They are building a new facility in Dalton as we speak," says Carl Campbell, executive director of the Dalton-Whitfield County Joint Development Authority. "They committed during 2020 to come to Dalton, and the deal was $85 million and 200 jobs."
The new manufacturing plant is being built on the south side of Whitfield County in the Carbondale Business Park, Campbell says, noting the building is expected to be occupied this fall and production slated to begin early next year. "
The location is adjacent to I-75, which makes it a great spot for a company that needs to get parts and people in and out," he says. "They'll be making parts for the 2023 Mercedes-Benz crossover."
No doubt part of the draw to Dalton for GEDIA was Dalton State College and its comprehensive mix of bachelor's degrees, associate degrees and certificate programs. President Margaret Venable says the college has several programs of study producing work-ready graduates that would fit as GEDIA employees.
Programs in the Wright School of Business include accounting, financing/applied economics, logistics and supply chain management, and information systems. Dalton State also offers minors in entrepreneurship, international business and more.
"We particularly encourage internships for business students and science students," Venable says. "And our local businesses are a great partner there."
She touts the particularly strong relationship the college has with flooring manufacturer Shaw Industries, which has endowed a faculty chair, funded a new engineering lab and employs many of the college's graduates. She hopes to build the same kind of partnership with GEDIA.
"Multiple companies have donated the equipment for our science program, so our students can use the same equipment that's being used in local companies," she says. "Those kinds of investments make all the difference in the marketability of our graduates."
Typically, the college graduates between 700 and 800 students annually, according to Venable, and post-graduation surveys show the newly minted grads stay in the community.
"In our most recent survey, 77% of graduates said they had full-time employment after graduation and 71% were employed in positions in the Dalton area," she says. "Additionally, 82% were employed within Georgia. We're very proud of that; we serve the region and the state. Our students are invested in this area, and some international students stay because they fall in love with the community."
---
Selective Recruiting
As "the carpet capital of the world," manufacturing is the lifeblood of Dalton and Whitfield County. The county is home to flooring giants Shaw Industries and Mohawk Industries, which are not only top employers in the area, but the state's third and fifth largest manufacturers, respectively.
"The carpet industry is who we are," Campbell says. "We are not trying to start over or replace that, we are growing and need more jobs, but we're not interested in just anybody that wants to build a new facility. We're looking for companies that do offer good pay and better benefits; companies that want to be a part of this community."
In a business that's a numbers game, Campbell has the ability to be selective in the industries he courts. "
We've turned away projects that just needed cheap labor and a place to land because we don't think that adds to our community," he says. "The reality is, for the companies that we do have, we have to be cognizant that it's tough to hire right now, and if we're bringing in competition for the labor pool, they need to be value- added additions. Our existing industries are in the fabric of who we are. There's no company more valuable than the one you already have."
---
Encouraging Innovators
Rob Bradham, the president and CEO of the Greater Dalton Chamber of Commerce, likes to quote Mayor David Pennington, who says, "Dalton has the one thing every small town wants: great jobs." That allows Bradham and the chamber to focus their efforts elsewhere.
"How to attract and retain young professionals – I don't worry about that, our large employers do that," Bradham says. "One of our main goals at the chamber is to focus on quality of life so that our large employers can retain their employees."
When Bradham joined the chamber six years ago, a common theme in dozens and dozens of meetings was how great Dalton was doing prior to the Great Recession. Housing took a beating during the recession, and because most products manufactured in Dalton were tied to home building, so too did the local economy.
In 2006 the unemployment rate was 3%, Bradham says. By 2009 it had skyrocketed to more than 14%.
"Dalton shed a lot of jobs during the recession, and from what I'm told, it was not a fun time to be in Dalton," he says. "By late 2015, early 2016, there was a light at the end of the tunnel, and at that point the question I got asked again and again was, 'What's next for this community?'"
The chamber spent the next 15 months working with a consultant on a strategic plan. On Jan. 1, 2018, "Believe Greater Dalton" was launched. Among the six strategies identified was a focus on developing the next generation of entrepreneurs.
"In 2018, we established the Dalton Innovation Accelerator," Bradham says. "You can go over there and get everything you need to go from idea to viable business. We have a great group of mentors who work with these entrepreneurs who have an idea."
As part of a pitch competition hosted by the Innovation Accelerator, then-12-year-old Tripp Phillips pitched Le-Glue, a non-permanent glue he invented to temporarily hold together toy building blocks like Legos. Not only did Phillips win the local pitch competition, in October 2018, he appeared on the television show Shark Tank and got an $80,000 deal with investor Kevin O'Leary.
"He [Phillips] wanted something to keep his Lego creations together, but he didn't want it to be permanent," Bradham says. "He wanted the Legos to hold up to being dropped, but if you want to take them apart, all you have to do is soak them in hot water and the glue dissolves."
The Innovation Accelerator continues the history of entrepreneurialism that's long been part of Dalton. "We are a community that is what it is today because of entrepreneurship [in the floor covering industry]," says Bradham.
---
Downtown Comes Alive
Other areas of focus in the chamber's strategic plan were continuous improvement across the educational spectrum, economic development, fostering community pride, incentivizing multi-family housing and the No. 1 goal – downtown revitalization.
"I think the best way I can describe downtown today, is it's alive," says Candace Eaton, executive director and Main Street manager for the Downtown Dalton Development Authority (DDDA). "People are there, and it's thriving."
According to the DDA, downtown Dalton is the fifth-largest downtown district in Georgia, with approximately 3,000 employees and 300 businesses, including several restaurants. From Southern cuisine to Mediterranean fare to pizza and wings, the culinary offerings of downtown Dalton are sure to please any palate.
"When I was in high school we never went downtown," Eaton recalls. "There was nothing but pawn shops, and everything else was rolled up."
Today, it's a new downtown.
In addition to a flourishing restaurant scene, 2021 saw a return of the summer music series at Burr Performing Arts Park in the heart of downtown, and in June, a monthly classic car show series kicked off. The car show is being held the first Saturday of every month through October.
"The first Saturday in June, more than 450 cars show up," Eaton says. "The restaurants were packed; it was great! I came downtown and I was like 'Wow!'"
In a sign of the times, a thriving downtown has organically created a demand for in-town living options. Helping meet that demand is Bob Caperton, president and managing partner of Barrett Properties. Caperton and his team have converted a former department store into a mix of housing and retail.
"The ultimate design will include 18 luxury loft apartment units and 800 square feet of retail space in front," Caperton says. "It will be a $4 million, all-in project that consumed thousands of hours of my time, but I have no regrets. It will effectively double Dalton's downtown housing inventory and will serve as proof of concept for future developments in the area."
The 20,000-square-foot building at 307 S. Hamilton St. opened in 1941 as a Belk department store. The new, re-imagined space is expected to open in January. In August, Caperton said his company was in "final negotiations with a retail tenant that we feel should fit nicely."
"We love downtown," Caperton says. "My family and I live in downtown Dalton. We spend our weekends in downtown Dalton. And we believe in the future of downtown Dalton. Multifamily development is the next step for this downtown. I don't always believe in being the trailblazer, but in this case, it made sense."
Which brings us back to the chamber's strategic goal of incentivizing multifamily housing options.
"We're like many small towns in the country," the chamber's Bradham says. "We have great jobs, but we have a severe lack of housing in this community, and the net result of that is that 62% of those earning $40,000 a year or more in Whitfield County at a job, live somewhere else."
Bradham says local officials have tried to be creative in solving the community's housing issues by creating a Tax Allocation District and a nonprofit development corporation, to help facilitate residential – including multifamily – development.
"We have one [development] coming out of the ground right now," Bradham says. "It's a mix of multifamily and single-family housing. It's preselling and they're starting to move dirt. Whitfield County is sort of tall and skinny, if you will, so it's long and thin. This development is north of the city of Dalton, halfway between downtown and the Tennessee border."
The multifamily piece of the development consists of 200 apartments and Bradham says he's hopeful in the next year to 18 months, another 200 apartment units will be under construction as well. This summer, however, the community struggled with more than just a shortage of housing options. As a result of the delta variant, COVID-19 cases spiked in the county where, as of August, only about 35% of residents were fully vaccinated.
"We've tried to get as many people vaccinated as we could," says Mayor Pennington. "I think part of it is education. … We're in the conservative South and for whatever reason we seem to have politicized this vaccine."
Politics aside, the city council decided to take the bold step of becoming the first city in the country to offer a free, drive-in clinic where those diagnosed in the early stages of COVID can receive Regeneron's monoclonal antibody treatment. Called REGN-COV2, the antibody treatment is for patients to use within a week of testing positive and consists of a series of four injections given on the same day. A new study by the Mayo Clinic says the treatment can help prevent serious illness and reduce hospitalizations by up to 70%.
The pandemic has also led to a "mini-boom" in shopping in the county, Pennington says, resulting in an unexpected uptick in sales tax collections. Home to the region's only Home Depot and Lowe's, as well as several Walmarts, Dalton and Whitfield County serve as a hub for retail.
"This year we're trending about 10% above budget," he says. "We're going to collect this year about $1 million more than what we budgeted."
Pennington says the city will use the surplus to fund several redevelopment projects, including its Gateway Corridor Improvement Plan, which was developed in 2020. The plan calls for congestion relief, interchange and streetscape beautification and landscaping along Market Street and Walnut Avenue. In other good news, there's a $20 million aquatic center on the drawing board and the city is spending millions of dollars to address stormwater system improvements.
"Dalton is a city on the rise," Bradham says. "We're very proud of what we've accomplished in the last three [to] four years, and we want more of it."
---
Local Flavor
Wayne's World
Growing up, every Saturday Wayne Sosebee went with his Uncle Truman to buy groceries for his grandmother. One Saturday, the butcher at the old Town and Country Market offered him a job, setting him on a path to become Dalton's hometown butcher.
"I started at age 15," Sosebee says. "I walked into the grocery store and really have never left." Although he wasn't allowed to touch the knives until he was 18 years old, Sosebee began his career as a butcher traying meats and wrapping them in old-school brown butcher paper, which he still does today as the proud owner of Wayne's Meat Market and Grill.
"I still enjoy today coming to work the same as I did when I was 15," he says. "I've been serving the same customers for the last 42 years."
Sosebee compares his craft to that of a home builder or cabinet maker: He starts with something raw and turns it into something beautiful.
"I'm presenting [the meat] to people in its best form," Sosebee says. "It's exciting and fun to do."
Located on W. Emery St. in downtown Dalton, where Green Spot grocery store once stood, Wayne's Meat Market carries on the legacy of the former local landmark by helping customers decide how large a brisket they might need for a Saturday afternoon tailgate or the size of a roast for Sunday supper.
"A lot of ladies and guys will come to us for knowledge you can't get in the big stores now," Sosebee says. "There's nobody to go to and ask questions."
Sosebee, who once worked at Green Spot, also carries on the Green Spot tradition of giving children samples of shaved ham to keep them occupied while their parents shop.
"It's better than candy of course, and it keeps their minds on the ham while the mamas shop," he says. "Those kids then grow up to be adults and the cycle rolls on and on."
It may be known around town as "Wayne's World," but Sosebee is joined by his wife, Debbie, and son, Eric, in the family business. Eric is an experienced butcher who runs the grill while Debbie provides "Debbie's Desserts," including homemade pies and cakes and a banana pudding that's known to sell out on "Banana Pudding Wednesdays."
"We've been serving generations of the same families," he says. "We know most all the customers by name, and we learn the new ones. I'm getting a little older now, so I have a little cheat sheet where I write down the new names."