Woodbine | Camden County: History Shapes the Future
Military, green energy and tourism.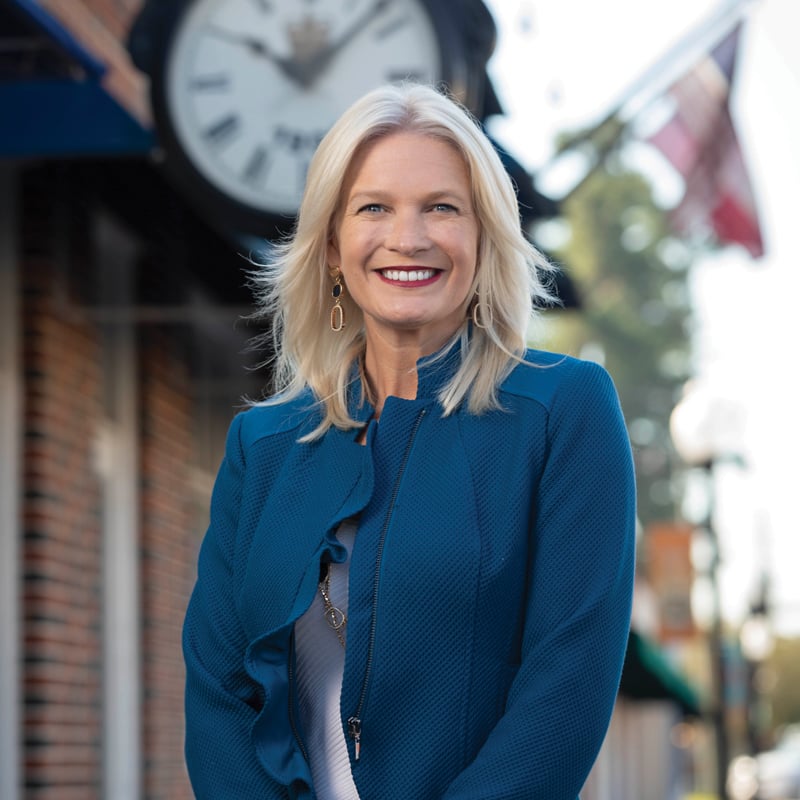 The Gilman Paper Co. dominated the town of St. Marys and the rest of Camden County for almost 60 years before it ended its run in 2002. That loss of 900 jobs could have left the county reeling. But there was another major player in town that had been taking shape and creating jobs since 1978. The U.S. Navy came in to build a nuclear submarine base, and nothing would be the same in St. Marys, Kingsland or Camden's county seat of Woodbine ever again.
Today, much of what is going on in Camden County is influenced by either Naval Submarine Base Kings Bay for its present and future or the lingering impact of the paper mill from its past.
"The base makes up 73% of our economy," says James Coughlin, executive director of the Camden County Joint Development Authority (JDA).
There's more coming, too. Coughlin points to $840 million in renovations and upgrades announced in 2019, as the base gears up to handle the newest and as yet unbuilt Columbia class of submarine, set to be built in Rhode Island and Connecticut at a cost of $128 billion for a set of 12. Construction of the base, which spanned from its commissioning in 1978 to 1992, was "the Navy's largest peacetime construction project," says Scott Bassett, public affairs officer at the base. "
About 9,000 people come to work here every day," Bassett says. That includes roughly 5,000 active-duty military personnel – mostly sailors, but also Marines and the Coast Guard Maritime Force Protection Unit. Another 2,000 are federal civil service employees and 2,000 are employed by contractors. In a nod to its state border location, 25% of the civilian workforce commutes from Florida.
The base serves as home port to eight Ohio class submarines, six of which are capable of carrying Trident nuclear missiles and two which are armed with Tomahawk missiles. At any given time, some of the subs are at sea and some are in port for refurbishment. The Trident Refit Facility, or TRF, accounts for 1,700 civilian employees and 200 military personnel out of the total 9,000, Bassett says.
"The Ohio class was designed in the 1970s and built in the '80s to early '90s, so they are coming of age," Bassett says. "The replacement class is Columbia and the first one is expected in 2028."
The existing Ohio class subs will remain in service until replaced, one by one, over the years by a new Columbia class sub. That leaves the Kings Bay base with a dual mission – training for and maintaining the older subs while doing the same for the new ones as they come out of production and into service.
There are pros and cons to having one of the most highly secured places on the planet located in your county. On the pro side: the money, the jobs and the population growth.
"The base draws younger people, many of them in very high-paying, very technical jobs," Coughlin says. "That skews our demographics younger and richer, which is always good for economic development."
On the con side, however, a local government isn't likely to win many arguments with the base. Take, for example, the St. Marys Airport … or rather, the former St. Marys Airport.
The municipal airport, circa 1969, was a small general aviation field. It coexisted, with some flight restrictions, with the nearby submarine base until the 9/11 attacks heightened national security concerns. The Federal Aviation Administration permanently closed it in July 2017.
Now, those approximately 300 acres are among the inventory Coughlin and the JDA are attempting to find developers for. At the moment, it's just abandoned runways, mown acreage and a derelict sign warning of flight restrictions beside a runway. Already a portion is spoken for, for a future aquaponics and aquaculture operation, Coughlin says.
So, subtract an airport. But then add a technical college campus. The Camden County campus became the seventh location for Waycross-based Coastal Pines Technical College.
"We were, I think, the last military community in the state not to have a technical college," Coughlin says. The campus was approved, built and opened during COVID. And now, "they're already talking expansion."
"We are working on a new building on the Camden campus. It will be a machine tool technology lab. We don't have a date for opening of that yet, as we are still in the planning stages," says Lauralee T. Beauregard, college marketing coordinator.
The needs of the base shape the course offerings at the college. For example, 54 students are currently enrolled in the Naval Apprenticeship Programs, on a Navy-funded course of study to become skilled labor at the base, according to Thomas Wesley, dean of academic affairs, technical and industrial programs at the college.
But the county is also looking to the skies – to space itself – for its next big economic boost. Officials started long before this year's billionaires-in-space boom to establish a spaceport for private launches from an existing unused industrial property near Woodbine. The big hurdle to clear is Federal Aviation Administration approval. The project's point man and chief cheerleader, Camden County Administrator Steve Howard, believes the FAA is leaning toward approval. But there's still opposition from conservationists who are concerned about environmental impacts and additional potential pitfalls exist between now and a possible first launch.
The county has devoted approximately $10 million to making the spaceport happen, Howard says. He points to the county's role in space history: Thiokol, a NASA contractor, tested rockets on the site in the mid '60s.
"The spaceport should be looked at as a technology hub. This is rural development visionary leadership at its best and it affects the whole region," Howard says.
---
Hospitality, Housing and Amenities
When it comes to plans for the former Gilman paper mill property, the focus is less on high tech and more on hospitality and housing amenities. A developer with a track record in revitalizing brownfield properties closed on the land late this summer: Jacoby Development Inc. is the developer behind Cumberland Inlet, a project that will cover much of the 1,298-acre brownfield site. Its planned future will include condos, apartments, hotels, restaurants, a riverfront promenade, a greenway and recreation amenities. In the public part of the public-private development, the JDA will help develop a marina.
Jacoby, based in Atlanta, demonstrated its brownfield redevelopment chops with such high-profile projects as the mixed-used Atlantic Station in Atlanta and the reshaping of a closed Ford plant in Atlanta into the Porsche North American Headquarters and performance track.
The irony of reshaping a pollution- heavy industrial site into a hospitality asset isn't confined to the plant itself. Another piece of Gilman property has morphed into the Intracoastal Gateway Project in downtown St. Marys, along the St. Marys River.
"[The Gilman Paper Co.] had a house on it where they used to entertain and take people out deep-sea fishing," St. Marys Council Member Jim Gant says of the 2.7-acre tract. Gant chairs the Intercoastal Gateway Committee for the city.
"When it came up for sale, the city purchased it with the idea we should still have some kind of interest in it, being the last part of our waterfront," he says. "We want to develop it to meet five objectives: recognize the historical capability of St. Marys, be environmentally friendly, be a destination for people to come to, maintain public access and be economically developable for both the city and the developer."
Now, a husband-and-wife couple of local hoteliers and entrepreneurs have come forward with a plan to develop the site as a boutique hotel and meeting venue. CB and Sugar Yadav, whose interests include part of downtown's historic Riverview Hotel as well as other businesses, have worked with architectural/engineering/construction firm Haskell out of Jacksonville on a plan that was presented to the public in late August.
Gant says the overall plan includes keeping the existing marina and waterfront as public property and expanding it.
Meanwhile, Camden County is moving ahead with growth in the smaller industry setting, adding jobs in plants never intended to become behemoths. This summer, Plug Power broke ground on a green hydrogen plant on 20 acres just off I-95, an $84 million investment. The product will be hydrogen for fuel cells the company provides to power machinery like forklifts in distribution centers run by The Home Depot and other massive retailers. The hydrogen-powered vehicles recharge faster than batteries and offer a zero-emission fuel source. Plug Power's plant will employ at least 24 people, but the impact is greater than it seems because those jobs are in the $80,000 range, Coughlin says.
The Plug Power deal took some negotiating, since the plant is a heavy consumer of electricity. The JDA donated adjacent land for the Okefenokee Regional Electric Membership Corp. to construct a substation.
Another new tenant for Camden County Industrial Park will be Y&C Trading Company, a packager of frozen Asian food products that will relocate from the Jacksonville, Fla. Area.
---
Better Connectivity
The Camden County Chamber of Commerce covers the entire county – the three municipalities and the unincorporated portion – and boasts about 500 members, according to Alison Shores, chamber president and CEO.
"One thing we are focusing on is how can we connect the people of our community and really work together. During this pandemic, we've really needed one another. We're stronger together, but we have to figure out what that really means," Shores says.
She illustrates what she's talking about: The nature center building at Crooked River State Park needed repairs that were beyond its budget, and the chamber was able to connect officials there with a company willing to donate and install flooring.
Shores says she's proud of the way local businesses pivoted to survive the pandemic. For example, Express Scripts, a pharmacy benefits manager, was among the county's largest employers (650 jobs) prior to the pandemic. During the quarantine, the business switched to a work-from-home model and as restrictions eased, elected to stay with it. Shores says the impact from such changes to employment models will be felt in the county long term.
---
Natural Attractions
Tourism of the active, outdoor type thrives in Camden County – at Cumberland Island National Seashore, whose ferry docks at St. Marys (53,904 visitors in 2019, down to 37,295 in COVID-plagued 2020); as a base station for visitors driving to Folkston, one of the public entry points to the Okefenokee National Wildlife Refuge (about 400,000 visitors annually); and at other resources like Crooked River State Park, which welcomes 200,000 visitors a year (tourists and locals).
Cumberland is always a popular destination, but its wilderness camping and day-trip populations are strictly limited and only accessible via reservation-only ferry, says St. Marys Tourism Director Angela Wigger. The national seashore will mark its 50th anniversary beginning in October 2022 with a full year of special observances, she said.
Kingsland may have fewer destinations for tourists, says Tonya Harvey, executive director of the Kingsland Convention and Visitors Bureau, "but Kingsland is blessed in that it has visitor services – restaurants and hotels." And fewer destinations doesn't mean no destinations: the railroad was key to Kings-land's history, and the Kingsland Depot Heritage Center houses a model railroad exhibit.
And if you are interested in time travel of a sort, you can get a glimpse of what tourism was like here decades ago. Take U.S. Highway 17 south out of Kingsland's historic district for about four miles, past fewer buildings and increasing trees. On your left, sporting a contemporary "For Sale" placard and a fading commercial sign, is what remains of a small roadside motel. Keep going and you'll reach a bright blue metal bridge – narrow enough to make a cautious driver wince. Cross it and you'll spot a mid-century brick sign welcoming you to Florida – the pre-interstate and pre-theme park version, when Hwy. 17 was the vacation trail to the Sunshine State. It's just one more example of history influencing the future in Camden County.
---
Local Flavor
Gentle Giants
If visitors catch sight of Cumberland Island National Seashore's famous wild horses, they probably consider it a treat. After all, it's the only herd of unmanaged feral horses on the Atlantic Coast, as the National Park Service points out. That means those horses are on their own, without supporting food, water or veterinary care. Each is a survivor in the wild.
On the other hand, face it: We've all seen a horse. Cumberland Island boasts more exotic survivors, visible (occasionally) in the surrounding waters – manatees. The Dungeness Dock on Cumberland is described as the best place in the state to spot the gentle sea beasts.
Clay George, senior wildlife biologist with the Georgia Department of Natural Resources, tracks these giant seasonal visitors in the warm-weather months, as they venture north from Florida.
"Cumberland's Dungeness Dock has a deep spot that's out of the current and they hang out there. Manatees don't like to expend a lot of energy if they don't have to," George says. "With that said, one of the challenging things about manatees, our water is pretty murky compared to many places in Florida."
Manatees are aquatic mammals that reach about 10 feet long and at least 1,000 pounds. They're slow breeders at risk from boating hits, but even so, they have moved from "endangered" to "threatened" status in recent years, George says. About 4,000 manatees live along Florida's Atlantic Coast and another 4,000 along its Gulf coast, he adds. When weather warms up in March, some of those East Coast manatees head north for the summer. "And one of the first things that manatees do when they come in from Florida is go from dock to dock eating off the algae."
"There have been records of manatees swimming as far north as New England. In the summer, they're even in the Carolinas. Males tend to be more adventurous because they are out looking for mates," he says.
Aerial surveys have found as many as 40 manatees at a time in Cumberland Sound, but George is worried about what biologists call "an unusual mortality event" linked to a die-off in sea grass that starved some 900 manatees earlier this year off Florida. He hopes a summer spent in Georgia gives the local population enough fat reserves to cope with another food shortage should it occur.
What should you do if you see a manatee? Count yourself lucky and leave it alone. "Don't harass or try to feed or water them," George says.