North Fulton County: Distinct Identities
Office parks and quality-of-life amenities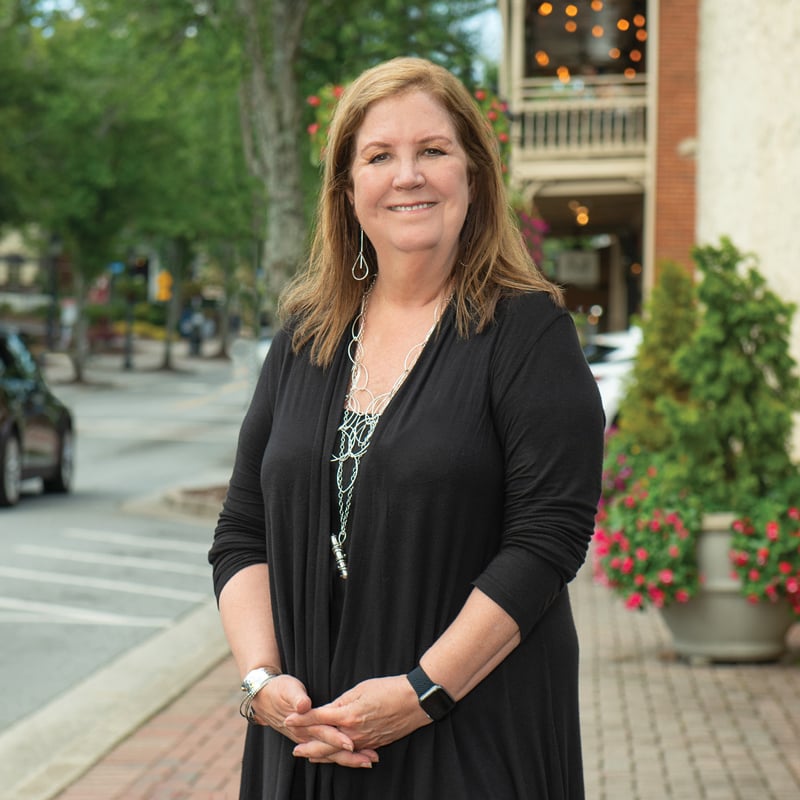 With momentum not even a pandemic could halt, the four North Fulton County communities of Alpharetta, Johns Creek, Milton and Roswell continue to polish their appeal to residents, visitors and potential employers, offering small town living with big city amenities. All boast booming town centers, each with a distinct identity, and expertly promote local shopping, dining and playing.
Planning for the future, the four communities have major projects underway – from the long-anticipated Georgia 400 Express Lanes project in Alpharetta to the $65 million West Alley development in Roswell. This North Atlanta area's attraction continues to rise, thanks to an ever-increasing sense of community and opportunity aplenty.
As more employers seek office space outside the city of Atlanta's high-rise offerings, North Fulton is home to three large office parks, says Alpharetta Mayor Jim Gilvin.
"What we're really seeing now is that a lot of the things that made Alpharetta attractive before the coronavirus have actually made us even more attractive to some of the employers and companies around the country," he says.
"We're getting a tremendous response from companies that are looking for a better business environment, which Georgia provides, but also a community like Alpharetta with lower densities and not necessarily high-rise buildings."
Alpharetta offers more than 20 million square feet of Class A office space, says Gilvin.
"Alpharetta's future looks really bright because we're much more attractive now to employers that otherwise would have located in metropolitan areas along the West Coast or in the Northeast. They're really interested in suburban environments in Alpharetta," he says.
One benefit: the office parks are connected to various amenities by an eight-mile trail along Big Creek Greenway.
Roswell Mayor Lori Henry also reports a strong office market with 90% occupancy in late summer, a pleasant surprise following COVID. "We've got a much different office market than Alpharetta does," she says.
Roswell is primarily Class B and C office space, she says. "I think that's been the saving grace to Roswell, that we've got the smaller offices. People, from what I'm gathering, don't want to get in high-rise buildings, ride the elevators, all of those issues. Where we are, it's a really good market for us – the shared office space – all of those opportunities are just going gangbusters."
---
If You Build It
The big draw in Johns Creek is the quality of life, says Chris Cannon, director of economic development. One of the wealthiest communities in the state, Johns Creek boasts a diverse population, he says, and its high schools are consistently rated among the best in the nation.
Incorporated 15 years ago with a current population of 86,000, the city recently embarked on a year-long planning process to create a new town center. City leaders recognized two concerns early in the process, the first being that they needed to create something to reflect the identity and image of Johns Creek, to serve as the cornerstone of the city for the business, residential and tourist sectors.
"We were incorporated essentially as just a bunch of neighborhoods, golf courses, country clubs and shopping centers. There's no community core, there's no community downtown like most historical cities throughout the state have. There's no identity to our city," Cannon says.
The city's second challenge, says Cannon, is Johns Creek Technology Park.
"It's not evolved through the years. It's kind of sat and stayed stagnant and not had a lot of new development overall," he says. The tech park currently consists of various businesses, municipal complexes, greenspace, two lakes, trails and other recreational amenities.
To resolve both issues, last year the city launched a 20-year Town Center master planning process, hiring a planning firm to study the 194-acre property and its potential. Cannon says that a community core group of 35 people, representing a diverse mix, is guiding the project. Plans should be approved this fall and implementation will begin in early 2022.
Tech park, with its dozens of buildings, will remain in place under the new plan, with hotels, retail shops, restaurants and recreational amenities added throughout the acreage. Public investment components, such as a new city hall, can be leveraged immediately and hopefully spur some private investment, says Cannon.
"We'll be transforming it into a community grid so it's more of a traditional downtown with the development capacity and feel of a downtown economic development program," he says.
Strong in its own identity, Roswell – the oldest of the North Fulton cities – recently completed its first strategic plan in its 167-year history. Drawing from extensive public input that provided a solid sampling of what residents want to see in the town, the plan "puts all the elected officials on the same page … and gives our staff public marching orders as well," says Henry, adding that city leaders typically have varied opinions on a wide range of proposed projects. The strategic plan offers clear direction.
Part of that direction is mixed use, with two major projects set to break ground this fall, after a COVID pause: Southern Post on Alpharetta Highway and West Alley Roswell.
"Roswell is in a very fortunate position … with two catalytic projects that are going to be running construction in tandem in the city," she says.
Also in Roswell, this spring GreyOrange invested more than $1 million to relocate its global headquarters there, creating 200 jobs. Founded in New Delhi, GreyOrange is a leader in AI-enabled software and robotics for fulfillment automation.
---
Moving Right Along
The North Point corridor, home to North Point Mall, has been a strong Alpharetta draw for several years. The mall's new owner, New York Life, brought redevelopment plans forward this fall, creating more of a walkable, livable environment with a mix of uses and a residential component, says Gilvin.
Downtown Alpharetta also continues to grow. "The City Center project has been a booming success," says Gilvin.
That leads to the next phase, he says, which will add retail, restaurants and office space. The Alpharetta Chamber of Commerce and the Development Authority of Alpharetta have joined together to build on the success of downtown with a partnership agreement to create a Downtown Alpharetta District. The district will feature events and experiences that will draw more visitors and residents into the area.
Innovation Academy welcomed its first freshmen and sophomores in Alpharetta this fall. The Fulton County public school is a STEM magnet school offering the opportunity for students to gain real-world experience in fields including healthcare science, engineering and computer science.
"It's unlike anything that's being done in the state of Georgia right now," says Gilvin.
Also in the works is the Georgia 400 express lanes project, 16 miles of toll lanes stretching from the North Springs MARTA station into Forsyth County. With a price tag of $1.5 to $1.7 billion, it's slated to be under construction next year. The express lanes are expected to open to traffic in 2027, doubling the capacity of the busy Georgia 400, says Gilvin.
"It'll have a flexible toll, so even during the worst rush hours, the pricing will ensure that people can go a minimum of 45 miles an hour," he says, adding that there's also a bus rapid transit component that MARTA is working on with the Georgia Department of Transportation.
"For the first time, people will be able to get on a bus rapid transit vehicle at Windward Parkway and be down at the North Springs Station within about 12 minutes. It's going to be a game changer for that whole area," says Gilvin.
Downtown Milton's Crabapple Market is also booming, with the recent addition of a dozen buildings housing new restaurants, retail shops, healthcare providers and more, says Sarah LaDart, former economic development manager for the city of Milton for the past seven years.
"It's a very diverse group of uses. There are some cool things coming in," she says.
On tap for the nearby Market District Crabapple, a mixed-use development, is Atlanta native and restaurant owner Billy Allen's first project outside the Perimeter, a piano and breakfast-for-dinner concept, with patio and rooftop access.
Pre-pandemic, Jefferson McConkey III, a managing member of JLM Investment Group, a commercial real estate investment company, acquired property across from the Milton Public Library. Typically a traditional retail developer, he chose to change his initial plan for a retail project. Instead, JLM broke ground this summer on a medical office building backed by Northside Hospital, says McConkey.
While many residents of Milton are new to town, one longtime resident has been front and center for the progress. Mayor Joe Lockwood is winding down his time in office after 15 years, with term limits preventing him from running again.
"Looking back 15 years, there've been so many changes. Most of it has been positive, quality of life change," says the 30-year Milton resident, who gives credit to the team he's worked with through his time in office, including the council members and city employees.
Since his first day in office, Lockwood has seen Milton transform from a brand-new city with no police or fire departments, parks, infrastructure or city hall to what it is today. And while he's proud of all those "bricks and sticks" changes, he's most proud of the sense of pride and ownership Milton citizens have.
As North Fulton continues to increase its offerings and residents and employers flock there, big things are expected to come from these communities that are outdoing one another when it comes to quality-of-life experiences, solid educational institutions, convenient office parks and small town living with endless amenities.
---
Local Flavor
Suburban Ag
In 2017, the city of Alpharetta accepted a donation from Whole Foods of everything needed for growing crops – except the land to put it on. The city received buildings, tools, program materials and other assets, and set them up on what has become known as Alpharetta Farm at Old Rucker Park. Since then, the farm has become a huge draw for volunteers who grow vegetables to feed families in need through North Fulton Community Charities. The farm is organic and includes a pollinator garden and a flower and herb garden. In addition, it serves as an outdoor classroom and locals can rent plots for growing their own vegetables.
The whole project has been "quite serendipitous because the city had land and Whole Foods had a farm," says Amanda Musilli, the city's community services manager.
The farm is part of the city of Alpharetta's community agriculture – farming or gardening in a shared space for fun and food – and a unique asset. Though there are urban ag directors in Atlanta and Baltimore, for example, Alpharetta's program is unique in that they also employ people to run the farm, says Musilli.
This year's new Grow-A-Row program, where an underused field was transformed into food-producing rows by local volunteers, was inspired by the increased need at food banks created by challenges of the pandemic, says Musilli.
Grow-a-Row came about when a volunteer worked to raise the money to expand the growing space and increase the production field by 50%. With a limited number of paid employees, they put out the word for volunteers to join in the efforts.
"We expected a couple of people to take two to four rows each, but we ended up dividing all the rows because we now have over 100 active volunteers at the farm and more on a waiting list," she says.
Volunteers of all ages are welcome to sign up. For those under 18, parents need to be onsite while their children serve. Parents are also encouraged to bring younger children to participate in special programs designed just for them.
The property offers a community garden with rentable plots, a cut flower garden – the bounty of which is used for flower arranging and fabric dying classes – two beehives, berries and a chicken coop. The farm's educational field serves as an outdoor classroom for Cambridge High School agricultural students.
And it's all open to the public, says Musilli. "It's a park, so it belongs to the community, just like any of our city parks. We love to have people come out and get to know where their food comes from. The fence is to keep the deer out, not people."