From the Publisher: Silver Tsunami
Baby boomer retirements are significantly impacting the current and future economy.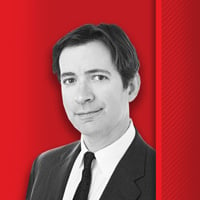 Many are waiting this month to see if workers start coming back as COVID-19 stimulus benefits have expired or if the surge of COVID cases related to the delta variant will prolong the glut of unfilled jobs. This is happening against a backdrop of labor shortages that has been expected for years and that was accelerating prior to COVID.
Demographers began discussing the "silver tsunami" around 20 years ago, anticipating the impact of a generation of baby boomers retiring en masse. The tsunami's effects would mean a massive skills gap for their presumably younger and less experienced replacements, while simultaneously requiring a larger workforce to financially support an older, retired population through Social Security.
Since the initial mentions of mass retirements, we've had a bit of a reprieve. Pew Research Center reported that in 2018 the majority of boomers (born between 1946 and 1964) were still in the labor force, with 29% of people age 65 to 72 and 66% of those age 54 to 64 still working or actively looking for work. In 2016, the Employee Benefit Research Institute found 45% of workers age 55 and up expected to retire after age 65, up from 15% of workers in 1996.
In the last decade – before the pandemic – employment among people 55 and up grew by an average of 1 million a year compared to 750,000 for younger workers. The National Bureau of Economic Research cites as factors better education and healthcare, the increased role of women in the job market, shifts in company retirement plans and changes to Social Security that incentivized delaying retirement.
The cresting tide led to a shock effect when the number of boomer retirees jumped from 1.5 million in 2019 to 3.2 million in 2020, according to another Pew report. Given the challenges of working through a pandemic, some boomers likely decided they could afford to retire earlier than planned.
However, other studies have painted a less rosy picture of retiring boomers. A 2017 University of Pennsylvania study of three large cities predicted that homelessness among those 65 and up will triple by 2027. Younger boomers have fewer resources than their older counterparts and have experienced back-to-back recessions, a crowded labor market and high home prices, factors that were compounded for people of color.
A recent Forbes article noted that state and federal governments have long ignored the problem, repeatedly slashing funding for social programs that offer relief to the elderly poor, many of whom have health complications that compound their financial distress. The opinion piece predicts shelter and healthcare costs for the homeless will continue to grow in major cities.
Regardless of circumstance, the impacts of a boomer workforce retreat are dire. Like other wealthy countries, the U.S. is having fewer babies, and the working-age population is projected to increase through 2030 at a fraction of the growth of recent decades. Seniors are expected to grow by 30% in the 2020s, while the Brookings Institute predicts the number of children will shrink from 35% of the population in 1960 to 20% by 2040.
Layer that onto federal and state restrictions on immigrant worker visas, and we get a lose-lose-lose situation: slower economic growth and productivity, reduced payments into Social Security and innumerable social costs.
Investing in our youth through childcare tax credit payments to parents is a wise move. Investment is also needed in our seniors, through initiatives like the Senior Community Service Employment program, a job training program for low-income, unemployed older Americans, and the AARP Back to Work 50+ program, which offers free training and resources to help older adults compete in the workforce. It's past time to reengage our seniors, whether through employment or humanitarian efforts, into an economically stabilized demographic.
It will take more than government efforts. A 2018 study from the Urban Institute and ProPublica found more than half of older U.S. workers were being pushed out of their jobs before they chose to retire, contributing to the senior homelessness issue. Maybe the current worker shortage will change the minds of employers who can be reluctant to hire workers "of a certain age."
Workforce discussions typically revolve around youth, not seniors, unless veterans are involved (a subject for a different column). This culture needs to change.
Learn more about workforce needs in Georgia in this month's feature "Help! Wanted," on page 32.