Candler County | Metter: Everything's Better Here
Agricultural innovations, high-speed internet and downtown revitalization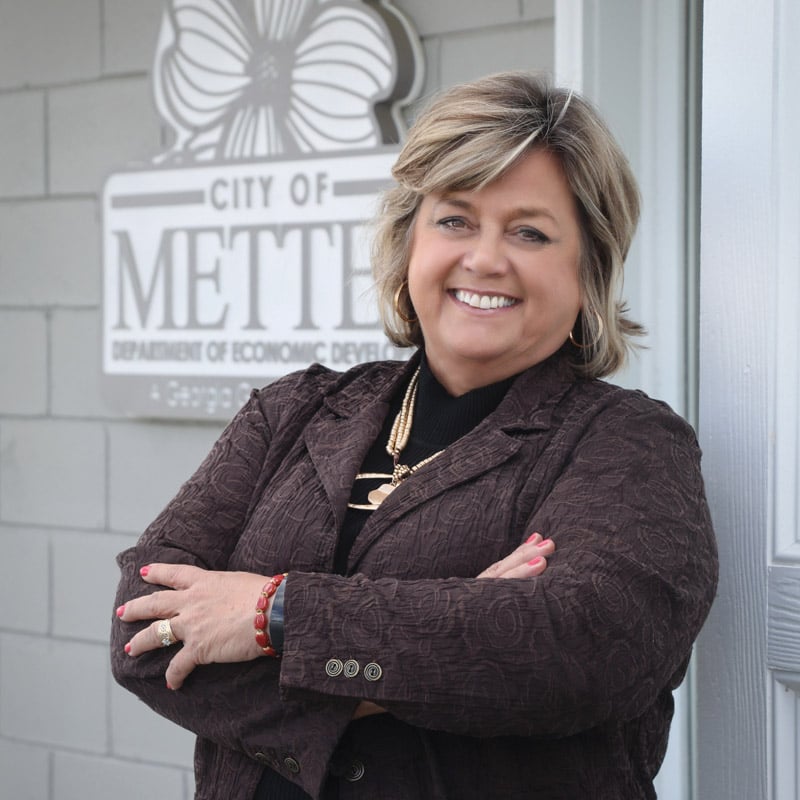 It's hardly a surprise that things are growing in Metter and Candler County. It's a rural area. But in addition to the row crops, livestock and even hemp that you'll find here, you'll also discover a crop of innovation just taking root.
Barely a year out of the gate, the Georgia Grown Innovation Center (GGIC) represents a unique partnership among the city of Metter, the Georgia Department of Agriculture's Georgia Grown Program and Georgia Southern University in nearby Bulloch County. The GGIC serves as an incubator for new agricultural businesses and the ag-adjacent companies that support them.
"They came to us and told us how they felt Georgia Grown would be a great fit with their city. I had never seen an economic development strategy that well presented," says Matthew Kulinski, deputy director of marketing for the Georgia Department of Agriculture and Georgia Grown, which serves as the economic development and branding arm of the state agriculture program.
"There was really no other model for this," Kulinski says. "I'm not familiar with any other program having a partnership with a state branding program, a city and a university, at least not in the Southeast.
"This one is very successful, and we are concentrating on seeing it grow."
Heidi Jeffers, Metter's director of economic development (among other titles), helped craft the initial proposal that created the innovation center. "One of the best things about the center is Georgia Grown has a staff member who comes here at least once a week to assist with business plans and things like that, and Georgia Southern does the same," she says.
Dominique Halaby, director of Georgia Southern's Business Innovation Group, led the initial feasibility study that got Metter's innovation center concept off the ground. "We first had to make sure there was a critical mass of entrepreneurs," he says of early steps. Now graduate students, undergraduate classes and faculty from across the university's colleges provide legwork and expertise for center members.
Business incubators are nothing new, but they tend to be clustered in technology or industrial sectors. This one is strictly limited to agriculture, whether that be the hydroponic farming being tested by Better Fresh Farms, Hope Allen's H.D. White Logistics which hauls and stores agricultural products, or specialty firms making soy candles or tea. The approximately 20 businesses now participating come from throughout the state. They receive furnished office space with fiber internet, meeting room and other co-working space, coaching, market research and access to university faculty expertise and the research legwork of their students.
Take, for example, Grant Anderson's hydroponic farming project, which he says grew out of "a desire to do something with purpose at the most basic level" after spending his early career as a number-cruncher. He became the first tenant of the incubator, and the back portion of the GGIC building – once a warehouse used by Metter's public works department – now houses five house-trailer-sized modules that are home to his indoor, year-round farm. Two of them are repurposed shipping containers that have been retired, adding a recycling component to the farm. "You're taking this thing nobody knows what to do with and growing food in it," is how he puts it.
Since Better Fresh Farms began, Anderson has experimented with 70 different types of crops, including 30 different forms of lettuce. In August, he was growing nine lettuce varieties, three kinds of kale, collard greens, basil and chervil. He and his four employees harvest crops weekly, since hydroponic methods mean his growing season is year-round.
"We'll grow 25,000 pounds of produce this year," he says.
Another set of first-generation farmers at the GGIC is growing Georgia's newest crop – hemp, legalized in Georgia two years ago. The Georgia Department of Agriculture licensed 136 hemp growers in 2021.
Reginald Reese and Dwayne Hirsch are the men behind the 38.5-acre Green Toad Hemp Farm. In addition to running the farm, they process some of the product themselves at a Metter facility that is fronted by a retail store.
Neither of the men involved in The Green Toad comes from a traditional farming family, and Hirsch sees that as a possible advantage.
"For a traditional farmer, it might be a challenge because it's so different from a row crop," he says. "We're just ambitious entrepreneurs who see what we think is the future and we want in on it."
---
Broadband and Full Buildings
There are other interesting things in the ground in Candler County. A large swath of the state is still wrestling with how to get broadband coverage to rural areas, but Candler County – as rural as they come – boasts nearly 100% broadband coverage.
"We've got 3,500 miles of underground fiber-optic cable, alongside federal highways and down dirt roads," says Dustin Durden, general manager and executive vice president of Pineland Telephone Cooperative. The buried cable is safe from storm damage and vulnerable only to rodents and backhoes, he says.
"Our board has been very progressive. Back in 2007, there was a commitment from our board to get it done, and it was finished in 2019, well, downtown's been 100% since 2015," Durden says.
Hannah Mullins, executive director of the Candler County Industrial Authority, figures Candler might be the only county south of Atlanta with that much broadband coverage.
"It's a major recruiting tool. It's the biggest issue besides workforce that Georgians face in trying to recruit industry or educate their children," she says. "We were ahead of the game before it was ever a game. Before it was raised as an issue for rural Georgia, we were already there."
She points to CPE America, a local concrete pump manufacturer whose owner left 18 months ago to visit a sister plant in Australia – and hasn't been able to get back due to the pandemic. Without solid broadband access, could he run his plant in absentia from half a world away?
Mullins came to Candler County in 2014, and that proved to be a significant year for economic development. RR Donnelley and Sons had recently closed its commercial printing plant in Metter, leaving more than 100 people jobless. A private broker was trying to fill that vacant building, while Mullins faced the authority's nightmare scenario in another jinxed piece of real estate.
"We had the oldest spec building in the state of Georgia. It was 30 years old and it was a three-sided building that didn't have a back wall. The roof had been peeled off by straight-line winds for like the third time, and the insurance company was going to drop us," she remembers. Adding insult to injury, a flock of buzzards was roosting there, so any time she needed to show it to a prospect she had to summon the then-mayor to drive out to the property with a noise-making gun to frighten the protected birds away. The time had come to either short-sell the property or bulldoze the building – until Sebastian Falzon showed up looking for a site for his concrete pump business.
"You can tell a real entrepreneur. He didn't point out the problems with the building, he was seeing the possibilities," Mullins says. CPE America became a tenant, remodeled the problematic building, and the buzzards found other quarters.
Meanwhile, state economic developers were showing a Chinese firm the vacant RR Donnelley building, she says. The company wanted local governments to give them incentives to locate there but she recommended against it, since the jobs involved averaged $9 an hour and the company wasn't taking up the whole building. Sure enough, something better came along soon after.
Linzer Products, makers of paint brushes and rollers that are sold in big box home and hardware stores, came looking with better wages and a need for the whole building. Today, Linzer is a successful manufacturer in Metter and a major industrial employer.
"This is why I love doing economic development in small towns. I know it matters everywhere, but when you are doing economic development in bigger cities, you don't see the results," Mullins says. She saw the impact of the Linzer recruitment up close and personal in the family of one of her son's friends.
Here's how she tells the story: the dad worked at a grocery store and the mom worked at a dollar store. She could never go to church because she had to work each Sunday and she missed her older son's football games as well. Then, the store transferred her to Statesboro for the same wages and added a long commute to her life. A job at the new Linzer plant changed that.
"She goes to church every Sunday now, she goes to all her son's football games on Friday nights, and she would never have been able to do that if she did not have the opportunity to do that job. Even though these aren't the highest-paying jobs, they can completely change someone's lifestyle and it isn't all monetary. I know other people who have been able to go from working two jobs to working one. Stories like that make it easier to do this job," Mullins says.
---
Gaining Businesses
Candler County Hospital, like many rural hospitals, went through a financial crisis in recent years.
"We've had some trouble with our hospital, but it's in the best shape it's been in for a long time, says Glyn Thrift, chair of the Candler County Commission. The county underwrote bonds for the hospital (with Metter chipping in a share of its sales tax revenue). "I'm looking forward to Jan. 5, 2025, when we will pay all that off," he says.
Metter officials are proud that the city is making progress on revitalization. "Other downtowns are losing businesses while we are gaining businesses," says Carter Crawford, the city manager.
"The availability [of downtown commercial space] has reduced considerably, and that's because of Metter's incentive program," says Jamie Anderson, president of Metter Main Street and the Downtown Development Authority.
Metter Mayor Edwin Boyd says, "Coming out of COVID, the hot topic has been the incubator but it's also the revitalization and occupancy downtown. People were starting businesses even during COVID, and it was just blowing our minds. We have been the beneficiary, I think, of the vision we put into our comprehensive plan."
The mayor believes the area is poised for a restaurant boom. Already, he says, the town boasts a new ice cream shop he considers worthy of any toney neighborhood in Atlanta. Another new business is an upscale gift, clothing and décor store whose wares include a pillow emblazoned with the city's catch phrase: "Everything's Better in Metter."
---
Local Flavor
Multifaceted Farmers
Here's two words that don't often meet in the English language: banana and sausage. But two first-generation farmers plan to introduce them.
Jarrod and Rebecca Creasy launched 920 Cattle & Co. in 2014, tapping into the market of people who want to know where what they eat comes from. The operation is headquartered in Statesboro, its meat processing facility is in Jenkins County's Millen and its livestock lives on leased acreage in multiple Southeast Georgia counties. Still, 920 Cattle has a significant presence in Candler County, where it is one of the success stories of the Georgia Grown Innovation Center in Metter. In addition to leasing Candler County pastures, the diverse business operations include an events venue and a commercial kitchen for producing value-added meats like seasoned steaks or oven-ready dishes.
But back to those banana sausages. The Creasys are nothing if not entrepreneurs, and Rebecca ran across a reference to banana-flavored beer that was developed for the popular Savannah Bananas, a zany baseball team based an hour away in – you guessed it – Savannah. Would the promotions-happy team like a banana-flavored sausage to go with that? Yes, please!
"It is delicious. We make it with dried sweet bananas. We've got two types, a spicy one with banana chips and banana peppers and then one with a mild seasoning blend. Next season, I think, is when we will have it in the ballpark," says Rebecca. "You eat it like a bratwurst on a bun. Those are the creative kind of things we are looking for."
More conventional sausage is their signature product, but they like to experiment with seasonal flavors like an olive-based one in development. 920 Cattle provides locally raised and processed beef, pork and lamb, largely online (920cattle.com), as well as eggs. Since the pandemic, the company has refocused on retail over wholesaling and much of their product is sold at farmers' markets in the region. The Creasys also run a pop-up meat market out of a renovated horse trailer.
"We consider ourselves first generation family farmers," says Rebecca, whose original background was in economics. "Farming's hard to get into – barriers to entry are high."
They put their first livestock on leased land and much of it remains there, but the couple has begun to increase their owned acreage. 920 Cattle has a taste for innovation and an eye for new business opportunities. The latest project? Rebecca is working on a cookbook that she hopes to have to market in time for Christmas. Don't look for the banana sausage in there, though – that's a Savannah Bananas exclusive.