Gwinnett County | Lawrenceville: Connectivity and Collaboration
New leadership, construction and healthcare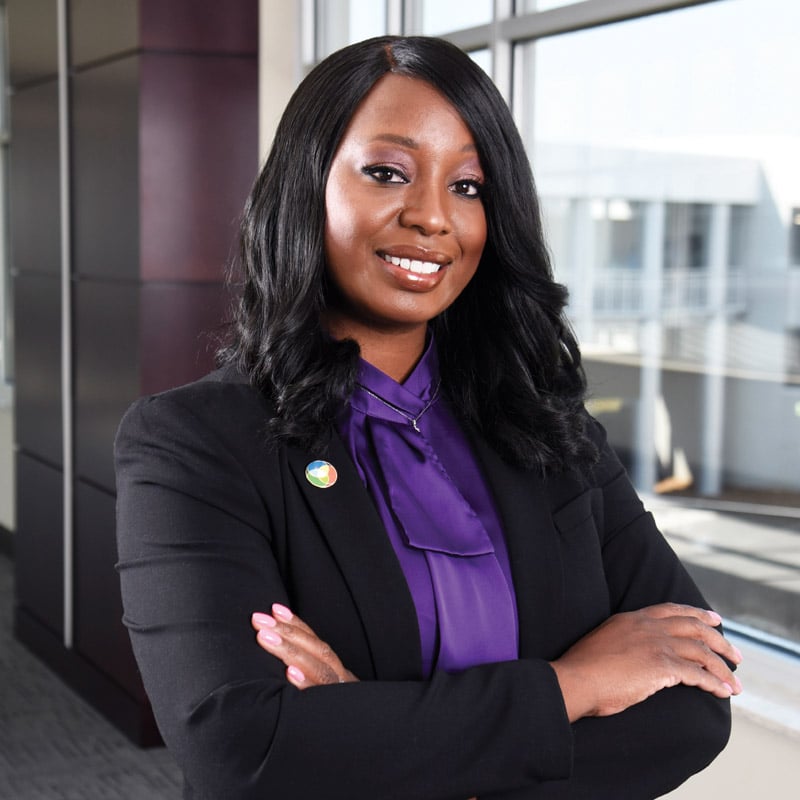 If change was the theme of 2020, Gwinnett County is carrying that right on into 2021 with new leadership from Nicole Love Hendrickson, the first Black chair of the board of commissioners, and a revamped vision statement too.
"There is a lot of weight on my shoulders being the first African American in this role in this county's 202-year history," Hendrickson says. "To see somebody in a position to really make change that's also affected by the change is very significant. And now we have an opportunity to really start making some changes in addressing areas that have not been addressed for a while, but we're still going to maintain the Gwinnett standard."
The commission inherited economic development projects that help it maintain its strong business climate, she says, and reflect the different needs of its global community, home to about 600 international- based companies. Like the new vision statement says, "Gwinnett is the preferred community where everyone thrives."
---
Landmarks, Old and New
The pandemic put a focus on frontline workers and facilities. Northside Hospital Gwinnett – one of the county's largest employers – filed a certificate of need early this summer for state approval to build a $400 million patient tower in Lawrenceville with about 400,000 square feet.
"This whole community is underserved from inpatient bed capacity and oftentimes most of the facilities in Gwinnett County run at full capacity," says Debbie Mitcham, president and CEO of Northside Hospital Gwinnett.
The proposal for the 240-bed tower came as the hospital neared completion on the first phase of a $57 million emergency department expansion with 30 observation beds and 27 new rooms.
Moving past the pandemic and being prepared for another emergency has been Hendrickson's priority since taking office in January, she says. Gwinnett's mass vaccination site opened within her first three weeks in office and offered up to 3,000 vaccine appointments daily in the former Sears at Gwinnett Place Mall.
In April, the county closed on a $23 million purchase of 39 acres out of the 90-acre mall site in Duluth. A Livable Centers Initiative study – funded by a $220,000 Atlanta Regional Commission grant – will identify the possibilities for the site, with an equitable redevelopment plan tied to it. It won't be a cookie-cutter project, Hendrickson says.
The county has also announced its intent to create an equity action plan to examine and address inclusion in all areas of county government with the goals of making the county more welcoming. A request for proposals for a consultant on the project went out this summer.
"I want to dream big because it's important to a lot of communities who need to feel represented," Hendrickson says.
---
Infrastructure Innovation
Strong infrastructure, such as transportation and water, will prepare Gwinnett to handle more than 500,000 new residents expected over the next two decades, Hendrickson says.
To help meet those needs, the county has broken ground on The Water Tower, a campus for water innovation, technology and applied research to help water and wastewater utilities become more progressive. The Water Tower is next to the F. Wayne Hill Water Resources Center in Buford and has founding partners that include Siemens.
"We're building an ecosystem for water innovation," says Andrew Carnes, vice president of economic development at Partnership Gwinnett.
The county has also begun work at Rowen, a 2,000-acre knowledge community along the Ga. 316 corridor. Rowen will include offices, research facilities, parks and residences. Work there will focus on research and development in agriculture, medicine and the environment. The county will expand water and sewer in eastern Gwinnett, a $125 million effort that will cover 13,000 acres and support Rowen, which is expected to add $1.65 billion in income and create about 18,500 jobs by 2035.
---
Cars and Customers
Gwinnett has 22 project announcements in the pipeline – with an expected 900 jobs and almost $51 million in capital – and 160 active projects, up from the typical 100, Carnes says. Healthcare and education staffing firm Soliant plans to add 200 more workers to its headquarters in Peachtree Corners, for example.
But the county is really moving up in the automotive industry. CarMax will bolster the Customer Experience Center it opened in Peachtree Corners in 2019 with 230 more jobs.
"Gwinnett County is not only a great fit for our innovative business model, but also an excellent location to find top talent to support our Atlanta Customer Experience Center," says Bryant Spann, regional vice president, CarMax Atlanta and Raleigh Customer Experience Centers.
Kirchhoff Automotive, a German company that manufactures auto body components, selected Dacula out of almost 60 potential locations for its $15 million assembly facility, which the company says will create about 88 jobs over the next 10 years. Global Chief Operating Officer Stefan Leitzgen says the selection was based on personnel, production buildings and logistics.
New partnerships at Peachtree Corners' Curiosity Lab, a 5G-enabled autonomous vehicle and smart-city living laboratory with a three-mile test and demo track, include major tech players. Qualcomm Technologies and Jacobs will bring cellular vehicle-to-everything (C-V2X) technology to the smart city. CV2X allows vehicles to communicate directly with infrastructure, delivering a safer and greener experience. T-Mobile, in collaboration with Georgia Tech's Advanced Technology Development Center, will launch a 5G Connected Future incubator program to support entrepreneurs and startups.
"Our saying is: Activity increases activity," says Peachtree Corners Mayor Mike Mason.
Some of that activity is in the form of new hotels. Next year, the 11-story Westin Atlanta Gwinnett Hotel is set to open with 348 rooms and about 34,500 square feet of event space in the newly named Gas South District (formerly the Infinite Energy Center) in Duluth. In Duluth's downtown, a 100-room Courtyard by Marriott opened in April.
"I think it's going to be an economic boon for us," says Duluth Mayor Nancy Harris.
The hotel and the $45 million Everleigh project – a public-private partnership with active adult apartments by Greystar – will revitalize a once-blighted area, she adds. As part of the city's ongoing downtown redevelopment, the $5 million new library branch opened in May.
Other accommodations include the new Crowne Plaza in Norcross – expected to open this fall with 235 rooms following a $20 million renovation of an existing property – and a 99-room Staybridge Suites off Interstate 85 in Duluth. A 107-room Homewood Suites is slated for the Exchange @ Gwinnett in Buford. Fuqua Development's $350 million mixed-use project near Coolray Field and Mall of Georgia also includes retail and entertainment options such as TopGolf, Andretti Indoor Karting & Games, Rooms to Go and Sprouts Farmers Market.
To help keep business moving, the Gwinnett Chamber of Commerce hosted hybrid events with about 3,000 people from March 2020 to March 2021 and its staff returned to the office in May 2020, says President and CEO Nick Masino. It also provided loan and grant information, a 24-7 hotline and resources as businesses questioned what they could and could not do during lockdowns and community reopenings.
"More companies were working than were not working," Masino says. "We felt like we needed to be there for them."
---
Cities Booming
Lawrenceville will celebrate its 200th birthday with the opening of the $35 million performing arts center – an expansion of the Aurora Theatre – on the square this fall. The new arts center necessitated more parking downtown, says Mayor David Still. A public parking deck is part of a $32 million project that will introduce The Lawrence, a 120-room Hilton Tapestry Collection hotel expected to open in 2022. To further cement the focus on the arts, the $13.2 million School of the Arts @ Central Gwinnett High School was expected to open in August.
Infill residential projects in Lawrenceville include 90 executive homes expected to start at around $700,000 and 420 workforce units, Still says.
"The growth has been from the center out, when you look historically over 200 years," he says. "It's now coming back to people wanting to be where the government is, where the hospitals are, where the colleges are, and that's what Lawrenceville has to provide."
A new gateway in the city is the College Corridor, which extends Collins Hill Road to connect Georgia Gwinnett College to the depot area and historic square. The college is working on a shuttle and partnerships with downtown merchants to strengthen its town-gown relationship, says President Jann L. Joseph.
Mobility and parking also are keys to projects in cities such as Suwanee and Snellville.
In Suwanee, Buford Highway is being reconstructed from McGinnis Ferry Road to George Pierce Park to provide bike and pedestrian access along the highway. This spring, the renovated Station Park opened between the police and fire stations, with cornhole, new seating and a playground.
In Snellville, the long-awaited intersection reconfiguration at U.S. 78 and Ga. 124 (Scenic Highway) opened in 2020. Construction has begun on The Grove at Towne Center, which will include more than 250 apartments, parking, a library and retail, restaurants and office space. The nearly $85 million first phase is expected to open in fall 2022, says Mayor Barbara Bender.
"It's been a long haul, but that is truly, truly exciting," she says. "I think what that means for Snellville and for the county as a whole is it gives a great strong development for southern Gwinnett County."
Trail and park projects dot the county and many of its 16 municipalities. The multimillion dollar bridge restoration over the Chattahoochee River in Duluth's Rogers Bridge Park is expected to finish in late 2022, Harris says.
A pedestrian bridge now links Peachtree Corners Town Center, with restaurants, shops and a two-acre event lawn, to The Forum on Peachtree Parkway mixed-use development. The Corners Connector multi-use trail will encompass 11.4 miles, with an elevated portion expected to open this fall, Mason says.
A $120,000 LCI study funded by the Atlanta Regional Commission and the Lilburn Community Improvement District (CID), in partnership with the city of Lilburn, will look at ways to promote creative placemaking and housing diversity in Old Town Lilburn, says Tad Leithead, CID executive director. The CID has invested about $100,000 in landscaping Jackson Creek Trail, he adds, which creates a connection into the county's park system and enhances walkability along Lawrenceville Highway.
Sugar Hill is creating 16.5 miles of trail in the 11.5-mile Sugar Hill Greenway and nine-acre Gold Mine Park, which will serve as a trail head. In Grayson, new gateway signs mark city boundaries and more than 80 light poles seek to make the sidewalks more pedestrian-friendly, says Mayor Allison Wilkerson.
Norcross Mayor Craig Newton says the city has followed the data and the science in its decision-making relative to scheduled meetings, park operations, community service, and access to planning and business operations. It continues to monitor the coronavirus as variants display an innate ability to mutate and become more of a threat to our health, he says.
"As I have stated before, the city prides itself in providing a high-quality level of customer service. The advent of the COVID-19 pandemic over the last 18 months has negatively impacted our ability to provide the highest quality of service to our constituents," he says. "Despite this setback, all our city employees were able to pivot where equitable and provide an over-and-above effort in serving the greater public."
---
Education and Entrepreneurship
The Gwinnett Entrepreneur Center, an incubator that will offer classes, workshops, business coaching and peer learning, is scheduled to open by year end. It's a partnership between the county and Georgia Gwinnett College.
"We feel as if we have a really strong leadership team around working with business and with business partnerships," says Joseph.
Georgia Gwinnett is also working to meet the healthcare needs of the state by adding a bachelor's degree in health science with concentrations in patient navigation and public health, which debuted in fall 2020.
"The timing could not have been more, I don't know, perfect, given the world that we're in, in terms of keeping people educated in health decisions," Joseph says.
Gwinnett Tech is getting its first new building in more than 12 years. A $37 million computer information systems, cybersecurity and emerging technologies building should be ready for classes in January 2023, says President D. Glen Cannon.
Gwinnett Tech is the technical college system's second-largest school with about 9,000 students. The cybersecurity program has grown to 500 students and the college has added automated manufacturing and engineering technology programs, including mechatronics.
A new articulation agreement will allow associate's degree earners at Gwinnett Tech to seek a four-year business degree at Georgia Gwinnett.
"To get the workforce that Georgia needs, we're going to have to encourage people to continue their education," Cannon says. "Our job market needs the entire swath of jobs. At every level. So we've got to keep a pipeline going."
---
Top Projects:
•Answering service Moneypenny will add 100 jobs with a new $860,000 U.S. headquarters in Duluth
•SK Inc. C&C, an affiliate of SK Innovation, will invest $1.8 million in an IT service office in Duluth with 15 jobs to support the SK Battery America plant and other SK affiliates.
•ASHRAE The American Society of Heating, Refrigerating and Air-Conditioning Engineers (ASHRAE) relocated its global headquarters and 120 employees to Peachtree Corners' Curiosity Lab last year with a $20 million, 60,000-square-foot, net-zero energy building.
---
Local Flavor
Carnival Comeback
Step right up! The rides, the shows, the livestock, the cotton candy can all be found at the Gwinnett County Fair, set to return Sept. 16-26 after shuttering last year due to the pandemic.
The fairgrounds on Sugarloaf Parkway in Lawrenceville are fortunate to have survived as shows and events were forced to cancel due to the coronavirus, says Dale Thurman, fair manager. The venue is owned by the nonprofit Gwinnett County Livestock and Fair Association, which hosts the fair, now in its 64th year.
"Some of the fairs just financially couldn't survive that, and they won't be back. It's a real shame that that part of our heritage has gone away," he says.
In 2020, the Gwinnett County Fairgrounds canceled about 15 events and the county fair, which typically attracts about 200,000 people. Another dozen events were canceled in 2021.
"Our phones have been ringing constantly, people wanting to know when the fair's going to start. They're wanting to get here," Thurman says.
The fairgrounds have an operating budget of about $850,000 and its staff includes four full-time employees and about eight part-time workers. Its facilities include a 9,600-square-foot entertainment building, and a 20,000-square-foot exhibit hall with open-air, covered small and large arenas, and a 1,000-square-foot meeting space.
During its closure, the fairgrounds embarked on planned capital improvements of about $420,000 that added restrooms and storage space, and it also updated its underground wiring, he says.
The fairgrounds reopened in late March with the Southeast Exotic Bird Fair, followed by a dog show with more than 1,700 registered pups, Thurman says. It's become known in the industry for animal shows, which also include those with reptiles and exotic pets. A kids' clothes consignment sale, vintage-inspired upscale market, gem and mineral shows, gun shows, and a rubber stamp and paper arts festival are also scheduled.
"All of us have learned that you just have to always be prepared. No one would ever think that [a pandemic] is going to be something that would shut us down," he says. "But it can definitely impact you. … Should that happen again, we will be ready to do whatever it takes."
Check out gwinnettcountyfair.com to learn more about the fun to be found at the fair, as well as other events throughout the year.