From the Publisher: Lifelines for Learning
The renovations at Atlanta's Central Library offer a chance to reappreciate not just the building, but libraries in general.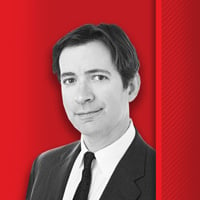 Atlanta doesn't have too many buildings that make you say, "whoa." But the Central Library on Peachtree Street is one of them. It is modern, it is futuristic, it looks like science fiction. It is Marcel Breuer's last project, and it is to my knowledge the only Brutalist structure in the city.
Brutalism is a conversation-provoking style that resembles Bauhaus architecture with less whimsy. Frequently associated with Eastern Europe and Russia, some might say this is even a scary style of architecture. One thing is for sure, it makes this section of Peachtree Street between Five Points and Peachtree Center MARTA stations more interesting. And thanks to a massive renovation, the Fulton County Library branch, reopening soon, is more welcoming as well.
Other renovated branches are also reopening, making this an exciting time for the library system and for me as a board member of the Atlanta-Fulton Public Library Foundation, which at 33 is one of the oldest in the country. The reopening of Central Library offers a chance to reappreciate not just this building, but libraries in general.
Like many systems around the state, Fulton was not prepared to go fully digital in 2020, but it took programs like story time for children, fitness classes, makers meetings, elementary school classes and language labs virtual through social media. CARES Act funding enhanced Fulton system digital offerings beyond the existing catalogues, including LinkedIn Learning and video streaming services like Kanopy, where your library card provides access to films and documentaries through the app. Furthermore, these digital offerings will remain in place post-COVID as long as there is demand.
Renovations at Central and other branches were funded through the $275 million bond passed by Fulton County voters in 2008. The Central branch redesign enables the expansion of services like the Teen Centers and Children's Department, allows for larger meeting and event spaces as well as better audiovisual presentations, and includes a skylight that connects the floors with a massive infusion of natural light. Yes, Brutalist designs tend to be a little dark on the interior, which is fine for archives, but the 1980 structure did not anticipate Wi-Fi and getting a signal in the building was tricky.
The bond referendum also enhanced Fulton's ability to budget for more programs, but the system is still one of the most underfunded in the country. A survey of nine similar-sized cities found an average funding of $49 million for 26 branches, or $42 per capita.
Charlotte's Mecklenburg County, for instance, spends $43 million on 20 branches serving 1,093,000 people, or $39 per capita.
Fulton, by contrast, spends $28.6 million on 34 branches serving a population of 1,087,000, or $26 per capita.
Is the architecture of the Central branch to blame for this underloved, underfunded public service? When the bond was initially passed, discussion centered on building a new, larger Central Library. The board agreed to renovate instead only after a vigorous public debate in 2016. The renovation met the challenge of preserving the initial design while opening up its interior and exterior to allow for more light and interaction with the public.
However, more than renovations are needed to leverage the potential the library offers and the community sorely needs. The foundation is tasked with building public support for county funding as well as establishing a larger endowment that can be used to fund additional services, giving the system more leeway to try new programs and expand book offerings. (The foundation, for example, funds Summer Reading programs.)
When you think about how much the library offers and contributes to communities in general, the case for stepping up funding for the Fulton system becomes clear. In other big cities, the downtown library is typically a beacon of sorts, a place where all citizens can find something to do and will be treated fairly and equally. It's a safe space in a world growing cluttered with unsafe spaces.
In terms of cradle-to-grave services, no public programs match the diversity of experiences the library can offer. Consider these observations in funding discussions of your own library system, whether large or small. Hopefully the expansion of services brought about by COVID-19 can lead to a broader appreciation of this resource, and an awareness of the $8 to $1 return on investment libraries offer.