A Byte of Prevention
Georgia is at the forefront of innovations in healthcare information technology.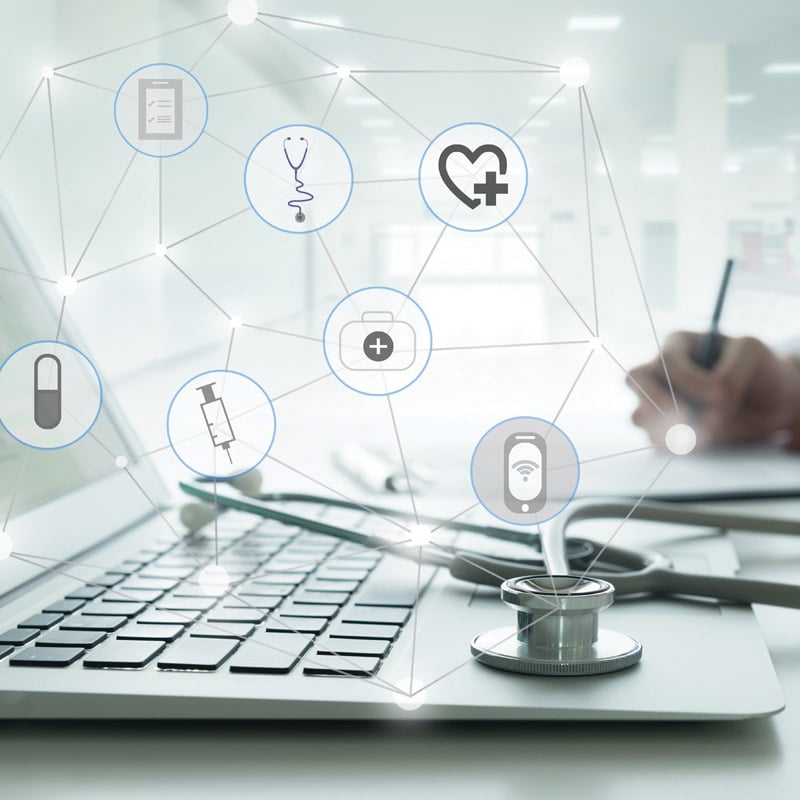 Much of the Southeast lags behind in any number of health statistics, from maternal and infant mortality to the percentage of people who have been vaccinated for COVID-19. So when John Showalter, M.D., chief product officer at the Metro Atlanta-based clinical artificial intelligence (AI) company Jvion, says the area is a leader in health information technology (health IT), it's a welcome departure from the healthcare stereotype.
"The Southeast is pretty innovative around this," he says, ticking off a number of health systems in Alabama, Georgia and Florida that Jvion works with. "Especially all the burgeoning health IT that's coming out of [Atlanta]. … The Southeast has been very willing to try these technologies, to be early adopters."
Georgia stands out even among early adopters: The state leads the nation with more than 225 health IT companies and about 30,000 jobs, according to the Department of Economic Development. Many more digital healthcare-related companies have a substantial presence in Georgia, and the state's universities and technical colleges offered degrees across 38 different health IT-related programs in 2018, according to the Metro Atlanta Chamber of Commerce. That translated into more than 9,000 undergraduate degrees and 5,500 post-graduate degrees.
It's that steady supply of graduating talent, combined with a well-established network of companies and colleagues, that's made Georgia a hotbed for health IT. And within that industry, a number of fast-growing companies are working with hospitals and physicians' practices to improve patient care by reducing risks, whether that's using artificial intelligence and machine learning so one of the country's largest public health systems can spot potential problems before they affect someone's health or devising an automated way to keep patients from getting sicker from hospital-acquired infections.
---
Hands-on Tech
As Executive Vice President and Chief of Patient Services for Floyd Medical Center (which was acquired by Atrium Health in July), Sheila Bennett is dedicated to patient care. When it comes to preventing hospital-acquired infections (HAIs), it's also a personal mission – her sister died after contracting an infection in a hospital following open heart surgery.
"The single most important thing you can do to protect patients is to wash your hands," Bennett says, and she and her team had spent literally years looking for ways to make sure that all employees did so each and every time they entered a patient's room.
Healthcare employees understand the importance of hand hygiene, but things happen – like a nurse or nursing assistant realizing they need an additional item, stepping out of the patient's room to get it and not remembering to sanitize their hands when they come back in, for example. Many hospitals rely on reports from other team members or "secret shopper" programs that assess how well employees are doing – with obvious potential for error.
Bennett, who has a Ph.D. in nursing practice, and her team were looking for an automated solution, and found it with Clean Hands Safe Hands, an Atlanta health IT company that focuses on exactly that: improving patient safety by improving hand hygiene. Sensors note when an employee (who's wearing a special badge) comes into a room, and another sensor on the hand sanitizer dispenser records whether or not they use it within a few seconds. If not, the system provides an audible reminder.
The company grew out of a research collaboration between Georgia's health heavy-hitters: Emory University, Children's Healthcare of Atlanta and the Centers for Disease Control and Prevention on the clinical side, and Georgia Tech (where founder Chris Hermann, M.D. and Ph.D., was a grad student) and the Georgia Tech Research Institute (GTRI) on the IT/engineering side. The research turned into a startup about seven years ago when two factors came together: The first clinical trial provided good evidence that the approach worked, and the Affordable Care Act stopped the process of reimbursing hospitals for treating HAIs. Suddenly health systems were scrambling to bring down infection rates.
The partnership with Floyd Medical Center was one of the company's first in Georgia, kicking off with a pilot program testing around 50 beds out of 300-plus at the Rome hospital in 2018. It was so successful, says Bennett, that they quickly added more beds to the program. Now it's been expanded to Floyd's Polk Medical Center in Cedartown, as well. And a new pilot program is testing how the sensors could work in open bays instead of rooms – like in the neonatal intensive care unit – where there's no door to record when someone enters.
Hermann estimates close to 25% of the beds in Georgia's hospitals (including Emory) now use Clean Hands' technology, and the company has been one of the top 100 fastest growing in Georgia for two years in a row. The technology allows hospitals to see in real time how employees are doing on hand-washing compliance. "We can drill down to the person, the time of day, the shift, the role of the employee whether it's a nurse or respiratory therapist or lab [technician]," Bennett says, and then reward and recognize employees and units who are performing exceptionally well and coach those who aren't.
Although clean hands and infection reduction will literally always be at the center of the company's mission, it's looking at other ways to employ its technology to improve patient care. During the height of the COVID pandemic, Hermann says, Floyd leveraged Clean Hands' data to do contact and exposure tracing among staff when necessary. In the case of patients who tested positive after admission, for example, the hospital could see who had been in the room, how many times and for how long, which determined who would have to quarantine – and maybe more important, who would not, so that staff who weren't exposed could continue to work.
Also, Hermann says the company is helping hospitals make clinical staff more efficient, and potentially help avoid burnout. "We can use data to help spot patterns where maybe a nurse has a really sick patient and they need help for that shift," he says. "Or because we have such a huge amount of data, identify ways to help improve workflow."
The goal, he says, is to take data and make it actionable. "We could put sensors on everything and unleash a firehose of data on an organization," Hermann says. "Our platform isn't just about measuring hand hygiene. We do that, but the focus is on how we leverage that data, and the sensors and the feedback from the data, to help drive clinical improvements and [reduce] infections."
---
Personalized Prescriptions
Machine learning and AI have helped identify patients at risk of being readmitted to the hospital or having complications from a condition – someone with diabetes at risk for developing peripheral neuropathy, for example, or someone at risk for falling after they've had a stroke. But like Hermann, Showalter sees the real value in making that data actionable. That, he says, is what sets Jvion and its clinical AI applications apart.
The company calls it "prescriptive intelligence" – preventing harm and improving patient outcomes by identifying those who are on a risk trajectory that can be modified and then providing recommendations that are specific to the patient about how to lower those risks.
"We calculate a trajectory for every individual so we know where they are headed next," Showalter says. "It allows you to customize the discharge and prevention plan to their actual individual needs."
Jvion's CORE (Care Optimization and Recommendation Enhancement) product analyzes thousands of data points for each patient, including clinical factors but also socioeconomic and behavioral factors outside of the clinical sphere, like being able to get to a pharmacy to pick up prescriptions or having enough healthy food in the house. It also takes into account other social determinants of health, from a patient's health literacy to what their neighborhood is like.
Atlanta's Grady Health System uses Jvion CORE to enhance its work on reducing readmissions. The hospital has a transition of care center, focusing on patients who are at high risk for readmission without disease-specific follow-up care (like keeping doctor's appointments and taking medicine); but with information on a specific patient's risk factors Grady can also refer them to an on-site food pantry run by the Atlanta Food Bank, for example. Two years after implementing CORE, Grady reduced readmission by 10%.
One of Jvion's newest products is an AI-powered behavioral health vulnerability map, which takes a step beyond individual health to public health. It analyzes data on social determinants of health to evaluate each U.S. Census block group. Showalter, who says the map is the thing he may be most excited about in his career, uses Harrison County, Miss., as an example. The map shows a suicide rate 50% higher than the rest of Mississippi, along with a high percentage of residents in the armed forces at Keesler Air Force Base (active-duty military personnel have rising suicide rates), a large group of Vietnamese Americans who may be less likely to seek help for mental health issues and a Hispanic community that may have trouble getting mental health treatment in Spanish.
"That all is well documented in the literature, but came out in the behavioral health map," Showalter says. What the map shows, he says, are the root causes that need to be addressed. "[The ability] to identify those risk factors means we have the technology to guide public health in a much more meaningful way, and the big avenues we need to begin to move that forward. Harrison County can't [just] have a mental health improvement plan – it's got to tackle binge drinking with the Air Force and get Spanish language resources to this community and work with nonprofits in the Vietnamese population to better tackle those barriers."
---
Hard Work, Simple Solutions
Healthcare can seem like a black box, says Baha Zeidan, co-founder and CEO of Azalea Health. That's because patients haven't had access to information – data – about their healthcare visits. The doctor gives you instructions when you're discharged or done with your appointment, but you may not remember them. At best you may have a piece of paper (easily lost) to refer to; sometimes you don't even have that. One thing health IT can do is help patients access their data – prescriptions, instructions, reminders of appointments and refills – and "a more educated patient is a better patient," Zeidan says.
Azalea Health, with offices in Valdosta (where it was founded) and Atlanta, offers that and more though a cloud-based software platform that helps physicians by making it easy to chart their interactions with patients, manage workflow like moving patients from unit to unit in the hospital or room to room in a doctor's practice, and manage payments and insurance billing. Using data from its electronic health records (EHR), it provides patient access to information through a mobile app and patient portal. And as befits its founding, Azalea Health is especially focused on underserved healthcare providers such as doctors, clinics and hospitals in rural areas, relieving the administrative burden through technology.
For physicians, one appeal is an integrated EHR that's easy to use and allows them to spend more time with the patient and less with the screen. That translates into better patient care, but it's not easy to design when government regulations and payer demands involve more and more documentation.
Although Azalea's EHR routinely win awards for its simplicity, Zeidan admits that electronic records are an area that need enhancement. "It's come a long way" since providers were incentivized to use EHR in 2009, but he says data interoperability – moving information between providers, hospitals, labs and other ancillary services – is still a challenge. "If we get that right, we lower costs and enable a better outcome for patients," he says. But, he says, "To create simple solutions is very hard."
Take Azalea's telehealth module, which was uniquely integrated into its EHR product. Designed out of a "hackathon" at Valdosta State in 2015, not many providers adopted it – until March 2020. As doctor's offices shut down in the face of the pandemic, leaving patients struggling to get prescription refills or appointments even for acute problems, "We were able to turn that feature on and went from a few hundred to 18,000 encounters almost overnight," says Zeidan.
Telehealth has the potential to transform rural healthcare, and Zeidan says it's one example of an area where the health IT is way ahead of the regulations – or at least, it was way ahead. The pandemic also convinced Medicare to reimburse telehealth visits more broadly, and where Medicare goes the insurance industry follows.
---
What's Next for Health IT?
The next frontier of health IT may well be public health, pushed along by innovations in AI and human learnings from the COVID pandemic. If you knew, for example, which counties were most at risk for low vaccination rates – and why – could you devise specific interventions? And could you then deliver them?
It's the "why" that's important, says Zeidan. "Health IT needs to address not just the condition but why the patient has the condition."
"I think we're at an interesting divergence on health IT, at least in some cases," Showalter says. "We are pushing toward personalized medicine, precision medicine … individual care planning, identifying what this person needs and how to make nurses, doctors, case managers more efficient for the individual.
"At the same time … [we are] beginning to think not just about precision medicine for the individual, but what is the precision medicine for the community? And how do we begin to make a more equitable health system by understanding what individual communities need, not just what individuals need."
It's a big leap forward, but Georgia is likely to be leading the way into the next phase of health IT.