Sports Desk: Full of Grace
Former Super Bowl-winning Pittsburgh Steeler and football hall of famer Lynn Swann now calls Georgia home.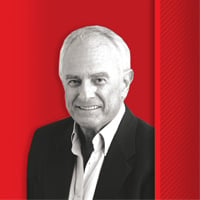 One of Georgia's newest residents is among the most famous sports personalities in the country: A man who has a resumé brimming with accolades, accomplishments and records (and four Super Bowl rings), not to mention membership in both the College and National Football League halls of fame.
He even ran for governor of Pennsylvania.
Now Lynn Swann, whose balletic leaps and catches thrilled Pittsburgh Steelers fans starting in 1974 until his retirement nine years later, is living a laid-back lifestyle on Lake Oconee, just 58 miles east of Atlanta – a striking contrast to the neighborhoods of Los Angeles and Pittsburgh, where he lived most of his life.
"My wife, Charena, and I checked out a lot of places before settling here in Georgia," Swann says. "It is close to Atlanta, and it has many options for us to enjoy. The lake is the place for us."
If you are familiar with Swann's pass-catching genius as a University of Southern California (USC) Trojan in the early 1970s and then as a Steeler, you know he may be the most graceful receiver in pro football history. And if you're too young to have watched him live, a quick tour of his Super Bowl highlights alone on YouTube will be enough to make you feel sorry for all those elite secondaries who had to cover him.
A combination of soft hands, acrobatic jumping ability and top speed enabled him to become one of the most successful wide receivers ever. He retired with 5,462 receiving yards and 51 touchdowns, plus the distinction of being the first wide receiver to win Super Bowl Most Valuable Player honors (Super Bowl X). He could have played longer but another career beckoned.
"A lot of people thought I retired because of injuries or some other reason," he says, "but it was really to take a job at ABC because I figured after nine years of playing professional football, I could probably talk for another 30." That is exactly how his career played out.
Swann debuted as a broadcaster in 1976 while still playing for the Steelers, working at KABC-TV in Los Angeles.
His ease in front of the camera led to a decades-long career with ABC Sports, covering everything from the Olympics to the Iditarod and, yes, football, where he worked as a sideline reporter for NCAA games and for Monday Night Football. He also teamed with Keith Jackson when ABC covered the United States Football League from 1983 to '85.
Swann was born in Alcoa, Tenn.; his family moved to San Mateo, Calif., when he was two years old. He famously took dance lessons – ballet, tap, modern dance – from the time he was four until he was a senior in high school. Transferring that grace onto the field helped him make up for his size – at 5'11", he was considered small for a wide receiver.
His first rave sports review came not in football, but in track when he turned in a school-record long jump of 24'10" at Junipero Serra High School. At USC Swann was a unanimous first-team All-American and played on the 1972 national championship team.
Following his career with the Steelers and then a 30-year broadcasting run, Swann chose to run a different kind of race, in politics. In 2006, he was the Republican nominee for governor of Pennsylvania, an interesting experience that made him aware that while there is good reason for contempt for some of the current trends in the political system, there remain good people who care about the country and who are able and responsible politicians.
Although he lost that race, he does not regret running for office.
"I felt like I could help Pennsylvania," he says. "I felt that I could provide leadership and provide an agenda that would make Pennsylvania a stronger state for everybody who lived there."
Swann served as athletic director at USC from 2016 until 2019.
Companies such as H.J. Heinz Co., Hershey Entertainment and Resorts and Wyndham International, among others, have invited him to join their boards of directors, some with which he is still active.
This means he did not settle at Lake Oconee just to play golf.
You can expect him to connect with some charity or corporation where leadership and a helping hand will enable him to continue as a difference maker in society.