Augusta | Richmond County: Betting on Augusta
Workforce, housing and economic recovery.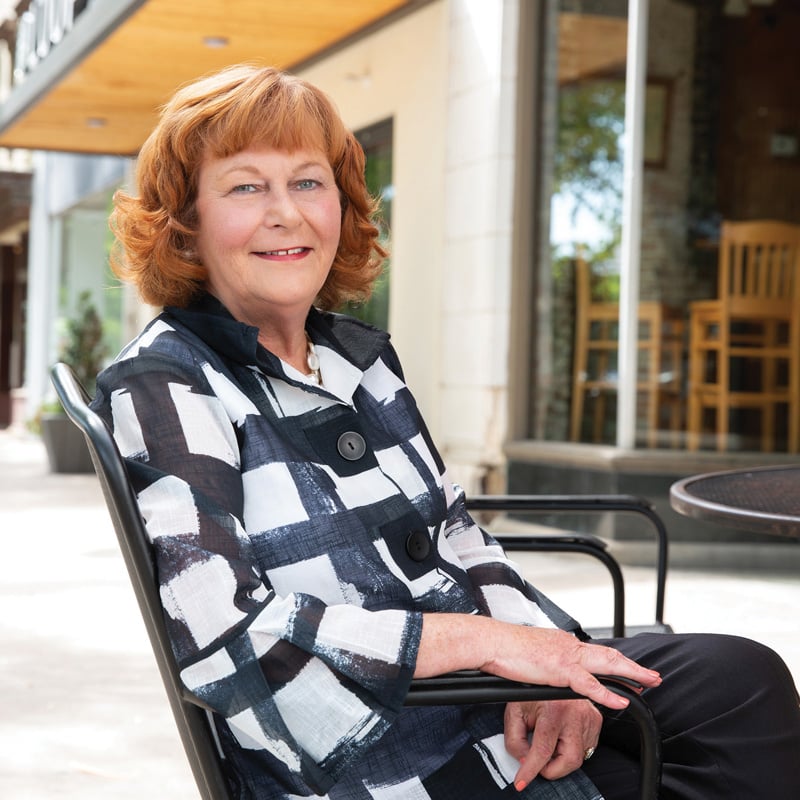 In March 2020, business predictions were grim.
"You had all these experts, the National Main Street Center and the Small Business Association, doing nationwide statistics and saying that 30% to 35% of small businesses would not survive the pandemic," says Margaret Woodard, executive director of Augusta's Downtown Development Authority. "And that gives you cause for sleepless nights."
However, Woodard says, "We quickly learned that it wasn't going to happen here."
It didn't. Thanks to equal parts resiliency, responsiveness and proactive support, Augusta beat the odds, emerging a year later with a net gain of 40 businesses downtown – consistent growth that has been replicated across Augusta-Richmond County as a whole as well.
"We've had, even in the midst of the pandemic, new restaurants that have opened up as well as other businesses that are willing to bet on Augusta," says Mayor Hardie Davis Jr. "They're not betting against Augusta; they're betting on Augusta."
---
Open for Business
Throughout 2020, Augusta announced many high-profile organizations that either moved to the area or expanded their current workforce.
In September, beef processor FPL Food announced a three-phase expansion of its facility; the project will effectively rebuild its headquarters, creating about 300 new jobs in the process. In October, cyberspace operations support firm Perspecta officially moved its headquarters – and nearly 200 jobs – into the Georgia Cyber Center. The following month, BAE Systems, a defense contractor specializing in advanced analytics and cyber support, announced a significant expansion at the Georgia Cyber Center as well that will add another 200 jobs.
The Georgia Cyber Center is a public- private partnership of academia, government and industry that supports Fort Gordon and its cyber missions. The largest employer in the region, Fort Gordon is also home to the nation's Cyber Center of Excellence and U.S. Army Cyber Command. And the base continues to expand: Construction began in 2019 on a seven-year, $1 billion project to build a state-of-the-art cyber campus at the base. The first facility, a secure building for classified information, is scheduled to open in 2022.
Growth at the base and the Georgia Cyber Center is always encouraging, but its ripple effects also deserve to be celebrated, says Tom Clark, executive director of the CSRA Alliance for Fort Gordon.
"Fort Gordon is our region's No. 1 employer, but it's not just cyber jobs. It's more haircuts for people who cut hair. It's more homes being sold in our area. It's more restaurants being visited. It's more dry cleaning," he says. "It's more for everyone. It seems like the entire region has benefited from the growth on Fort Gordon, and will continue to benefit."
The county is also seeing an upswing in small businesses born from the pandemic.
"I think what's so interesting is we're getting a lot of calls from people who used COVID as an opportunity to re-imagine themselves or hone their skills and come up with side businesses," says Woodard, whether that be a bakery, food concept or clothing line. Local leaders are looking into creative ways to support this new wave of entrepreneurs, who might not be ready to make a commitment to a brick-and-mortar lease.
"We want to get a small business incubator up and running. We're working with someone now on a commissary kitchen where people can test their goods," she says.
"We're looking at a place to do pop-ups where these new entrepreneurs can test the market. We're also looking at opportunities for food halls."
---
Focus on Local Talent
Of course, growth is dependent on having a skilled workforce able to support it. Cities across the country, big and small, have found themselves navigating tight labor markets, with employers unsure when – and how, and even if – to bring employees back into the office.
"Right now, you can't really open up a newspaper or read any kind of business news and not understand that the labor market is a bit pinched," says Sue Parr, president and CEO of the Augusta Metro Chamber of Commerce. "There's not a day that goes by that I don't talk to one of our members that is looking for employees. That is going to be a bit of a challenge as a lot of people that may have been out of the workforce for a period of time now have to sort of adjust their lifestyles to return, and of course adjust to what is still a very real issue with the health and safety of themselves and their family."
To help connect local businesses with local talent, the chamber launched Talent2Work.net, a marketplace for job seekers and employers that's tailored to the Central Savannah River Area.
"It is not another Indeed. It's not another ZipRecruiter," Parr says. "It is a local, regional job marketplace that we feel is going to suit our needs in a much more strategic way than all of our businesses trying to compete for largely the same workforce."
The online platform lets employers create a digital storefront for their company, giving them the option to upload their own videos and customize their profiles. Job seekers can use the platform to build a resume online and get a better idea of the types of jobs – and skills – that are in demand in the area.
But the platform goes a step beyond: It also focuses on upskilling and retraining job seekers, with online learning modules, certifications and profiles of more than 1,000 careers, including average salaries and necessary skills. The idea is to expose job seekers to careers they might not have considered – and show them a path to making it their own. "I can't stress enough that there's a lot of people out there that could be in great positions if they just understood what the steps are to get there," Parr says.
At the Georgia Cyber Center, major efforts are also underway to grow a pipeline of skilled workers to fill critical positions in support of the center and Fort Gordon's cyber contracts.
The center's WorkForces project, developed with the Augusta Economic Development Authority and funded by a $9 million Department of Labor grant, aims to retrain and upskill veterans, transitioning service members and military spouses in IT and cybersecurity fields. The free program provides formal training and work-based learning programs, as well as interview prep and networking opportunities, across networking, IT specialist and cyber tracks. The end goal for program participants is full-time employment in these high-pay, in-demand roles.
County leaders also depend on the area's strong education system, including Augusta Technical College and Augusta University, to bolster the workforce and continue to develop the skills that are needed by local industry.
"And then we do a lot of partnerships with our key employers to make sure we continue to develop skill sets here," says Cal Wray, president of the Augusta Economic Development Authority. "That's anywhere in the country right now. That's got to be a focus on growing the skill sets within the community for those employers."
---
Residential Opportunities
Another key area of focus for county leaders is housing – specifically, affordable housing that supports the region's workforce.
Davis unveiled a set of proposals in May designed to boost affordable housing options, including tax incentives for developers, the below-appraisal sale of municipality-owned land for affordable housing development and a zoning ordinance amendment to allow for accessory dwelling units (ADUs) or tiny homes.
Davis says his "Housing for Working Families" package would "not only drive affordable and workforce housing but create opportunities for residents for tiny homes as well," calling the zoning amendment "a really new frontier for Augusta."
Meanwhile, housing opportunities downtown continue to multiply.
"There's just a lot of activity and a lot to report," says Woodard. On her short list are 943 Ellis Street, a 12-unit redevelopment of an old handkerchief factory; Millhouse Station's 155 high-end apartments; and a 140-unit complex called The Standard, located on Greene Street.
Developers are also committed to building affordable housing, thanks in part to the availability of tax credits and other tax relief. In south Augusta, construction began in April for Orchard Landing, a development of 44 affordable townhomes; the first 12 townhomes should be completed by fall.
In May, developers of the upscale, downtown King Mill apartment complex announced plans to add affordable housing to the site. The new complex, tentatively titled "Kendrick Place," will have 57 units dedicated to lower-income renters, with rents ranging from $500 to $900 a month. In order to receive low-income tax credits, the units must remain designated affordable for 15 years. The developer, Woda Cooper, has said the company will sign the papers necessary to keep the apartments within income limits for 30 years.
---
Excited for the Future
While county leaders might have entered the pandemic wary of what was to come, they've emerged in 2021 encouraged by what they've been able to accomplish.
"From the business community's perspective, we're very positive about where we are as an economy right now," says Parr.
"We've had a lot of companies that are very excited to be potentially bringing back their workforce from working remotely. They're very excited about the fact that vaccinations are providing more opportunity for people to get out more. A lot of our small businesses and restaurants are very excited about things loosening up a little bit and vaccinations continuing to climb," she continues. "They see recovery. They see a horizon that they're very excited about."
"We're very excited," agrees Davis. "The word 'optimism' is a good word, but I think 'excitement' rules the day about what lies ahead for our city and our residents."
---
Local Flavor
Shake it Up
On 8th Street in downtown Augusta, people have been lining up for weeks to get inside. They've camped out in front of the shop, hoping to be one of the first through the doors. They've traveled from all over – Savannah, Charleston and Myrtle Beach.
What are they waiting on? Milkshakes at Shake City (formerly Holy Shakes), to be specific.
The ice cream and milkshake spot has made quite a name for itself since opening in April, thanks to its over-the-top shakes and bowls.
"I would describe it as mind-blowing, just taking the milkshake and the ice cream experience and adding a level of crazy to it," owner Theron Stephens says. "We needed something to give the community that 'wow' experience, a little over the top, not just the traditional style."
Traditional they are not. Stephens' shakes come complete with an ice cream sandwich on top, plus a signature frosty rim around the outside of the cup, decorated with even more toppings.
Shake City is Stephens' fourth business in downtown Augusta, joining sneaker store Shoe Gods, all-day brunch restaurant the Brunch House and vintage clothing store Heavy Weight. He was inspired to open Shake City by his travels to other cities and desire to bring something new to his own city's downtown.
"They've been waiting for something different. I see them travel far and beyond to these outer cities just to experience something that they saw on social media," he says.
Stephens originally planned to open Shake City in 2017, but a series of location hurdles – and then a global pandemic – delayed his plans. Still, he was confident that opening on the tail end of the pandemic wouldn't be an issue for foot traffic. And he was right: In the store's first three weeks, staff made more than 2,500 milkshakes.
"The response has been absolutely amazing," he says. "Augusta does very, very well with supporting local, small businesses. That's something they take pride in, so I'm not surprised."
For Stephens, Shake City is more than a dessert spot: It's a vehicle for his community. He has ambitious expansion plans for the shop, aiming to open six to seven stores in the next two years and establish scholarship opportunities with local schools.
"It's going to be something that [Augustans] can call their own," he says. "We plan on literally using this establishment to grow the city in general, to help other people who want to get into business."