SCAD Salutes — Community Spirit Is Thriving in the Hostess City
The university for creative careers shines a light on Savannahians who persevered during the pandemic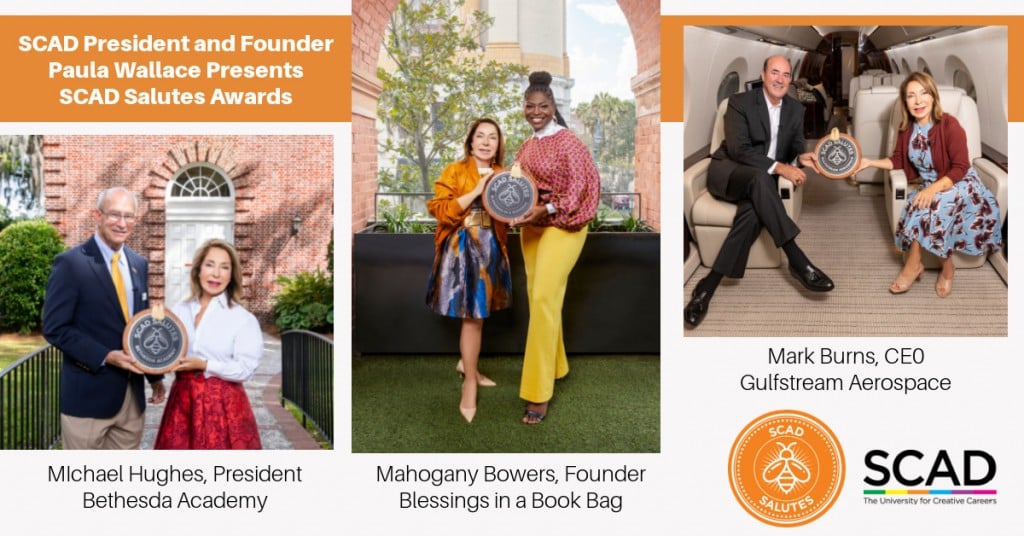 Background & History
Founded in 1978, The Savannah College of Art and Design (SCAD) has spent over four decades preparing talented students to succeed in creative professions such as animation, architecture, graphic design, and film and television. SCAD has shown great success in combining an innovative curriculum with the career-preparation skills which propel graduates to excel in the real world, all across the world.
SCAD enrolls more than 15,000 students from all 50 states and more than 100 countries. Offering more than 100 accredited degree programs, SCAD has helped create a diverse and thriving economy for the state. With 45,000 alumni worldwide — 22% of whom remain in Georgia — SCAD graduates increase the state's earning potential and productivity.
SCAD also has a long legacy of public service and community investment in the university's hometowns of Atlanta and Savannah. So when the impact of the pandemic was sweeping, pushing frontline healthcare workers to their limits, and placing great economic pressure on local businesses, SCAD president and founder Paula Wallace recognized that our need for one another was more palpable, more felt, more important than ever.
SCAD Salutes
From that, the SCAD Salutes Award was conceived. "Savannah's businesses and nonprofits—our neighbors—continue to provide valuable services and nourish us with food, fellowship, and fortitude through this unprecedented period," said Wallace. "SCAD Salutes proudly lauds their perseverance and giving spirit. As we sail toward brighter tomorrows, SCAD celebrates our home city's hearts and hands, those of imaginative makers, determined doers, and generous guides."
The award is presented to organizations that demonstrated virtues long-held in the highest esteem at SCAD: CREATIVITY, KINDNESS, GRIT, and GOODNESS.
SCAD Salutes Savannahians
Here are some of the exemplary individuals whose accomplishments have been recognized by SCAD…
Dr. Paul Bradley, COVID-19 Vaccine Researcher, Savannah Physician: Dr. Bradley's life's work in healthcare and medical research and leadership of COVID-19 trials have positively impacted countless lives.
Bertice Berry, sociologist/author/lecturer/educator: Owner of NDND Designs – through NDND Designs, Berry and her team sent thousands of masks throughout Savannah and the U.S. to health care workers during the COVID-19 pandemic.
Pritpal Singh, General Manager, Perry Lane Hotel: Opened the 167-room Luxury Collection–member property in 2018, in the heart of the Historic District. The hotel has also captured the spirit of Savannah, winning over even the hard-to-impress locals in the process.
Chef Mashama Bailey and John O. Morisano, Owning Partners, The Grey Restaurant: Bonded by a common viewpoint on what makes for delicious food, Morisano and Bailey partnered to build The Grey in Historic Downtown Savannah.
Mark Ekstrom and Katie Bryant, Owners, Auspicious Baking: Since 2017, Auspicious Baking Co. has continued to dish out delicious pastries, breads, and other treats to Savannahians at heart and here at home. Their delectable goods and entrepreneurial prowess have gotten them through the tough times and taken them on a path of great success.
As the nation and the world move forward, beyond the pandemic, SCAD will continue to acknowledge and celebrate those who support and strengthen our communities in times of hardship.
Sisters of the New South restaurant, Kenneth and Vicky Brown, owners
Established in 2009 – Sisters of the New South was founded by Kenneth Brown and Vicky Brown. Vicky Brown has eight Sisters, therefore the name of the restaurant became Sisters of the New South. The celebrated restaurant has welcomed and nourished the community and visitors with cherished recipes made with love.
Check us out on Instagram!

Photography & Videography Courtesy of SCAD