Thomson | McDuffie County: Community of Contrasts
Partnerships, high-tech ag and industry expansions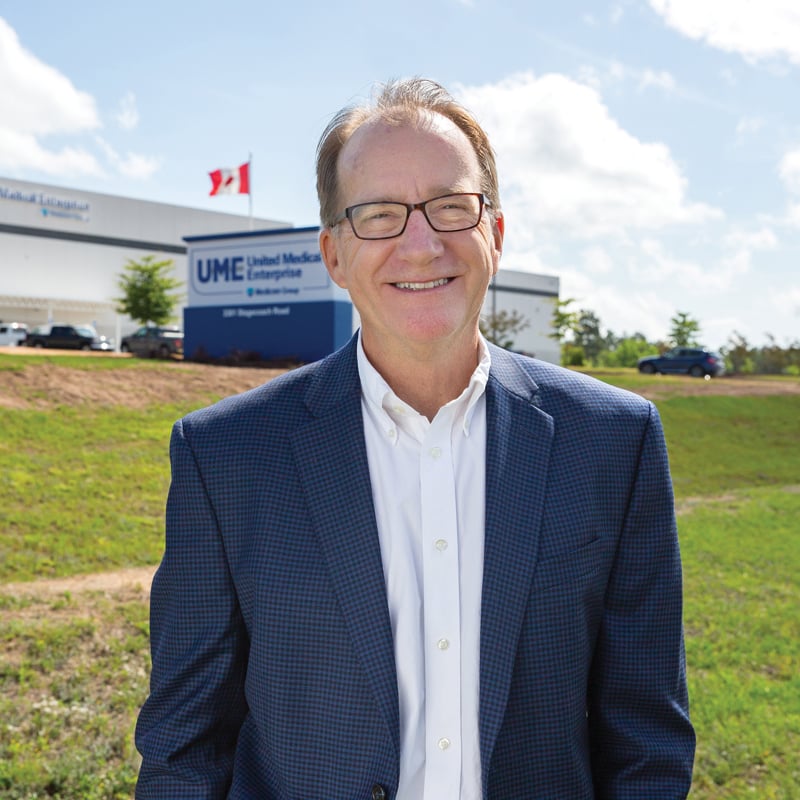 Cows and robots. Agriculture and technology. The rural past and the technologic future.
Contrasts keep coming up in McDuffie County, a farming-heavy community to the west of Augusta/Richmond County. Its roots are decidedly rural, but its residents are looking ahead to high-tech possibilities. Consider, for example, those robots. Five of them now work at Hillcrest Farms, Georgia's first robotic milking dairy.
"After Clemson [University], we were the first robotic milking dairy in the Deep South," says dairy farmer Mark Rodgers as he leads visitors on a tour of the new facility, installed in late 2019. And as he explains the process, cows are literally lining themselves up to step into the apparatus. Rodgers and his brother run the dairy, founded by their grandfather in 1941, and the younger generation in the form of their children has already stepped into their role.
Forget the anthropomorphic robots of science fiction. These milking robots, part of the Swedish-made DeLaval Voluntary Milking System V300, are actually long arms similar to those seen in auto plants. As the cow comes up the ramp and into the milking area, the arm first washes the cow's udder and then, using combinations of military-grade cameras and artificial intelligence, connects with the four teats. Using data from the radio-frequency identification device each cow wears, the machine records how much milk each one gives and from which chamber of the udder. While all this is going on, the cow is busy licking up a special fortified feed that's one reason she went into the stall in the first place. It's an on-demand system and the cow decides when she needs to be milked instead of waiting for regimented shifts, Rodgers says.
"You can't make your money back on the labor savings alone," Rodgers says. (He won't disclose the cost of the machines.) So he expanded the concept a bit and went into agritourism – figuring schools and even the general public would pay to see a robot milk a cow, especially if the cow appears to enjoy the process. He added a special vehicle to drive visitors around and got the whole process in place just in time to be shut down by COVID-19. By this spring, as the farm was named Business of the Year by the Thomson-McDuffie Chamber of Commerce, he was seeing a tentative return of the tour business.
---
Regional Commitment
Dairy farming isn't the only sector in McDuffie County that's getting creative. Another area of innovation is represented by a commitment from the region's various governments and related entities to work together – backed up by a funded and staffed framework. It's well short of full consolidation, but Forward McDuffie has made itself a useful force.
Forward McDuffie is a partnership of the county government and its two municipalities, county seat Thomson and the smaller town of Dearing. Other partners are the Thomson-McDuffie Development Authority, the Thomson-McDuffie Chamber of Commerce and the Thomson-McDuffie Convention and Visitors Bureau (CVB). Don Powers, who heads the development authority, serves as president and CEO of Forward McDuffie.
"On collaboration, to say it's all roses and summer camp, well, it ain't that way," Powers says. "But any rural area ought to be doing what we're trying to do."
One of Forward McDuffie's biggest initiatives involves participating in the University of Georgia (UGA) Archway Partnership. This program places a doctoral graduate student into a community to coordinate projects and help area leaders tap into the expertise of UGA faculty and students. Since 2005, 13 Georgia communities have participated in Archway Partnership projects. Its goals, Powers says, are to improve health and wellness, leadership development, workforce development and communications.
An early project using Archway resources is the drive to bring back Thomson's dormant Downtown Development Authority. But leadership development is another big project, Powers says. "Our leadership is getting older and it's not reflecting the demographic of our community."
The McDuffie County School System also drew on the Archway Partnership in revitalizing the JumpStart apprenticeship program and developing a metals lab, home of a success-from-the-start welding program that graduated its first high school class in 2020. A grant from the state Department of Education and support from the Georgia Power Foundation and Jefferson Energy, plus the county's local tax dollars, helped launch the welding program, says School Superintendent Mychele Rhodes. "Those programs earned us a 2021 Magna Award from the National School Boards Association," she says.
---
Doing More
Broadband access is a work in progress across rural Georgia. McDuffie County voters considered it important enough to pass special-purpose local-option sales tax (SPLOST) funding for the beginnings of a fiber optic network, with a goal toward eventual countywide coverage.
"Major telecoms won't provide service unless they see they'll be profitable within 18 months," says McDuffie County Commission Chair Charles Newton.
The county's plan, he says, is to put in fiber as funding is available – hopefully enough to reach a profitable cluster of customers, like the 25-bed University Hospital McDuffie, in order to help finance the next leg. Once the infrastructure is in place, the county will lease it out to smaller telecoms who are ready and eager to serve rural populations in conjunction with federal programs, he says.
McDuffie expects to grow as a bedroom community, since Fort Gordon became the home last summer of the U.S. Army Cyber Command Headquarters with a major influx of personnel. Longtime Thomson Mayor Kenneth Usry says the area's low costs of living, climate and proximity to the base in neighboring Richmond County are all favorable. "We've got our own challenges, like every community, and one of those is we don't have enough housing," he says, pointing to recent meetings with developers about building new subdivisions.
Most of McDuffie County's businesses survived the pandemic shutdown, says Debbie Jones, executive director of the Thomson-McDuffie Chamber of Commerce. "I think they all pivoted well, as much as they could," she says. Her group tried to help by facilitating restaurant takeout orders on its Facebook page. "That was something we did even if they weren't a member, because we felt an obligation to do it."
The hard lessons of last year altered attitudes within the chamber, Jones says. "It's changed how we do business. This showed us we can do more."
---
Staffing Up
The largest local employer is Shaw Industries Thomson, which employs about 500 people in the production of nylon and polyester yarns for other Shaw carpet mills, predominantly in northwest Georgia's Cartersville and Dalton plants.
"It's a stable workforce in McDuffie. Our turnover is low and attendance is good, very stable," says John Riley, the plant manager. "We're actually going through some hiring now. We've been trying to staff up and overstaff because of anticipated growth."
Other industries include an auto parts distribution center and plastics plants, including several that make injection-molded components for golf carts.
The industrial presence grew in 2020, fueled in part by the pandemic. Medical supply company United Medical Enterprises bought and refitted an existing building in one of McDuffie County's industrial parks, according to Powers. The product? Face masks, a hot item in 2020 and likely to remain so for some time. Powers says the Canadian-based company's move from nearby Augusta represents a $30 million investment with 130 employees.
Powers cites other bright notes for existing industries, including expansion at Two State Construction's Thomson fabrication and roofing plant; steady job growth of about 150 new jobs over the past two or three years at Amcor, which produces industrial packaging and pelletized plastic; and an additional 44 jobs in the works at Thomson Plastics, which has customers in Vietnam and China in addition to its golf-cart manufacturing customers in nearby counties.
Stradling the fence between industry and agriculture are two major wholesale nurseries that sell to the large home improvement stores. This ornamental horticulture agriculture employs about 325 people in McDuffie County.
---
The Blues Are Back
Blind Willie McTell is the most famous native son of Thomson, and the town has remembered him for more than 25 years with a music festival that bears his name. COVID canceled that festival last year, but this year a timely rescheduling from its usual May date to Sept. 25 means the show will go on.
"It was developed as a memorial for Blind Willie McTell," says Elizabeth Vance, executive director and CEO of the Thomson-McDuffie County CVB. That explains the 8-foot-tall (or so) sculptures of guitars scattered around town, each painted by a different community group. They symbolize the 12-string guitar McTell was famous for.
The festival is an outdoor event held in the same hayfield over its 27-year history. Fans bring chairs or blankets to enjoy six or seven acts over the course of a Saturday. A free Friday concert, this year featuring the Randall Bramblett Band, was recently added. The full lineup hasn't been posted yet, but you can track it and order tickets at blindwillie.com.
"The thing about the festival is, nobody but the musicians gets paid. Everything else is volunteer, including the venue," Powers says.
Vance says McDuffie's attractions appeal most to those who love the outdoors. The county has assumed operation of two campgrounds along Clarks Hill Lake and has developed the Little River Water Trail for kayakers.
With beautiful open countryside, those attractions are no surprise, but the quirkiness of some of McDuffie's offerings will catch you off guard, like fox hunting – guys-in-red-jackets-on-horseback fox hunting. The Belle Meade Hunt has run every November for more than 50 years. The hounds chase a dragged scent (no fox is involved unless one is unlucky enough to wander into the action), the formally dressed riders chase the hounds, and the spectators, in the form of a rolling tailgate party in wagons towed by trucks and tractors, chase a good time.
And if that doesn't convince you that this place has a quirky side, stop for lunch in tiny Dearing at the Deep South Cheese and Grill. Here, in a former service station, a transplanted French Canadian serves up house-made cheese curds – so called "squeaky cheese" that really does sort of squeak in your mouth. It's an essential ingredient in each of the menu's seven different forms of poutine, that classic Canadian dish that starts with French fries and gravy and goes from there.
It's just further evidence that McDuffie County is embracing its roots even as it welcomes change.
---
Local Flavor

Farm Stars
It sounds a little like a not-particularly-original TV sitcom from days past – a young couple with no agricultural experience gives up conventional jobs to move to the country and run a farm.
Except this particular story is true – and has some unique twists, starting with the crops. The improbable adventure stars Amy and Patrick Sutter and it's set at White Hills Farm, a 28-acre chunk of McDuffie County where the Sutters grow lavender and herbs.
The crops are at the core of a multifaceted business the couple runs, combining farm tours, culinary mixtures and bath and body products made from their harvest, seasonal workshops, cooking lessons and yoga retreats. The century-old farmhouse is the Sutter home, and a modern barn built to the side serves as classroom, retail store, workshop and meeting space for the patchwork of projects the farm supports.
Another couple started the farm as a labor of love and put it on the market when family responsibilities required them to relocate. In 2017, the Sutters found themselves making the great leap from suburbanites to farmers. Amy gave up her job as an office manager for a family practice medical office in Augusta and Patrick stepped away from his job as a pharmaceutical sales rep.
"It just felt right. We needed a change. We wanted to move out to the country and have something that could support the community," Patrick says.
"I learn something new every day," Amy says. "The previous owners said this is the kind of place that will keep you young and make you old, and they were right."
Her learning curve so far has covered making lavender soap and the other herbal bath and body products she sells, learning how to preserve the harvest via a slow drying method, producing culinary herb mixes, making decorative lavender products, growing and brewing hibiscus tea and dozens of other tasks – all grafted atop running the small business that includes retail and internet sales, teaching classes, offering retreats and serving as a wedding/baby shower venue.
While all that goes on, the couple is also looking to expand the farm's offerings. The multiple varieties of lavender are a feast for bees, so it's only natural that they're putting in hives. The herbs already include rosemary, oregano, marjoram, thyme, dill and basil, along with the hibiscus variety that can be made into tea (not all varieties are drinkable). A you-pick-it blueberry patch is also under consideration.
The farm is open to the public on Fridays and by appointment but double-check the website whitehillsfarm.us or its Facebook page before setting out.