Relay Race for Justice
The Partnership for Southern Equity carries the baton for racial equity and shared prosperity for all.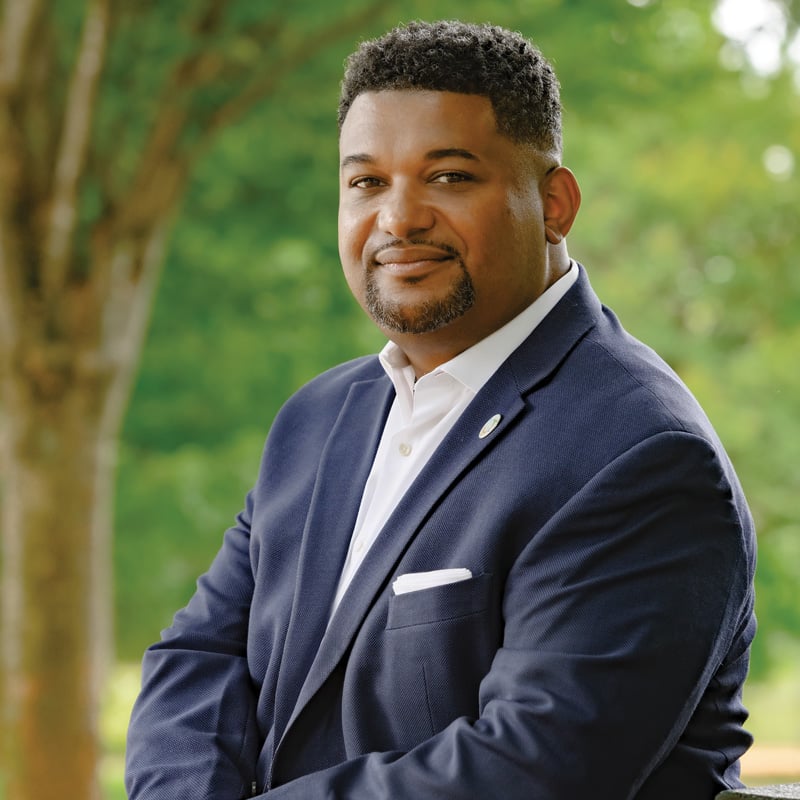 Nathaniel Smith never planned for the Partnership for Southern Equity (PSE) to become an organization, much less one funded by some of the big-name entities in philanthropy (like the Kresge and MacArthur foundations). But after working at the Atlanta Neighborhood Development Partnership and at Emory University in the Center for Community Partnerships, he found himself taking the first steps on a drive back to Atlanta from New Orleans after attending a national equity summit in 2008.
During the trip, Smith and a friend talked about what it would take for Atlanta, home of the Civil Rights Movement, to become a "beacon of light for social justice." Smith was inspired to start Equity Atlanta, what he described as a "loose network of leaders who got together and talked about equity," and to host the Southern Sustainability Summit on the intersections of environment, economy and equity – areas that have long plagued the city and the region. Soon Smith saw an opportunity in a challenge: In conversations around Transportation Special Purpose Local Option Sales Taxes (TSPLOSTs), no one was talking about transportation equity.
"It was primarily driven through a corporate lens," he recalls. "The people who could have benefited from the TSPLOST and would actually be paying the tax were not necessarily involved in the deliberations the way they should be."
In 2010, Equity Atlanta became the Partnership for Southern Equity (PSE) to better reflect its focus and mission: to advance policies and institutional actions that promote racial equity and shared prosperity for everyone when it comes to the growth of metropolitan Atlanta and the South.
That year and the following one were game-changing for both PSE and for Smith. The organization launched its Just Transportation Circle – the first of what would come to be a defining structure for PSE – to encourage public support of a referendum to expand Atlanta's metropolitan transit system (MARTA), and it collaborated with the Atlanta Regional Commission to create a way to map equity gaps across the region.
For Smith, the transition from Equity Atlanta to "a real organization" meant answering "the most pressing question" – not what are you willing to give for change, but what are you willing to give up? "I was willing to give up a comfortable job to begin the process of serving the community in this way," he says, "and even more so playing a role in lifting up the equity agenda."
What followed was deep engagement in transportation issues, including the transit referendum, as well as development, with PSE involved in the creation of an equitable development plan for the Atlanta BeltLine. (Smith later resigned from the BeltLine's board, along with BeltLine visionary Ryan Gravel, both saying there had not been enough progress on affordable housing.)
Chris Burke, executive director of community relations at Georgia Tech and chair of PSE's board, was a volunteer back then and remembers leading discussions about bringing MARTA to Clayton County. "You would have public meetings where you fed people and you'd have Nate or one of the experts talk about what the issue is. And then you would lead these breakout sessions with conveners at tables to meet with the public and get their ideas about how to improve transportation," he says.
From that first transportation circle, PSE has grown to encompass four main areas: energy, opportunity, growth and health. And those meetings have been refined into a process – a unique one, says Burke – that puts inclusion at its center.
"This isn't just, 'Hey, we're going to provide you with information and tell you what you need to do to make this decision," Burke says. "Instead, we're going to work with you – the community – for you to tell us what you think would help your current quality of life and then we're going to go back and find experts to do the research and get the data. And then we'll come back to you and equip you with that information to create … a movement to push for that change. It's not PSE in front, speaking on your behalf."
Burke describes it as kind of a reverse model, starting with the community rather than the experts. That sort of approach is often overlooked, Burke says, but he believes it has the best chance to achieve actual change. "People who are the most challenged also have the best solutions for those challenges," he says. "They just don't have the same access to push for the change." And, he says, philanthropic funders appreciate that kind of ground-level information because it helps them maximize their dollars.
For Smith, what makes PSE different is that it goes beyond advocating for policy change. "It's not just about transforming policy," he says. "It's also about transforming people and creating places for them to learn, reflect and understand their role in creating what Dr. King called the beloved community."
Smith notes the importance of distinguishing between equity and equality, saying the main difference is history. Past injustices still have large effects today on communities of color, and if people aren't all starting from the same place then "equality" won't address any gaps. "It's one thing to give two people a gallon of water to drink," says Smith. "But even if both of them had something to drink yesterday, the person who has not had a drink of water for two or three days [before that] would need more than a gallon."
And while the formal definition of equity may be fair inclusion, Smith's personal definition is even higher: Equity, he says, is "love in action."
---
Areas of Focus
Within its four areas of focus – energy, economic opportunity, development and health – PSE has equity circles where as many as 50 different organizations around the state help to advance its work. The Just Energy area, for example, concentrates on climate justice and energy equality. Noting that Atlanta has one of the highest energy burdens in the nation for poor people, Smith says discussions need to go beyond traditional conversations on lowering carbon emissions and being sustainable. "Can we truly be sustainable if we're not just?" he asks.
The Just Energy Academy trains leaders around the region, with an emphasis on leaders of color, in a seven-month program on how to get engaged in these issues. The organization also has people working in Atlanta, Fort Valley and Savannah to help build community-led coalitions around energy equity. In 2017 and again in 2020, the MacArthur Foundation awarded PSE a $1 million grant to support its statewide and regional work to build up community-based organizations advocating for climate solutions and to empower communities of color most affected by climate change. As the foundation notes, "too often, low-income communities of color are ill-equipped for and underrepresented in these discussions, despite bearing an inequitable proportion of negative impacts due to energy policies and climate change."
Recent data from the Federal Reserve showed startling gaps in wealth between Black and white families, with the median net worth of Black households less than 15% of that of white families in 2019. PSE's Just Opportunity Circle focuses on increasing equity in the distribution of income, wealth building, employment and entrepreneurship. Smith describes it as "working with your partners to see how we can begin the process of realizing an economy that works for everyone – to elevate the belief that equity, racial equity specifically, is good for businesses." To that end, Just Opportunity brings together regional economic development leaders from the private, nonprofit and government sectors. An inaugural Just Opportunity summit in 2019 gathered leaders and residents from Georgia, North Carolina, Alabama and Tennessee to talk about ways to increase access to economic opportunities for Black and brown communities.
Another initiative under the Just Opportunity umbrella is Just Capital, where PSE and the Rockefeller Foundation, along with technical advisors, are working to support small Black-owned businesses and microbusinesses. An additional effort that falls under Just Opportunity is the Georgia Alliance for Boys and Men of Color, which involves working with organizations to position men and boys of color to participate fully in the economy.
Just Growth harkens back to PSE's beginnings, concentrating on development including housing, greenspace, water and transportation. While all of PSE's work addresses social justice, this area in particular examines the many ways that economic, political and social discrimination combined to create barriers to equity that continue to manifest today. Smith admits to having a particular fondness for this area, saying that "it really lifts up the reality that in many ways, structural racism is embedded in our land-use decision-making," from expressways splitting Black communities in half to redlining – refusing to provide home loans or insurance – in certain neighborhoods. Among PSE's efforts are working with the city of Atlanta to develop a water equity strategy and advance the first public green infrastructure bond in the country, an environmental impact bond issued in 2019 to help fund projects by the city's Department of Watershed Management. Other efforts in PSE's Just Growth portfolio include training community members about the history of race in transportation through the Transportation Academy and hosting a summer camp for young people to learn about land use and what they can do to make it equitable.
The fourth area, Just Health, became even more critical in 2020 as the COVID pandemic made clear the deep health inequities in the U.S. and especially in Georgia. Communities of color had higher rates of infection and death from COVID. PSE commissioned a report on the effects of COVID-19 on the Black community and also raised more than $400,000 for a COVID-19 rapid relief fund to support frontline organizations working to provide everything from food assistance to mental health services to PPE. Another effort involved publishing a health equity implementation toolkit that communities can use.
PSE recently received a sizable grant from the Kresge Foundation as part of the funder's Climate Change, Health and Equity program, a national initiative focused on the relationship between climate and health.
The organization also launched several new efforts this year, including Yes! for Equity, which is aimed at engaging young people and adult allies around advancing racial equity – "training adults how to move out of the way so young people can lead, but also educating young people how to engage around these issues of racial inequity and not assume that it's just about sending a tweet … but there's a process around making change happen," says Smith. It's another step toward furthering social justice protests into ongoing action to ensure changes in policies.
Those changes aren't just in the political realm, as corporations are beginning to take steps toward diversity, equity and inclusion. The Just Business roundtable, launched in May, brought businesses together to promote what PSE calls a corporate racial equity agenda for Metro Atlanta – for "businesses who want to move beyond corporate social responsibility," Smith says.
And PSE is active along Georgia's coast, too, working with Savannah's REAL Taskforce (Racial Equity and Leadership) to identify, prioritize and address racial disparities.
Burke thinks PSE is uniquely positioned to engage the corporate community in addressing inequity. "The overall goal is that everybody reaches their potential [because] society functions at its optimum when everybody can participate," he says, adding that businesses and the private sector can address challenges that government and philanthropy aren't always equipped to fix. "If you raise up the ability for people to earn a living wage, the whole state wins or the whole region wins."
Smith may not have had a plan for PSE when it started, but he does now. For him, it comes back to love, empathy and action. "You have to have empathy for what is happening in the community," he says. "From my perspective, empathy acts as the bridge … without empathy, love cannot translate itself into action."
He sees an even bigger challenge facing Atlanta and the state, what he calls the courage gap. "You've got to have the courage to care," he says. "When you have the courage to care, you're not necessarily concerned about what happens, you just want to do the right thing."
As PSE moves forward, Smith is quick to credit both the civic and community leaders who came before and the current staff who makes it happen. "Without the support of the community and the legacy left by some of our great leaders, PSE would not be where it is today," he says. "We're just holding the baton at this moment. I really consider that the work we're doing is part of a broader marathon relay race for justice."