Moultrie | Colquitt County: Celebrating Continued Growth
Education, medicine and food production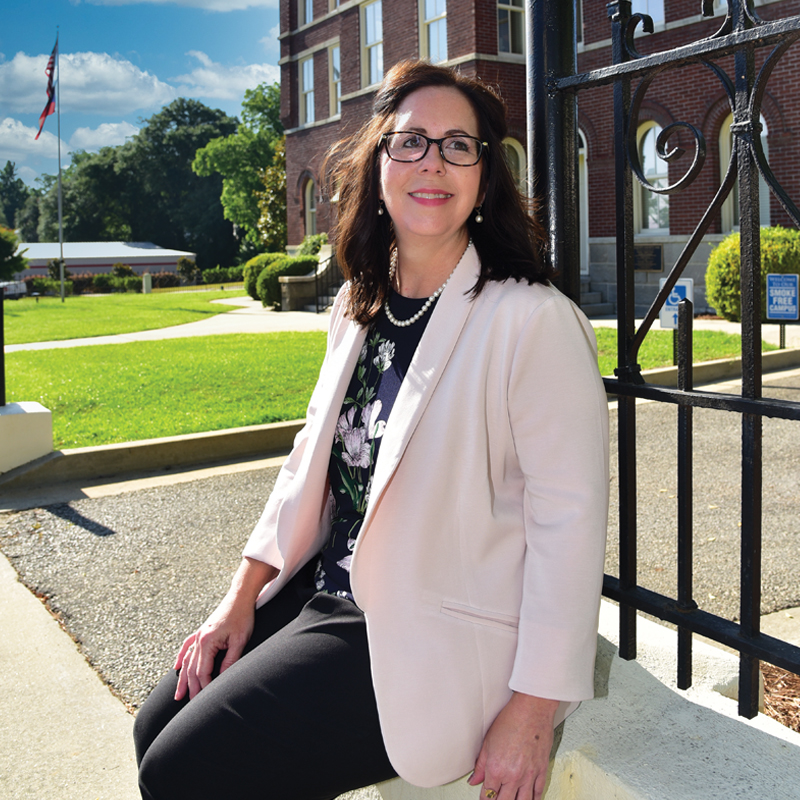 As in most communities, the slower months of 2020 gave Colquitt County leaders the opportunity to reflect on where they've been and strategize about where they want to go. Continued growth, even in these challenging times, is encouraging in the county. As leaders look ahead, they are positioning younger residents to take advantage of available employment opportunities and to serve as the next generation of community leadership. It's an important area of collaboration between the development authority, the chamber of commerce, county and city government and the schools. And it's paying off.
"As a rural community, they talk about brain drain – they get out of high school, go off to college, get a career, have a family, and a lot of times they never come back," says Tommie Beth Willis, president of the Moultrie-Colquitt Chamber of Commerce. But she's seeing a wave of new entrepreneurs, doctors, lawyers, dentists, insurance agents, retailers and financial planners who have returned to their hometown.
---
Help Wanted
Like much of the country, Colquitt County businesses currently have more job openings than they have applicants. The Moultrie-Colquitt County Development Authority is working to connect high school students with available jobs at local industries. The authority launched Project Purpose in April with a goal of integrating about 300 high school students into the workforce, says Barbara Grogan, development authority president. The program includes assisting students with mock applications and interviews as well as face-to-face conversations with representatives of more than 30 area industries at a job fair this spring.
"It gives them entryway into the field to see if that's even where they want to go," says Grogan. The experience may also lead students to enroll in technical college for additional training in a particular field, she says.
With a presence in 11 counties, Southern Regional Technical College is also focused on the state's workforce pipeline by offering programs of study around areas of high demand. To that end, the school is adding an associate of science in civil engineering technology by Jan. 1, 2022.
"They're in high demand statewide," says President Jim Glass of trained civil engineers. "We work with our [Department of Transportation] partners, and we know it's a need all over the state."
The college hired former state Rep. Amy Carter in January. She travels the region to talk with business and industry leaders to ensure Southern Regional is meeting their needs.
"We cover such a large area and have so many businesses in our 11 counties. When they have a need, we want to fill that need for them," says Glass. "But first, they have to know what we do, and Amy and the entire economic development department have done a great job telling our story."
Many of the workforce needs are from the long-established food processing industry including meat processing and packaging company National Beef, which this year celebrates 20 years in the county. The company continues to grow its business, recently adding a new line, says Willis.
To further promote growth in food processing, the development authority is researching the creation of a food processing facility for chopping, canning and flash freezing that can handle the volume of produce farmers grow in Southwest Georgia and the Southeastern region, says Grogan. The authority enlisted the expertise of the U.S. Economic Development Administration for the exploratory process and will apply for funding when it's appropriate, she says. Having such a facility would create stability and add strength to producers by giving the growers a venue to sell their produce.
"The growers need outlets to move their products. This helps bring stability to growers as markets fluctuate," says Grogan. The new facility would also create new jobs, she adds.
These days education and business growth are increasingly dependent on broadband access. Late last year, Colquitt County became one of the first communities in the state to earn Broadband Ready certification from the Georgia Department of Community Affairs (DCA), with the goal of incentivizing internet service providers and increasing high-speed connectivity. Certification steps included adopting a streamlined plan for deploying broadband services and a broadband model ordinance.
"It's hard to incentivize telecom folks to invest in a broadband infrastructure in rural areas because the density just isn't there," says County Administrator Chas Cannon.
Currently, less than half of the county's residents have broadband internet access, he says, which created an even higher level of disconnect during the pandemic in terms of both education and telemedicine.
"We want to work with the telecoms, make it easy for them to invest here, to put in their infrastructure, and allow us to compete with people in a different geographical area. It's a topic nationwide, and I think Georgia is doing a pretty good job of addressing it," he says.
---
Games We Play
"We're excited about our sports tourism," says Greg Icard, executive director at the Moultrie-Colquitt County Parks and Recreation Authority, noting a recent study shows its baseball and softball tournaments and dive and swim meets have an economic impact on the community of $7.8 million each year.
The parks and rec department took advantage of the pandemic shutdown to complete about $3.8 million in improvements and additions at Memorial Park's new Southwest Aquatics Facility. A new splash pad and state-of-the-art pool that includes stainless steel gutters to help reduce turbulence in the water and allow for faster swim times are two of the major improvements, says Icard.
"The goal is to have competition pools that allow swimmers to get better times," Icard he says. "And our pool was designed to be a fast pool."
In addition, the dive well at Moss Farms Diving, a nationally known Olympic training facility for divers, was renovated.
Moultrie regularly brings in divers, parents and coaches from across the country. "Upgrading the facility puts us in the position to host major dive invitationals," says Icard.
Mayor William "Bill" McIntosh echoes Icard's excitement around sports in the region. "We're proud of the many young folks that have gone on to scholarships and careers based upon their diving. It's just been a real boon and an anomaly that a small town like ours is able to offer for our young people," he says.
---
Meeting Medical Needs
Colquitt Regional Medical Center continues to grow, having recently expanded the Edwards Cancer Center with the addition of a radiation oncology unit to provide the full spectrum of cancer care.
"People can receive treatments here rather than traveling for chemo and radiation," says President and CEO Jim Matney, adding that they see about 400 oncology patients a year. "You hate for people to have to use it but also don't want them to have to travel when they're sick. We continue to push the envelope and make sure that not only the local citizens have great healthcare, but we know there are smaller rural communities around here that utilize our services."
The hospital also provides transportation for patients to get the treatments they need, picking them up from their homes and taking them back so as not to disrupt the day-to-day schedule of the entire family.
Colquitt Regional didn't allow the pandemic to keep it from focusing on business as usual. The hospital was one of just six organizations across a variety of industries nationwide to receive the 2020 Commitment Award from the Tennessee Center for Performance Excellence, which recognizes organizations that demonstrate serious commitment and implementation of performance improvement principles.
In addition, the health system received Pathway designation from the American Nurses Credentialing Center in August 2020. Pathway recognizes healthcare and long-term care organizations for positive practice environments where nurses excel. Matney says the recognition underlines the hospital's high regard for its nurses and the roles they play in quality patient care.
"Rather than having a doctor tell a nurse what to do all the time, it provides a participatory process in the care of the patient to where the nurses' voices are heard," says Matney. The hospital's processes also provide for shared decision-making, leadership, quality, safety, culture of well-being and professional development for all nurses.
Colquitt Regional recently graduated its third class of residents. To date, 66% have remained in Southwest Georgia to practice following graduation, says Matney. The hospital will soon offer a psychiatry residency program with a geriatric focus, adding a 10-bed psych unit at the hospital.
The hospital isn't the only institution feeding the regional healthcare pipeline. This fall, PCOM South Georgia will welcome its third class of doctor of osteopathic medicine students, says Dana Brooks, assistant director of admissions. In addition, the inaugural class will begin their rotations – working in hospitals, clinics and other medical settings to gain hands-on experience – in late 2021 and early 2022 across Georgia and North Florida.
"Our focus is rural medicine, so most of our clinical sites are in the rural hospitals in Southwest Georgia," says Brooks. "A lot of the students are staying local to do their rotations and we hope that will inspire them to stay here. Also, studies have shown that a lot of times they get residencies where they did rotations and usually that's where they stay to practice. We're hoping that holds true for us in Southwest Georgia."
PCOM South Georgia also added a master's program in biomedical sciences, emphasizing human medicine and clinical applications.
---
Young Professionals
The Moultrie-Colquitt County Chamber of Commerce has a group for young professionals to not only encourage the next generation of leaders to get involved, but to also connect them with one another. Many are natives who returned to the Moultrie area after college to work and raise families where they grew up.
"These are really going to be the people who are the future chair of the board at the chamber or
the United Way or Kiwanis," says Willis. "They're coming back and getting engaged. We're excited because a lot of times you don't see that in a rural community. … They're the next future leaders of Colquitt County, and you always want to be working on leadership and development.
"We're thankful because I'm going to want to retire one day, and we need the next chamber president. I think they bring a good voice to the table, from them having grown up here, but they also bring back such great new ideas from being off at college and living and networking in other areas. … They're a key driving force for taking this community to the next level for the next generation."
---
Local Flavor

Researching Roots
In 1988, Colquitt County resident Ellen Payne Odom left her $1 million estate to fund the creation of a genealogy library in Moultrie. Two years later, the physical building was completed as an extension of the public library, and the rest is traceable history.
Melody Jenkins, who worked 37 years for the Ellen Payne Odom Genealogy Library and recently returned to serve as interim director, has witnessed its evolution and says what sets it apart from other genealogy libraries in the state is its Scottish collection encompassing the family histories of some 140 clans.
"A lot of Scottish-American families and organizations have their family group sheets here," she says, referencing a chart that lists multiple generations of family names. "For example, if your last name is McDonald or Donald, there is a treasure trove of info here. Anyone who has family born in the South is going to have some Scottish ancestry. There's a lot of Scottish blood in the South," says Jenkins, adding that the Scots settled here because the landscape was similar to Scotland.
The library employs one full-time genealogist, Irene Godwin, who has worked in that position for 31 years, along with one part-time employee. But it can help anyone – of Scottish ancestry or not – get started on tracing their family's genealogy.
"We can give them an idea of where to start and show them places to look before they even start looking in books," Jenkins says, referencing the library's vast collection. She suggests starting by writing down everything known about a family, including names of grandparents, aunts and uncles, and using that info to create a family group sheet.
"Start with what you know and then when you start your research, you might find aunts and uncles you didn't know you had," says Jenkins, who has traced her own family back as far as the 14th century.
One of the biggest resources is free access to the popular website ancestry.com and its huge online database of family information, including dates of births, deaths and baptisms as well as documented military service and census information for the U.S. and abroad.
"All the public libraries in the state of Georgia get it free. That's a huge plus. You can go in and start typing a family name and it will just start finding people," says Jenkins. "Of course, if your name is John Smith, you're going to have a lot of those come up. But if your name is Samuel Picklesimer, there aren't going to be many of those around."
The Ellen Payne Odom Genealogy Library is open to anyone who wants to dive into family history.