From the Publisher: Children in Need
The pandemic has created new challenges for child protective services and aggravated old ones.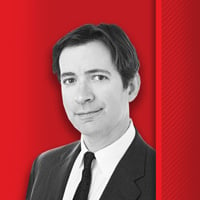 I've seen a lot of headlines about the spike in pets finding forever homes during the pandemic. Unfortunately the same can't be said about children and youth. The pandemic has created additional challenges for already-overburdened child protective services and aggravated old ones. This has led to delays in foster placements and adoptions, and forced older youth to fend for themselves in a time of public health and economic upheaval.
This is a social issue with broad ramifications for future Georgia generations. The state's child protective services community has been in crisis mode for years leading up to 2020 with poverty, opioid abuse and limited access to healthcare driving a demand that far outstrips supply.
Prior to the pandemic, approximately 40,000 students in Georgia experienced homelessness during the course of a year, according to the U.S. Interagency Council on Homelessness. Typically around 14,000 children were placed into foster care annually. During COVID, many more kids entered the foster system and homes for them were harder to find because families were reluctant to take them in for fear of spreading the disease.
In Chicago, for instance, there has been a 33% increase in the number of children in foster care since the beginning of COVID. In Texas, children in foster care have reportedly contracted COVID-19 at nearly double the rate of the general population. Many children have been forced to remain in unsafe situations (abuse, hunger) simply in order to stay alive.
Even without a pandemic, foster care is no picnic. Families have to go through a rigorous application and training process before children are placed. And that's the easy part – these are children and teens who have endured traumatic experiences, which often translate into behavior issues well beyond what the typical parent is prepared for.
Those called to foster won't hesitate to say the experience is worth it, and often continue to do so multiple times after children they've fostered are reunited with their biological families. Still, it is a complicated process to rehabilitate the children as well as the families that had to give them up. In inner city and rural communities that have experienced generational poverty, it is even more difficult.
While I am not a foster parent, I have a family connection to WellRoot Family Services, a Tucker-based organization that is celebrating its 150th year of helping Georgia children as part of the United Methodist North Georgia Conference. WellRoot is one of several faith-based organizations that help the Georgia Department of Family and Children's Services (DFCS) address social issues, providing temporary housing for homeless teens, children and families as well as adoption, fostering and other services.
Wellroot recently raised $47,000 to help augment budget needs, and similar services such as Faithbridge Foster Care have reported a post-COVID surge of parent interest in adoption that could help position Georgia to respond to this issue. Most significantly, Gov. Brian Kemp signed into law a whopping six bills this year that are designed to promote foster care and adoption.
The bills' provisions reduce bureaucratic red tape, provide measures to increase children's safety and make it more affordable for families to foster and adopt. Tax credits for families that adopt a child from foster care will increase from the previous $2,000 to $6,000 per year for five years.
These changes are in sync with the national trend away from campus housing, enabling children and teens to remain closer to their original neighborhoods and families, and increasing chances for reunification. Another national effort is aimed at making it easier for extended-family members to care for children. Since 2019, the federal Family First Prevention Services Act has enabled children to be placed with a relative rather than entering the foster care system.
There remain some issues with Georgia's child custody system, which is strained to the point where children sometimes have to sleep on the floor of some county DFCS offices while awaiting placement in foster care. The COVID-19 budget impact led to the closing of 53 DFCS offices around the state in 2020. Furthermore, the conditions that forced children to leave their families in the first place often remain unaddressed.
However, it is most gratifying to see changes signed into law in advance of an onslaught of social service needs I anticipate in the coming months and years, and I encourage Georgia's leaders to engage on these issues and build on the momentum in this difficult time.