2021 TravelBlazers
Collaborations create new tourism opportunities.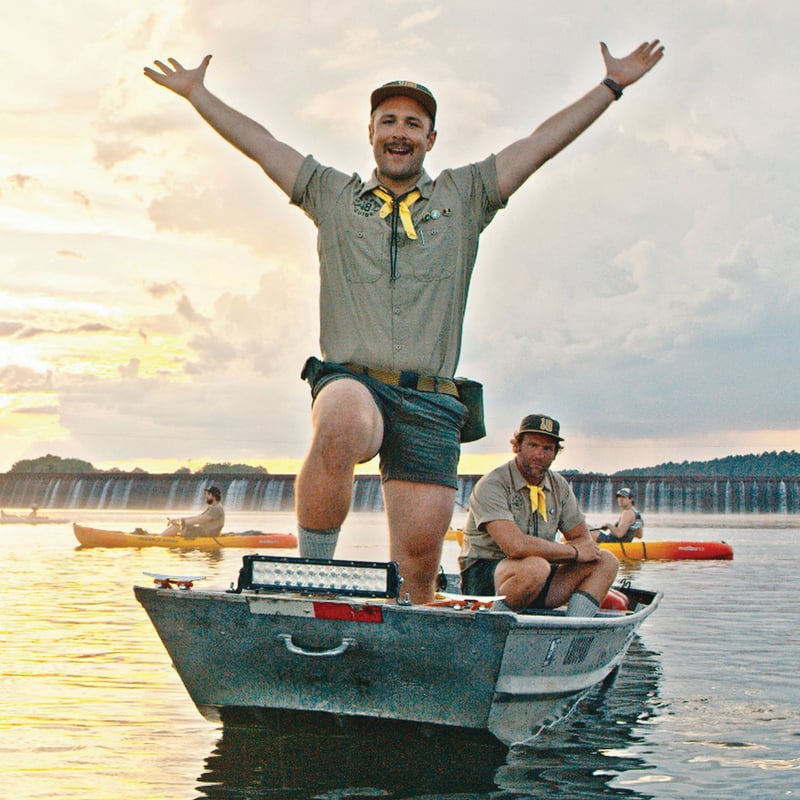 Georgia is home to a seemingly endless list of top tourism attractions, from well-known destinations like the Georgia Aquarium and College Football Hall of Fame in Atlanta to Savannah's River Street, the Okefenokee Swamp in South Georgia and Anna Ruby Falls in the north.
But these represent just the tip of the iceberg in Peach State tourism, with hundreds of places to visit. Innovation happens when these destinations team up with each other to form something bigger and reach more visitors than would otherwise be possible.
This year, Georgia Trend and the Georgia Association of Convention and Visitors Bureaus (CVBs) are recognizing five innovative partnerships as 2021 TravelBlazers. The projects represent different regions, with one encompassing partnerships that run clear across the state.
"The cool part about each of the five winners is that there were multiple winners within each of those projects," says Jay Markwalter, executive director of the Georgia Association of CVBs. "One of the winners has 10 different communities that are a part of it."
Markwalter adds that he felt it was especially important to highlight collaboration, which sometimes can be overlooked when it comes to public recognition. This year's TravelBlazers were recognized because of the work of multiple team members creating unique destination experiences.
---
Paddle Partners
Serene18 Paddle Trail
Columbia County
Like just about every outdoor activity, paddling soared in popularity during 2020, which sent a whole lot of folks to the Augusta area to check out its serene water trails.
The Columbia County CVB decided well ahead of 2020 to package the area's various paddle opportunities together. This includes Clarks Hill Lake, the Savannah River and the Augusta Canal, all located within a few miles of one another. Branded the Serene18 Paddle Trail, it's named for the 18 square miles of water in Columbia County.
"Waterways have become extremely popular," says Shelly Blackburn, executive director of the Columbia County CVB. "You cannot go anywhere in this town without seeing a paddleboard, a kayak or a canoe on the back of every other car. But the different offerings had not yet been packaged together. With the sport becoming more popular, we thought, 'why not?'"
The effort brought together four paddle partners: Outdoor Augusta, Savannah Rapids Kayak Rental, Cole Watkins Tours and Keg Creek Watersports to package four of the most popular routes into Serene18.
The plan was to launch in February 2020, which was ultimately delayed to June.
"People had been indoors for so long and were wanting to get out and try new things," says Blackburn. "Many were willing to hop in the car and drive for a couple of hours, not staying overnight but getting out of town for a little bit. We had tremendous exposure and participation right out of the gate."
Anyone who completes all four trails is welcome to get a Serene18 T-shirt. More than 200 have been distributed in the past year. And more than 3,000 "paddle passports" have been mailed out with a map of each location and other information. Last but not least, a fun video viewable at serene18.com helped draw attention.
"Our local paddle partners who we brought together saw tremendous growth in business," says Blackburn. "Some doubled or tripled in sales. COVID played a role in that, but Serene18 also did."
---
Plan a Brewcation
Topside Tap Trail
North Fulton County
The North Fulton cities of Roswell, Alpharetta and Sandy Springs have a lot to offer in many areas, including the ever-popular world of craft brewing. They are home to no less than seven breweries, forming the Topside Tap Trail.
The result of a partnership between Visit Roswell, Awesome Alpharetta and Visit Sandy Springs, Topside Tap Trail is a beer lover's dream located along the Georgia 400 corridor. It in- cludes five taprooms and three full-service restaurants with handcrafted beers.
Roswell boasts Gate City Brewing, Variant Brewing and From the Earth Brewing. Alpharetta features two Jekyll Brewing locations along with Currahee Brewing, while Sandy Springs is home to Porter Pizza & Brewery and Pontoon Brewing.
"We realized we had this thriving craft beer industry in the North Fulton area, and we decided to put together seven of the best breweries and brewpubs," says Jennifer Cruce, executive director of Visit Sandy Springs. "Our criteria was that they brewed their own beers, and we spent more than a year putting everything together."
Cruce was joined in the effort by Andy Williams with Visit Roswell and Janet Rodgers with Awesome Alpharetta. They created topsidetaptrail.com, a brochure and videos of all seven breweries, then did a soft launch last spring. As COVID-related restrictions are lifted, they hope to more fully promote the trail, maybe even with a bus tour.
"We are the destination marketing organizations for our cities," says Cruce. "As such, our responsibility is to encourage overnight stays. We do know that 'beercations' are growing in popularity. A recent study found that seven in 10 Americans have traveled to a destination to sample the alcohol there."
Cruce added that she's thrilled to be recognized as a TravelBlazer, not only for promoting the great assets in her city but for working together with Roswell and Alpharetta to develop a larger trail that people can enjoy.
The Topside Tap Trail is a boost to the breweries as well. Just ask Michael Lundmark, who owns Jekyll Brewing in Alpharetta.
"We consider our business to be a true leader in the community," he says. "The trail has been great for us because we get to expand beyond our community of Alpharetta and get to include Roswell and Sandy Springs too."
He's excited to partner with the other breweries too, a concept he calls "co-opertition."
"All small craft breweries are working to gain market share against 100-year-old brewing establishments made of just a handful of companies," says Ludmark. "Independent craft brewers know that joining together serves everybody and that rising tides raise all ships."
---
The Ford Connection
Henry Ford Bakery Restoration
Richmond Hill Visitors Center
Savannah's history, dating back to the days of James Oglethorpe and John Wesley, is well known. But just 20 miles south in Richmond Hill, another famous pioneer made his mark on Georgia. Henry Ford bought 85,000 acres around the area in the 1930s, where he built Richmond Hill Plantation as his Southern home. He began agricultural pursuits, creating a kind of company town and helping promote education and eradicate disease in the community.
In 1939, Ford built a small bakery that provided goods for his employees. That building fell into disrepair over the decades but was recently restored as a tourist destination and as the home of the Richmond Hill visitors' bureau.
"It's a hidden story that we're trying to get the word out about," says Christy Sherman, executive director of the Richmond Hill CVB. "We use Henry Ford's story to sell tourism here. I always had in my mind that it'd be great for us to be in a historic building. You get a feel for the town, the history, the space. We wanted to do that by moving into a historic building."
The building has been fully restored to its former glory, featuring wooden walls and original quarry tile floors that had been covered during previous renovations. An original mixer and work table are on display as well.
The project was recognized with an excellence in rehabilitation award from the Georgia Trust for Historic Preservation in 2019 and has now received the TravelBlazer designation as well. Part of the space is used by Arts on the Coast as a gallery and for special events. There's also a partnership with Georgia Fruitcake Co. in Claxton, whose owner is the grandson of Henry Ford's baker. Several local companies donated a roof, landscaping and lumber to the initiative as well, with the goal of making the building look as it did in 1941.
The building is located on the main drag through town, appropriately named Ford Avenue. Sherman says many visitors are completely unaware of the connection, asking if it's really that Henry Ford she's talking about. The industrialist spent winters in Richmond Hill and tried to grow rubber plants there.
"The bakery was thought of as this little old rundown building, but we saw it as an important piece of the Ford story," says Sherman.
She says the TravelBlazers recognition helps validate the mission behind the bakery restoration. "We're really proud of it, and this gives us the inspiration to keep going," she says.
---
The War at Home
Georgia World War II Heritage Trail
Even though no World War II battles were fought in or near Georgia, the all-consuming war effort affected just about everyone within its borders, leaving a trail of history that spans the entire state.
That history is now tied together through the Georgia World War II Heritage Trail, encompassing 10 sites from the coast to the border with Alabama to the Appalachian Mountains.
"People thought the World War II Heritage Trail was a great idea right from the beginning," says Sherri Jones, executive director of the Coastal Georgia Historical Society and chair of the Heritage Trail. "That helped with building momentum. It took a couple of years to put it together, but the payoff was great."
Jones got involved after the WWII Home Front Museum opened on St. Simons Island in late 2018. She knew that World War II buffs would visit, and wanted a way to help them find other sites in the state, plus help people visiting the other sites find hers. Two years later, that vision became a reality.
The trail's website, georgiawwiitrail.org, includes suggested routes for visiting the various sites, all of which document the more than 300,000 Georgians who served in the war and thousands of civilians in the state who supported the war effort.
"The state of Georgia played a big role in World War II," says Jones. "It's been really exciting to learn how involved Georgia was and what a difference we made. The tour gives you the full story, not just pieces of it. It's really something for all Georgians to be proud of."
Jones worked with leaders at all of the trail's sites, including Darlene McLendon, president and CEO of the Museum of Aviation in Warner Robins. The museum is comprised of four buildings, with World War II represented in three of the four, including exhibits honoring the Tuskegee Airmen and an entire hangar dedicated solely to the war effort.
She says the trail and being recognized as a TravelBlazer is a major boost to all 10 stops.
"It helps each member get our story out to a larger platform," McLendon says. "All of the members want visitors and students and for people to come and see what we have. To have a larger voice is a great benefit for us."
---
Swamp Stops
Okefenokee Swamp Exhibit
Port Wentworth Visitors Center
The Okefenokee Swamp is one of Georgia's greatest treasures. Spanning 438,000 acres, it's considered one of the seven natural wonders of the state and is the largest blackwater swamp in North America.
But getting people to hop off I-95 and visit can be challenging. To help bring more folks to
the swamp, the Waycross CVB launched an exhibit at Savannah's Port Wentworth Visitor Information Center.
"A lot of northern traffic coming south stops there, so this encourages them to stop and visit the swamp during their trip," says Patrick Simmons, executive director of the Waycross CVB. "Several partners were involved here locally, they all got together to assist the CVB with financing, including the community in Clinch County, the city of Waycross, Okefenokee Adventures and the National Wildlife Refuge. There were a lot of key players in making it happen."
The exhibit is "almost like a mini-museum," Simmons says. It represents the Okefenokee well, with a full alligator displayed in an authentic swampy setting.
The idea, of course, is to entice visitors to hit the actual swamp so they can learn more. Waycross leaders are hoping for a bump in tourism once people begin traveling more, and have also purchased billboards along I-95 advertising the swamp to draw people in.
"It was great to be recognized," says Simmons. "I immediately shared that with our board of directors and let them know we were really proud to be featured. We have a big campaign to encourage people to visit, and it was exciting to be featured and recognized for our efforts in this way."
These five projects highlight the importance of partnerships in all things – including tourism. As pandemic concerns ease, hit the road, there's so much to see and do in the Peach State.