Refocusing Conservative Leadership: Q&A with Georgia Lieutenant Governor Geoff Duncan
Refocusing Conservative Leadership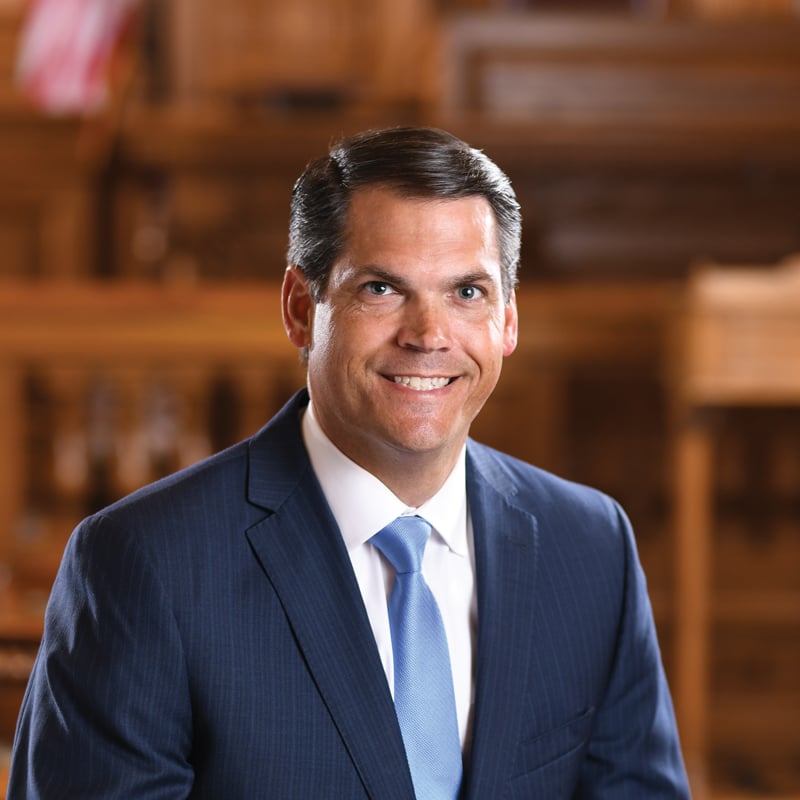 Georgia Lt. Gov. Geoff Duncan broke with many of his Republican colleagues when he defended the state against false charges of election fraud – from former President Donald Trump and others – and spoke out against some of the more extreme provisions of voting bills introduced in the General Assembly. At one point he refused to preside over a Senate debate on a bill that would have severely limited absentee ballots. Duncan is behind GOP 2.0, an effort to remake the Republican Party and move it beyond Trump's influence. An entrepreneur and former professional baseball player who pitched in the minor leagues, he served three terms in the Georgia House before defeating David Shafer, now head of the Georgia GOP, in their party's primary. He then bested Democrat Sarah Riggs Amico in the 2018 race for lieutenant governor. Last month he announced that he will not seek reelection as lieutenant governor in 2022, but instead will concentrate on rebuilding the Republican Party. He will complete his current term, he says, and may run for office again at some future point. Susan Percy talked with Duncan in his office at the State Capitol and followed up with a phone call after his announcement. These are edited highlights from the interviews.
---
GT: What made you decide not to run again?
Duncan: There's a real vacuum of leadership inside the Republican Party on a national level right now. There are those who are going to ignore that vacuum and those who are going to try and fix that vacuum, and I fall in the camp of wanting to try to fix that vacuum. We're launching GOP 2.0, a national movement. We're going to focus on getting that up and running and trying to help heal and rebuild the Republican Party. There are not enough hours in the day to run for reelection and run the organization nationally.
---
GT: Tell us more about GOP 2.0.
Duncan: It's a better direction to ensure conservative leadership here in Georgia [and] around the country. It's not a new party; it's a better pathway forward. It's one that involves really, truly understanding the policies that I believe the overwhelming majority of Americans support – fiscal responsibility, community safety, public safety, strong education. I think we need to do a better job of reminding folks in this country that conservative leadership really excels in those areas.
---
GT: What does the movement involve?
Duncan: I call it my PET Project – P is policy, the E is empathy. I think we need to do a better job as conservatives of really trying to reach into those communities that we want to be with us. When we reach deeper, it's by asking questions, understanding challenges, understanding the opportunities to improve. I would never know how to help a single mom of three kids with two jobs until I understood her day and her issues. The T is tone. We need more than 280 characters on Twitter to communicate our conservative strategies and our conservative solutions.
---
GT: Who are you trying to reach? Moderates?
Duncan: Unfortunately, the outside fringes on both sides continue to drive the messaging, but the overwhelming majority of folks sit inside of those fringes. To me, that's the audience. Even if someone may end up not voting for us, I certainly want to be able to go to work for them every day. And for their families and for their businesses.
---
GT: So bipartisanship is part of the effort?
Duncan: For me, true bipartisanship starts well before a vote is taken, when the issue first arises. The most valuable commodity produced out of bipartisanship is perspective. That is an underutilized strategy. States do a better job of it. Georgia especially does a really good job of working across the aisle on a number of issues – education, healthcare, transportation. Bill after bill is unanimously supported. That starts by talking about the issue with the other side of the aisle. A number of things we talk about are divided in other ways than Rs and Ds. They're divided in urban and rural, divided in north vs. south, divided in coast vs. mountains, divided among small business and big business.
Somebody early in my career, when I first started running for office, pulled me aside and said, "I don't know if you can win this, but if you make this about the journey not the trophy, you're going to win either way." We as state leaders need to make this continually about the journey. If we eviscerate relationships or principles along the way just to get one specific outcome we end up creating more headwinds than tailwinds.
---
GT: What issues are ripe for your approach?
Duncan: Healthcare is the tip of the spear. Unfortunately, the narrative for the better part of almost two decades has been dominated at the federal level in partisan corners. We've just lobbed bad idea after bad idea at it, back and forth. The reality is that so much of what's done in healthcare is controlled at the state level, at the community level. I'm proud of the progress we've made over three sessions here in Georgia over healthcare. Probably close to 100 healthcare bills [that] have been passed are bipartisan. We need more affordable healthcare, need better access to healthcare that fits urban, rural and everywhere in between. To me that's the ripe opportunity to work in a bipartisan format.
---
GT: What else?
Duncan: Second is education. There are more angles to it than just R and D. School choice is not necessarily a component of R and D. This past year we passed a special needs school bill with bipartisan support, to offer families a choice to be able to educate their kids in a better format than maybe what is currently being provided.
Third is criminal justice reform. Beyond a shadow of a doubt, criminal justice reform is an area of opportunity for us to work in a bipartisan format and make incredible strides. Gov. [Nathan] Deal – I was in the legislature when he really led that and [was glad] to watch him be nationally recognized for his efforts and the efforts of the legislature. I think there's continued opportunity for us to gain ground.
---
GT: Looking at healthcare, is there any appetite among your Republican colleagues for Medicaid expansion?
Duncan: We're looking for better opportunities. There's no model I've seen that Medicaid expansion in the typical fashion, [with] so many twists and turns on the Democratic side of things, is affordable in any way, shape or form. I don't think anybody really thinks Medicaid is an overwhelming success as far as healthcare delivery. So we need to find something better, really transitional for somebody to get into and out of. That was the secret sauce behind the waivers Gov. Kemp championed and we passed: an opportunity for somebody in a tough spot in their life to be able to transition as quickly as possible into some sort of job or career training or educational training that allows them to have healthcare coverage, but also get them through the next season in life. The opportunity to engage in community-driven solutions, ways to engage technology, ways to engage new ideas around how we deliver healthcare – that's bigger and broader than just simply expanding Medicaid.
---
GT: Regarding GOP 2.0, let's talk about the Trump factor in Georgia politics. You have been critical of the former president.
Duncan: I spoke out against the misinformation and false conspiracy theories in that entire 10-week chaotic period of time [between the November election and the January inauguration]. I believe one of the priorities for Republicans is honesty, and the honest answer to all that, looking through the lens of facts and figures and data and deep conversations with the secretary of state, the attorney general and the election board, is that there was no systemic or widespread fraud that occurred in that election cycle. Those 10 weeks unfortunately created an environment that has made it difficult for Republicans to be taken seriously in a number of conversations including election reform.
---
GT: And what about Trump himself?
Duncan: Here's what I'll say about former President Donald Trump. He validated the notion that an outsider, business-minded change agent can come into D.C. and make change quickly. He did. That tells me there is an opportunity to continue to gain strength based on that model. GOP 2.0 is looking for an opportunity to improve from there.
---
GT: Where do you start?
Duncan: We start with a better tone. I don't know if I've met a single Republican over the last four-plus years that agreed with the harsh tone. I personally wish President Trump would have spent a great deal more time talking about the policy wins – talking about the lowering of taxes, the reductions in regulation, the Supreme Court justices that represent, I believe, the conservative mindset. I feel like if he had done that, it would have been a different outcome in his election here in Georgia, a different outcome in the U.S. Senate races. But that didn't happen, and we've got to move forward.
---
GT: Democrats made significant inroads. Are they reversible? Could a more united Republican Party, say, win back a Senate seat?
Duncan: Yes, I absolutely think so. The PET Project – policy, empathy and tone – if we talk about the right policies and remind folks of things their businesses and families have been able to accomplish under conservative leadership, if we reach into communities with real understanding and do it with a better tone, I think we absolutely have a chance to win back the House at the national level, the ability to win back a Senate seat in two years and certainly think we have the opportunity to keep eight constitutional state officers here in Georgia. Whether in Georgia or at the national level, if we don't turn the page and stop trying to relitigate the last election, we're going to have to get used to losing as Republicans. For me, I don't want that to happen.
---
GT: Why is changing the tone so crucial to GOP success?
Duncan: An entire swath of people have stopped listening to us as Republicans because we scream at them. These include Republicans, these include moderates, these include folks that are with us on seven out of ten issues. But they have stopped listening to us because all we want to do is scream at them. We don't do that in our boardrooms, certainly don't do that at our kitchen tables. We shouldn't do that when we're trying to get folks to vote for us and represent them in leadership roles. Absolutely, our tone is paramount.
---
GT: This year's legislative session was dominated by the voting bill, SB 202. What's your assessment of it?
Duncan: Unfortunately, I think the starting point of the conversation has created a lot of extra headwind to the entire effort around election reform and legislation. I'll remind folks that the process actually worked. The final product was a lot better version than the initial versions that started in the House and the Senate – a number of bipartisan ideas [were] incorporated into the final version. So the process worked, but unfortunately the early versions were a hat-tip to Donald Trump and his most diehard supporters. And that was a bad place to start, in my opinion, even though the final version ended up in a better place.
---
GT: Were you surprised at the response to the version that passed?
Duncan: If I'm looking through the lens of reality, yes, I was surprised. Because the actual facts and figures of that bill do not mimic any sort of Jim Crow – they don't deserve to be analyzed as any sort of Jim Crow 2.0 or any sort of a voter suppression mandate. But if I'm looking at it through the optics and the timing, Republicans took a huge hit in credibility in reference to election reform because of the 10 weeks of chaotic fear-mongering that our party leader at the time was issuing and was stirring up.
The reality is passing election reform probably felt like a professional sports team having a losing season then raising ticket prices. The timing of it became an awkward cadence.
---
GT: So this year was the wrong time to take up a massive voting bill? What would you have preferred?
Duncan: My approach, early, was to try to break the omnibus bill into smaller bite-size pieces instead of just being one big omnibus solution.
---
GT: What didn't you like about the bill that ultimately passed?
Duncan: I felt like a couple of things didn't need to be part of the bill. I thought the punitive strikes at Secretary of State Brad Raffensperger's authority didn't match reality. Regardless of what former President Donald Trump says, Brad Raffensperger operated in a very intense environment asking the right questions, making the right moves. I think he's perfectly capable of making adjustments going forward. I thought that was a punitive attempt at trying to appease elements of the Republican base.
Another thing that just didn't necessarily match the timing was [banning the handout of] food and water in the line. I understand the potential risks of allowing someone to electioneer in the line, hand out food [with candidates' names or logos]. But the timing was difficult for a number of Georgians to accept. I also think there was [a] better way to write the language. Quite honestly, it just gives the other side of the political aisle fair or unfair tools to kind of poke us with.
---
GT: How do you appraise Georgia's efforts to combat the COVID pandemic, and what's needed going forward?
Duncan: Gov. Kemp has done an amazing job through this pandemic of positioning Georgia in a positive light – he stepped into that leadership role with command and control. He certainly started asking the right questions and started leaning into experts as much as possible. He has balanced lives and livelihoods better than any other governor in the country.
Where we go from here is to continue to pay attention to science, continue to use the resources at our disposal – the Department of Public Health, the great relationships with FEMA, GEMA, hospital systems and healthcare providers, to figure out a way to continue to distribute the vaccine.