From the Publisher: Keeping Pace?
Stabilizing our workforce is key to maintaining Georgia's reputation for good business.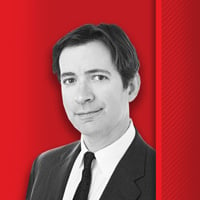 Georgia continues to be recognized for its business- friendly environment, and it seems announcements about new manufacturing operations locating or expanding here are happening daily. But can the state provide the advanced workforce manufacturing now requires?
The state recently moved into the nation's top 10 for exports, according to The Atlanta Journal-Constitution, with $38.8 billion in goods shipped around the world last year. This is a noteworthy jump from the No. 12 position. Items manufactured in the state, principally aircraft parts and cars, make up the majority of the exports.
Manufacturing jobs – which power exports – in Georgia increased from 345,500 in 2010 to 403,300 in 2019, according to the Bureau of Labor Statistics. The total manufacturing economic impact is in the $65 billion range, and workers make an average of around $70,000 annually.
Exports bolster manufacturing by expanding markets for Georgia companies, creating a ripple effect on local economies as well as high-paying jobs. International trade is responsible for about 20% of jobs in the state, and small businesses accounted for nearly 90% of all exports from Georgia. We are an enticing state for manufacturers due to programs like Georgia Quick Start, the nation's No. 1 training program that is free to qualified companies.
Aerospace is the top manufacturing exporter, shipping $10.8 billion overseas in 2019. Auto-related exports comprised $3.2 billion. Overall, Georgia's top manufacturing industry is food processing, with 524 manufacturers employing 71,069 workers.
Atlanta is home to 773 manufacturers and 59,511 workers. Alpharetta has 243 factories employing 20,650. Other top manufacturing cities include Dalton, Savannah, Marietta, Gainesville and Norcross.
Since manufacturing needs typically include space and infrastructure, factories are an especially good fit for rural areas. Georgia is creating a network of inland ports to feed products to the Savannah and Brunswick ports, with a robust transportation infrastructure that includes three interstates as well as Norfolk Southern and CSX railroads.
But as manufacturing becomes more high-tech, companies need more highly trained workers. And Georgia has some ground to cover there: A 2019 McKinsey report about Georgia noted regional inequality, low workforce participation, skills shortages, poor infrastructure and limited healthcare access. Our state's workforce participation rate – the proportion of working-age population actively in the labor market or looking for work – is less than half the U.S. average. Prior to the Great Recession, the state had almost 400,000 more people in the workforce.
The report noted that more than 200,000 low- or mid-skill Georgians were unemployed prior to the pandemic while there were as many as 10 times more openings than employees looking for work in high-skill positions. A significant investment in education and vocational training could upskill these potential workers for open positions.
We also need investment to improve poor health outcomes that restrict workforce size and workers' ability to perform. The McKinsey report found health outcomes account for 64% of the variation in local unemployment rates, and Georgia is at the bottom of the pack in meeting residents' healthcare needs.
Addressing these issues could expand our workforce to the tune of $68 billion in incremental gross domestic product growth over the next decade, McKinsey reported.
In spite of the challenges, Georgia is having great success attracting manufacturers. Along with Quick Start, companies benefit from higher education initiatives like the Georgia Southern University Herty Advanced Materials Development Center in Savannah, an applied research center that incorporates education and industry partners to support a variety of market sectors.
Warehousing and logistics will continue to fuel manufacturing growth. Manufacturers will also continue to cluster around big factories for auto and aerospace. Our auto presence here, including the huge SK Innovation electric vehicle (EV) battery plant in Jackson County as well as technology investments like The Ray in West Point, position the state well for the emerging age of EVs. EVs are expected to lead to more innovation and change in the next decade than the auto industry has experienced in the previous 100 years, according to Gov. Brian Kemp, and the global projection of annual EV sales in 2040 is $56 million.
Stabilizing our workforce is the key to maintaining Georgia's reputation for good business and addressing our employment needs across the spectrum of our population. Let's do right for what's good.