Curtailing Cancer Care
The pandemic's impact on cancer treatment and screening worries patients and doctors.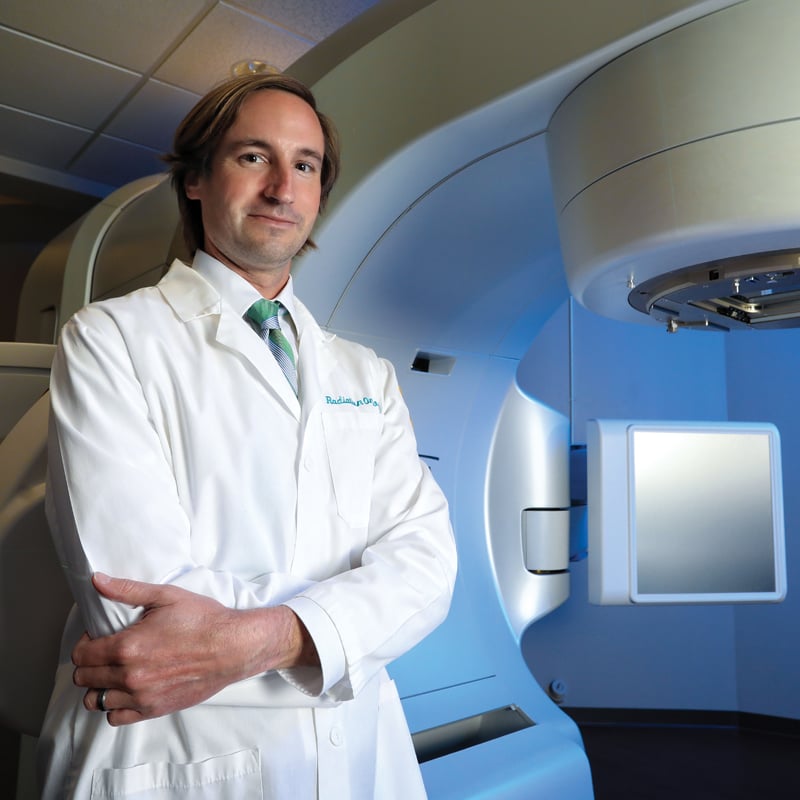 The list of serious health problems caused or affected by COVID-19 is long and growing: heart disease, pneumonia, blood clots, liver and kidney failure – and now, less directly, cancer.
Even though there is no evidence that COVID worsens cancer or increases its risk – at least not directly or in the short term – having cancer does increase the risk of COVID infection, particularly for those with weakened immune systems, says Dr. Jorge Cortes, professor and director of the Georgia Cancer Center at Augusta University. In some cases this is due to the type of cancer – like some leukemias, he says. But more often it is because treatments people are receiving, including chemotherapy, suppress their immune systems.
The virus can be particularly harsh for those with cancer, says Dr. Michael D. Hasselle, a radiation oncologist with Savannah's Memorial Health system. "If they get COVID, they are more likely to die of COVID than the average person by a factor of two to three," he says. "Even a relatively healthy cancer patient has a higher death rate from COVID than the average person."
At press time, there had been more than 880,000 reported cases of COVID in Georgia. While it is not known how many of those cases were among cancer patients, the number of cancer patients affected by COVID, even if they have not had the coronavirus themselves, is undoubtedly large.
---
Screening Delays
Experts say people receiving cancer treatment during the pandemic aren't the only ones likely to have COVID-related disruptions. One of the largest impacts in the future may well be on people who don't know they have cancer or were diagnosed late because screenings, which can identify cancer in the early stages when treatment is more effective, were halted early in the pandemic.
"When things really got ramping up with the numbers sharply increasing, we did actually shut down our screening," says Dr. Paul Dale, a surgical oncologist at Atrium Health Navicent in Macon. "When I say screening I mean routine colonoscopies, we stopped those. We also stopped screening for breast cancer. Our mammography services were stopped because we were trying to figure out how to do it safely; therefore, for several months it was put on hold."
At some centers, screenings continued at a much reduced pace – due in part to the reduction or halt in elective procedures and in part to fear of COVID among people who otherwise would have likely had screenings.
At Emory Clinic, colon cancer screening saw its biggest decline in March and April of 2020, not surprisingly, when colonoscopy screening dropped by about 90%, says Dr. Jennifer Christie, Emory School of Medicine professor and clinical director of digestive diseases for the Emory Clinic. The Emory experience reflected the national average.
"Early in the pandemic, cancer screening rates dropped by about 90% [nationwide] with the stop in elective procedures that was appropriate at the time," says Dr. Laura Makaroff, senior vice president of prevention and early detection at the American Cancer Society in Atlanta. "We were all trying to figure out and learn how to reduce the risk and spread of COVID infections and allocate resources including personnel for the acute needs. From what I can tell, we did some rebounding of cancer screenings starting in summer and early fall, but even with health systems opening back up for elective procedures we saw that there still was about a 30% difference compared to last summer and fall."
Throughout the state, experts say cancer screenings – including colonoscopies, mammograms and lung screenings – remain low, despite declining COVID rates and safety measures in medical facilities to prevent the spread. Colorectal cancer is the second-leading cause of death among U.S. men and women combined, and some suspect the lack of screenings could have dire consequences.
"The concern that we all have is that we are certainly potentially missing patients that we could have diagnosed earlier and therefore treated and improved their outcomes," says Christie.
"We think we are going to see a surge or an increase in cancers being diagnosed a little bit later because of the lack of screening we have incurred over the past year, which is sad," says Dale. "We may see a rise in the cancer death rate. We may see a rise in the stage of cancer presentation because of the delay of diagnosis because all of our diagnostic centers were closed down."
Indeed a British study that examined and compared admissions for chemotherapy and urgent referrals for cancer diagnosis during the pandemic to those pre-pandemic predicts that delays in screening could be responsible for more than 33,000 excess deaths among cancer patients older than 40 in the United States.
Since some cancers can grow slowly, the full impact will not likely be seen immediately. "You're probably looking at data that will take two or three years' time," says Dale. Yet most agree that a long-term impact – perhaps for as long as 10 years – of missed screenings and delayed treatment is inevitable.
"[Delaying] visits, treatments and screenings is definitely impacting the timely detection, the timely treatment, the monitoring of cancers," says Cortes. "So that is definitely having an impact."
---
Treatment Interruptions
In addition to screening delays, cancer treatment disruptions were common at the beginning of the pandemic and continue to be a concern, according to a pair of surveys by the American Cancer Society Cancer Action Network (ACS CAN). The first survey was conducted early in the pandemic; the second conducted well into it. The first, which was published online Feb. 24, 2021, in the Journal of Psychosocial Oncology, found that one-third of cancer patients and survivors surveyed worried about treatment and cancer care disruptions due to the pandemic. The second found more than a quarter had experienced such disruptions or delays in their cancer care because of the coronavirus.
At medical centers across Georgia, like the rest of the nation, some unfortunate delays were inevitable early in the pandemic, says Cortes. "It was an issue at the peak times when the hospitals were very busy with COVID and there was very little ability to take care of other conditions and do some of the surgeries," he says. Understandably, elective procedures – such as knee replacements and cosmetic surgeries – had to be postponed. But sometimes surgeries for cancer also had to be postponed due to lack of protective gear; full ICU units that allowed no room in the event of surgical complications; and the shifting of personnel and resources throughout hospitals to accommodate the influx of COVID patients. "For many of these reasons, many of the procedures we do had to be delayed," says Cortes. "Some took more priority, but in the beginning there were very serious delays."
Lockdowns and shifting resources also meant interruptions in cancer research, leaving some people without access to experimental treatments offered in clinical trials.
"Early on in the pandemic when we had stay-at-home orders, labs were forced to close, so research wasn't happening in the lab setting," says Makaroff. "In other cases clinical trials were interrupted."
At the Georgia Cancer Center and other centers, clinical trials were suspended for a time, says Cortes. "We were not enrolling anybody in clinical trials." In some cases, he adds that "even patients who were already receiving investigational treatments were not able to travel to – or comfortable traveling to – the facilities where they could get those treatments, so there was a big impact on clinical trials."
---
Social Isolation
Those able to continue treatment often encountered troublesome policies restricting companions in hospitals and clinics. While such policies were designed to limit the spread of COVID in medical facilities, they exacerbated feelings of loneliness and isolation many were already experiencing due to the pandemic, according to the initial ACS CAN survey.
"The support of your loved ones when you are having a difficult treatment, a difficult time with the diagnosis, infection, etc., is important to the management of cancer. Yet we were restricting visiting of patients," says Cortes. "We are in a better situation now, but at the worst of the pandemic we restricted visitors."
Other hospitals had similar policies. "In the beginning of the pandemic, when we had less information than we do now, we allowed patients on their new patient visit to bring a visitor with them, but other than that we asked patients not bring a guest them with them," says Karen Terry, director of operations for Memorial Health's Anderson Cancer Institute in Savannah, adding that the restriction has now been lifted.
"I personally felt that was horrible for the patients, to be dropped off by a loved one and undergo [a] cancer operation and only be able to talk to them perhaps on the telephone because we are limiting our visitors to limit exposure," says Dale. "It was quite tough, but I will also say our patients who were undergoing cancer surgery at that time were grateful we were doing it. They understood it was necessary and they didn't want to wait. They were more scared of their cancer than they were of COVID."
---
Groceries vs. Medicine
Pandemic-related job losses have caused a particularly difficult situation for people faced with expensive treatments. The initial ACS CAN study found 27% were worried the pandemic would make it hard to afford cancer care. Respondents shared concerns of having to decide what would be most important in terms of having medicine or food.
"So many people have lost their jobs. Many have lost their health insurance," says Makaroff. "A lot of people are worried about how the pandemic is going to affect their ability to afford cancer care and that is a big issue across all different types of cancer treatment and cancer survivorship."
---
Pushing for Prevention
When messages of preventive care are focused largely on COVID, it is understandable that testing for cancer in the absence of symptoms has not been a priority for many. But it should be, experts say.
Dale says now is the time for people who postponed screenings to schedule them. "It is time to go back to their doctors," he says. "For people who put off their general health visits, their well-being visits for the year, it is time that they pick up the phone and say, 'I need to come and see the doctor and get my blood pressure checked. It's time to get my mammogram. It's time to get my colonoscopy.' I think most hospitals around the state and the United States have implemented appropriate measures so that people can go back and safely get the screenings that need to be done. Most doctors' offices have implemented safe measures where they can go back and get access to doctors again."
"We really encourage all patients to come in and resume their regular screening tests, because after the pandemic there is going to be sort of a backlog and increased burden on the system to try to get everybody in and not delay any further," says Christie.
To promote screenings and quickly increase the rates to pre-pandemic levels, the American Cancer Society recently kicked off a national Return to Screening initiative. The initiative will include convening a consortium of public health groups, professional organizations, patient advocacy groups, existing roundtables, businesses, government and key individual leaders to improve screening rates for breast, cervical, colorectal and lung cancers. It will also support the development of regional and local consortia, materials for healthcare systems to use in improving screening rates and state-based interventions to improve health equity in under-resourced communities.
"I think the concern is that disparities that are already evident in cancer outcomes across the state could be worsening and exacerbated by the pandemic," says Makaroff. "That is where we need to look for policy-level solutions at the state and local levels to help address disparities" while also encouraging patients to continue treatment and people to resume screenings. All those approaches are needed to get cancer care back on track, post-COVID.