Boosting Business Skills
Georgia's MBA programs prepare students for post-pandemic success.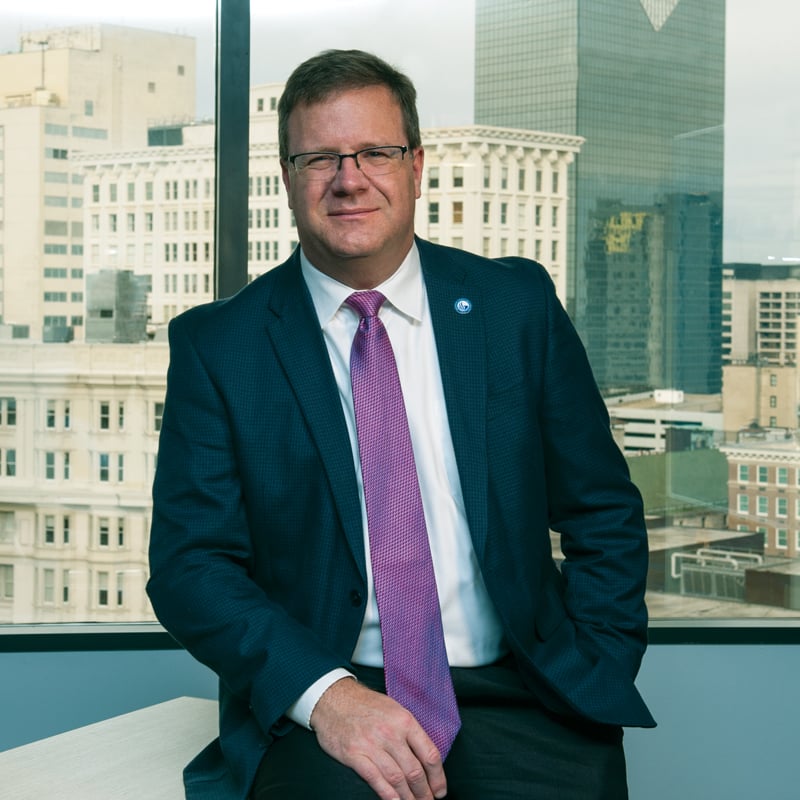 A master of business administration, or MBA, has long been considered the gold standard in business credentials. That thinking seems to have gained support during the COVID-19 pandemic, as the period of economic instability offered opportunities for resumé building with a degree that documents career aspirations and abilities. Between fall semesters of 2019 and 2020, the number of people seeking an MBA from Georgia's public universities jumped by 19%.
"I attribute it to probably two or three factors, and one is just a business cycle factor," says Richard Phillips, dean of the Georgia State University (GSU) J. Mack Robinson College of Business, where overall enrollment of new students in graduate programs grew by 78% in the past year. "Whenever the market turns down, all business schools tend to see an uptick in enrollment. Some kids coming out of undergraduate programs may not be able to find a job. The opportunity cost of staying in school is low. We have working professional programs where they were working 50 to 60 hours a week when the economy was hot, and now it's not that hot, there's more time to study and it's a good time to go back to school."
Still, those factors alone don't fully explain the outsized growth in numbers of people seeking advanced degrees. Phillips credits a large share of that to changes that were afoot before COVID altered the academic landscape.
"We have been pivoting for the last four years. We made a sharp pivot toward digital innovations," he says. "That's been building momentum, and one thing in a COVID world is those trends in digital innovation are only going to accelerate in a post-COVID world."
But perhaps the biggest change began about the same time as the 2019-2020 academic year, with a concern for equity that proved a boon and a blessing by the time the pandemic struck. As an example, Phillips points to the school's commitment to upgrade its downtown Atlanta facilities to offer capabilities comparable to those in its Buckhead classrooms, which reside in a Class A office tower.
Downtown classrooms have been digitally enhanced and offer high-quality simulcast technology, smoothing over the seams between attending in person and attending online. The new capabilities, rebranded as Robinson Anywhere, launched in April 2020 after 12 months of preparation and renovation – timing that seems eerily prescient today.
"We were going to give students agency over how they accessed their coursework, and that went over extraordinarily well," says Phillips.
The university also launched an Inclusion and Equity Task Force that included a number of working groups. "I expect that several of those will have implications for the curriculum but they'll also have recommendations on research opportunities for students and partnerships," he says. "I'm excited to see how Robinson and students and partners can work together to eliminate frictions.
"One thing I appreciate about Georgia State and that I think we've demonstrated over the past couple of years is the real passion that the university has to take sustained approaches to looking at what systemic frictions are in our institutions and to create institutional arrangements to create more opportunities for people of all backgrounds," he says.
Preliminary recommendations from the task force are due this spring, with final reports in June.
Jacob Chacko, dean of the Clayton State University College of Business, is another educator who doesn't think enrollment growth is solely a function of the economic downturn. He has seen the college's MBA enrollment roughly double in the past three years.
"For us it is, I think, a couple of things. One is we went to an eight-week schedule rather than a 16-week schedule. Over 90% of our students are working professionals, with the average age between 34 and 40. That flexibility is one reason," Chacko says. "Another reason is our MBA is over 15 years old, but we always had a blended MBA. Students had to come to campus for a class every week. In Atlanta, traffic is horrendous, the class starts at 6 p.m., and we are very, very picky about attendance because of our accreditation. By going online and to an eight-week structure, again, we have flexibility."
The non-traditional, working professional student especially appreciates that flexibility, he says. "Our students are in school because they realize the value of a college education to their career, not because their parents are paying for it," he says.
Among the concentrations available is a professional MBA in supply chain management, an area where Clayton State was among early adopters. "We are right by the world's busiest airport, and right by the 75/85 corridor for road transport," Chacko says. "Clayton, Henry and South Fulton counties are known for warehouses and transportation hubs so about 20 years ago we started focusing on supply chain, first at the undergraduate level. We started by attracting faculty members who are practitioners.
"A lot of our [undergraduate] alums come back, and I believe the reason for that is the faculty," he says. "We do not use too many part-time faculty. We have full-time faculty members who have been faculty for a long time. Ninety-four percent of the full-time faculty have Ph.D.s, over 75% have corporate experience either before or after they got their Ph.D. We focus on practical, industry-based teaching, and that's been a longtime focus at Clayton State."
---
Wide Range of Options
MBA degrees in Georgia are available in a stunning range of variations – all over the map, the calendar and the clock. Fifteen of the University System of Georgia's 26 institutions, including all four of its research universities (Augusta University, Georgia Tech, GSU and University of Georgia), offer the degree, and private universities add to that number. You can find programs in every quadrant of the state. Because the target audience tends to be an older, non-traditional working student, some programs can be completed in as little as a year or as long as five, with coursework at night, in intensive weekend sessions or conventional all-day sessions and with a choice of entirely online, entirely face-to-face (once COVID restrictions have passed) or a hybrid. Varying by school, admissions are rolling or by cohort, for eight-week or 16-week sessions.
Responsiveness to the marketplace and a willingness to innovate are shared characteristics of these disparate programs. And that's why stackable degrees and certificates – you'll also hear the phrase "micro-credentialing" – are becoming common across MBA and other college programs.
These are shorter courses, often involving an industry-dominant technology or proprietary software. Think of Lean Six Sigma's various "belts" or Google Analytics, for example. When a university embraces the concept, these courses become part of a curriculum and can be combined for course credit. A student graduates with a suite of recognized industry-specific credentials as well as a degree. In fact, as they begin to amass certificates, they can spiff up their resumé even before they graduate.
Practical reasons are driving academia's acceptance of stackable coursework.
"Employers don't want to necessarily pay for an MBA any more, but they'll gladly pay for you to get business analytics and project management leadership," says Julie Petherbridge, interim dean of Mercer University's Stetson-Hatcher School of Business. The school has yet to fully incorporate the stackable concept, but it's coming by next spring, she says.
The MBA concentration in digital marketing at Clayton State University is a prime example of a stackable program.
"Our newest program is digital marketing. It's the third [most popular program] online that we have and it goes beyond the traditional approaches. Because of the way people now market with social media, it prepares students with creative solutions, and part of the program is you actually receive certificates like Facebook certifications and the Hootsuite social marketing certificate," says Tameka Womack, graduate programs director for Clayton's College of Business. "For us, this is real world. You need that kind of certification to go out in the real world. We've gained insight into what the market needs."
At GSU's Robinson College, stackable certificates are also in place.
"Just this year we've launched stackable certificates – four-course graduate certificates that people can take on a post-graduate basis, or if they have an undergraduate degree and they take a certificate course and like what they're doing, they can knock out four of the 16 courses for an MBA," Phillips says. Topics include innovations in artificial intelligence and FinTech.
In Southwest Georgia, the Albany State College of Business has taken this à la carte micro-credentialing to a hyperlocal level in response to needs from the local business community.
Dr. Derek Heard is a family medicine physician with Phoebe Putney Health System in Albany. The system includes four hospitals and is a major resource in that region.
"Our physician group decided a couple of years ago that we wanted to do some leadership training in-house for our physicians, because the best healthcare groups in the nation tend to be physician-led," Heard says. "There were several courses we could get from Phoebe's resources but there were still certain topics that needed to be covered. A friend had recently graduated from the MBA program at Albany and he told me it was a good program. They were more than gracious to work with us to foster a long-term relationship."
That was the genesis of Phoebe's Physician Leadership Academy. It launched in 2019 with non-credit courses in building high-performance teams and building diversity in the workplace for a group of 10, including physicians, nurse practitioners and physician assistants. The courses were well received, Heard says, and they were set for another round when COVID hit and made Albany an early and particularly deadly super-spreader locale. Now, as conditions improve, the group is hopeful of relaunching in 2022.
---
International Flavor
Albany State is one of Georgia's smaller public universities. Most of its students come from in-state, some drawn by the school's status as an HBCU (historically black college or university). Even so, it usually has at least a small international student population. Consider, for example, the soccer program, which was discontinued as COVID shut things down. The soccer coach returned to her native Nigeria, but she logs in at 1 a.m. her local time to take an MBA course.
In addition to the general program, MBA candidates at Albany State can choose to pursue concentrations in accounting, healthcare, supply chain logistics management and public administration.
As MBA director, Michael Rogers teaches the business policy course that is considered the universal capstone in the program. But he also handles edgier material like a new course called democratic erosion. "There's an international consortium of 30 universities across the country who teach this course. Businesses don't survive if we are in a less-than-democratic system – we don't survive in an autocratic system," he says.
Mercer University is also focused on international students and studies.
"We're growing our international presence," says Petherbridge. "We just redid our MBA and really updated it. One of the concentrations is managing people and change. The two-year program is geared to international students who need some boost to their English, so we spend part of the first semester introducing them to business culture."
At Mercer's Atlanta campus – where advanced degrees in healthcare professions, education and theology comingle with graduate and undergraduate business offerings – student housing is being expanded, largely for international graduate students who would have difficulty navigating Atlanta's housing market, she says.
Multiple joint MBA programs are offered with Mercer's various professional programs, and students are able to mix and match different modes of instruction. Undergraduate juniors can expect a pitch for a fifth year – a one-year fulltime MBA program tagged seamlessly onto their bachelor's degree.
Illustrating the depth of choice in MBA programs across the state, at least one school can't wait to get back to predominantly face-to-face instruction.
"We are trying to be a fully on-campus program," says Joyce T. Heames, dean of Berry College's Campbell School of Business in Rome. "Of course, we did take it online last spring. I really am pleased that our faculty stepped up to the plate. They chose to come to Berry because Berry is not a major online player. That was important to them, but they have risen to the occasion and adapted and created rigorous courses online.
She says that in the future, she believes Berry will continue to offer more online options because students have responded well to digital learning. "Will we ever go to a fully online program? I don't see that happening," she says
Heames describes Berry's MBA program as a personalizable boutique program of between 40 to 50 students. She says people often mistakenly assume the degree is expensive because Berry is a private college.
"Our tuition is $20,000 to get the entire MBA program," she says. "I don't think people understand how affordable it is. We're trying to serve the working adult who wants to get a private education at an affordable price."
With the variety of choices Georgia's MBA programs offer, it's no wonder that increased numbers of students have chosen to spend their time studying during the pandemic. The post-COVID payoff for them will likely be boosted business skills and leadership ability that will pave the way for new career opportunities.
---
MBA Programs in Georgia
Albany State University
College of Business, Education and Professional Studies, Albany
---
Augusta University
James M. Hull College of Business, Augusta
---
Berry College
Campbell School of Business, Mount Berry
---
Brenau University, Gainesville
---
Clark Atlanta University
School of Business Administration, Atlanta
---
Clayton State University
College of Business, Morrow
---
Columbus State University
D. Abbott Turner College of Business, Columbus
---
Emory University
Goizueta Business School, Atlanta
---
Georgia College
J. Whitney Bunting College of Business, Milledgeville
---
Georgia Institute of Technology
Scheller College of Business, Atlanta
---
Georgia Southern University
Parker College of Business, Statesboro
---
Georgia Southwestern State University
School of Business Administration, Americus
---
Georgia State University
J. Mack Robinson College of Business, Atlanta
---
Kennesaw State University
Coles College of Business, Kennesaw
---
Mercer University
Stetson-Hatcher School of Business, Atlanta
---
Piedmont University
Harry W. Walker School of Business, Demorest
---
Savannah State University
College of Business Administration, Savannah
---
Shorter University
Robert H. Ledbetter College of Business, Rome
---
Thomas University, Thomasville
---
University of Georgia
Terry College of Business, Athens
---
University of North Georgia
Mike Cottrell College of Business, Dahlonega
---
University of West Georgia
Richards College of Business, Carrollton
---
Valdosta State University
Harley Langdale Jr. College of Business Administration, Valdosta
---
Wesleyan College, Macon