Georgia Trend Daily – April 22, 2021
April 22, 2021 GPB
Jill Nolin reports that about four in 10 people nationally are breathing unhealthy air in spite of progress made in curbing pollution, including slight gains here in Georgia, according to a new report. The annual "State of the Air" report, released Wednesday by the American Lung Association, captures a three-year period before the COVID-19 pandemic cleared Atlanta's roadways of a major contributor to the city's air pollution.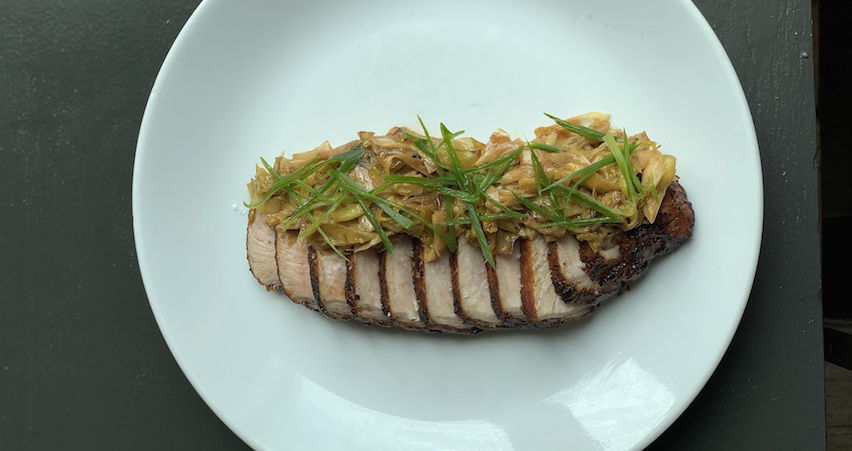 April 22, 2021 Georgia Trend – Exclusive!
Sucheta Rawal reports that on these warm sunny days, some of us are inspired to venture out into the backyard more often. Perhaps you are dusting off the lawn chairs, planting a vegetable garden or firing up the grill. It is a promising time to reap seasonal produce and refresh weeknight menus with lighter recipes and locally sourced ingredients.
April 22, 2021 Atlanta Journal-Constitution
Kelly Yamanouchi reports that Hartsfield-Jackson International Airport will spend up to $33.1 million for the construction of a new Delta Sky Club on Concourse D. Delta will design and build the club, which will include adding a third floor to the concourse, according to a resolution approved this week by the Atlanta City Council.
April 22, 2021 WSB-Radio
Staff reports that the Rev. Abraham Mosley said he's been shepherding his flock at Mount Pleasant Baptist Church in Athens as a pastor since 1974. But now, Gov. Brian Kemp has named him the first African American chair of the board of the Stone Mountain Memorial Association, the state authority that runs Stone Mountain Park.
April 22, 2021 Brunswick News
Gordon Jackson reports that the Golden Isles is approaching record numbers for tourism, and the trend is expected to continue through the summer. Scott McQuade, president and CEO of the Golden Isles Convention and Visitors Bureau, said Glynn County is "way ahead" of other areas in the nation in recovery.
April 22, 2021 GlobalAtlanta.com
Leigh Miller Villegas reports that faced with travel restrictions amid the pandemic, an international exchange program that brings German apprentices to Georgia continued in a virtual format this year, creating opportunities to attract more students and build deeper partnerships with local companies.
April 22, 2021 Georgia Recorder
Stanley Dunlap reports that a new environmental report says that Georgia Power's parent company and other regional utilities are not doing enough to reduce greenhouse emissions to avoid climate disaster. The Southern Alliance for Clean Energy (SACE) analysis projects that over the next decade, the Southern Co., which owns Georgia Power, and other major Southeast utilities, will not retire coal-fired power plants at a fast enough pace and replace fossil fuels quickly enough with clean energy.
April 22, 2021 Capitol Beat News
Beau Evans reports that Federal officials have approved Georgia's plan to extend Medicaid coverage for low-income new mothers in the state, Gov. Brian Kemp's office announced Wednesday. The plan will lengthen the period for income-eligible mothers to receive Medicaid benefits from the current two months up to six months post-partum.
April 22, 2021 Savannah Morning News
Will Peebles reports that Sabrina Greene-Kent announced her run to fill Georgia House District 165 on Monday, the seat most recently held by outgoing representative Mickey Stephens. Greene-Kent said she is "semi-retired," working as a payroll specialist for ILA 141..
April 22, 2021 Milledgeville Union-Recorder
Staff reports that a familiar face is one of the latest candidates to announce his candidacy for Georgia's 10th District race for U.S. Congress. Dr. Paul Broun, a longtime physician from Athens-Clarke County, is no stranger to politics. From 2007 until 2015, Broun served as Georgia's 10th District representative.
April 22, 2021 Gainesville Times
Robbie Sequiera reports, it's been rumored state Sen. Butch Miller, R-Gainesville, may run for lieutenant governor, but he told The Times on Wednesday that he hasn't decided yet. "I am carefully looking at it and evaluating (whether to make a bid for the position)," Miller said in an April 21 interview following a virtual forum hosted by the Greater Hall Chamber of Commerce where he was the keynote speaker.
April 22, 2021 The Center Square
Nyamekye Daniel reports that public debate over Georgia's new election reform law has continued for nearly a month, but the discussion has not centered on parts of the 98-page bill that took authority away from election officials and gave more power to state government. Section 5 of the law demotes the secretary of state to a nonvoting member of the State Election Board and authorizes the General Assembly to elect a new chairperson of the board through a joint resolution.
April 22, 2021 Georgia Recorder
Ariana Figueroa reports that Georgia's new voting law was at the center of Tuesday's U.S. Senate Judiciary Committee hearing, where senators discussed restoration of a key section in the Voting Rights Act that would prevent states, mostly in the South, from changing their election laws without federal approval. During the more than four-hour hearing, witnesses opposed to the sweeping new Georgia law warned that if Congress did not modernize and pass Section 4 of the Voting Rights Act, then voters of color would be disenfranchised.
April 22, 2021 Atlanta Journal-Constitution
Mark Niesse reports that Georgia voters are split along party lines over the state's new election law, with a divided majority supporting drop box limits, absentee ballot ID requirements and shorter deadlines to request absentee ballots, according to a University of Georgia poll released Wednesday. But some parts of the law earned bipartisan support or condemnation.