Georgia Trend Daily – April 19, 2021
April 19, 2021 Gainesville Times
Jeff Gill reports that Gov. Brian Kemp is set to visit the SK Innovation plant in Commerce Monday, April 19. He will tour the plant on 1523 Steve Reynolds Industrial Parkway with company President and CEO Jun Kim, then meet with reporters, according to the governor's office.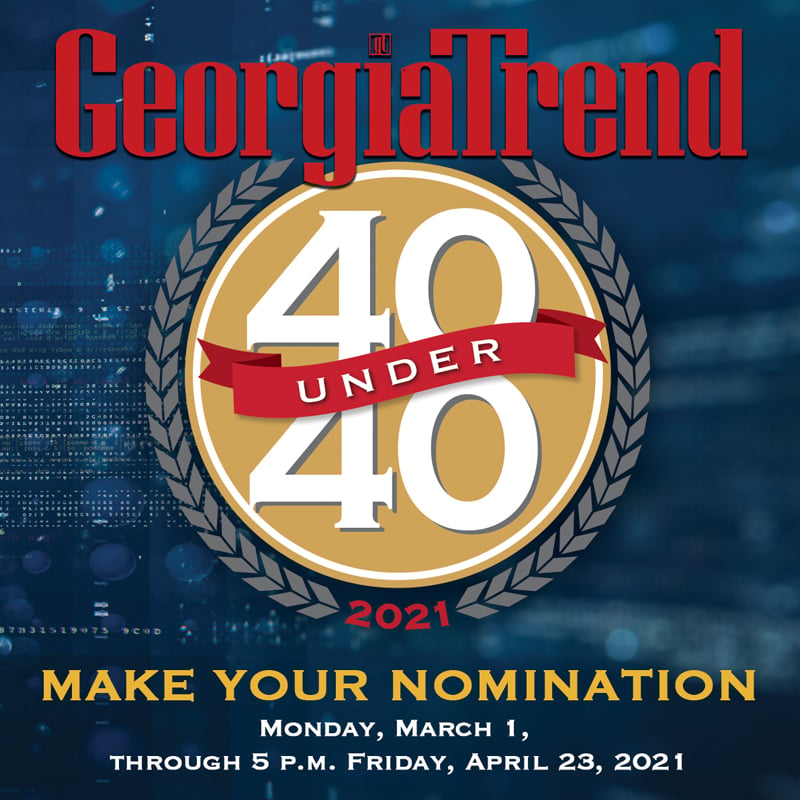 April 19, 2021 Georgia Trend – Exclusive!
Karen Kirkpatrick reports that each year Georgia Trend honors 40 of the state's best and brightest under the age of 40. Whether you know someone who's making a difference on the national stage or is a mover and shaker in his or her corner of the state, if they are under 40 years old as of Oct. 1, 2021, we want to hear about them. Nominations close Friday, April 23.
April 19, 2021 Atlanta Journal-Constitution
Michael E. Kanell reports that Chris New said he has turned down $250,000 in business because he just can't hire enough laborers and drivers at his Carrollton-based company, Barnes Van Lines. There are plenty of people without jobs, but unemployment benefits give them too much incentive not to work, he said.
April 19, 2021 The Center Square
Nyamekye Daniel reports that thousands of rural Georgians are expected to gain access to high-speed internet under a private-sector partnership announced Friday by Gov. Brian Kemp and other state and locals leaders. The partnership between the Washington EMC and Conexon Connect will provide broadband access to more than 12,000 homes and businesses in Baldwin, Emanuel, Glascock, Hancock, Jefferson, Johnson, Laurens, Warren, Washington and Wilkinson counties.
April 19, 2021 WSB Radio
Tim Bryant reports that the president of Georgia's third-largest public university is leaving the state for a new job. Former University of Georgia provost Pamela Whitten will step down as president of Kennesaw State University to become president of Indiana University, effective July 1.
April 19, 2021 Augusta Chronicle
Joe Hotchkiss reports that Production has begun in Augusta for a new zero-calorie stevia sweetener that its makers say uses green technology and reduces its environmental footprint.
April 19, 2021 Macon Telegraph
Justin Baxley reports that Candace Neller-Harper started Secondhand Soil back in 2019 to help divert trash from the landfill and make an impact on the Middle Georgia community. In just over a year, she has grown from two customers to over 200 and have diverted over 100,000 pounds of trash.
April 19, 2021 Georgia Recorder
Ross Williams reports that just over a year from a record-setting wave of layoffs in Georgia, the state's unemployment rate is within 1% of its pre-pandemic position. As the state lifts restrictions and more Georgians are immunized, workers like Stephen Spanks, a magician from Lawrenceville, are heading back to the job.
April 19, 2021 Saporta Report
David Pendered reports that the South River's designation as an example of environmental injustice on American Rivers' list of 10 most endangered rivers arrives as the nation focuses attention on Georgia for its revised and restrictive elections law. American Rivers laid responsibility for the South River's degradation squarely on the county, state and federal governments.
April 19, 2021 Rome News-Tribune
Staff reports that Rep. Marjorie Taylor Greene, R-Rome, was one of two House lawmakers who voted against a bill to reauthorize the National Marrow Donor Program this week. The bipartisan measure seeks to reauthorize a national inventory of cord blood and a database of bone marrow donors for matches with patients diagnosed with leukemia and other fatal blood diseases.
April 19, 2021 Brunswick News
Hank Rowland reports that Coastal Georgia's voice in the U.S. House is a co-sponsor of legislation that would strip Major League Baseball of its antitrust exemption. "For years, Major League Baseball has had the luxury of enjoying exemption from federal antitrust law," said U.S. Rep. Buddy Carter, noting no other professional sports league is favored with the exemption.
April 19, 2021 Capitol Beat News
Beau Evans reports that medical marijuana is nearing reality for thousands of Georgians suffering from serious health conditions as state officials sift through applications for growing licenses and lawmakers recently paved the way for pharmacies to become dispensaries. A program years in the making to regulate the cultivation, extraction and distribution of low-grade marijuana oil is set to award licenses to six groups from among 70 applicants later this spring or early summer.
April 19, 2021 Atlanta Journal-Constitution
Greg Bluestein reports that Atlanta Braves fans headed to Truist Park soon won't be able to avoid reminders of the fallout over the new election law that cost the stadium the chance to host the All-Star game. The conservative voter-mobilization group helmed by former U.S. Sen. Kelly Loeffler launched a digital billboard campaign Monday blaming top Democrats for Major League Baseball's decision to move the event.