South Metro Atlanta: Adapting and Accelerating
Logistics, manufacturing and healthcare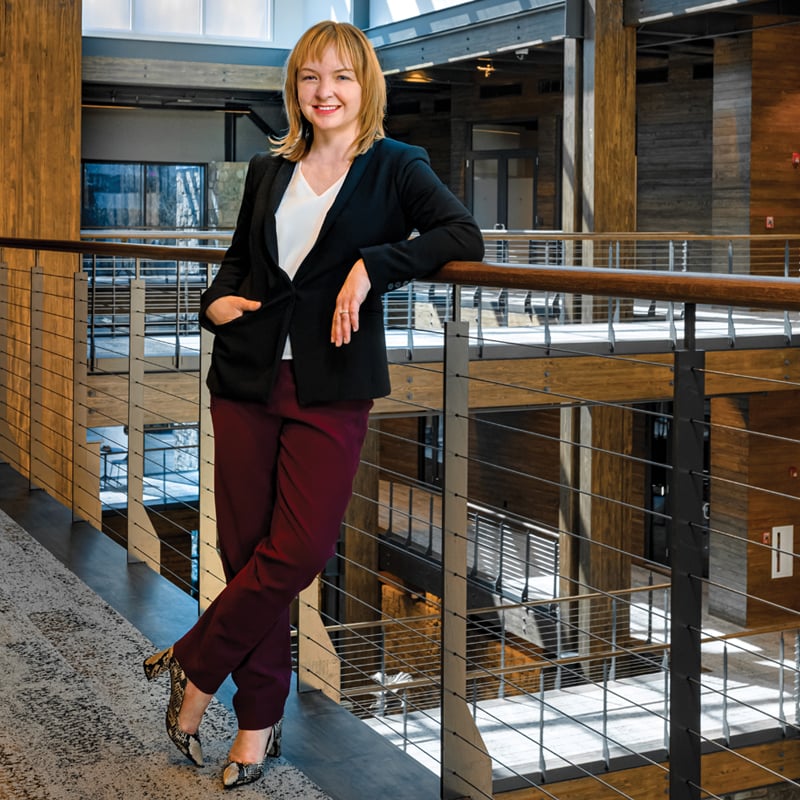 Everyone in just about every industry in every location in the world was forced to make major adjustments to their daily lives beginning in the spring of last year. New habits were established in record time as people pulled together to try and stave off the novel coronavirus and its effects.
For many industries and towns, the virus caused an extreme economic downturn. But in the six counties of South Metro Atlanta – Henry, Coweta, Fayette, Spalding, Clayton and South Fulton – there was good news to go along with the bad. With an abundance of developable land, easy access to interstates and an available workforce, industrial, logistics and manufacturing operations rapidly expanded across the region.
"In Henry County, 2020 was a record-breaking year," says Josh Fenn, executive director of the Henry County Development Authority. "Our development authority has been around since the late 1960s, and we broke all-time records for job attraction and investment."
A similar theme carries across the other South Metro counties, where consumer trends continue to spur development in the industrial space.
"Before the pandemic, we got a lot of good retail coming in and additional amenities," says Fenn. "A lot of that came through small businesses around the squares of McDonough and Hampton, Locust Grove and Stockbridge. That adds quality of life. A lot of good things are coming together at the right time, and that has really helped us here."
---
Logistics Expansion
Henry County alone attracted more than 2,600 new jobs and $451 million of investment across 10 projects in 2020, according to Fenn. One of the largest was Zinus Inc., a Korean e-commerce mattress and furniture company that announced a $108-million investment and 804 new jobs last August. The project represents the company's first North American advanced manufacturing facility and will take over a former Toys "R" Us distribution center of nearly 1 million square feet in McDonough.
Home Depot, already a strong presence in Henry, has announced an expansion that will bring 600 jobs and $100 million of investment to Locust Grove. Other big announcements include Purple Innovation, maker of Purple Mattress, creating a McDonough facility that will employ 360 and become the company's first plant outside of Utah.
"The Purple Mattress is one of the hottest names in the bedding industry," says Fenn. "They're the Cadillac of that industry and they are a direct-to-consumer company. That was another exciting win for us."
Global confectionery giant Ferrero USA; Incora, a provider of supply chain management services; and e-commerce technology company Radial Inc. were among the other companies to choose Henry and South Metro Atlanta last year, cementing a record-breaking 2020. That's not to mention Ken's Foods investing $103 million in its McDonough facility and the opening of a Dole Packaged Foods distribution center.
"Manufacturers have to get their product to the customer," Fenn says. "It's not just the pandemic, you've also had trade disputes. For e-commerce, we provide a great location to manufacture a product and get it into the supply chain very quickly."
For racing fans, an exciting development is that Atlanta Motor Speedway in Hampton will host two NASCAR races in 2021, the first time that has happened in a decade. The races generate major sales tax dollars for Henry County.
In Fayette County, there was similar good news to share, including data and logistics solutions provider SMC3 opening its 80,000-square-foot corporate headquarters in August.
"We are thrilled SMC3 chose to grow in Peachtree City and Fayette County," says Megan Baker, president of the Fayette County Development Authority. "The company's investment in its state-of-the-art new headquarters building as well as the addition of highly skilled technology and logistics professionals adds tremendous value to our community."
Fayette also saw expansion from Trilith Studios (formerly Pinewood Atlanta Studios), which is adding 220,000 square feet of innovative spaces on its 700-acre campus. The studio is part of a 935-acre master development designed to be its own European-inspired town, complete with houses, restaurants and schools.
Looking forward, Fayette has adopted a 2026 action plan that includes targeted recruitment of film, entertainment and technology companies. To lure these sectors, the county can market a 600-plus-acre business and technology park with fiber connectivity.
"The technology sector, including data centers, complements our existing industry, aligns well with our workforce skill set and creates a sustainable tax base," says Baker. "These companies also don't add to traffic or environmental issues. We are working with site selectors, brokers and our existing industry to recruit these companies to Fayette."
---
Shifting Gears Quickly
Like many other counties in the state, Clayton administered a small business grant program to help companies stay afloat. And its economic engine, Hartsfield-Jackson Atlanta International Airport, saw drastic drops in passenger traffic. But beyond the airport itself, some industries prospered in 2020.
"Many of our companies were working, thriving, hiring and expanding," says Erica Rocker-Wills, economic development officer for the Clayton County Board of Commissioners.
Among those expanding was, not surprisingly, The Clorox Co., which manufactures products like sanitizing wipes and Formula 409 in Clayton County.
"They were hiring because they had one of the most in-demand products in the entire world," Rocker-Wills says.
Fresh Express, known for its salads and fresh fruit bowls, operates its largest distribution center in Clayton County. The company has expanded its local workforce by 350 and is adding another shift of workers.
"With the pandemic there has been a shift. It's the blue-collar jobs that were maintained and that remained necessary as e-commerce got more in-demand," says Rocker-Wills. "Our companies ramped up production to get products on trucks and on the road."
There are plenty of other positives for Clayton County. It's fast-growing, with a population nearing the 300,000 mark and boasts the youngest median age in Metro Atlanta. More than one-fifth of its residents are college educated, and 35% of all Clayton jobs are in supply chain and logistics.
Moving forward, Rocker-Wills hopes to imprint an image of Clayton as a great place not only for jobs but for quality of life. She touts amenities like The Beach at Clayton County International Park, which offers a six-acre lake, water sports and sandy beaches that are undergoing a major upgrade, the Newman Wetlands Center and the county's walking trails, tennis and volleyball courts among other amenities.
On the other side of the airport, in South Fulton County, cities like College Park and East Point have dealt with the sharp decrease in air travel that continues in 2021.
"Our cities and the airport were directly impacted by COVID and the associated recession," says Shannon James, president and CEO of the Aerotropolis Atlanta Alliance. "We had a really hard time. Like most small businesses and nonprofits, we struggled."
The alliance took advantage of the Paycheck Protection Program and got to work planning its future. It's now finishing up Blueprint 2.0, which will set its agenda for the next five years.
"Blueprint 2.0 is a top priority for us," says James. "It's the regional planning vehicle not only for our organization, but it allows us to understand what's happening in multiple jurisdictions and to communicate across boundary lines. It allows us to have a regional vision versus a singular vision."
Yet another project the Aerotropolis Atlanta Alliance is spearheading is a workforce training program in partnership with STRIVE Atlanta, a job training and career development services nonprofit. The program will help train area residents for the skills they'll need to fulfill the thousands of job opportunities opening up across the area.
The program is kicking off this spring. It lasts seven weeks and will be held at the alliance offices. Both soft and hard skills will be taught and participants will receive a certification upon completion.
"We're connecting STRIVE with our corporate partners," says James. "The training is geared toward their needs. We'll focus on the East Point, College Park and the South Fulton area. Our hope is that if it's successful we can take it to Clayton County as well."
The program doesn't end with skills training. STRIVE tries to help limit all barriers to entry for the workforce.
"If there are transportation or daycare needs, STRIVE comes in and helps remove those barriers," says James.
James also hopes to maximize real estate development in the area, including logistics, mixed-use, office, retail and residential.
Perhaps chief among the projects aiming to realize this vision is Six West, a 311-acre development in College Park near the city's historic downtown and its MARTA station. The $1.5-billion project will be more than double the size of Midtown Atlanta's Atlantic Station. Included in the long-term vision for Six West are 2.3 million square feet of office space, six hotels, 550,000 square feet of commercial space, 260 multifamily units, 100 single-family units and 120 townhomes.
"An aerotropolis is like a metropolis," James says. "What we're trying to do is create a central business district for the immediate area of the airport, one that becomes like a midtown or a downtown. This project will affect not only College Park but East Point, South Fulton, Clayton County. I think it will serve as a real momentum builder for other sites to kick off in the region."
The idea is to create more destination developments, such as Six West and existing projects like the Porsche Experience Center, to accompany the other forms of development already in place on the south side, to supply the essential quality-of-life piece.
"We're only six years old, but imagine us in the next 10 years as we continue to garner trust and support and partnerships," James says. "We'll be a catalyst and I feel like are becoming that now."
---
'21 and Beyond
Part of filling out infrastructure involves more healthcare facilities as jobs and the population increase in South Metro.
"Another big thing we're hoping to see big growth on is healthcare," says Henry County's Fenn. "We have a growing population, and a nice byproduct is we have a lot of folks with paid private healthcare. That's very attractive to medical groups, and we've seen a lot of tire kicking from them. As we get out of the pandemic they will want a position on the south side."
Coweta County will soon welcome a new medical office building at Piedmont Newnan Hospital, which encompasses 113,000 square feet. It is the hospital's second such building and spans five stories. The facility offers cardiology, cardiopulmonary rehab, general surgery, neurology, orthopedics, physical therapy and occupational therapy, along with administrative and human resources offices and classroom space.
"We've got a great story to tell," says Candace Boothby, president and CEO of the Newnan-Coweta Chamber of Commerce. "I think it speaks highly to the community infrastructure we've created over the years. Even though we've had to pivot and there have been barriers, we've still been able to move the needle."
Boothby likes to point to other positives in her county, such as the record enrollment at the University of West Georgia's Newnan campus, a relatively strong collection of hotel/motel taxes and future developments. Just across from the hospital is a planned mixed-use development that would bring even more amenities to the area.
Coweta has seen its fair share of industrial development too, with an Amazon warehouse opening last fall. The company held a job fair in September that drew 5,000 applicants. Hello Fresh also has opened a warehouse and Goodyear is in the process of developing one. Boothby thinks that the long-term effects of lockdowns could include more office space development in the suburbs as people have grown unaccustomed to commuting.
In fact, because Coweta has proved so popular, Boothby says the county now puts requirements like a minimum starting pay on companies seeking incentive packages. Almost 50 companies requested information about the county last year. Coweta County's sales tax revenue also increased, an impressive feat in the middle of a recession.
Just to the east of Coweta, Spalding County has for years thought differently when it comes to industrial development. Long ago the county established an eco-friendly business park, complete with its own standards for green operation, and it is now looking to establish another one.
"During COVID we optioned the last two sites [at the eco-park]," says David Luckie, executive director of the Griffin-Spalding Development Authority. "The good news is, we're out of land. The bad news is, we're out of land."
If all goes well the county's citizens could approve sales tax dollars to fund the new park next year. Luckie is confident the demand is there to support it.
"More and more companies are making green products," Luckie says. "We've had a number of companies looking at the park out of curiosity. It has done very well."
In the meantime, he is working with neighboring counties to develop new parks along I-75.
"We're working with developers on that, hoping to attract companies on the interstate," Luckie says. "We also have developers looking at land closer to our industrial park. If they're in a location where we can get infrastructure to them, that's what we're doing until we can get our own new park. We're fortunate that we have developers looking at land in Spalding County."
Elsewhere, a new Holiday Inn Express has opened in Spalding after beginning construction in early 2020. A big goal for Luckie is opening another hotel, this one in downtown Griffin, and he has partnered with the city toward that end.
With a combined population of over 1 million residents and thousands of acres of land awaiting development, South Metro Atlanta is positioned for success as the 2020s continue. Enormous industrial projects are breaking ground, and major mixed-use developments like Six West portend a long-term vision of the area as a full metropolis in and of itself.
In short, things are moving in South Metro Atlanta.
"Our tagline is, 'Clayton County is a place where the world lives and opportunities take off,'" says Rocker-Wills. It could be the tagline for the entire region.