Savannah | Chatham County: Unexpected Bright Spots
Tourism, new construction and the port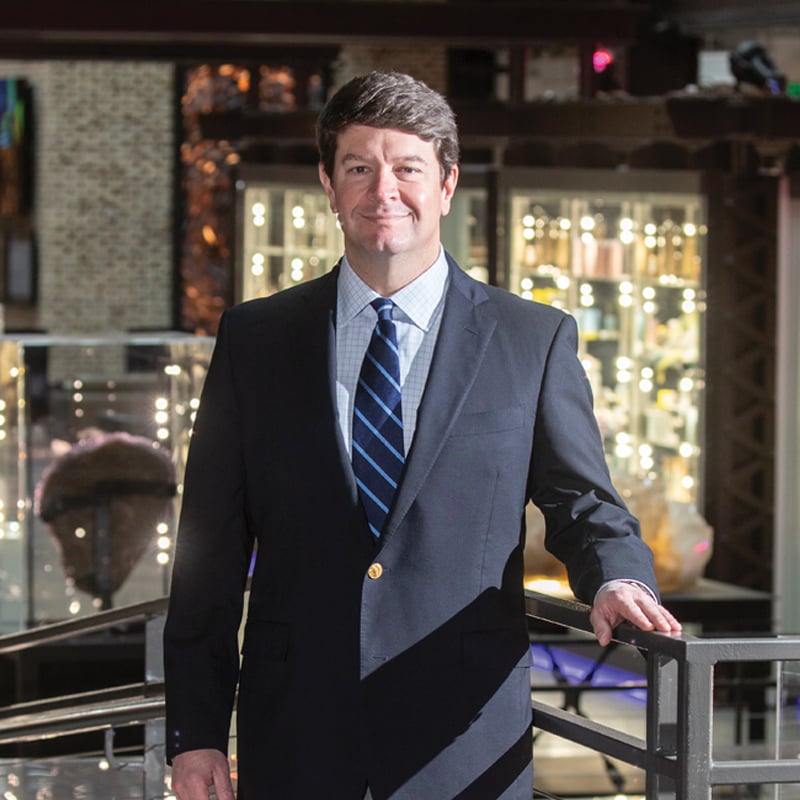 When the pandemic hit, Bridget Overson found herself geographically unleashed from her job. Since her office was now a Zoom meeting and a broadband connection, she started looking at places that were warmer and cheaper than her native New Hampshire – a search that landed her in Savannah in late July. And, thanks to an innovative recruitment program, she got reimbursed for $2,000 of her moving expenses.
"I started looking at house prices in Savannah and I thought, this is incredible – these houses are so affordable! I got a three-bedroom with a fenced-in backyard for what I sold my two-bedroom townhouse for. It seemed like a no-brainer, with a livable city and being a dog owner," Overson says.
Overson is one of 22 people who had received a Savannah Economic Development Authority (SEDA) Technology Workforce Incentive Grant as of February. Experienced tech workers who meet other criteria – like signing a year's lease or buying residential property in Chatham County – can qualify for up to $2,000 in moving expense reimbursements. That won't foot the entire bill for a long-distance move, but it takes a lot of the sting out of it.
Trip Tollison, president and CEO of SEDA, says the program is one of the innovations SEDA came up with in the midst of the COVID-19 crisis. Savannah wants to grow its tech sector, so it made sense to go headhunting when the pandemic dramatically expanded the number of tech workers who could literally move and bring their jobs with them.
This is just one example of how the diverse economy of Savannah coped with the crisis that was 2020. "Even in the down year of the pandemic, we were able to facilitate more than 1,218 job opportunities," Tollison says. SEDA also helped bring in nearly $316 million in investment.
For the most part, Savannah experienced the economic bitterness shared by the rest of the state last year. But there are unexpected bright spots, too: a stubborn resiliency in the hard-hit tourism sector, long-term construction projects coming to fruition and a fourth-quarter resurgence at the Port of Savannah that seems to have surprised even the folks in charge.
---
Nearing the Finish Line
If the Savannah Harbor Expansion Project (SHEP) were a person, it would be old enough not only to vote, but to walk into a River Street watering hole and buy a beer. Even though physical work didn't begin until 2015, the complex planning, engineering and permitting process goes back more than 20 years. Now it's finally winding down. The expansion is on track to be complete by January 2022, and the Georgia Ports Authority expects to join the U.S. Army Corps of Engineers – in charge of the $973 million project – in some form of closing ceremony.
The shipping channel of the Savannah River is being deepened to accommodate today's massive ships. Already, the behemoths are coming. When the CMA CGM Brazil, the largest ship yet to call on Savannah – or the entire East Coast for that matter – made its way up the Savannah River last September, locals turned out to watch. But that was just the beginning: CMA CGM Brazil has a 15,072 TEU (twenty-foot equivalent unit) capacity, and an even larger vessel is scheduled this spring.
The port those giant ships are calling on has so far weathered the pandemic and accompanying economic crisis surprisingly well.
"We went into the final quarter of our calendar year in the red, but with October, November and December being as strong as they were, we came out in the black. The fact we were up speaks volumes about Georgia and the ports," says Griff Lynch, Georgia Ports Authority executive director.
"We started in March and thought the world was going to fall out. And we did have some down months, but Lynch and the team came up with the theme of 'operate but isolate.' We were able to work in a safe environment and show that we could work safe. All of a sudden, orders started multiplying and our last quarter was a record quarter," says Will McKnight, GPA chair.
Meanwhile, other GPA capital projects are coming to completion this year. That includes the final phases of the Mason Mega Rail terminal that will increase the number of rail tracks from 8 to 18 and double the Port of Savannah's rail lift capacity. Also near the finish line is improved berth space to accommodate up to four of the largest ships simultaneously, along with three smaller ones.
---
New Lifelines
Construction projects that were already underway when the pandemic hit proved to be economic lifelines. For example, the $165-million Savannah Arena is taking shape on the west side of the city. Expected to open in 2022, it already has its first tenant – an as-yet unnamed minor league hockey team.
"The arena is on time and on budget. It is significantly out of the ground at this point and is in the process of being closed in," says Mayor Van Johnson of the massive municipal project. "We believe this will be a major addition by the time we get to our new normal. Where we could safely continue construction, it was important that we did so. That kept our economy going."
Tollison, meanwhile, points to SEDA's Savannah Chatham Manufacturing Center, a 774-acre site divided into various sized parcels with built-out infrastructure on the western edge of the county. SEDA just finished putting in water, sewer, road and engineering development and is now marketing it in parcels from nine to 100 acres.
The new freestanding Memorial Health Dwaine and Cynthia Willett Children's Hospital of Savannah opened this spring as well, with 50 inpatient beds and specialized pediatric emergency room facilities, all adjacent to the parent campus, Memorial Health University Medical Center. The structure – part repurposed existing building and part new construction – is designed to allow for eventual expansion through additional floors. A companion medical office building is in the planning stage.
"This has been a vision of a lot of the leadership in this city and in this hospital," says Memorial Health CEO Shayne George.
The new children's hospital facility employs about 275 people and two resident therapy dogs, a hound-ish mix named Penelope and a French bulldog named Dice, backed up (when COVID restrictions are lifted) by other therapy dogs owned by volunteers.
Veteran educator Chester Ellis took over the gavel as chair of the Chatham County Commission this year, and soon additional construction will take place on his watch as the county constructs a new courthouse, new quarters near the airport for its emergency operations center and a Special Purpose Local Option Sales Tax (SPLOST)-funded replacement of a branch library.
"We're also trying to get federal and state funding so we protect Chatham County from climate change," Ellis says. He's interested in studying the latest efforts of New Orleans and, in particular, Key West to control flooding as oceans rise.
---
A Day at the Beach
When it comes to tourism, consider it a tale of two Aprils. In April 2019, it was the best of times: Hotel occupancy in Savannah's Historic District was running 87.9%, flush with folks enjoying the city's balmy spring, blooming azaleas and full schedule of events. In April 2020, it was the worst of times: Hotel occupancy in the city's Historic District stood at 6.8%, driven into single-digits by the pandemic shutdown.
What about this April? It's likely to be a mixed bag, says Joseph Marinelli, president of Visit Savannah. "Weekends, which is Thursday through Sunday, remain strong in visitation numbers and occupancy. However, without business travel and conventions, Sunday night through Wednesday is really suffering, and we frankly don't expect to turn that around until late third quarter or early fourth," he says.
"All of our research tells us people want to feel like they can relax in a safe environment as it relates to COVID," Marinelli says, pointing to a strong late-2020 performance among vacation rentals at Tybee Island, a municipality with outdoor attractions and local beaches.
Early on, Tybee served as sort of a microcosm of the political battle of wills that dominated the state – and the nation – on pandemic issues. In early spring 2020, at the height of the pandemic shutdown, Tybee's city council closed the beaches. Gov. Brian Kemp promptly overrode that order.
When tourists who are expected this summer – virus or no virus – hit the beach, they'll find restaurants and shops to serve them, thanks in part to Tybee Island's grant program and regulation waivers that helped businesses set up outdoor seating and vending space.
"I cannot reiterate enough to the public how critical it is for people to take responsibility and not to look to government to tell them what to do," says Tybee Mayor Shirley Sessions. "We know what to do, and I just hope more people will take more responsibility. If you are coming to the beach, we welcome you, and we encourage you to mask up and be aware of distancing."
The city has tried humor to encourage masking, adding giant "masks" to its welcome sign and the grills of some city vehicles. It has also supplied masks to businesses to share with staff and customers.
Meanwhile, a new attraction awaits along the less-developed North Beach. The Tybee Island Marine Science Center's move to new quarters, from its previous home on the south end of the beach, was delayed by the pandemic but officials anticipate it being open for summer visitors.
---
Rebounding Well
Credit part of Savannah tourism's limited recovery in the second half of 2020 to Safe Savannah, an initiative of Visit Savannah, the city and other stakeholders to push information out to consumers about businesses that committed to taking extra safety precautions.
"That opened up our community earlier than others," says Savannah Area Chamber of Commerce President and CEO Bill Hubbard. "We're rebounding very well, especially Tybee Island."
But Safe Savannah was not uniformly enforced by its 700 participating businesses and as people began to chafe at things like mask restrictions, its effectiveness sometimes slipped – a situation Johnson found frustrating.
"Georgia has had almost a bipolar response to COVID," he says, with the state initially overriding safety measures Savannah and other municipalities had put in place.
Safety measures aside, leaders expect a drop in tourism from 2019 numbers. That year, Savannah hosted 14.8 million tourists who spent $3.1 billion, according to an annual study commissioned by Visit Savannah. The obvious bad news of 2020 hasn't been tabulated yet, but the latest study is expected sometime in May.
"We are definitely doing the study, more for the purposes of consistency of having this report every year, and also to have it in our archives. Someday, they're going to look back and say 'Let's see what we learned from the pandemic era,'" Marinelli says.
Even without the study, it's clear tourists stayed home by the millions in 2020. But empty hotel rooms did not stop hotel construction, including two massive projects in the works for years at opposite ends of River Street, the tourist promenade that runs along the Savannah River.
The Plant Riverside District on the western fringe of the street repurposed an old power plant, complete with a pair of imposing smokestacks, as a hotel/restaurant/retail complex under the name Savannah J.W. Marriott, the hotel giant's luxury brand. To go with the adapted industrial building – whose features include things like a private dining room inside one of the smokestacks – there are four newly constructed buildings. At the moment, it adds 304 rooms to Savannah's hotel inventory; once the fifth building is finished this summer, that number will reach 419.
As bad as 2020 was for a lot of business owners, Atlantan Ian Smith, who heads up the Mariner Group's mixed-use Eastern Wharf development on the other end of River Street, has a story that is uniquely awful.
"It was kind of sickening to sit here in the office and watch our project burn down on the webcam," Smith says of a Feb. 27, 2020 fire that raced through the construction project. "It delayed us about a year. We originally anticipated opening it in June [2020]. Now both the hotel and the apartments are going to open at the same time, so the big picture is that some good came out of it."
The current phase of the project includes a 193-room Thompson Hotel, a luxury boutique Hyatt offering whose nearest other hotel is in Nashville. Along with that is a 306-unit apartment complex known as Riverworks, 30,000 square feet of retail space and a 700-space municipal parking garage, plus a 3-acre riverfront park.
Mariner Group and Regent Partners, both Atlanta-based, are the principals for the project, with ELV Associates of Boston as a financial participant. An adjoining property is being developed as Upper East River, high-end residential units from Patrick Malloy Communities.
An Aloft Hotel also opened in the Historic District in 2020.
Savannah's signature St. Patrick's Day Parade was canceled this spring, making it the second year in a row without revelry in Savannah's streets on March 17. But efforts are underway to salvage some other major spring events by rescheduling them in May, including the Super Museum Sunday as part of the Georgia History Festival on May 2 and the Savannah Music Festival, slipped two months to May 18-30. (Festivalgoers should check websites to make sure those dates are not changed again or canceled.)
When the year started, the Savannah Hilton Head International Airport could boast of 16 daily nonstop destinations, and up to 27 if you count seasonal and weekly services. But if nonstop flights are the coins of the flight world, then airlines themselves are the folding money. Savannah put that money in its pocket this spring with two new airlines – Southwest began offering five initial nonstop destinations, followed by regional Florida airline Silver Airways with nonstops to Tampa and Fort Lauderdale.
"We've been chasing Southwest for a number of years, and they saw the success of Allegiant and other lines and they approached us last fall. It's a testament to how Savannah has really grown to a destination of choice," Marinelli says.
---
Local Flavor
Art for Folk
The format is consistent but ever-changing: a portrait of a well-known figure and a pithy quote. Once you've seen one, you'll recognize the others anywhere. This simple formula has taken the artwork of Panhandle Slim (Scott Stanton) from exposed building sides to the walls of Savannah's Telfair Museums, from the Women's March of 2017 to Biden-Harris campaign signs reproduced across the country.
"I never really think about it, but the art world calls it folk art, so I say it's art for folk," Stanton says.
He started out putting his paintings on found scrap wood, but as demand grew he turned to purchasing wood because he no longer had the time to forage. When he was asked to do some pieces for the Women's March, cardboard became his medium.
"For the Washington march, word spread locally. I worked nonstop for about two weeks and got 300 paintings done. For me, it was very easy to paint and be a part of that. I didn't go, but I felt like I went. I certainly was represented," he says of the paintings he sent off to Washington with local marchers, colorful signs with faces and words that ranged from Harriet Tubman to Stevie Nicks.
"People think art needs to be really expensive and needs to take a long time and that's not me. You can see people show up and tear a roof off and put a new one on in a day. That's how I work – I can do a painting in a day, and I can get a lot done if the weather is nice and sunny," he says.
Stanton's first career was as a professional skateboarder, which took him from Japan to Norway and financed his college education. When he married and began to move around with his wife's academic career, he ended up staying home with their children and took up painting for something to do.
What does his work cost? A good question. Sometimes it's free: "If it's screwed onto a wall at a business, it should stay put but if it's nailed to a telephone pole, it's fair game." Customers reach him through his Facebook page, and he says "I throw out a you-name-the-price deal. That's quite a gamble and sometimes it's really a high price and sometimes it's really a low price. It's nice when you can sell a painting for a lot but I like to make sure people can afford art."
Now 52, the former professional skateboarder still rides. He says, "I roll around a little. Now, it's falling down and being able to get back up that feels like the best trick ever."