LaGrange | Troup County: Creating a Sustainable Future
International businesses, housing and outdoor amenities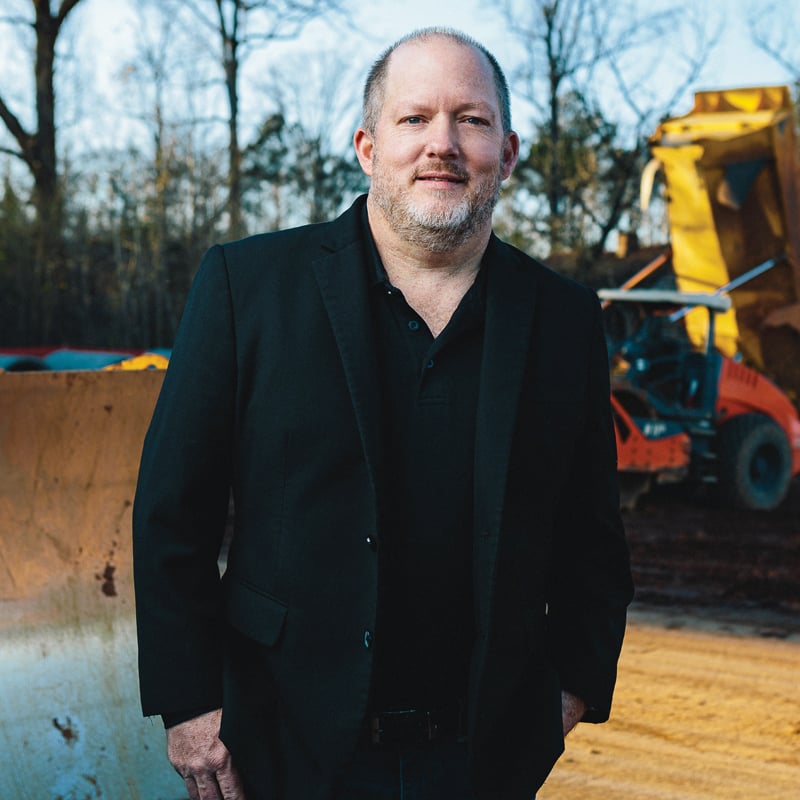 Sustainability can be an overused word in economic development. But leaders in Troup County and the city of LaGrange are embracing the concept and its benefits, whether through business and industrial developments like the 10,000-acre Georgia International Business Park (GIBP) or quality-of-life projects like The Thread, a 29-mile, multi-use trail connecting places of interest across the community.
"Sustainability is a component of how we see LaGrange," says Mayor Jim Thornton, "one that is not living in the past or complaining about being overlooked or missing out, but looking forward to the future and trying to embrace progress."
But sustainable development wasn't implemented as a philosophy or a marketing strategy until the county lost a project to another community in 2017. Scott Malone, president of the Development Authority of LaGrange (DAL), described it as a wake-up call that ignited a desire to find or develop projects that leave the community better than they found it. Some, like the GIBP, would be legacy projects.
---
When Loss Becomes a Legacy
The GIBP launched in March 2018, combining LaGrange Industrial Business Park, Jim Hamilton Park and Callaway South Industrial Park under the GIBP banner. It is the largest business park in the Southeast, the fourth largest in the country and home to more than 41 international companies representing 18 countries, including Kia Motors, Jindal Films, Sentury Tire North America and Sewon America.
"For us, the GIBP wasn't a concept; it was reality," says Malone. "We had companies that were absolutely committed to sustainability like Interface Flooring, Milliken and others. After losing that project, we decided to put our stake in the ground and talk about the resources we have in place, like The Ray."
The Ray is an 18-mile stretch of Interstate 85 that became an innovation and sustainability lab about five years ago thanks to the Ray C. Anderson Foundation's collaborative efforts and partners in the business, industry, government, education and nonprofit sectors. The Ray generates innovative projects touching on everything from highway sustainability to Internet of Things technology. But the GIBP isn't just philosophically connected to The Ray.
"The Ray borders the eastern edge of the GIBP, and we tied that with the companies that were in the park – Interface, Milliken, Duracell, even Kia with their commitments and innovations with sustainable technology. That's why we branded [the park] Georgia's Premier Sustainable Business Community," Malone says.
The DAL entertains a steady stream of international companies, many of a green or sustainable nature. "We have 17 projects in our pipeline right now with an estimated value of close to $2 billion," says Malone. "Obviously, we're not going to win them all, but out of the 17, 14 are international."
Additionally, the DAL partnered with the state, Georgia Tech and the Environmental Protection Agency to beta test a sustainability modeling tool. In the future it could help economic developers determine the effect of an industrial or commercial project on the sustainability of a community.
---
Project: Growth
Malone expects to soon unveil the name behind the DAL's second legacy project: Project Greenfield, a $240 million investment that will create 400 jobs and introduce a new form of agriculture – controlled environmental agriculture – to the region. The entire investment was driven by the GIBP's commitment to sustainability. The yet-to-be-named company plans to build a 40,000-square-foot R&D center in addition to nine 300,000-square-foot greenhouses.
There are other, smaller projects in the works, too. Project Galileo is a $62 million expansion, vital because it retains 200-plus jobs, and the company (again, not ready to be named) is retooling its facility to make it viable for the next 20 years.
Project Disco involves another international company that's planning to invest $150 million and create 250 jobs in the automotive sector. The project was put on hold last year due to COVID, and there is no timetable for its announcement.
And then there's Project IP (Inland Port), the third legacy effort. What began as a development with the Georgia Ports Authority is now a private equity initiative in conjunction with CSX. The project also had to relocate from the previously chosen site due to changes in trains' physical characteristics.
"They've gone from 6,000 to 7,000 feet long to anywhere from 10,000 to 15,000 feet long, and they're double-stacked, requiring more space," says Malone. "You can't just stop a train anywhere. We were fortunate to have a couple of locations, one of which is now under contract."
But it's not the additional development that the inland port will inevitably draw; it's the sustainability factor that gives the project legacy status.
"It's estimated that this inland port will remove 30-million truck miles off Georgia's roads," says Malone. "From a safety and sustainability standpoint, you can see why it's important."
---
Come to Work and Live
In December, Hyundai TRANSYS announced plans to invest more than $240 million to build a new 620,000-square-foot manufacturing facility near the West Point Kia site, creating 678 full-time jobs.
Meghan Duke, economic development director for the West Point Development Authority, would like to see more of those people living in West Point and Troup County. There's just one hitch – a lack of housing.
"We know that our workforce commutes to work at these facilities," she says. "We estimate we pull from about 45 minutes away."
Fortunately, multiple housing developments are underway throughout the county, including two – one public and one private – in the city of West Point.
"The West Point Housing Authority received a 9% housing tax credit through the Georgia Department of Community Affairs to build the first phase of West Point Village," says Duke.
The mixed-income development will address the need for workforce housing and have 72 one-, two- and three-bedroom units. A larger private development of 624 luxury "resort-style" apartment homes with lake-life amenities hopes to attract millennials and young families.
"Our main focus is on housing because we know that's our biggest barrier to attracting commercial development," says Duke.
With housing development comes awareness of the need for more and improved infrastructure, particularly water and sewer. The city of LaGrange earmarked close to $30 million in sewer projects bonded for existing and new improvements. "We are careful to do [this development] in partnership with our county leaders as well as the cities of Hogansville and West Point," says Thornton. "Several years ago, we made the joint commitment that we wanted to see residential growth, but we wanted to see it follow existing development patterns and existing infrastructure. We're encouraging developers to follow the patterns already in place on the interstate's eastern side – the LaGrange, Hogansville, West Point corridor. I anticipate growth will channel toward those city centers where we already have robust infrastructure in place."
Developing downtown residential housing is his top priority, says Bill Hunnicutt, executive director of the Downtown LaGrange Development Authority (DLDA). The renovated Dixie Cotton Mill (now the Lofts of LaGrange), while not downtown, is attracting precisely the types of renters the DLDA wants to see move to LaGrange.
"We're looking for and hoping to attract two groups," Hunnicutt says. "One, millennials. We'd like to have them come back to LaGrange because typically they come with higher-paying jobs, and they're people who like to be downtown. Also, older empty-nesters. They're usually people who live here [in LaGrange], selling their bigger houses and yards and want to move downtown. If we can get that happening, LaGrange will be in a tweaking kind of mode. Having people living downtown is the last big step."
---
Promoting Tourism
Downtown LaGrange relies heavily on tourism. Spots like Wild Leap Brew Co., Sweetland Amphitheater, the Del'avant Event Center and the AMC Classic movie theater were all severely impacted by the pandemic.
Connie Hensler, the new president of the LaGrange-Troup County Chamber of Commerce, took advantage of the availability and space at the Sweetland Amphitheater and the Del'avant Center, shifting chamber events outdoors or to the larger indoor venue where members could meet safely.
"We tried to figure out how to do the things we do in different ways," she says. "One of the benefits of being new was that I wasn't locked into doing things as they'd always been done. We looked for ways to add value and support our members and community."
Promoting tourism also changed in 2020. Previously handled by the chamber of commerce, tourism marketing funding and operations were shifted to a separate entity – Visit LaGrange – partly because of the substantial jump in hotel-motel tax revenue generated by Great Wolf Lodge resort, which opened in May 2018.
"It was a good year for us as a start-up because it gave us time to work on our strategic plan, for me to get to know our tourism partners," says Kathy Tilley, president and CEO of Visit LaGrange. "While I would rather have entered the fray with my hair on fire, at least we had time to plan."
She created marketing strategies using the Visit LaGrange website and social media platforms, developed and promoted travel packages with local tourism partners, and tracked results. Visit LaGrange contracted with the state's Tourism Product Development Resource Team, which will audit the city's assets based on what travelers and guests are looking for. Tilley said it's a great time to get outside input, especially since health and safety have bubbled to the top of travelers' concerns.
And Tilley focused on people they could market to – locals and those living within 50 or so miles.
"We knew there was a segment of the population that was comfortable with traveling, and we marketed to them," she says. "We promoted all the spaces for your nuclear family. Go for a walk on The Thread. Go to our skateboard park. Our restaurants have outdoor seating. Get outside and be with your family. That was a shift for us."
If some good came out of 2020, it was a greater appreciation of outdoor spaces. Natalie Hale, executive director of Friends of The Thread, says infrared counters along the multi-use trail (now eight-plus miles long) counted 26,000 people on The Thread in April 2020, more than double in some areas over the previous year.
"Gyms were closed, and there was nothing else," Hale says. "The Thread was a lifesaver. We are currently in the construction phase of a six-mile segment [called Panther Park] that extends the LaGrange College segment to the Coleman [Community] Center and the historic Hillside Neighborhood."
Once that portion is complete, scheduled for this month, construction can begin on the first phase of the next segment – Southbend Park to Kex Mill – which will include a spur with a bridge to the Mulberry Street Cemetery.
Southbend Park, a 10-acre downtown park that opened in 2018 and includes green space, a world-class skateboard park, dog parks and playgrounds, was part of a larger plan, says the mayor.
"The city has done a comprehensive parks study to look at our parks amenities," Thornton says. "We think there's a big appeal to passive parks and passive greenspace. COVID has demonstrated the need for outdoor amenities like that."
Like most city leaders, Thornton would like to put 2020 in the rearview mirror.
"I think there will be other opportunities coming down the pike," he adds. "We will continue to embrace economic development. That's our goal. We want to grow, and grow in sustainable ways."
---
Local Flavor
Building Bridges
A few years ago, Kathy Tilley, now president and CEO of Visit LaGrange, worked at Callaway Gardens. She attended the rededication of the Mulberry Street Cemetery, a Civil War cemetery in LaGrange, and saw something that stopped her cold. A field had been filled with more than 300 temporary markers where the remains of enslaved or African-American people had been discovered.
"I've never forgotten that sea of markers," she says. "I got chills; 300 souls."
A solitary granite monument also stood in the field. It marked the grave of Horace King, who was born enslaved and became a highly respected engineer and bridge builder throughout the Southeast. King was born in 1807 in South Carolina and learned to read and write while young. John Godwin, the slave owner, was a contractor who relocated his household to Columbus, Ga., when he was hired to build the first bridge across the lower Chattahoochee River – a project King supervised.
Godwin and King had an unusual relationship for the time, working as partners on construction projects across the South, including countless lattice truss-design covered bridges, courthouses, large homes and factories. After the Alabama State Capitol burned down in 1849, King designed and built the twin cantilevered-spiral staircases at the building's entrance.
According to some accounts, Godwin freed King in 1846, but their partnership held firm. When Godwin died in 1859, King erected a monument over his grave. King served two terms in the Alabama House of Representatives, but soon after his second term ended in 1872, King, his wife and their five children settled in LaGrange. His four sons formed King Brothers Bridge Co., carrying on their father's engineering legacy. When King died in 1885 his death was reported in the major newspapers across the state.
In 2020, when Tilley learned that The Thread, a walking trail, would connect to the cemetery with a pedestrian bridge over the Oseligee Creek, she thought, "If they're going to build a bridge, it better be a covered bridge because it would be right by Horace King's gravesite."
She realized this could be more than a tourism asset and the timing was organic and meaningful.
"This needed to be our next project," she said.
Tilley contacted Callaway Gardens, knowing that they owned an original 1870 Horace King covered bridge, and was delighted when they donated the King Bridge to the project.
With funding from the city, Visit LaGrange is moving forward with plans to enhance King's gravesite. They'll add landscaping and stone markers for the other remains in the field. Eventually, an interpretive pavilion will tell the complete history of Horace King, the African-American graves and the Civil War graves to tourists and education groups.
"All three parts are important and will be treated equally," Tilley says. "It's a great story if it's just Horace King or just the slave cemetery. But the fact that we have all three together is meaningful. Horace King is still building bridges in this community, 150 years later."