Coping with COVID
A Path to Well-being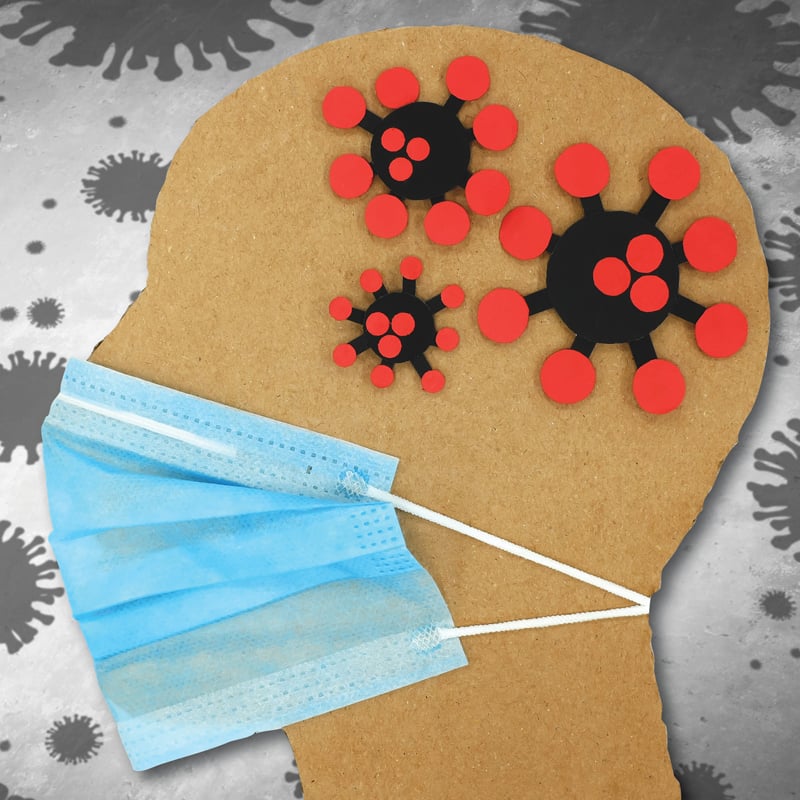 COVID-19 hit like a lightning strike, darkening businesses and causing everyone from office workers to schoolchildren to shelter at home. While the infection risks soon became clear, the deeper ramifications – not just on health and livelihoods but on emotional well-being – took time to emerge. A year later, as hopes rise for an end to the pandemic, Georgians are still wrestling with the lingering mental health impact of months of stress, loss and economic and social disruption.
Coping skills waned as the pandemic surged. In April 2020, 36% of Georgians had feelings of anxiety or depression, according to a U.S. Census Bureau household survey. By December, that had risen to 46%.
The state set up a COVID-19 Emotional Support Line within weeks of the pandemic shutdown to connect people with counselors and resources. It has continued to receive a steady stream of about 200 calls a month. The line will remain active until at least 2022, says Terri Timberlake, state director of the Office of Adult Mental Health for the Georgia Department of Behavioral Health and Developmental Disabilities. "We want to be able to offer the support to citizens of Georgia for as long as there is a need," she says.
Isolation and uncertainty have taken a toll, Timberlake says. "We found that a lot of the callers want to get some suggestions, in the moment, for managing the stress and anxiety," she says.
Even people who had the capacity to stay safe and connected became weary of pandemic-related restrictions and worn down by the fear of infection. Rachel [At her request, her name has been changed to protect her privacy], a 78-year-old retired educator in Roswell, at first embraced the unusual dynamic. She connected virtually with friends and relatives around the world, attended online classes and religious services without leaving her living room and went for long walks with friends.
But as time went on and a highly transmissible variant emerged, she became more concerned about encountering people who weren't wearing masks. That fear trapped her inside. Like many Georgians, she spent holidays physically alone. Zoom gatherings no longer made up for the loss of real contact. "There's nobody touching you; there's nobody hugging you," says Rachel, who awaited the relief that would come with vaccination.
For many people, advances in combating the pandemic won't mean an immediate snap back to normal, cautions Jewell Gooding, former executive director of Mental Health America of Georgia. "The damage has been done," she says. "There is the loss of jobs, the loss of savings, the loss of education."
And, of course, the loss of life. As of March 1, more than 15,000 deaths in Georgia were confirmed as due to COVID. "The amount of grief and loss is going to have a long-term impact on our mental and physical well-being," Gooding says.
---
State of Crisis
The mental health toll of the pandemic has been well documented nationally. COVID-19 created stress for eight in 10 American adults, according to the Stress in America 2020 poll sponsored by the American Psychological Association. Respondents reported feeling tense, being quick to anger and having unexpected mood swings. Sixty-one percent said they didn't get the emotional support they needed to cope.
Drug overdoses rose by 18% during the shutdown period from mid-March to mid-May last year, according to a national tracking system at the University of Baltimore. A staggering 75% of young adults between 18 and 24 reported experiencing at least one mental health symptom, such as anxiety or depression, in a web-based survey reported by the Centers for Disease Control and Prevention.
"When people are under stress, there's a lot of trauma," says Darryl Russ, a licensed professional counselor in Atlanta. "The reality is, the whole country is going through trauma right now."
Georgia is particularly ill-equipped to deal with a mental health crisis. The advocacy group Mental Health America ranks the state 51st for access to mental health care – last among the 50 states and District of Columbia. Outside of Metro Atlanta, the entire state has a shortage of behavioral health professionals.
Strained resources are especially felt in the publicly funded mental health system. In 2020, the state Department of Behavioral Health and Developmental Disabilities sustained a budget cut of about $91 million. Federal funds kept the cut from being even greater.
"Our providers are doing a really amazing job of squeezing every possible available capacity," says Timberlake. "While we've not been able to give them additional resources, they've been able to creatively maximize the resources they have so individuals are able to receive the diagnostic assessment, medication management and therapy."
Telehealth became an important tool to bring mental health services to remote areas across the state. In Moultrie, Todd Lynch runs support groups for people with substance use and mental health issues for the National Alliance on Mental Illness (NAMI) Georgia. Many of the groups went online during the pandemic, allowing people who don't live in the area to participate.
His message: "While I may have to stay in my house alone away from everybody else, I'm still not alone."
---
Taking the Call
When crisis counselor Toneisa Hughes responds to callers to the COVID-19 Emotional Support Line, she's ready to provide help. Or reassurance. Or just to listen. The pandemic has strained marriages, frustrated parents and children, forced young adults to move back home and taken away the social pleasures of life.
A teacher called and vented about how difficult it is to manage remote learning. Some callers are desperately trying to get the vaccine while others fear it. One regular caller doesn't have any complaints; he just wants someone to talk to. "Everyone wants to be validated," Hughes says. "They want to feel like they're being heard."
When she answers a call, Hughes asks just for a first name and last initial. The caller's identity remains confidential. Sometimes, callers have specific needs – a COVID test, eviction relief, a licensed therapist – and she refers them to resources.
"Our number-one goal is just to make sure from the time they call to when they hang up that they feel some comfort, that they leave that call feeling better than when they came," she says.
People experiencing a mental health crisis are referred to the Georgia Crisis and Access Line and, if appropriate, may receive service from a mobile crisis unit.
Twenty-five community service boards – independent provider organizations that contract with the state – provide ongoing services in the public "safety net" for people who are uninsured, underinsured or on Medicaid.
With the pandemic shutdown, NAMI Georgia suspended its in-person support groups but gradually ramped back up to 95 virtual groups. Its website provides links and phone numbers for resources ranging from Alcoholics Anonymous to residential programs. NAMI Georgia also provides a toolkit to guide people who want to appeal an insurance company's denial of mental health coverage.
While federal law requires insurers to cover behavioral health conditions in parity with other medical treatment, the provisions have not been adequately enforced, says Kim Jones, executive director of NAMI Georgia and a member of the Georgia Behavioral Health Reform and Innovation Commission, which was created in 2019 by the governor and legislature with a three-year charge to review the state's behavioral health services and recommend reforms. The Mental Health Parity Act, HB 49, introduced in the 2021 Georgia legislature, would require parity for mental and substance use disorders, giving state insurance officials more enforcement leverage. The bill did not pass this year.
---
Emotional Fallout
While everyone has been affected in some way by COVID-19, people in some occupations or situations have felt the emotional impact more acutely.
The Georgia Early Education Alliance for Ready Students (GEEARS), a nonprofit organization that advocates for children from birth to age 5, conducted an online survey of parents and caregivers last May and June. More than half reported that an adult in the family had experienced a job loss, furlough or cut in hours or pay due to the pandemic. Only one-third said their current child-care situation was manageable. Two-thirds said they were worried about the impact of the pandemic on their own mental health.
As a special education teacher in Augusta, Onnie Poe, 41, felt the painful repercussions of COVID from many dimensions. She lost her father-in-law to the disease. She has taught virtually and in-person, managing the new demands of teaching online and the risks of infection at school. And she has watched her three children respond differently to the challenges (and sometimes opportunities) of online education.
"For a while, I truly felt stuck," she says. "I'm in these walls and I can't do what I used to do. I kept hearing people say, 'I can't wait until things get back to normal.' But I thought, 'What if this is normal? What if it is never the old way again?'"
Poe found ways to relieve stress, including journaling and spending time in nature. As she washes dishes at night – and whenever she needs to turn around her negative thinking – she repeats affirmations to herself: "It is well. It is going to be well." And she is determined to "readjust as necessary."
Poe shares her strategies and affirmations on her private Facebook group, Confessions of a Lady, which has more than 1,000 members. She also created a nonprofit organization, Filling in the GAPS, to build connections among community organizations and seek to bridge gaps in the services and resources they provide.
Some people have been in survival mode, just pushing through day by day, she says. If they haven't found ways to cope with the stress and anxiety, they may have just delayed the emotional fallout. "Even the strongest of the strongest people are affected by the pandemic," Poe says.
---
Platform of Support
The greatest trauma, of course, is felt by healthcare workers on the frontlines. Many of them held a dying patient's hand when loved ones weren't allowed to enter the COVID ward. They came home and isolated from their families or stepped immediately into a shower, hoping to scrub away the infectious danger they posed. They are still working long shifts with few breaks.
Nadine Kaslow, professor and vice chair of the Department of Psychiatry and Behavioral Sciences at the Emory University School of Medicine, created Caring Communities, a platform of support for healthcare workers. An interprofessional group of psychiatrists, psychologists and social workers provide guidance as healthcare workers wrestle with fear of infection, anxiety, exhaustion, burnout and grief.
"Every time somebody dies, it's a trauma," says Kaslow, who is chief psychologist at Grady Health System and a former president of the American Psychological Association. "Every time somebody codes, it's a trauma. It feels like a trauma with no end."
Through a link on the Caring Communities website, Emory also provides wellness guides in English and Spanish for the general public and people with specific situations, such as parents with children at home in virtual school, the newly unemployed and people managing grief. The guides offer advice about building resilience and managing stress.
Kaslow says she hopes people take some positives from COVID into their lives – the new flexibility, new coping skills, new ties with family and friends. "I think we are changed forever as individuals, as families and as a nation," she says. "We don't want to go back to normal. Normal was not that great.
"We need to find ways to move forward with a new normal – a normal that's more connected. A normal that's more inclusive," she says.
Experts see another silver lining in the stressful months of the pandemic: compassion for people who have longstanding mental health challenges. "COVID has really helped raise the awareness of mental health and the importance of it," says Jones.
---
A Path to Well-being
While we continue to stay socially distanced during the pandemic, we share a collective experience of stress, worry and loss. To weather those challenges, experts suggest coping strategies that focus on relaxation, personal connection, optimism and overall well-being:
• Get enough sleep. That's when your brain recharges. "Your sleep will impact your mood, and your mood will impact your ability to deal with this pandemic," says Darryl Russ, a licensed professional counselor in Atlanta.
• Adopt healthy habits. Bingeing on ice cream or chips might sound comforting, but nutritious foods are good for your brain. Add some physical activity to your routine — a walk around the block or online yoga.
• Stay connected with other people, whether it's in person (in a safe way), by phone or online. "Taking the time to connect allows you to feel supported," says Terri Timberlake, state director of the Office of Adult Mental Health for the Georgia Department of Behavioral Health and Developmental Disabilities.
• Feel gratitude and grace. Having positive thoughts can boost your mood and build resilience. "We need to build more compassion in our lives, compassion for ourselves and other people," says Nadine Kaslow, psychologist and professor at Emory School of Medicine.
• Take a deep breath. Find a way to build relaxation into every day. That could include listening to music, reading a book, stretching, meditating or prayer.
• Ask for help if you need it. If you are having difficulty sleeping or concentrating, if you feel irritable, moody or overwhelmed, you may benefit from talking to a licensed mental health professional. When you express your emotions and experiences with a licensed professional or in a support group, "what you'll find is you're not alone," says Russ.

---
Need Help?
Do you or someone you know need help with COVID-19 or mental health issues? Start here:
• COVID-19 Emotional Support Line: available 8 a.m. to 11 p.m., 866.399.8938
• Georgia Crisis and Access Line: available 24/7, 800.715.4225
• National Alliance on Mental Illness Georgia: namiga.org