Georgia Trend Daily – March 2, 2021
March 2, 2021 Capitol Beat News
Dave Williams reports that the late Gov. Zell Miller will be honored with a monument on the grounds of the Georgia Capitol under legislation the state Senate passed unanimously Monday. "This is about the man who gave us HOPE," Sen. Jeff Mullis, R-Chickamauga, the bill's chief sponsor, told his Senate colleagues during a brief presentation.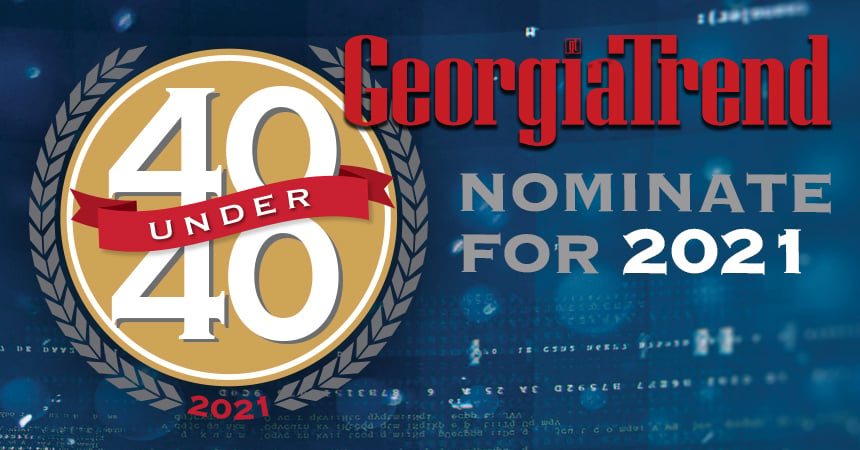 March 2, 2021 Georgia Trend – Exclusive!
Karen Kirkpatrick reports that each year Georgia Trend honors 40 of the state's best and brightest under the age of 40. Whether you know someone who's making a difference on the national stage or is a mover and shaker in his or her corner of the state, if they are under 40 years old as of Oct. 1, 2021, we want to hear about them.
March 2, 2021 Atlanta Journal-Constitution
Andy Peters reports that two Korean companies in a trade secrets dispute that threatens a massive factory being built in Georgia argued their positions to the White House last week. SK Innovation told officials that President Joe Biden should overturn a recent ruling that could halt its planned production of batteries for electric vehicles at its plant near Commerce, according to a company presentation.
March 2, 2021 GlobalAtlanta.com
Trevor Williams reports that neither has an Atlanta presence now, but two of Boston-based venture-capital firm Advent International's portfolio companies are combining to create a major new payments player in the city that bills itself "Transaction Alley." Clearent, a St. Louis-based processor, is combining with Auckland, New Zealand-based Transaction Services Group, a business software firm with a focus on subscription management, into a globally connected payments firm called Xplor Technologies, which will be based in Atlanta.
March 2, 2021 Rome News-Tribune
Doug Walker reports that Rome and Floyd County are still searching for that next large industry to bring jobs to the community, however, efforts to assist local companies to grow are not going unnoticed. Site Selection magazine has pegged Rome as the No. 5 metropolitan area with a population under 200,000 for new capital investment, on a per capita basis.
March 2, 2021 Covington News
Taylor Beck reports that another data center is headed to Stanton Springs. Bond documents for a major economic development at the multi-county industrial park show the issuance is strikingly similar to the one approved in 2018 for Facebook's Newton Data Center, which was operating as Morning Hornet LLC at the time.
March 2, 2021 Georgia Recorder
Stanley Dunlap and Jill Nolin report that environmentalists hold up the controversial proposal to mine for minerals near the Okefenokee Swamp as the poster child of the lands that lost federal protection under former President Donald Trump's administration last summer. That rule replaced an Obama-era one that opponents criticized as government overreach and shifted the focus of the Twin Pines Minerals' mining application from the U.S. Army Corps of Engineers to the Georgia Department of Natural Resources, which is now poised to decide the fate of the mining project.
March 2, 2021 Savannah Morning News
Will Peebles reports that a Savannah native has been nominated for a role in President Joe Biden's administration. Kiran Ahuja, a Windsor Forest High School graduate, was tapped by the President to head the Office of Personnel Management, an agency responsible for the millions of Americans in the federal civilian workforce.
March 2, 2021 Law.com|Daily Report Online
Katheryn Tucker reports that President Joe Biden and the U.S. Senate now have two openings to fill on the U.S. District Court for the Northern District of Georgia. When Judge Amy Totenberg told the Daily Report Friday that she plans to take senior status in April, she mentioned that her colleague, Chief Judge Thomas Thrash Jr., had already said he would be doing the same in May.
March 2, 2021 GPB
Stephen Fowler reports that over objections from Democrats, Georgia House Republicans passed a sweeping elections bill 97-72 that would enact more restrictions for absentee voting and cut back on weekend early voting hours favored by larger counties, among other changes. HB 531 would also strip the Secretary of State of his role as chair of the State Election Board, prevent county elections offices from receiving direct grant funding, shorten Georgia's runoff period and require counties to add more staff, equipment or polling places in large precincts with long lines.
March 2, 2021 Capitol Beat News
Dave Williams reports that legislation that would make significant changes to regulations governing Georgia's coin-operated amusement machines (COAM) got some pushback Monday from lobbyists representing the industry. Senate Bill 217 doesn't strike the proper balance between the owners of the machines and owners of the convenience stores where the machines are located, Les Schneider, representing the Georgia Amusement & Music Operators Association, told members of the Senate Regulated Industries & Utilities Committee.
March 2, 2021 Atlanta Journal-Constitution
Maya T. Prabhu reports that the state House panel voted Monday to make hospitals and nursing homes allow visitors at facilities despite concerns it could spread the COVID-19 virus. The House Human Relations and Aging Committee approved a measure that would require health care facilities to allow at least one person to have access to a patient for at least one hour a day and bar the governor from imposing any limitations — including during a health emergency such as the COVID-19 pandemic.