On a Mission: Q&A with Venessa Harrison, AT&T Georgia president
The AT&T executive talks about her career and efforts to open doors for others.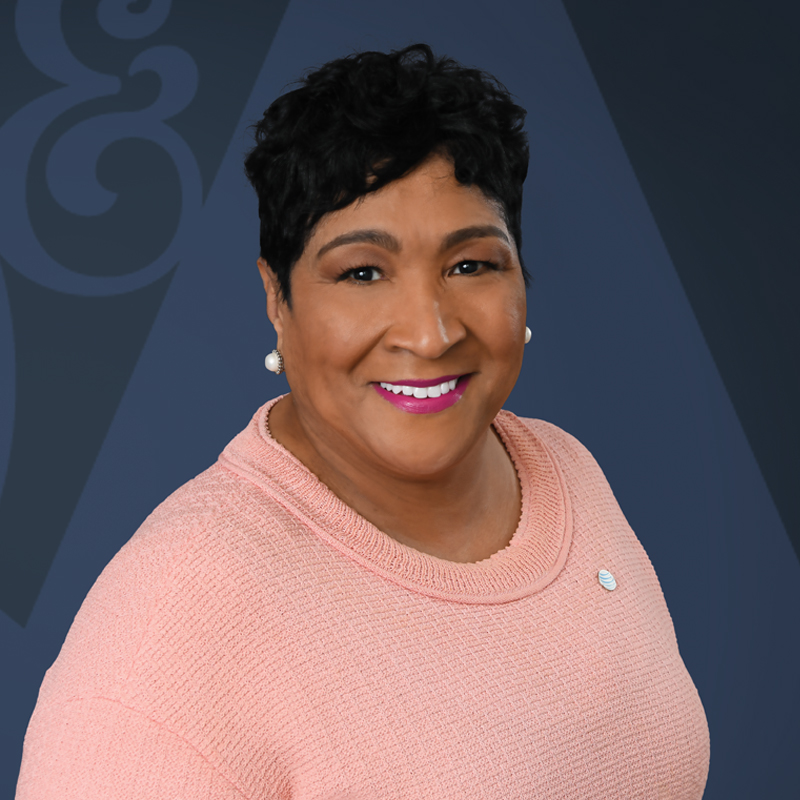 Venessa Harrison's journey with AT&T started more than 30 years ago, when she was hired as a telephone operator in North Carolina. She rose through the ranks to become president of AT&T North Carolina, then came to Georgia in 2018 to head the company's operations here.
She has witnessed and been part of many changes at her company, which has operated as Southern Bell, BellSouth and AT&T. Long a telecommunications power, AT&T became a major player in entertainment and media in 2018 with its $85-billion acquisition of Time Warner, now WarnerMedia, which includes HBO, Warner Bros. and Atlanta-based CNN, TBS and TNT.
Harrison has a special interest in corporate diversity and inclusion, and she is active in the Georgia Chamber of Commerce, the Metro Atlanta Chamber and the Rotary Club of Atlanta.
Georgia Trend's Susan Percy talked with Harrison about her company, her career and her efforts to open doors for others. Following are edited highlights of the interview.
---
GT: You've spent most of your career in North Carolina. Was coming to Georgia a big change?
Harrison: It's so ironic that when I began my career at AT&T, which at the time was Southern Bell, I actually came to work for the company because I wanted to be able to transfer to Atlanta. I had been trying to get a job in Atlanta and could not. So I thought if I get a job here [North Carolina], I can work for six months and transfer. My whole strategy around coming to work with AT&T was to end up in Atlanta. Little did I know it was going to take me over 30 years to get here, but I'm here and I love it.
---
GT: How big a presence does AT&T have in Georgia?
Harrison: We have approximately 22,000 employees in Georgia.
---
GT: What are your chief duties – how do you spend your time?
Harrison: In my role as president, I'm responsible for implementing AT&T public policy, [and for] economic development and community affairs activities here in Atlanta and across the whole state. I work with local and state political leaders – and key business leaders as well – to foster an environment that welcomes investment and innovation and that focuses on bringing new technology that drives innovation and creates jobs, and to provide opportunities that can make our world a more equitable place.
To do that I have to be in a public policy climate that encourages investment. That's what I've found while I've been here in the state of Georgia and particularly in Atlanta.
---
GT: Tell us more about your background and your career trajectory.
Harrison: I'm one of 10 children – I'm No. 5. I'm the one that tries to tell the older ones what to do but then bosses the other ones around.
---
GT: That sounds like good executive training.
Harrison: Exactly. My mother raised us. She was incredible, always about making things happen regardless of how much you have or how little you have. We grew up in low-income housing projects. But I always knew that with the upbringing I had and the guidance of my mom, we would do great things. Back then people who grew up in a single-parent home were [considered to be] at risk. But my mother always taught us we were at risk of doing great things.
---
GT: That had quite an effect on you.
Harrison: I had such determination and was taught at a very young age that where you begin does not define your destiny. I began in a housing project but I knew that was not where I would stay. I also knew that I would one day be in a position to help other people come out of it. So that's why I have such a good passion for that, and I'm so grateful to work for a company [with such a strong] value system – people belonging is at the core of what we do.
---
GT: How did you end up at AT&T?
Harrison: I stopped school after my sophomore year of college because I wanted to work. I'd worked that summer and I thought, Wow, I really like having my own money. My mother was a huge advocate of education, so she just was not sure [about] that. We finally agreed that I would stop school for one semester but then I would go back. I knew if I got a job with a company like AT&T, they would pay for my education. When I accepted the job as [telephone] operator, it was the lowest paying job in the company. People thought, why would you want to work nights, weekends and holidays? Quite frankly, that just didn't bother me. I was on a mission to succeed. I had always been taught that you have to make sacrifices.
I was around some incredible older people. I was fortunate enough to have people who would give me guidance, who would pull me aside if I went astray. Starting at the bottom was not a concern for me. I knew that where I started was not going to define where I ended.
---
GT: You didn't stay an operator for long.
Harrison: I just worked my way up – jobs I was interested in and even jobs [not] so interesting. I took the jobs because I knew that I would learn something out of them.
---
GT: I know equality of opportunity and social justice are very important to you. You wrote a powerful letter on your company's behalf last summer in the wake of protests over racial injustices, acknowledging a "distinct responsibility to be part of the solution to achieve equitable justice" and saying that AT&T "will not sit this one out." What prompted you to write it?
Harrison: I felt compelled to write something. You have to speak truth to power. You can't always assume that everyone knows all the answers, that everyone's intentions are negative. I think writing this letter demonstrates what courageous, creative and compassionate leaders do, and I believe that's what I am.
I wanted people to know that even though I'm where I am in this company, I am not oblivious to injustice, not oblivious to inequality. I'm not oblivious to the fact that there are discriminatory things happening [globally], but each one has to teach one. You have to speak.
---
GT: Your own experiences and perspective surely influenced your decision to make such a strong statement.
Harrison: In my whole career, professionally and personally, I've experienced injustices all around me. I've had situations. I believe when you speak on those things, people feel, I'm not the only one. I also believe when you speak that you educate people.
Here's the thing: You've got to listen to understand, not listen to react. When I tell you what my life is like as a Black woman, it doesn't mean you have to react. If you react and don't understand, then you're going to do the wrong thing. You've got to listen to understand; once you understand, then you can react.
---
GT: What kind of response did you get to the letter?
Harrison: Very favorable. A lot of people were saying, "Thank you, Venessa, for sharing. I felt that way but didn't know what it would be like if I said something." A lot of people would email me individually, but they would not respond publicly. What that tells me is that they are not comfortable saying something. That's what we have to work on if we truly want to work on social justice. We have to make people feel comfortable and belong, so that they are comfortable enough to say something. What they say doesn't necessarily always have to be negative, but they have a message.
---
GT: Tell us more about AT&T's work around social justice and diversity.
Harrison: That is something AT&T has continually worked on, and it started long before the [recent] civil unrest. We've made a lot of strides, but we've got to continue, making sure we have representation at the top: 35% women and 45% people of color make up our workforce, but we've got to make sure we have great representation at the decision-making level.
---
GT: Talk about some of the changes you've seen over your career.
Harrison: When I first started with AT&T, we were basically a phone company, then a long-distance phone company. Then we moved from a mechanical-type technology to electronic, to digital, now we're on an IP – internet protocol. We have also evolved into an entertainment and media company, which is huge. We are the largest media and entertainment company in the world.
---
GT: On the telecom side, what's notable in Georgia for AT&T?
Harrison: Since 2018, AT&T 5G has been available in Georgia, including some of the most rural areas. We're launching our purpose-built partnership cell site to support our first responders. AT&T was awarded the contract to provide FirstNet for first responders across the country, [including, in Georgia,] some really rural areas. [FirstNet is a dedicated national broadband network that is used by police, firefighters and emergency medical services.]
---
GT: What about 5G? This fifth generation of wireless technology brings a lot of power, speed and increased ability to connect people and devices. How is that going to impact Georgians?
Harrison: I think we're going to lead the charge to unlock the power of 5G – there's just so many opportunities that 5G presents, and we're only getting started. More are going to come to light. This is more about deeply connecting people with their passions and creating opportunities to transform industry. You've got health and human services that rely on that to be able to advance healthcare for people, especially in rural areas. Even now as we pivot to address COVID challenges, doctors are finding creative ways to connect virtually with patients.
As we look to the future, we're going to be focused on empowering equity and preparing people for the next chapter in their lives with education, ensuring that children have technology.
---
GT: And on the entertainment side?
Harrison: In the last two years, we acquired WarnerMedia [formerly Time Warner], and we have spent over a billion dollars in production in Georgia.
---
GT: What sort of changes has the COVID pandemic brought to your company?
Harrison: In terms of entertainment, people have not able to get out and produce movies, even though we are working now, trying to get back. But AT&T has found other opportunities. COVID has allowed us to explore areas we would not have traditionally explored.
---
GT: Like what?
Harrison: Call center jobs, [traditionally] jobs in an office. [The thought was] if you can't be in an office, you can't be a call center rep. COVID has shown us that you can do a job anywhere you want to do it, if you have the technology to accomplish what you're trying to do. We have call center reps working from home; a lot of our work is being done online.
The majority of our employees are not in the office. I think COVID has taught us a lot about what we did not know we could do as a business, as a society.
---
GT: Where do you see opportunities for growth?
Harrison: I think AT&T will continue to lead the industry in entertainment and media. We have an absolutely phenomenal CEO, John Stankey, in place since July. I'm very encouraged about the direction our company is taking.
---
GT: Any obstacles to the growth potential?
Harrison: We have to work to ensure that we have the right public policy climate, have to be encouraging businesses such as AT&T to continue to invest. I'm very proud of the work the Georgia General Assembly has done in support of our 5G and the FirstNet. If we've got the right public policy climate, then we're going to invest.
---
GT: In Georgia, there is a keen awareness on the part of our government leaders and our business community of the importance of educational opportunities, including workforce training. What does that mean for your company?
Harrison: Job skills and education go hand in hand. Long gone are the times where local government or state government can do it alone. It has to be a public-private partnership. Education is at the top of our list. We are always trying to find programs that will increase graduation rates or reduce the dropout rate. We work with a lot of nonprofits, partner with the school systems to ask what is it we can help with.
---
GT: Give us an example.
Harrison: When COVID first started, a lot of kids did not have access to broadband or Wi-Fi, so we worked with the Georgia Department of Education. We provided antennas on school buses and put the buses out there where kids did not have access. That's [just] one of the ways. It takes all of us working together, and not just one entity trying to solve it.
---
GT: You are involved in a lot of civic and philanthropic activities. Why is that important to you and AT&T?
Harrison: We are supporting economic empowerment opportunity for traditionally underserved populations, such as [in] the Westside, areas that are challenged with crime and wealth gap. We launched the Believe Atlanta initiative, one of our signature programs, in January 2018 with a $250,000 contribution to the Westside Future Fund. [Nationally], we've contributed more than $3.5 million to key community organizations.
---
GT: Efforts like that require long-term commitment, don't they?
Harrison: That's exactly right. It can't be a check-the-box thing. You've got to be intentional about it and be consistent.