Valdosta | Lowndes County: Business as Usual
Transit, infrastructure and downtown development.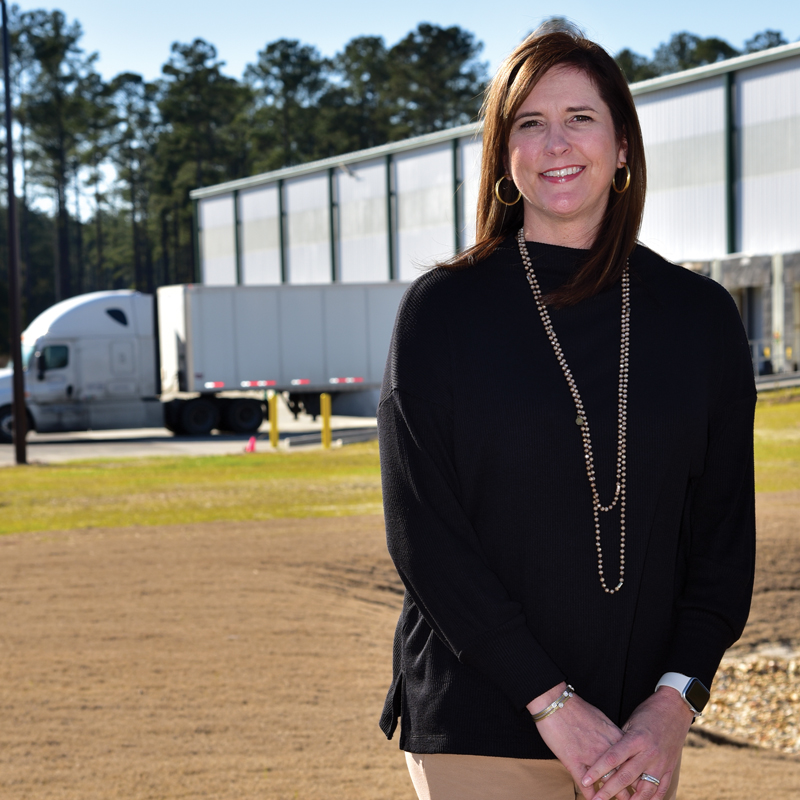 As Georgians ease into this new year anticipating brighter days ahead, leaders in Lowndes County are focusing on business recruitment, downtown improvements, and a myriad of much-needed infrastructure and road projects.
Unless they're leading large cities, most mayors balance full-time careers with their duties to constituents, and Valdosta Mayor Scott Matheson is no exception. Matheson, who has 33 years in radio, began his on-air career in Gainesville, Fla. He now owns conservative talk radio station Talk 92.1 WDDQ and hosts his own morning show. To prepare for the 6 a.m. slot, he gets up at 3:50 every morning.
"Everything I prepare for starts from the inside, and I work my way out to find enough content to carry the three hours," he says. "I put about 750 guests a year through there, from charities to politicians and otherwise. It's just nonstop."
Having just completed his first year in office, Matheson says life after the election isn't much different. "Nothing really changed in my life but the title because I was waist deep in the community anyway. My workday and a few things have changed, but not much. I'm pulling people together to complete a project that we're doing on homelessness or revitalization. It's what I do naturally."
A new project is the mid-February launch of the city's first transit service, in partnership with mobility solutions company Via. The on-demand service, 80% of which was funded with a public transportation grant from the Federal Transit Administration, operates Monday through Saturday, with eight vehicles at a projected cost to passengers of $3 for the first 10 miles.
Unlike a bus system, says Matheson, the transit service allows passengers to schedule a ride days in advance or be picked up within about 15 minutes after calling. After six months, Via will conduct a study to develop a regular route and determine whether there is demand for around-the-clock service. "We'll see if our swing shift and factories have an appetite for it," says Matheson.
Also a focus, the city will lend labor to help The Salvation Army revitalize its homeless shelter. In addition, the mayor is privately raising money to construct six tiny houses on Salvation Army property. At $35,000 for each home, Matheson has raised enough for five of the six. "We can turn the keys over to them, and that can be transitional housing out of their program," he says.
---
Spotlighting Main Street
Main Street Director Ellen Hill says they've weathered the pandemic as well as could be expected, even opening a few new stores and restaurants and an axe- throwing entertainment facility. "Downtown has done OK during this time. We haven't permanently lost any businesses, so that's good news. We're doing our best to support our businesses and see them through to the other side of this."
In December, Valdosta Main Street was one of five communities awarded a $10,000 Georgia Main Street Innovation Grant made possible in part by Main Street America and a grant from The Williams Family Foundation of Georgia to help fund innovative revitalization efforts addressing the impact of COVID-19. Valdosta Main Street plans to create a yearlong video/digital marketing campaign to help bring people back to brick and mortar stores. Supplementing the grant from the National Main Street Center, Georgia Power awarded Valdosta an additional $10,000 for the project.
"A lot of our businesses just learned to be flexible and learned to pivot really well during this. Some even say they had better months in 2020 than they ever did before," Hill says. "Our community has really embraced shop local, support local."
Valdosta Main Street and Central Valdosta Development Authority will place additional emphasis on downtown business recruitment, supporting existing businesses and rebooting events they were unable to host in 2020, says Hill.
Several major projects will break ground in downtown Valdosta this year, says Matheson.
A pocket park developed by the city is home to food-truck events and other popular activities. The city will spend $500,000 in 2021, and eventually a total of $1.2 million, to develop an amphitheater as well as a parking pad with power and water for the food trucks. Nearby, the county is creating a greenspace on a two-block-wide property near city hall.
Also a boon for Downtown Valdosta is Georgia Beer Co., which continues to drive tourism. Recently celebrating its two-year anniversary, the brewery and taproom is housed in a revitalized water works building. "Who knew it came with a tourism aspect? You go into their parking lot and you'll see [license plates from] half a dozen different states," says Matheson. "People map out breweries for when they travel."
The Annette Howell Turner Center for the Arts has purchased property vacated by Synovus bank and plans to develop a 5,000-square-foot children's art museum, says Executive Director Sementha Mathews. The addition will expand the center's campus from Patterson Street to Ashley Street, the main corridors into the downtown area, resulting in almost a block and a half dedicated to the arts. The project is being made possible through a donation from Valdosta natives Dan and Carolyn Coleman. The center will be named for his mother, Meta Shaw Coleman, who was a teacher.
The project is currently in the design phase and Mathews hopes to see it open mid-2022. "There's not anything like this south of Atlanta, where the whole building is dedicated to a children's museum. It's a great thing for our area, not just our city and county."
In recent months, city leaders received a 2020 Smart Community Challenge Grant award from Georgia Tech for their project to map all 128 traffic signals in town and put smart technology in place to create a traffic management system. The system will allow first responders to use transponders to clear the path when they're on a call, which will result in better response times, says Matheson.
---
Regional Education
Valdosta State University President Richard A. Carvajal sees VSU as "the region's university," serving as a catalyst for growth throughout its 41-county South Georgia service area and addressing issues related to the talent drain suffered in rural areas.
"We're trying to produce more graduates by attracting more students to the institution," he says. Efforts are already paying off, and with more than 12,000 students currently enrolled, VSU was named the fastest growing by percentage in the University System of Georgia, says Carvajal.
Getting more of those students to the finish line is a university-wide effort, and in that vein, VSU has revamped programs for advising, tutoring and other support services to see students successfully through to graduation. Efforts have resulted in a year-over-year retention increase of 9%. "That kind of increase, quite frankly, in the higher ed world, just really doesn't happen and yet it's happening here," says Carvajal.
To keep graduates in South Georgia, VSU facilitates connections to area employers before graduation. For example, to graduate from the Langdale College of Business Administration, students are required to complete a study abroad, a significant number of community service hours or an internship, as early as their sophomore years.
"We're getting them connected to businesses and industries here, forming relationships and proving themselves, seeing what job opportunities are here. And often they are getting job offers well before they get to the finish line," says Carvajal. In fact, he adds that the model has worked so well that VSU is pushing it across all academic colleges.
Maintaining the workforce pipeline requires the university meet direct needs of area business and industry for employees in specific fields. In past discussions, for example, manufacturers voiced a need for more engineers, a program VSU doesn't offer. However, upon further review of job descriptions and pay scales for the unfilled positions, VSU determined it was actually a need for engineering technicians. In response, last fall VSU launched an engineering technology program with 45 students, a level of enrollment they didn't expect to reach until the program's third year.
VSU is also addressing ongoing needs of the region's healthcare industry, specifically when it comes to leadership in nursing, and this fall will launch a doctorate in nursing practice, the only such program in South Georgia, says Carvajal.
---
Expanding Critical Services
A county employee in various positions for the past 25 years, Paige Dukes was promoted to county manager in August, replacing the retiring Joe Pritchard who served in that role for 20 years. Her background with the county was a definite benefit and she was able to jump right into her new responsibilities.
Dukes says one thing the pandemic shed light on is how critical public safety infrastructure is to everyone. Currently, Lowndes County has a combination fire department of 60 volunteers and 15 paid firefighters that operate out of a single station, but they're looking to expand that this year to better serve the county's more than 115,000 residents, she says. The city of Valdosta operates its own fire department to serve residents within the city limits.
"We are experiencing a tremendous amount of residential growth, especially on our north end. The commission is moving forward in the spring with a resolution that will provide a funding source to expand our fire department," adding three paid full-time stations, 36 new paid firefighters and necessary leadership to head the stations, says Dukes.
"The county is in a great place financially and we're fortunate to be able to step up at the right time and meet growth," she says.
Dukes says Lowndes County continues to fare well in terms of the Transportation Investment Act (TIA) funding, which passed in the South Georgia region in 2018. "TIA collections are up across the state, which is definitely good news because that infrastructure is important not just here in Lowndes County but as we build a statewide network and strengthen our commerce network," she says, adding that COVID did not decrease progress on TIA construction projects.
"Because of the nature of those jobs, those people have been able to continue to work, and so there's a tremendous amount of progress on our infrastructure improvement projects," says Dukes.
Among those projects is the widening of Highway 41 from North Valdosta toward Hahira, an area of significant residential growth. Improvements, including paving, on some of the many connector routes throughout the county are also underway as is the paving of Hightower Road and Cooper Road.
Lowndes County has also committed about $10 million to the historic courthouse renovation project, part of a vision for it to be the center of Valdosta's tourism effort and the hub for downtown activities, including a visitors' center and public restrooms for tour groups.
On the business and industry front, the county's first spec building, a 100,000- square-foot facility in the Westside Business Park, has generated a lot of interest, says Andrea Schruijer, executive director of the Valdosta-Lowndes County Development Authority.
Several existing industries expanded during the past 12 months, including Fussell Tire Pros, which services trucks for Valdosta's logistics industry, including Lowe's, Dillard's, The Home Depot and Smith Drugs.
Valdosta recently welcomed startup company Wakefield BioChar and five new jobs there. The company manufactures char, a biproduct of wood that serves as a fertilizer beneficial in gardening and farming. "Their product is available now on Amazon, and they're really growing," says Schruijer.
Arglass Yamamura, a manufacturer of glass bottles for Japanese alcohol and spirits that announced its project in 2019, fired up its furnace for the first time in December and continues to grow. "Even through this pandemic, they've remained on time with getting equipment and construction," Schruijer says. "They built that facility in a year, which is tremendous.
"It's really a testament to doing business in Lowndes County – permitting, subcontractors, the construction company – being able to build that facility through a pandemic and finish it on time. That's a huge testament to Arglass, too, their project management."
Two additional businesses recently located in the Arglass facility, SRI Ohio, a decorative glass company that created 15 jobs with its $2.5 million capital investment, and TSCC Valdosta Packaging, whose $4 million capital investment added 25 new jobs.
Electrical fabrication facility Ace Electric broke ground on an expansion in October. They postponed things a bit to see how the pandemic would play out, but they found demand was still high for their product and moved forward with the expansion, says Schruijer. Chemical company CJB Applied Technologies recently completed its facility. The research-based chemical company created 10 high-skilled jobs, she says.
After serving nearly 25 years as the president and CEO of the Valdosta-Lowndes Chamber of Commerce, Myrna Ballard retired in December. Christie Moore, who previously headed the Dawson County Chamber of Commerce, replaced Ballard earlier this year.
Ballard was pleased to announce prior to her departure that the small business incubator she's been working toward for the past decade would be opening its doors first quarter of 2021. "I've been able to do all these years what I was trained to do, what I wanted to do with my career, and it's been a wonderful ride," Ballard said before leaving her position. "I know a lot of people don't have that experience in their work lives."
---
Local Flavor
River Recovery
His early days in office brought an immediate challenge for Valdosta Mayor Scott Matheson. "They counted my provisional ballots on Dec. 5, [2019,] and on Dec. 6 they told me we had a seven-and-a-half-million-gallon sewage spill," says Matheson. The record event resulted in a $122,000 fine from the state Environmental Protection Division.
A new treatment plant had long been a focus of Valdosta leadership and had been completed prior to the spill, along with a new series of pump stations and backup generators, he says. "We'd already done a lot, and that was just an unfortunate unavoidable accident" that resulted when a contractor failed to reconnect a cable during some maintenance work.
To prove his commitment to zero tolerance for future spills, as well as his passion for natural resources, not long after the spill, Matheson led members of the 12-county Florida Rivers Task Force on an 11-mile paddle on the Withlacoochee River. Also along for the ride were other elected officials, representatives of Georgia Power and a watershed group, among others, about 40 people total.
"These are the people who were on the receiving end of a lot of our problems over the years," he says of the participants who live downstream and were affected by the spill. "They were able to ask me questions and find out my commitment."
The idea to get out on the river and see the valuable resource firsthand wasn't a publicity stunt. Matheson, who grew up on the waterways around Cocoa Beach, Fla., is a lifelong paddler perfectly suited to lead the expedition. "I have but one vice, according to my wife, and it's that I buy too many kayaks."
The five-hour paddle covered an 11-mile stretch of the Withlacoochee River, starting from the Troupville boat ramp, at the confluence of the Withlacoochee and Little River, where the city plans to develop a river camp and conservancy for the public, says Matheson. "Eventually, we'll open for bids for an outfitter to go in there so people can put in there and have different take-outs along the river."
Now an annual event, the Mayor's Paddle was expected to draw about 100 participants in February, after opening the paddle to the public for a $10 fee and creating a fundraiser for the WWALS Watershed Coalition Inc., the parent organization of Suwannee Riverkeeper.
"That will always be a Tier 1 project for me," says Matheson, of the paddle. "I would love some ecotourism, but you can't do it until all the headlines and Google searches and everything goes away for your waterways and your spills. We now test weekly, and we post our tests publicly. They [WWALS] do the same, and they seem to be very happy with us this last calendar year."