Canton | Cherokee County- Outstanding Opportunity
Mixed-use developments, business parks and education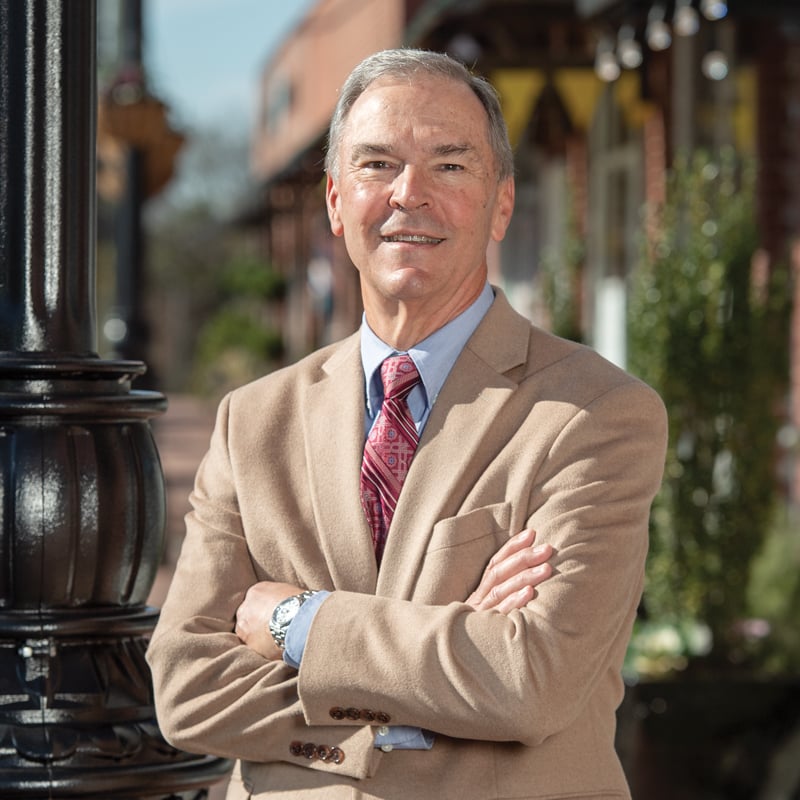 Cherokee County has long been one of the fastest-growing areas of the nation, and for good reason. With just 90,000 residents in 1990, it grew to a population of more than 200,000 in 2010 and is now well over 250,000 strong in the 2020s. The county's strengths — its proximity to Atlanta, unprecedented quality of life and top-notch public schools — remain intact, with another decade of strong growth likely on the horizon.
"My question is, why would someone not want to live here?" says Pam Carnes, president and CEO of the Cherokee County Chamber of Commerce. "Cherokee County is just a different place. People find that they are very welcome here, that it is a thriving community. People feel very much at home here, and I think that's what drives the personality that's been created."
Carnes is an example of someone who chose Cherokee. She moved to the county nearly 30 years ago from a small town between Atlanta and Augusta and has made Cherokee her home.
The county remains mostly a bedroom community but is building up more local jobs, especially in areas like healthcare and advanced manufacturing. For residents, there are plenty of outdoor options for fun, including an expanding trail system and a generous portion of Lake Allatoona within Cherokee's borders.
"We are connecting, creating and cultivating," Carnes says from the chamber's headquarters in Canton, near the center of the county.
---
Exceptional Schools
One of the top drivers for Cherokee's growth is a public school system regularly ranked among the best in Georgia. That reputation alone helps draw new residents.
"It's not just bricks and mortar, it's not just extracurricular," says Carnes, whose husband teaches in the school system. "It's not just what your child can do outside the classroom. It's the education you're going to receive through all aspects of their day."
Brian Hightower leads the Cherokee County School District as its superintendent, overseeing the work of thousands of employees and children in three dozen schools. The system is now working to expand its offerings to better train high school students for the work world of the 21st century.
"We have focused most of our recent construction on projects to expand our high school career education programs, including the recently completed transformation of classrooms on our Sequoyah High School campus into a healthcare science lab space and the construction underway of an agricultural science lab building on our Creekview High School campus," Hightower says. "Career education classroom construction will continue to be a priority for us as we eye the possible opening of a career and college academy-type program on our ACE Academy alternative high school campus, which would offer career classes not yet offered elsewhere in our school district such as in the field of cybersecurity."
Aside from K-12 schools, there are two Chattahoochee Technical College campuses in Cherokee plus the private Reinhardt University, a 138-year-old college in Waleska. The presence of these institutions means a student can start preschool and progress all the way through a master's degree without leaving Cherokee County.
---
Downtown Vibes
Cherokee boasts not one but several walkable downtowns, each with its own unique vibe and offerings.
The first is downtown Woodstock, which is the home of Reformation Brewery, celebrated restaurants and a host of residential offerings as well.
Woodstock isn't sitting back and enjoying its success, however. Instead the city is working on the next phase of its downtown story, namely the former site of an Ace Hardware store that is slated to become a new city center with retail, office and hotel space.
"We closed on that property in October and anticipate the hardware store moving to its new location this spring," says Woodstock Mayor Donnie Henriques.
The city will clear the four-acre property and then build a 400-space parking deck, small hotel, shopping and retail space. The parking deck will be constructed first to allow for greater density and more walkability. Woodstock is fast growing as well, with nearly 450 housing permits issued in 2020 in spite of the pandemic.
Just north of Woodstock is Holly Springs, which is developing its own downtown project known as Town Center. The 22-acre project was launched in 2017 and will include a new city hall, residential over retail, an amphitheater, dog park and food truck space, among other amenities. Construction is expected to last for 15 months.
A few miles north of Holly Springs is Canton, the county seat, which is renovating historic mill properties to create its own unique take on downtown. In Canton's case, the big project is located on the site of the former Canton Cotton Mills that became world famous for its denim before closing in the early 1980s.
"We're building on the momentum we have," says Canton Mayor Bill Grant, who was elected in 2019. "Our mantra is, 'we're building the coolest small town in America.'"
Grant spent much of his first year in office developing a long-term road map for Canton's future, much of that centered on trails connecting a series of city parks. He also wants the city to engage more with the Etowah River that runs through it, an asset that wasn't really utilized by the city until a few years ago.
But the jewel in the crown for Canton is the Mill on Etowah, a mixed-use project that includes a location of Reformation Brewery, the Cotton Mill Exchange, a coworking space called Thrive and outdoor events space as well. The project was named Deal of the Year in 2019 by the Georgia Economic Developers Association (GEDA).
"We were up against some tremendous projects in Georgia that we didn't know if we'd be able to compete with," says Grant Schmeelk, a senior partner at Dime, the developer behind the Mill on Etowah. "But because of the age of our product and the outdoor turf area along the river, activating the river with an outfitter and connecting with the city of Canton's trail system, it's a really unique development."
While existing space is mostly leased, the project remains under construction. Working with a 120-year-old building has been "an adventure," as Schmeelk describes it, but one with built-in advantages. Thrive, for example enjoys 16-foot ceilings and lots of daylight from large windows. The historic character of the property is undeniable.
"It has been really well received," Schmeelk says.
---
Expanding Businesses
With Cherokee's growing population comes more jobs located within the county borders, from retail and healthcare to manufacturing.
"Cherokee County has so much going for it," says County Commission Chair Harry Johnston. "We're now the seventh-largest county in Georgia, which is a big difference from times in the past when we were a rural outpost. Outside the core of Metro Atlanta, we're the second-largest county in Georgia."
Johnston says the key to managing that growth is maintaining the semi-rural character of the county while keeping taxes low.
"We're somewhat protective of Cherokee County, and we're not quick to approve large housing developments," Johnston says. "We're trying to keep our growth at a reasonable level."
But Johnston acknowledges that living and working in the same community is ideal if one can make a good living doing so. Cherokee has begun attracting more jobs through projects like the Cherokee 75 corporate park in the county's far southwestern corner. Inalfa Roof Systems, supplier of panoramic sunroofs and one of Cherokee's largest employers, is located there. Steel fabricator Cobb Industrial is set to become another big employer, leaving its namesake county to move to Holly Springs this year.
A big business story in the county two years ago was the opening of the Adidas Speedfactory, a robot-staffed shoe factory. The company has since abandoned that project. However, its partner, German plastics company Oechsler, is still using the facility for 3D printing.
"Of course we were sad when Adidas pulled the concept," says Misti Martin, president of the Cherokee Office of Economic Development. "But the silver lining was definitely that Oechsler loved the community and said the workforce was so top notch that they wanted to make a go of reinventing the facility. We're thrilled to be a part of it."
Cherokee leaders are now looking to build new business parks near Canton and in the northern part of the county near the airport. Martin has helped Cherokee successfully fill much of its existing inventory, which led to her receiving her own award from GEDA, the 2020 Rip Wiley Award for Professional Excellence. Going forward, her office is also working to establish and expand trail systems linking different parts of Cherokee County together.
"Cherokee is a big county, and we're looking at how to create more connectivity between our businesses and residents in a new way," says Martin.
---
Local Flavor
Arts Access
Elm Street brings the full arts experience to downtown Woodstock.
Christopher Brazelton joined Elm Street Cultural Arts Village in 2013 and has seen the organization's budget more than double since that time.
Brazelton, now the group's executive director, sums up its goals succinctly.
"Our mission is to engage the community with relevant art experiences," he says.
Elm Street, which began in 2002 as Towne Lake Arts Center, now provides an amazingly broad range of arts experiences from its two properties in downtown Woodstock. Its theater operates in a former church, with recent productions including She Kills Monsters, The Wizard of Oz and Bright Star (a performance of which was attended by co-writer Edie Brickell).
Operating mostly with volunteers, the theater building includes rooms full of costumes, impressive sound and light equipment and a stage inside the old sanctuary.
Walk across the street, however, and a whole range of other arts experiences comes into view. Elm Street owns another property that plays home to outdoor concerts and weddings, plus a full playground that can be used by local families. There are even dance and culinary arts offerings. The concerts run the gamut, rotating through different genres of music in order to make sure everyone hears something they like.
On the way is a visual arts center that will include art galleries, pottery classes, events and a coffee and wine bar. One of the big ideas is to create arts access and an even greater sense of place in the success story that is downtown Woodstock.
Elm Street, an independent nonprofit, had to adjust to COVID in 2020 along with the rest of the world, but still managed to host summer camps and practices with performers wearing masks for every rehearsal and only removing them during the actual production. A few performances were held entirely in digital format, acted live but with the audience tuning in from the comfort of home over a computer or phone. More recent shows have been held outdoors, allowing for in-person viewing in a setting where the virus is less likely to spread.
While Elm Street enjoys the support of corporate sponsors and foundations, Brazelton says it manages to generate 80% of its income in-house.
"The vision is to be a full-fledged arts center," Brazelton says. "There are plenty of ways for people to be inspired, not just theater. Arts access has to matter. You certainly can go to Atlanta to see great shows, great galleries and great concerts, but you shouldn't have to drive to Atlanta."